Amrita Singh: I Have No Problem With How My Daughter Sara Dresses; She Knows What Is Right And Wrong
The feisty actress talks about her daughter in an exclusive chat with SpotboyE.com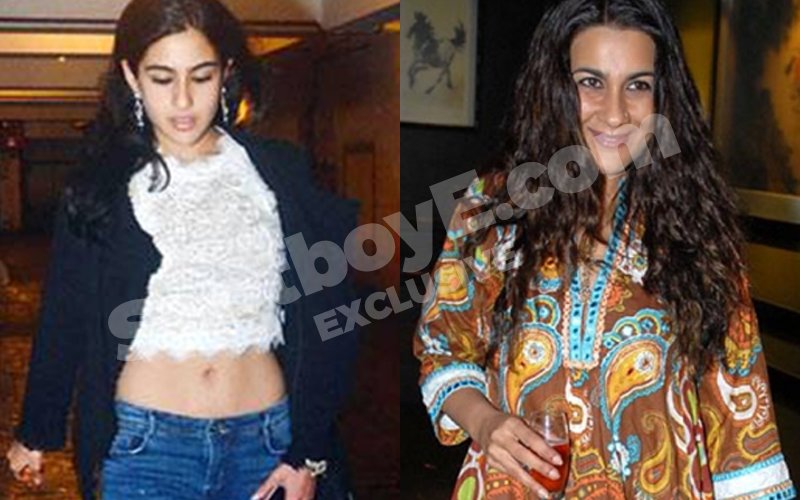 Sara Ali Khan is gaining a lot of attention these days. And why not? After all, she is Saif Ali Khan and Amrita Singh's daughter. However some reports in the media have flustered the youngster's mother no end, especially those which label Sara's sartorial choices as provocative. The actress, who was last seen portraying an overbearing mother in A Flying Jatt, talks about raising independent children. Read on:

A lot has been spoken about Sara venturing into Bollywood. But where does Sara's real interest lie?
Everyone knows this by now. Sara wants to be an actor.

What is your take on Sara choosing acting as her career?
It's great. My children have independent minds to exercise their rights as human beings and make their choices. If my daughter has made that choice, as parents we have to back it up by all means.

Were you guys hesitant about Sara joining the film industry?
Not at all. How can I look down upon the industry when both Saif and I are what we are today because of our jobs? It's a great job, but you need to treat it like a job. Don't treat it like a circus.



Image Source: Instagram/sarasultanfc

How is Sara going about her dream now? What's the next step?
She is being handled by Anirban (Blah) and his talent agency, which brings me to the point that all questions related to her professional life should be directed to them. I am not answerable for Sara's choices. She is an intelligent graduate from Columbia who wishes to become an actor. She is not a fool. She can make her own choices. She has lived in New York all by herself.

I am not answerable about what my daughter wears or justify her choice of cinema. These are personal choices and more than anything I trust her. I know she will never do anything detrimental to her. So when I get pulled up for the way Sara dresses, all I have to say is: I feel she is one of the best dressed girls I know, maybe I don't know many.

I am not a regressive mother. My children are not regressive. My children are of today's world. They respect elders, they know their priorities but they have their own minds and I appreciate that.



Image Source: rashtriyaujala

Why do you think you get pulled up for Sara's choice of clothes?
I don't know. I keep reading. I don't know how people perceive me. I hate it. I hate being put in boxes. I am a mother who lives with a child studying in New York. So when these people talk to me about how I should be upset (about what my daughter wears), it's annoying. The common man doesn't care about these things; he only cares about what he sees on celluloid. And that's what we are here for. Today the tragedy is that we have to speak to people, be answerable. My daughter is stepping into an industry. Let her enjoy it as a free individual.

We go shopping together. I dress my daughter a lot of times. In fact, Sara dresses me in Indian clothes. My daughter always dresses correctly be it Indian or western. She is very traditional because that's the way she has been brought up. But she has also studied in New York. She is an Ivy League graduate for God's sake! She is not an idiot. For Sara to be able to multitask and do two roles is not difficult. These are roles according to me.

When does she want to make a Bollywood debut?
Sara takes her own calls, whether it's about her career or otherwise. I am also an actor and I am also busy. I don't have time to waste on clarifications or listening to- 'I have a role for your daughter!'

Sara's parents made their own choices and that's what we expect from our children. I need to be taken out of this all together. Please don't tell her how to live or behave.



Image Source: hifisnap

Does all this upset Sara?
It doesn't affect her. She doesn't give a damn. I get worked-up. It annoys me. She wants to do a job and that's what she is here for.

So all the reports of her doing Student Of The Year sequel are false?
There is no truth to the story. I have said it so many times. She has not been offered that film. Give her a break. Let her get a film and whatever the project is, let the project speak for itself. Keep me out of it. Whatever questions anyone has, please ask Anirban.

Do you monitor the time she gets home?
Meri khud ki time clock nahin hai, why would I monitor her time? Who do they think they are looking after? A 2-year-old infant? She knows what is right and wrong.

Is Saif supportive of Sara's decision to join the industry and does he know what she is up to?
We are parents, I am sure he is happy about it. Sara has both her parents backing her and giving her wings to fly. He is the father; of course he knows what Sara is doing.

Thumbnail Image Source: wn, tf-sms