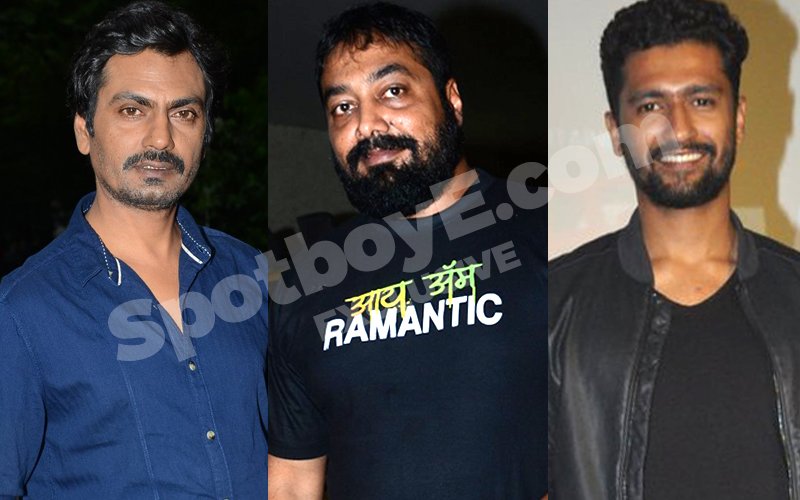 Your browser does not support the video tag.
What is it that can light up a dull working day? A conversation with the undisputed Kings of edgy cinema, if that's where your movie interests lie. When SpotboyE.com met Anurag Kashyap, Nawazuddin Siddiqui and Vicky Kaushal for a chat about their film Raman Raghav 2.0, we discovered that only their movies are dark and edgy. The guys, on their part, can be a lot of fun. Don't believe us? Read here to figure it for yourself!

Anurag, you had a long tussle with the CBFC for Udta Punjab and emerged victorious. What are your sentiments right now?
Anurag: I'm exhausted. But the fight is not over yet. We're fighting the censorship and the current attitude of the Board. Everyone in the industry is jointly working on this. It's not my fight alone.



Image Source: twitter/FuhSePhantom

Would you take the credit for uniting the industry?
Anurag: The credit for uniting the industry actually goes to Pahlaj Nihalani. I think jo kaam duniya mein koi nahi kar saka, wo Nihalaniji ne kar dikhaya.



Image Source: Manav Manglani

Nawaz and Vicky, both of you are synonymous with realistic and bold performances. But given the current state of affairs, do you find yourself wondering over whether your performance will eventually make the cut after the CBFC watches it?
Nawaz: I think in recent times, when we improvise a scene while shooting it on set, we have to pay heed to what we're doing and be very careful that the scene doesn't go in another direction altogether. Aaj kal, yeh thought rehta hi hai ki kahin koi problem na ho.

Anurag: There is an atmosphere of fear and it has gradually come into the play over the last 2 years. For example, Nawaz has performed brilliantly in Haramkhor. The Examining Committee has refused to grant us a certificate for the film. We're now heading to the FCAT. The realism and cinema have surged ahead but the certifying body is lagging far behind. Udhar ke udhar hi atke huye hain. The certification board should not censor, which is a common sentiment. A person at such a responsible position should have the intellectual capacity to certify the kind of films we're now making. Lekin jo uss kursi pe hai, uski tenth pass ki capacity hai. This bullying attitude, not listening to anyone and doing your own thing has begun to stifle filmmakers. It affects us even at the writing table.



Image Source: kollytalk

Nawaz, you have a kitty of films that have not released because they were not passed by the Censor Board. Does that affect you while choosing films?
Nawaz: This chakkar is very bad for an actor's morale. We perform with such dedication and when that work doesn't get across to the target audience, it feels bad. A realistic character forces you to look within and find a way to portray it as realistically as it is written. Otherwise, the only other option is to go with fake characters in a fantasy world which only lead to fake performances. Then there won't be any ruckus. Do phool mila do to pyaar ho jayega.
Anurag: Phool milane ka zamana gaya. People are not kids anymore. My 15-year old daughter is more mature than I was at 23. Internet has given all the access to everyone. And hence this censorship on cinema doesn't make sense now.



Image Source: twitter/FuhSePhantom

You had to face objections for Raman Raghav too, right?
Anurag: Yeah, but unlike Udta Punjab, they gave us the letter in time. So, we directly approached the FCAT and got the film cleared.



Image Source: youtube/FuhSePhantom
Vicky, could you take us through your preparations for playing the cop in the movie?
Vicky: Raghav is so different from me. So, for that, isolating myself was a must. I needed that space to completely associate myself with the character and his world. We had just one workshop which was for opening up with each other.



Image Source: youtube/FuhSePhantom

What about you, Nawaz?
Nawaz: I had read the script about 4 years ago. So, I knew the character well. Two days before the shoot, I also ended up isolating myself. I just went away to prepare myself mentally and returned only two days later. I had seen Sriram Raghavan's version of this film. So, I had to give my interpretation of the character a 180 degree twist, so that it didn't seem anything like Raghavan's film.



Image Source: twitter/FuhSePhantom

Anurag, Bombay Velvet is the last film you directed. Does the pressure of a box-office disaster ride on your mind?
Anurag: Pressure hai but we are used to it. We had constraints – like, we knew we had to complete the film in a specified number of days. I think the film drained Vicky and Nawaz because my journey was largely physical but theirs was physical and emotional as well.

Do you bully the actors discovered by you?
Anurag: Nawaz was not my discovery. We have discovered each other. We became friends over a period of time. And we don't talk all the time; we talk when there is some distress or some situation where we have to talk. Vicky has gone from being a little boy I knew to becoming an equal and a friend. He continues to call me Sir but I think he's a friend now. You know, it started with him calling me uncle.

You called him uncle?
Vicky: Yeah, I was 10 when I first met him. So I had to call him that. And that was my first impression of him too – "Uncle".
Anurag: Yeah, he had to wake up early for me. He used to bring aloo parathas for me. Now I make aloo parathas for him (laughs).

Nawaz, how has your journey with Anurag been?
Nawaz: We have been the way we are from the beginning. I could never define our relationship. But when I work with him, I feel most secure about myself. I become confident that I will give my best shot to this guy.



Image Source: Manav Manglani

Is it difficult to get that far with other filmmakers?
Nawaz: It's not difficult but the trust factor has already established between us. Our honesty is visible on screen.

You seem to attract only edgy storylines. Why so?
Anurag: We live in a time in our country where anything real makes people edgy. The whole fight with the Censor Board, for instance. We wanted to abide by the rules of operation. They didn't. We raised a hue and cry about it, and it was seen as me being edgy whereas all I was trying to do is highlight the fact that there is a system to be followed and bullying filmmakers won't work. Anything you show in a film that has even an ounce of realism makes people edgy these days. Honesty is highly underrated. Don't say the truth but say what is right. Gunga behra andha nahi keh sakte, make it sound politically correct, like visually impaired. I have seen edgy cinema all my life and my cinema is not even half as edgy as that.



Image Source: youtube/FuhSePhantom

Nawaz and Vicky, do you think Anurag's recent tussle with the CBFC took attention away from your film?
Vicky: I saw the film and loved it. What I also realised was that the fight was not for this one film alone. It was for the films that will be made in future. Had this fight not been taken up, all the films in future that had anything to say or a real incident to narrate would have been silenced. But now they know that not only can they make what they want to but also fight for it and get justice. I didn't feel Anurag was distracted or the attention was taken away from our film.
Anurag: Vicky and Shobhita (Dhulipala) messaged me together that the film was worth fighting for. But yes, at some point, people associated me so much with Udta Punjab that they almost forgot that I am the director of Raman Raghav. I was only one of the producers of Udta...The problem is no one wants to put up that fight and seek justice, though it will be given to everyone asking for it. The concern is that everyone wants it on a platter.



Image Source: Manav Manglani

You are a seasoned fighter as far as taking on the CBFC is concerned...
Anurag: I have always fought for my rights as a filmmaker. I am saying the truth and I have the right to say it. Except for Ugly, where I had to put those disclaimers, I have won all the fights. Ironically, films like Gulaal, Gangs Of Wasseypur, Ugly and even Dev D came out without cuts. The guidelines were all the same. The interpretation changes with the person on the chair.

It's strange Nawaz that you never associate yourself with any of the industry's battles, though your director is highly involved...
Nawaz: I am only thinking of my next role. I am dissociated with everything around me and that is how I am. I don't watch TV and don't read papers when I am working.
Anurag: He got to know about all the action that was going on here a day or two ago when he returned from the schedule of Babumoshai Bandookbaaz in Lucknow. Inke saath to badi tragedy ho gayi.
Nawaz: Haan woh dekha maine. Heroine hamari bhaag gayi. Ab kya kar sakte hain? We'll take a boy now. Pehle zamane mein bhi to hota tha. Plays mein hota tha. We'll do it as well. (Laughs) (Director orders Chitrangada 'Get on top of Nawaz, sex karo'; actress quits the film, June 12), (Chitrangada wanted to wear low-cut blouses: Kiran Shroff, June 13), (Chitrangada finally explodes: I was wearing a petticoat and Kushan asked me to put my legs on either side of Nawaz and grind, June 13).

Didn't the mudslinging in the press disturb you?
Nawaz: It does disturb me. I have to do the same scenes with someone else, again. It's of course more effort for me to emote just the same way with another person. But that's the way forward.



Image Source: Manav Manglani

Anurag, buzz is you're making a film with Katrina Kaif and Arjun Kapoor...
Anurag: I am only busy with writing at the moment. I'm planning a horror film called Giddy. There's work going on with 2-3 others. By month end, we can take a call. We also have to see how Raman Raghav fares.

We hope you have sealed your office to prevent leaks this time...
Anurag: Leaks have always happened from somewhere else. And as a filmmaker, I can't be that insecure. You have to get on with life.


Thumbnail Image Source: Manav Manglani & thewire
All our pictures are free to be leaked without our permission. Do note: They are not Censor Certified.