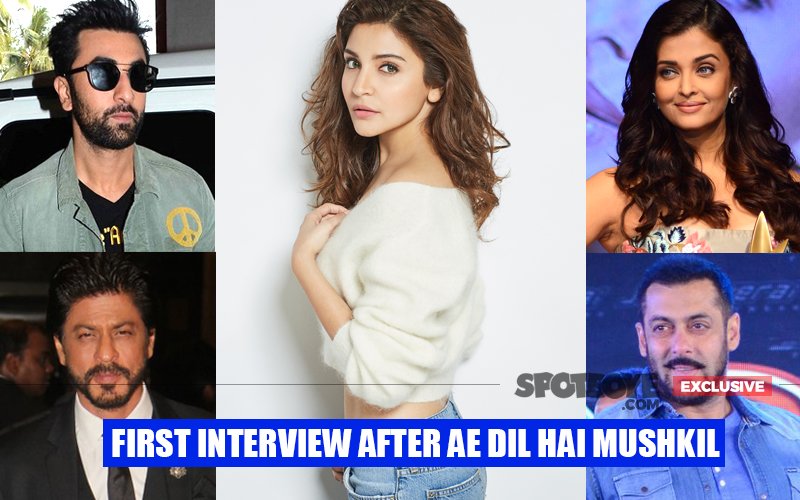 She has done a variety of films right from her debut with Shah Rukh Khan. Today she stands as tall as Priyanka Chopra and Deepika Padukone, and it won't be wrong to say that her latest film Ae Dil Hai Mushkil played a big role in bridging that gap.
SpotboyE.com spoke to this Ms Sharma who always speaks her mind and this time was no exception.
Excerpts from the conversation:

Describe the moment when Karan Johar offered you Ae Dil Hai Mushkil...

I was at Karan's house. He had called me saying that he wants to talk to me about a film. When I was told that he wants to cast me in his next directorial, my joy knew no bounds. Let's face it, everyone wants to do a Karan film and it was a big moment for someone who was a kid in the 90s and not from the industry.
What excited me even more was the fact that he was giving me a role which would give me ample scope to emote, and plus, he said that he had only me in mind when he wrote Alizeh's part.

Aishwarya Rai was already in the film. What did you feel about that?

I was very excited to work with Aishwarya. I knew it would be just one scene over dinner table but I knew that it was the most important scene of the film. Everyone is aware about her beauty, and I am also bowled over by her poise.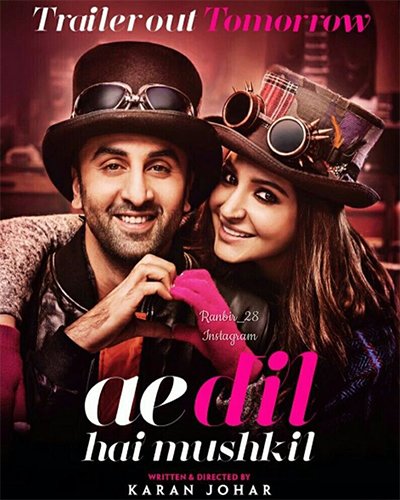 Image Source: twitter/karanjohar

What's your equation with Ranbir Kapoor? Your chemistry with him in ADHM was just what the doctor ordered...

Ranbir and I neither meet frequently nor remain in touch often, but whenever we do we make fun of each other and love every moment of it. We have a very easy bond, and obviously Karan knew about it and wanted to dwell on that further.
We must talk about that dinner table scene before we go further; it was one of the highlights of the film...

Karan loves to include a dinner table scene. Now, let me tell you that Aishwarya and I had not interacted much before we shot for the scene. So, that unfamiliarity helped in creating the right awkwardness which was required at that moment.
And that scene when you spot Fawad Khan after many years in a discotheque? Your expression in that scene still stays in mind...

Yeah, that was a very crucial scene in terms of a turning point. Again I had to completely change there from a fun-loving girl to someone who is very weak for her lover. So, if you remember I first walk away but then again I turn and start walking towards him. That was Karan's idea.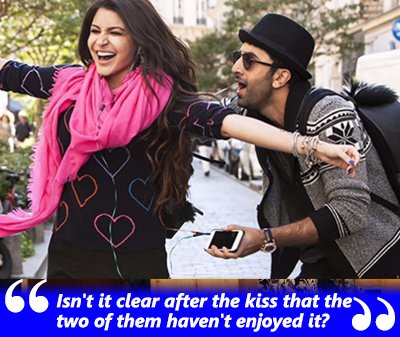 Image Source: twitter/karanjohar

Your most difficult scene in ADHM...

I would say that Alizeh's entire viewpoint in the film was very crucial. I had to constantly think and remind myself that I am playing a girl who cannot love this boy (called Ayaan, played by Ranbir) in the way that he wants her to. The entire conflict and confusion in ADHM revolves around Alizeh's rigid stand for and against Ayaan. One wrong move, and it might have all collapsed.
Besides, this friend thing is not something that many boys appreciate. So I had to be constantly convincing in my portrayal. If I felt at any stage that something was being compromised, I would walk up to Karan and air my opinion.
He was always with me and understood the importance of it, and even incorporated an input or two. Like for example, I told Karan that Alizeh needs to tell Ayaan at some point that 'if you cannot be just friends, I would like this to end'. Remember the scene after the dinner table one where I tell Ranbir that 'Main Khuddar nahin banna chahti hoon?' and he knows what's coming and says 'Get lost'?
If you know your character really well, especially the equations you have with the other characters in the story- it helps a lot.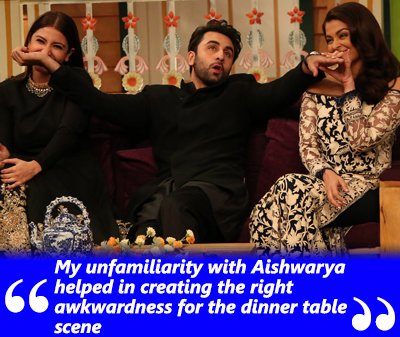 Image Source: Manav Manglani

This implies that you had prepared a lot for this role...

Yes.
And how did you do that?

I read the script several times and I made a lot of notes. Okay, let me tell you precisely how I went about it. I created a back story for my character. I didn't start in my head that Alizeh meets Ayaan--- the way it unfolds in the film. I started in my head with Alizeh's past with Fawad, which allowed me to roll out Alizeh to the maximum conviction.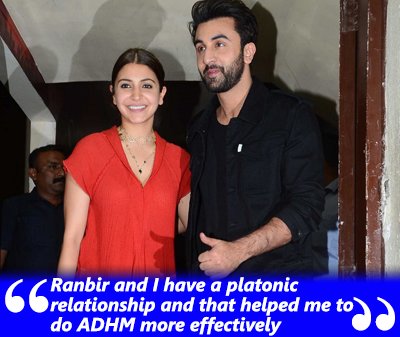 Image Source: Manav Manglani

Was there a reference point to prepare for this role? Any guy who was in love with you in college and you saw him only as a friend...

Well, I have had many guy friends. So, I understood the platonic relationship she shares with Ayaan. My army background brought me up in such a way that I used hang out with boys and play sports with them. Wahan ladkon aur ladkiyon mein farak nahi hota (pauses). Even with RK I have a platonic relationship which is accompanied with a lot of respect for him. I utilised this incidental part of my life to incorporate it in my role.
But there's a question which still lingers in a large section of the people who saw ADHM...

Which is?
Your character Alizeh calls Ranbir's character and tries to make out with him, you'll kiss... and then suddenly after a few minutes you declare that he is your best friend...

Because Alizeh feels that way after the kiss. Isn't it clear after the kiss that the two of them haven't enjoyed it? It's quite an awkward moment for both, Alizeh feels that galat insaan ko kiss kar liya.
But Ayaan doesn't feel that way..

The fact that he still comes after her and they start talking and hitting off is because they find so much in common. If it wasn't an awkward make-out, it would have been just an overnight fling.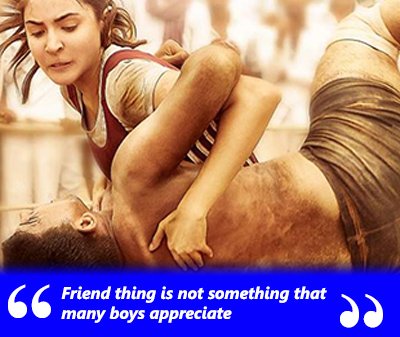 Image Source: youtube/YRF

It was felt that there was a lot of Imtiaz Ali, Ayan Mukerji and Yash Chopra in the film....

I think this is more of Karan Johar's story which has come straight from his heart. The fact that he wrote this in the quickest time compared to what he has taken for his other movies so far, says it all.
You have had 2 films this year- Sultan and Ae Dil Hai Mushkil- which have collectively amassed Rs 400 crores at the box-office. How much does it pump you up?

Box-office success does matter.. Obviously it makes me feel great but what pumps me up equally is the fact that I had such diverse roles in both (wrestler, jilted lover-n-wife)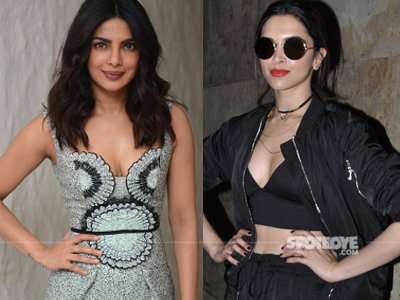 Image Source: Manav Manglani

NH10, PK, Sultan, ADHM- you are now running neck to neck with Priyanka Chopra and Deepika Padukone. You have definitely done something right which is...?

Right from the beginning, I knew I wanted to be a good actor who keeps getting better. I was appreciated in Rab Ne... but it didn't make me a star overnight. Band Baaja Baraat made me realise the importance of good content, and I decided that I would be very selective in my approach thereafter. And this meant that I had to let go of many films.
Did this in turn burn your bridges with filmmakers?

No, because I never lied to them that i don't have dates etc. I am very clear why I am not doing a particular film. I don't want to be a part of for just the heck of it. And I don't want to be a part of it if my character does not add to the narrative. I did Sultan because I had a very defined and substantial part to play in it.
Who is that voice you listen to, when you are confused about whether you should do a film or not? Is it your parents or...?

My parents wouldn't be able to advise me when it comes to decision making on movies, so if they saw me worried they would feel helpless. So, I don't share my issues regarding films with them.
You learnt Punjabi for Rab Ne..., Haryanvi for Sultan, Urdu for ADHM, and now you learning Gujarati for your upcoming production Phillauri.

Let me tell you a story. Javed saab and Shabanaji always call me up after they see my film and say they loved my work. I remember once Javed saab telling me that I hadn't pronounced 'Khan' properly when I said 'Shah Rukh Khan' on stage. I realised that language is very important when you portray any character, else you will never be fully in it. With ADHM, I had to impress Javed saab. After the screening, I asked him and he again had kind words for me. I felt so happy.
Your views on the Collapse of the Studio System?

I am not getting that kind of money that I will be hit badly, but yes, the industry has been affected. But again, times will change for the better. We are doing Phillauri with Fox Star Studios and I see that there are a lot of new minds that have entered who believe in strong content. It's really good to see that. If Creative heads stay away from projects which are made just because something similar clicked sometime in the recent past, it would do a world of good. IN the long run, people should realise that films won't work with just big stars and good songs unless and until they are backed with engaging content. As an actor and producer, I really want to drive films which are high on content and present women in a correct manner.
Thumbnail Image Source: Rohan Shrestha & Manav Manglani