Arjan Bajwa On His Journey, Upcoming Projects And More; Shares, 'Playing An Indian Air Force Pilot Is My Dream Role' -EXCLUSIVE VIDEO
Arjan Bajwa talks about his 20 years journey in showbiz, working with big stars like Priyanka Chopra Jonas, Akshay Kumar, Ajay Devgn and Shahid Kapoor, how Kabir Singh changed his career, finding acceptance on OTT and his first love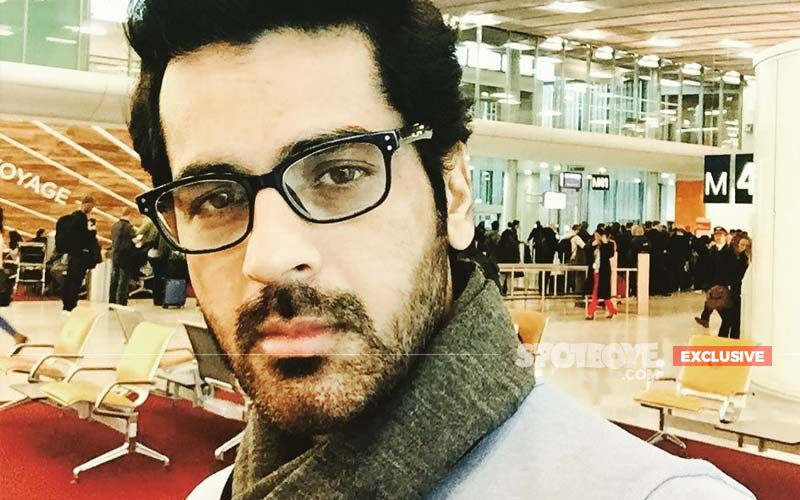 Arjan Bajwa started his career in showbiz in 2001 with Telugu film, Sampangi. He stepped in Hindi cinema a few years later and is still known for his work opposite Priyanka Chopra Jonas in Fashion and as Shahid Kapoor's elder brother in Kabir Singh. This year, he completes 20 years in the industry and in an exclusive conversation with Spotboye.com, the actor relives his journey, talks about how Kabir Singh changed his career, finding acceptance on OTT and his first love.
Read excerpts from the interview:
2021 marks 20 years in showbiz for you Arjan. How have these 20 years been for you?
It doesn't even feel like it has been 20 years, I still feel like I am 20. It's been a long time and I never thought It would be like this, but nevertheless I started working very young. I was about 20 only when I did my first Telugu film. I started right after college so there was a lot of inexperience. Initially, I did almost 10-12 films, in what felt like childhood. Then I got a break in Hindi films and the journey became quite interesting. I did a lot of work, met a lot of people and made a lot of mistakes that taught me a lot about life.
You had one of your biggest successes with Shahid Kapoor and Kiara Advani starrer Kabir Singh in 2019. How did that success help you?
It did bring me into a position where a lot of good scripts started coming my way. I got offered a big series, The state of Siege 26/11 on Zee 5, and that was because of the success of Kabir Singh. They were looking for someone to play Colonel Sunil Sheoran, who was a real-life commanding officer of NSG who led the whole operation of Black Tornado during the Taj Attacks. Fortunately, I got to do it because of the fresh success. And even Kabir Singh happened by chance to me. I wasn't too keen to portray Shahid's big brother, it was a small role and I didn't know what I could do in that. But Sandeep Vanga was adamant that he wanted me to do it, so I told him that I will do it but will take only a special appearance credit. It wasn't something I was looking for, but I wanted to work with Shahid and Sandeep and by everyone's good luck, the film turned into a big success.
Your OTT career recently completed one year in March. How has this medium been different for you then films?
I don't think the medium of OTT is any different for an actor because the process of filmmaking is the same. It is rather more elaborate here as you have 8-10 episodes to show a story and are not bound by the time limit of two hours to finish the script. You divulge more in details but the process is the same, just the exhibition is different. You can even watch OTT shows on big screens or your phone. The time and hard work you put remains the same and almost all mainstream actors are doing projects on OTT now. My experience has been fantastic as the kind of work I wanted to do is coming my way. The State of Siege 26/11 was a dream role that I got to play.
During your 20 years of work, you worked across four languages—Telugu, Hindi, Tamil and Punjabi. Do you think it makes you more relevant or it holds you back from solidifying your position in any one single market?
I don't think working across languages stops you, rather it makes your position stronger in every way. It increases your fan base and gives you more exposure. I am a Hindi film person, and I did Telugu films because I chanced to start with it. I had a good experience with Tamil films as my first film, Bigil, became a huge success. Working across languages has given me more milestones in my career and more standing. I will be working in Telugu again this year. When you look back at your career, you should have milestones in multiple languages. Also, working in different languages increases your confidence as when you learn an alien language, that you aren't used to, and are appreciated for it, that's the biggest reward. That shows you are evolving and excelling as an actor and the barrier of language isn't stopping you from portraying your talent. Meanwhile, I still have the trailer of my Punjabi film and people still rave about it, but unfortunately it never released. But Punjabi being my mother tongue, I am looking forward to working more in that language.
Throughout your career, you have worked with big stars like Priyanka in Fashion, Akshay Kumar in Rustom, Ajay Devgn in Son Of Sardar and Shahid in Kabir Singh. What qualities have you imbibed from them?
I imbibed sincerity and dedication towards my work. We use the word dedication very freely and conveniently for anyone. Dedication doesn't just mean reaching on time and doing your work diligently. Dedication is carrying that habit consistently for many years. Be it Akshay sir, Ajay sir, Abhishek Bachchan or Shahid, they have been working for a long time and have been successful. They are even evolving as actors and it shows that they are not being laid back about their work and dedication has become their habit, their lifestyle. That's what I have learnt from them.
Everybody gives examples about Akshay sir and I have witnessed that personally. His dedication towards his work, appearance, physical fitness and his time is inspirational and the fact that he never takes a break from that is something I admire. He is doing films back-to-back and that shows how dedicated he is. So, that's what I have learnt from them, just keep working.
But do you feel working with big stars has its drawbacks too as the audience notices them first and more?
I don't see it as a drawback or in any negative connotation. If somebody lesser known than me will work with me and feels this way, then I don't feel it's justified. It' not rocket science to understand that if I am working with Akshay sir, he is such a big star, he will be noticed but I won't be overshadowed by him, because if I am on screen, people are seeing me. People are watching me individually as well as in scenes with him. So, I see working with big stars as a plus point as if you are working all by yourself, people might not be able to gauge your talent, but here they can and it gives you more confidence and people can judge you more in a positive way.
You have a love for flying, that is very clear from your social media. How did that interest originate?
Flying has always been my first love. I always wanted to fly and be a pilot and that dream hasn't gone anywhere. If there is anything related to aviation, I am always excited about it. It's not a macho thing for me, but it's the technology of flying that fascinates me. In a steel or aluminium tube, you are flying and talking and eating normally. How it happens fascinates me and makes me realise how powerful of a machine is a human brain. I am not able to yet complete my flying course and I want to get my flying license but I do fly as a hobby by going to some flying club or flying school. Whenever I am near one, I make sure to go there.
Any plans to use that love for aviation in your projects?
I am waiting for those offers, please give me such roles. Playing an Indian Air Force Pilot is my dream role.
You are doing a web show with Shruti Haasan and Mithun Chakraborty. Tell us something about that?
It's a series for Amazon and an adaptation of a book. It has been a superb experience working with Mithun sir. We converse a lot generally about life, and not just business. There is an interesting continuous banter with him that I have going on. He is still such a rockstar and his life experiences are so inspiring.
Have you had the chance to replicate his signature disco steps with him?
I haven't had that courage yet. That's his move and his identity so I don't want to humiliate myself by doing that in front of him. (Laughs)
How is Shruti as a co-star?
Shruti is fantastic and a multi-talented person. She sings, composes music, has a great sense of humour and is a rockstar. There is a common point between us that we have done work across multiple languages, and sometimes we converse in Telugu with each other in some fun moments.
What are your other projects in the pipeline?
There are a couple of Hindi films, a Telugu film and two web shows that are in the discussion mode. One series is to be shot in Canada, so we are waiting on the travel plans to work out. There is a lot of work in the pipeline but it all depends on the Covid situation. We had a couple of days left of shooting for the Amazon series but had to stop due to Covid.
Image source: Instagram/iarjanbajwa