Bachchan Opens Up About Pink, Censor Board, His Market Price & His Biopic
The director of immense repute, Shoojit Sircar who has helmed the production of Pink, joins the chat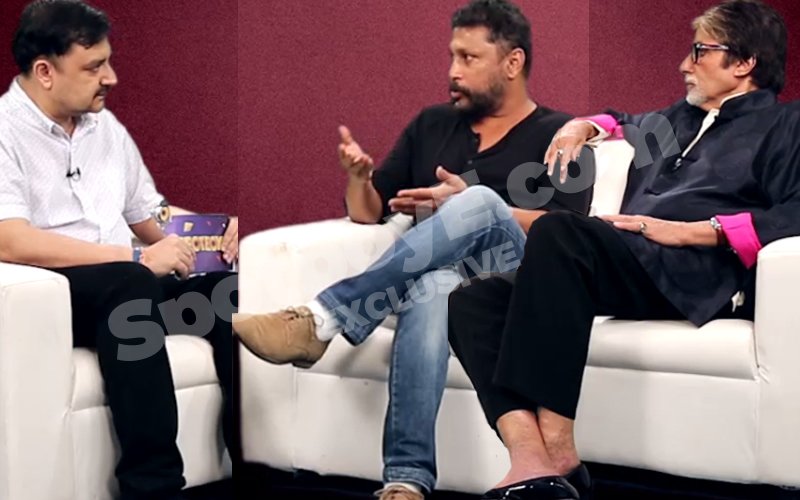 Pink is ready for release on Friday. SpotboyE.com caught up with Amitabh Bachchan and Shoojit Sircar for a chat. Excerpts:

Mr Bachchan, you have done 3 films with Shoojit Sircar. The first one- Shoebite- did not see the light of day. The second one- Piku- got you a National Award. The third one- Pink- is about to hit theatres. Let's know about your journey with Shoojit...
Before Shoojit and I collaborated for Shoebite, we had done a few ads together. There is a very close understanding of what he wants from me as an actor. I follow diligently what he wants me to do. So, my work becomes a lot lesser when I work with him.
We come on the sets with our interpretation and we express it, but sometimes he will come and do something totally contrary. And we feel: Oh, why didn't I think like that?
It's a shame and pity that Shoebite did not release and I hope it does one day.
Shoojit is a very thought provoking director, and I am not saying that simply because he is sitting with us today. Shoojit's products don't stem from a hunger for box-office and awards. He strongly believes in what he portrays. And that's very enticing for an actor. Above all, it's a very satisfying experience when the actor and director are at the same wavelength.




Did you immediately say 'yes' to Pink?
Yes, I was immediately drawn towards the concept. You will see many great performances in this film--- and not from me but from the youngsters. I was shocked when I saw their performance unfold before my eyes. Trust me, you will notice only them in the film and not anybody else.

Shoojit: I had this subject with me since 2013. It is based on a real incident. Aniruddha Roy Chowdhury (director of Pink) wanted it to be made into a Bengali film, but it was kept at bay. Suddenly another incident happened while I was making Piku and my wife passed a comment on woman empowerment. She said: Isn't it shameless that we are talking about woman empowerment in 2015? It was like a jolt and guilt, both. I started working on the script almost immediately,




Pink deals with...?
Obviously, it's a cinematic experience. However, I always feel that every story should have a moral. The moral of this story is the very many things that the three girls who live in an apartment together face in their life and their fight against society. It has been presented in a thrilling manner. You know what! I went to Mr Bachchan for this one without a script. I just told him that he should be a part of this film because it is an important film. We took cases from Delhi HC, Bombay HC and Sessions Courts of Bangalore and Kolkata. We took 16 cases in all, we discussed the strong points and the loopholes of our law system, and formed the whole narrative. Mr Bachchan even participated in the characterisation.

Mr Bachchan, do you think that we need stricter laws in our country to safeguard women?
We should not be questioned on what the laws should be. We have an entire system through our Constitution, Parliament and the lawmakers which decides. Our job is to portray an incident and throw the question out to the audience. Ideally we would be very happy and excited if the audience comes out and discusses, debates and analyses the film. That would be the true justification of why we made Pink.

Shoojit: Let me add on this. Like in Piku I wanted to say that girls are no less than boys, they also can take care of their ageing parents in an admirable manner- unlike the thought that most of us have that it is the son who does that. Believe me, I still get calls and mails saying that 'Piku is my story'. It has triggered off so much of identification with the viewers that it opens up a dialogue every now and then. We would love it if Pink too opens up discussions and debates.




Mr Bachchan, are you happy that the Censors have said that Pink is a must for the teenagers?
Yes, I think it's a justification of the theme. If the Censor Board is able to to recognise the motive of the film, it's credit goes to the director.

Shoojit: I have not had a big problem with the Censors. The Censors understood the use of the word 'virgin' in Piku; I think it was progressive. Vicky Donor as a subject could have gone into an adult zone, but they realised its gravity. In Pink too, the Censors came out and had a discussion with me. I told them that their decision would be very important for today's times as it would have an impact on the women for at least 10 years down the line, and they understood my perspective. They went back to the discussion table and were courageous to give us only 4 cuts, which were only within the framework of the rules.

Mr Bachchan, do you think we need censorship or certification?
This is something that the government will have to decide. We go by the laws of the country and the law and the system says that it should be what it is today, so be it. That's fine.

Shoojit: We need the Censor Board and we'll have to follow the law of the land.

Shoojit, you have a quality of controlling the budget of your films...
I don't spend on unnecessary things. I think it's my responsibility to control the budget of my films.There are many ways that one can control his/her film's budget. Maybe I can do it a little more easily because of my ad sense and expertise. Cinema involves a lot of cheating, we cheat all the time. Even if I want to take a big shot, I can do it in a small budget (pauses). It is really unfortunate that filmmakers need money to make films.

And Mr Bachchan, you also help a filmmaker in that aspect because you don't overburden the producer.
What do you mean by 'overburden the producer'?




Many actors charge very big amounts, while you are a superstar who can charge anything that you want but do not...
You are wrong. You go by what the market dictates. My market is not so big. I get what is commensurate with my market requirement. I can't be bracketed with the top stars in the industry.

I think you are being diplomatic...
Not at all. When you see the big openings with the big stars, that justifies their price. My level of people don't have that kind of opening/box-office returns. Nobody is going to give you that much in the first place. Burdening the film would only amount to making one's ownself suffer.
We are still to fathom how to decide which is a successful film and which is not. Like France decides based on the number of footfalls. That's a debate that can carry on. But yes, if you make a film on a limited budget, you are guaranteed a certain amount of success. It's very creditable that Shoojit can do it.

But isn't it out here like this--- we get judgmental about a film on Day I itself depending on the money it has collected on Friday. Earlier every Friday people asked how is the film, today they ask how much has it garnered at the ticket windows...
That because your yardstick has changed. Unlike in olden times in my days when your yardstick was silver jubilees, golden jubilees and diamond jubilees, today with due respect to everybody people stop talking about films after their first week. So, the collection of the first three days matters a lot. But I don't want to blame the present generation or their way of thinking. The system is like that. Kahan chalti hai movies for 25 weeks nowadays? Nahin chal sakti hain. There are so many theatres and moreover, the ticket prices are so high.We saw a film in 50 paise in those days, but today you don't get a packet of popcorn in that amount do you?




You have achieved everything. Is there something that you still strive for?
Aisa kehna galat hoga. I still like to believe that I hope I can get challenged every day which gives me sleepless nights. I look forward to those moments. I am deliberately saying this pointing towards Shoojit so that he hurries and comes up with something like that again soon.

If a biopic was to be made on you, which actor should play Amitabh Bachchan?
I would dread if anybody ever came up with such a concept because it would be a disaster.


Image Source: twitter/SrBachchan