Bhuj: The Pride Of India Actor Ajay Devgn Says, 'I Cannot Play The Lead For 25 Years, Have To Reinvent To Stay Relevant'
In just couple of hours Ajay Devgn's most awaited film Bhuj: The Pride Of India will release on Disney Plus Hotstar. Ahead of the release of his film the actor sat down for a candid conversation about his upcoming period drama war film, why regulations on OTT is necessary and much more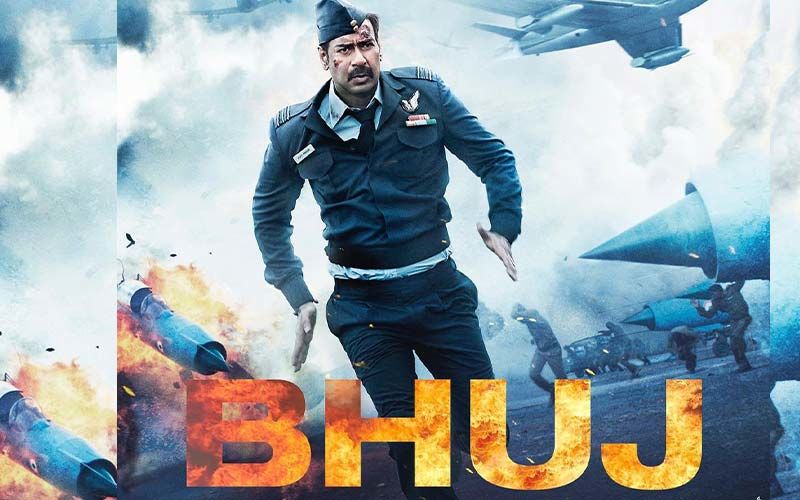 What was it about the story of Bhuj that you as an actor felt, was extremely cinematic and you thought it had the vision to be a feature film?
So much has happened in our country, we have such sacrifices and stories of heroes, which should be told. Bhuj is not a story of one Vijay Karnick, it's a story of multiple heroes and their scarifies and apart from that a combination of those women who are not part of any airforce, or army, their contribution. Those 300 women broke all their houses to make a runway which was made overnight, which is like an impossible task. So I think it was a great story to tell and that's why we decided to make the film.
Were you aware of this story before the script came to you?
No! That's the problem and that's the problem in our country also. There are such great scarifies people don't know about because it's not there in our history books. So if you don't talk about those scarifies and heroes how will people love our country. For normal people they should know, when you get something with difficulty, you try to keep it close to your heart. When it comes to easy to you, one doesn't respect that thing. Kind of scarfies have been made and if people are aware of that then they will know, this is why we are here today. If this makes a two percent difference in anyone then you are sorted, your country is sorted. We don't need to go and say I love my country, we just need to respect it.
How much cinematic liberty has been taken in the film?
The story is completely real, we have shown everything that has actually happened. We have to dramatize every film, even adding a background score in a film, is like dramatizing it. It is to give the audience that experience that you are with them there, one has to dramatize things. But in this case, we have stayed true to the story. We have gone into any character's personal story. Usually, that's done to create emotions with every character's back story, but this time we thought why not only have emotions with people who are sacrificing.
Is there a reason as Hindi cinema, we are gravitating towards stories of patriotism?
Not just patriotism, but real characters. Because they are amazing characters and great stories to tell. I don't think ten writers put together can write a story like this.
But is there a reason for an influx of patriotic movies?
When you have a screenplay like this, it is something that needs to be told. We can't make such great fiction also. So might as well tell a real story and inspire people and push our history forward. People didn't know much about Tanhaji. There was half a page about him in my school book which I am assuming doesn't exist in today's school books. Why should the people not know about his sacrifice? We know the history of the United States of America or the United Kingdom but we don't know our own history. In our country, if you don't speak English, you are illiterate and that's not fair. French people don't think they are illiterate if they don't speak English. They are proud of it.
Did your own bent increase towards such stories in the past few years?
Now people are coming with such stories, writers are researching and when you hear them, you cannot, not make it. You feel it's so inspiring so you will want to make it a film. Also earlier when we use to hear these stories, the technology that we had, the kind of budgets we had, did not allow us to make a Bhuj. Today we can compare the scale of Bhuj to any Hollywood film, earlier we couldn't do that. We would say, the story is good but very expensive, how will we make it, now that has changed.
How do you make sure that the story doesn't become jingoistic?
You have to draw the line somewhere which the filmmaker and the actors need to know. If you keep the screenplay and the characters real so you can make sure it doesn't go overboard. In our film, there is no jingoism at all. It was the same with Tanhaji: The Unsung Warrior. We have shown that people are fighting for the country but they weren't crying about how much they love the country.
In the West, there is a movement where many filmmakers and actors are objecting to a film releasing straight on OTT because the business is getting affected. With your film also releasing on a streaming platform, has it affected your finances?
Not really. I would not say that (it affected business). Given the situation and the scenario, I think it's a great thing (that films are releasing digitally). When you make a film you want people to see it, you want maximum people to see it. And OTT is a good platform. I'm not saying that all the films should release here, but I think it will be a good balance for the future. I think theatres are going to make a comeback in a big way and then there will be a balance because we are releasing 150-200 every year and people are only fighting (for a release date.) People made their films, there are no theatres available because there are 3-4 films releasing on the same day. So it will be a nice balance whether to go on OTT or you go theatrically – as long as people are watching it.
Are there any plans for re-releasing the movie in theatres once things resume normalcy?
There's no way that will happen. Once it's on OTT it's too late.
Now that the films are releasing on OTT, there isn't any pressure of chasing Box Office numbers...
What bullshit! It's created. It was always created. Do you think it has mattered to me? I've never bothered, I've never given interviews (about it), I've never spoken about it. I'm not scared about it.
OTT is a great platform but as an actor and filmmaker does it concern you that there are talks of regulating it?
Yes, it is an area of concern to a point. To a point, it needs to be regulated but we should not start going backward. Regulations should be right. The fear isn't that it's getting regulated. The fear is what the regulations are. If we don't regulate something, people take advantage. Four people taking advantage will spoil the name of the whole industry. If you don't regulate, people will start putting porn on it also. So regulations are important but there has to be a line drawn.
Many new actors are emerging from OTT. In a recent interview, Akshay Kumar mentioned that chances have opened up for so many actors who are becoming stars. He said that if a good script comes your way, just take it and don't leave it for anyone as the star system doesn't exist anymore.
He must have said it in jest. The new actors who have come in will also become stars. If it is a good script but doesn't have a star, the producers have to achieve a certain target. But once a star gets involved, the stakes become higher. We have seen many films of big stars failing on OTT. I believe we are having good talent which is coming in. As I said, there is going to be a good balance between OTT and cinemas.
But with the emerging talents, do you feel the pressure to up your game?
It's not because of the new talent. The pressure has always been there and it has because of the audience. You have to keep on reinventing to make sure you are not left behind
In an interview, you have mentioned that you'd be slowly gravitating towards the production side from being an actor. You said that it is better to go out of the game before it's too late.
What I said is that I am going to strike a good balance. And gradually things are going to change. I don't know when but it will happen. I can't keep playing the main lead for another 25 years.


Image source/Ajaydevgn/Instagram