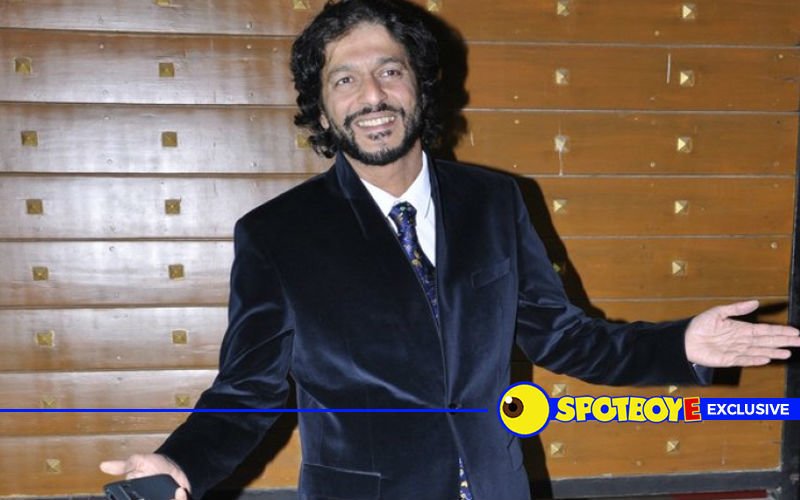 When Gulshan Grover became the hero for the upcoming web-series Bad Man, a 1990s hero was turned into a villain. Chunky Pandey made his online debut as the antagonist opposite Gulshan. In his second innings, the actor has focussed on essaying impactful characters. Ever wondered what happened to the man who was once Govinda's stiff competition? Ever thought why he attends every award show in town? He answers all of this to SpotboyE:



Image Source: urbanasian

Why did you agree to playing a villain with Gulshan Grover as the hero in Bad Man?
Gulshan used to be my favourite villain. He was small and it was easy to bash him up. And now, in this one film where he plays a hero, usne saare 25 saalon ki kasar nikaal di (laughs). When Soumik Sen (writer-director) came to me, I was amused with the idea of turning the game around.

Any reason you choose inane characters to play?
I'm enjoying my second innings. I'm playing Italian, Nepali, a baba...there's so much variety on the plate. I have broken boundaries and now I can do what I want.




Do you feel underutilised in showbiz?
It's good that I am underutilised. It's better than being over-exposed. Whenever my wife Bhavana and I fight, she says, "I don't know why you did those hero roles. You are such a villain in real life!" So, I finally decided to play a villain, though this villain is not the one she was referring to. I wouldn't say I've not been utilised but I've not done too much work. I have been around for 27-28 years but I haven't even done 100 films. Normally, people do that many films in 10 years. The strike rate is not that good but all my work will be remembered. I probably could have done more.

Why did you up and leave Bollywood when you were one of the prominent heroes?
I was a top hero but I wanted to conquer foreign lands. I took off for Hollywood but landed in Dhaka. On second thoughts, I said to myself, "Dhaka is still a foreign land". I became a superstar there. Not too many can boast of being a superstar in a foreign country. I loved that stint for those 3-4 years. I was like Don Corleone from Godfather in that industry. My heart and pehchaan is Bollywood. So, I had to come back and do it for myself all over again.



Image Source: kollytalk


How was the reception when you returned to Bollywood?
It was very frightening. Kids used to come and ask me, "Uncle, who are you?" I wanted to tell them that you were born when I wasn't around. I'd modify it and say, "Ask your mamma. She knows." Fortunately, Apna Sapna Money Money and Housefull came along and now, I don't have to tell them who I am.

Did Bhavana ever object to the kind of roles you started playing? Aakhri Pasta (his character in Housefull) for instance...
Bhavana used to wonder why I do small roles. It's the impact, not the length. I always think I am more effective in smaller packages.




Govinda, your one-time colleague, also tried coming back with some edgy roles...
I don't know what went wrong with Govinda's comeback. It all seemed fine from a distance. As for me, Sajid Khan, Sangeeth Sivan and Sajid Nadiadwala trusted me with some small but very effective characters. And that really got me going.




You are always spotted at award nights...
I go to most award functions. And they inevitably crack jokes on me.



Image Source: follo

Why?
I don't know. I don't get hurt. In fact, I laugh along with everyone. I feel that is the best form of flattery. People remember me whether it's for my stupidity, bad performances or something superb that I may have done.

You never win an award, but you seldom ditch the night. Why do you attend the shows with such regularity?
In all these years, I have been nominated for many major awards but never won a single trophy. I wonder if they'll even give me a lifetime achievement award ever. It's always been a wish: I should win an award. Sometimes, when people ask me why I attend the ceremonies when I am not even winning, I tell them maybe they'll give me an award for just attending all of them.




You're often referred to as the 'party regular' in newspapers. Doesn't that ever prick you?
I only attend friends' parties. I love being with my friends, I love observing people. And I love free alcohol. Who doesn't?




You go to parties for alcohol?
Award functions and parties are celebrations. And if someone goes out of the way and invites me, the least I can do is show up. I get invited for 100 parties. I go to 10. I can be at a party every night if I want to be. Maybe I am at the parties that get written about, and so I am called a party regular.

What's next in store?
I return with Aakhri Pasta in Housefull 3. And then there is a film called Yeh Film Pakistan Mein Ban Hai. I'm an extremist, an Afghan rebel in the film.


Thumbnail Image Source: hamaraphotos