Dial 100 Producer Siddharth P Malhotra: 'It's Completely Different From Any Other Manoj Bajpayee Cop Film' - EXCLUSIVE
Filmmaker Siddharth P Malhotra, who is producing the Manoj Bajpayee, Neena Gupta and Sakshi Tanwar-starrer Dial 100, talks about the film, the social relevance it holds, working with its lead cast, his plans to return to TV and more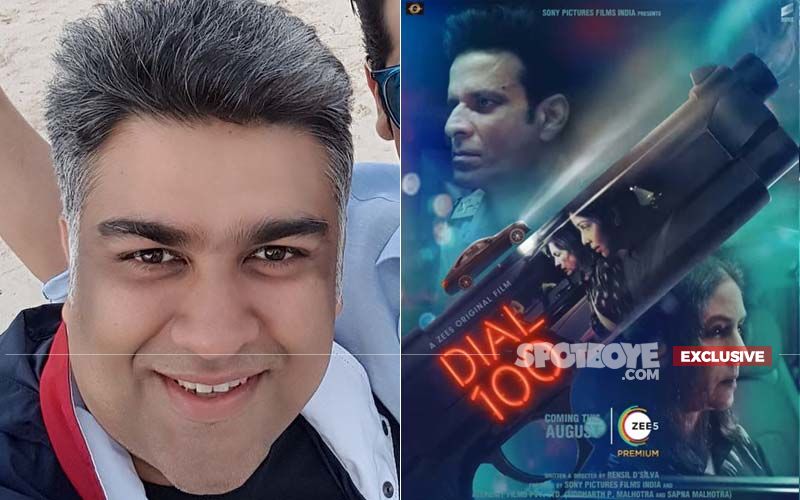 Siddharth P Malhotra has been a known director in Bollywood for a long time. In the last 10 years, he has directed two successful films—We Are Family with Kajol, Arjun Rampal and Kareena Kapoor Khan and Hichki with Rani Mukerji. This year, he turned a film producer with Kajol, Tanvi Azmi and Mithila Parkar-starrer Tribhanga and now he is all set for the release of his next production, Dial 100 featuring Manoj Bajpayee, Neena Gupta and Sakshi Tanwar.
In an exclusive chat with Spotboye.com, the filmmaker gets candid about the film, the social relevance it holds, working with his lead cast, his plans to return to TV and more. Read excerpts from the interview:
Siddharth, up until now, almost all your films be it We Are Family, Hichki, Tribhanga or Qaafir, have had some social relevance in their story, but Dial 100 is looking a bit different from that league…
It has major social relevance. While the trailer gives you a promise of thrill and adrenaline rush, but the message it gives in the end is very deep and that is what drives it home. It's completely different from any other Manoj Bajpayee cop film. It questions that if a minor from your family commits a crime or is a part of it, will you surrender them to the law or not. It represents three strati of society through a story weaved in one night and is not just a thriller but a story asking a way bigger question that none of us have an answer to. It's not like any other thriller that is made on OTT. Our aim was not to just entertain but say something as well and hopefully we have been successful at that.

Till now, in almost all your films, you have worked with experienced actors like Kajol, Rani, Arjun, Kareena and now Manoj, Neena and Sakshi. So, apart from their experience, what else do they bring to the table?
They take their character above the writing. There are some actors who will only speak and deliver the written work but not add any tone to it. But when you work with such actors, you don't need more than two takes from them. What they give to you is that they take your written word and vision and make the experience much more special. So, if you want to tell something with the right intent, half the battle is won by right casting.
Neena ji has established herself as a dependable actor in the last few years. With this film, she seems to be breaking the mould that she has been put in with her portrayals in the recent years. How was it witnessing that first hand?
I had been a child when Neena ji worked with my father on Katha Sagar, Junoon and other projects. So, she knows me as Sidhu, the bachcha. She has seen me doing Sanjeevani and my other shows, so when Mukesh Chhabra came to me with the idea of casting her, I just said that Neena ji would do wonders in this negative role. When we approached her, she just asked, 'Siddhu, tum kar rahe ho?', and said yes immediately.

She is such a remarkable woman who breaks her mould time and time again. She has had so much experience in life that comes out in her performance.
And since Sakshi and you both have a common ground in TV, you must have had an amazing experience working with her since she is such an amazing actress…
It has been my dream to work with Sakshi Tanwar for 20 years. Right from when I was in my father's company Cinevista to when I am running my own production house, Alchemy, it has been my dream to work with her. When she was doing Kahaani Ghar Ghar Kii and I was doing Sanjeevani, since then we have been talking about working together. So, with Dial 100 my dream came true. She is such an amazing actor and a firecracker. She brings so much authenticity and vulnerability to all the characters she plays.

You have been in the director's chair as well and you must be used to getting your vision out there, so when you have to stay back as a producer and let the director take the call, does it feel weird at times?
No, because when we work, Rensil D' Silva (director, Dial 100) and I are like twins. We agreed on the vision beforehand and I was with him on the shoot every day. I trust his vision completely and I believe that when the whole unit understands the film they are making and agree on the vision, that is a true sign of a good film. My entire team and I were on the same page.

Just a few months back, Manoj sir was seen as another officer of the law in The Family Man 2, which became a huge success. Do you think the hangover of that show will work in your favour or against it?
I think it will work in our favour. Manoj is a very good actor and if you put him in a film that he believes in, he will uplift it. If you don't make a good film with him, the onus would fall on us that we didn't do good work even with his presence. The pressure is more on us as he is already an amazing actor.

You have worked in TV, films and now OTT too. What is the difference you notice between the three mediums?
There is a major difference. TV is like a daily newspaper and I feel like today it's catering to the lowest common denominator. There is no progressive content on TV at all at the moment, as per my opinion. And there, you work for six months, get a TRP for one week and that dictates the next six months. So, I have decided to return to TV only when I can tell my story the way I want to, otherwise I won't.

OTT luckily lets you tell your story the way you want in those eight-10 episodes. It gives you better projects and is empowering creators and talents that didn't have work. Films are there to stay forever but now the films would have to cater to that cinema experience. They should look like they are made for the big screen.
Dial 100 seems to be having a lot of things working in its favour, right from the lead cast to the intriguing story. But what according to you would be the USP of the film?
I think the USP of the film is the takeaway from it. Right now, people are seeing it as a thriller but when people watch the film, they will realise it's not just that or like any other Manoj Bajpayee cop film.

Image Source: Instagram/siddharthpmalhotra/
bajpayee.manoj/neena_gupta, youtube/zee5, wikipedia