Diana Penty: I am not shy anymore
We saw her in Cocktail in 2012, and she has done her second film Happy Bhag Jayegi only now. In an exclusive chat with SpotboyE.com, Diana Penty spoke about how she has changed, her moves ahead, and of course, Happy Bhag Jayegi.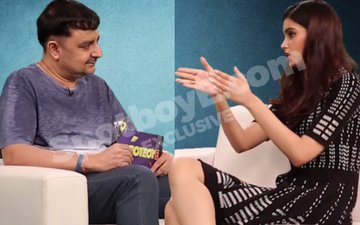 We saw her in Cocktail in 2012, and she has done her second film Happy Bhag Jayegi only now. In an exclusive chat with SpotboyE.com, Diana Penty spoke about how she has changed, her moves ahead, and of course, Happy Bhag Jayegi. Excerpts:

Where did you disappear after Cocktail?
There was never a plan to disappear or take off or as people say, leave cinema. I have never had a fixed plan in mind. It's just that time went by, I was meeting people for another movie, reading scripts and nothing ever really clicked for me, so I didn't put pressure on myself thinking, 'Oh, I have to get something within so and so time otherwise, you know, that's the end of the world.' I just took bade some time. I wanted to find what was right for me. So, that's how it took a while--- but I don't see it as being such a bad thing. It's just unconventional, may be. Eventually I met Aanand (L Rai, producer) sir and Mudassar (Aziz, director) for Happy Bhag Jayegi around 3 years after Cocktail, read the script and it just clicked.

Cocktail released in 2012. Four years is a very long time in Bollywood…
It is, I know. That's what everyone says but it didn't matter to me, to be honest. Personally, I didn't take it as a stressful thing or I didn't have a plan where I said that I "had to" find something within this time period or time limit. So yeah, when you look at it from the outside, it sounds like a long time but somehow I kept myself busy and I just let it flow on its own.



Image Source: Manav Manglani

How was the response to Cocktail? You were never around after the film to discuss it with you...
I definitely got a good response, way more than I had ever expected. I wouldn't say it was all about me. I definitely think that Saif (Ali Khan) and Deepika (Padukone) had totally killed it as well. In fact, Deepika takes the cake. But the kind of role it was for my first appearance ever on the big screen, it was huge deal and I feel grateful that it came along. I feel that somebody's watching over me from above. I was modeling in those days and wasn't actively looking for a role to play in Bollywood. I remember auditioning for it and the very next day I was told, 'You're on.' And then, I had no idea what to expect from the film but mostly everyone had nice things to say.



Image Source: twitter/erosnow

Happy Bhag Jayegi looks far different from Cocktail...
That was what was special for me. I read the script and I was like 'Woah!' This kind of story, which was more comedy oriented, completely different from Cocktail which was more intense -- a different zone altogether in terms of the styling, the character, where the character is from. Even though she (her character in Cocktail) was also Punjabi and a girl from Delhi, it was set in London, slightly more urban. This (her character in Happy Bhag Jayegi) was the opposite in all these aspects. I read the script for the first time and it didn't even strike me that I would be interested in something like that because it is so far away from where I come and where I have grown up and my world. I thought, 'Hey, why not do this because this could be exciting, challenging and now that it has been so long, wouldn't it be interesting to do something completely different? And something that nobody would expect?'



Image Source: Manav Manglani

The promos suggest that you play a loud character in Happy Bhag Jayegi. Was it easy for you to speak aloud? Keep your inhibitions aside, et al? We saw a very shy girl in Cocktail.
No, it took a while. 3-4 years ago, I was way more inhibited, reserved, quiet. With time, I have opened up a bit, have become more confident. And this role did require me to work on those parts of me and my personality which was of a quiet, shy person. So, it took a lot. It was like coming out of my shell almost. Even in my daily conversation, I speak quite softly whereas Happy is extremely loud. There was a strain in my voice in the beginning. Then you get used to it. That's why doing workshops is very important for me. I think prepping for a role is the key. So I gave those 3-4 months to completely invest in the character. I did everything – watching Punjabi films, spending a few days in Amritsar and just observing people there, saw characters from Punjabi films on YouTube to see how they dress, how they behave, getting into the cultural aspects. So all these things stay in your mind and help you when you're actually playing the character.

It must have been an experience to work with Abhay. I think both of you come from the same school of thought, and are extremely selective...
I met him for the first time on the sets of this film. I have always said that I have been a fan of the kind of work that he has done in the past. He also is very selective and content-driven; we are very similar in terms of our likes and sensibilities. So yeah, it was very a good experience working with him. He is a very natural and a real actor, which makes it easier for a person to react to him. So for a film like this which is not in my comfort zone, it helped to have that kind of an actor opposite me. He just made it that much easier for me.

What is your career plan now? Would you do multi-starrers?
I don't approach films in the conventional way. I like reading the script, knowing what the story and my character is. Everything else is secondary. It doesn't matter if it's a multi-starrer or not a multi-starrer. What matters is my role and the story. It needs to have some substance and it needs to be impactful.



Image Source: youtube/ErosNow

So what was it about your role in Happy Bhag Jayegi that made you throw yourself into it?
To begin with, it's completely the opposite of Meera from Cocktail. That was one of the main reasons I wanted to do this role. She is this loud-mouth, feisty staunch Amritsari girl who has got opinions. She is stubborn, independent, jugaadu as they say and lives life on her own terms. She is very brave, almost like the guy in her family. She is not dainty from any angle, in fact, is almost a tomboy. So I found her to be a very independent character and that worked for me.

How were the workshops that you did?
It took a while in the beginning to break into it. Once I got over the initial few days of being loud not just in terms of my voice but also in terms of my body language, things got easier.

Have you changed as a person in real life as well over the years? Because you said that you were similar to your character in Cocktail earlier.
I wasn't that extreme, of course. But I am definitely more confident about things, about my work, facing the camera, being around so many people, having so many people watch you, being in the limelight--- those were the things I wasn't so used to in the beginning and they used to throw me off balance but now I feel like I am way better in all of that. I am more comfortable in my own skin now.



Image Source: youtube/ErosNow

How was it being directed by Mudassar (Aziz)? He hasn't made too many movies...
It was great. When I first met him and he narrated the script to me is when it struck me that this guy has invested so much in this story. He has written it from scratch, created his own characters, the dialogues, even the lyrics of all the songs. So I realised how well he knew his story and how well he knew his characters, which is I think his strength. Because when he is directing, he knows exactly what he wants from you. He helped a lot with Happy's character for me. He explained to me where she comes from, why she behaves in a certain way, what she would do in a certain situation. I could ask him anything and he wouldn't think twice and just answer. He really helped me play my part better because there were things that he knew of Happy which I wouldn't have thought of on my own.

How are you going to maneouvre ahead? Are you going to be that selective? Or are we going to see you more frequently?
I have always played things by ear, so I am not going to change my approach. But I definitely want to do something soon, I am not going to disappear now and I am looking for something to do next, meeting people, reading stuff and hopefully something will click soon.

Are you nervous about the box-office collections of your comeback film?
I am always nervous and excited. Fingers crossed, I hope people like it.
They say the best things in life are free! India's favourite music channels 9XM, 9X Jalwa, 9X Jhakaas & 9X Tashan are available Free-To-Air. Make a request for these channels from your Cable, DTH or HITS operator.