You had a couple of...
Bad movies and bad years?

Yes...
Well, a couple of my films flopped (Half Girlfriend & Flying Jatt) and a couple leaked online (Udta Punjab & Great Grand Masti). Yes, it was a tough time. But then, things change. Mom said that we'll take a risk and do Veere Di Wedding.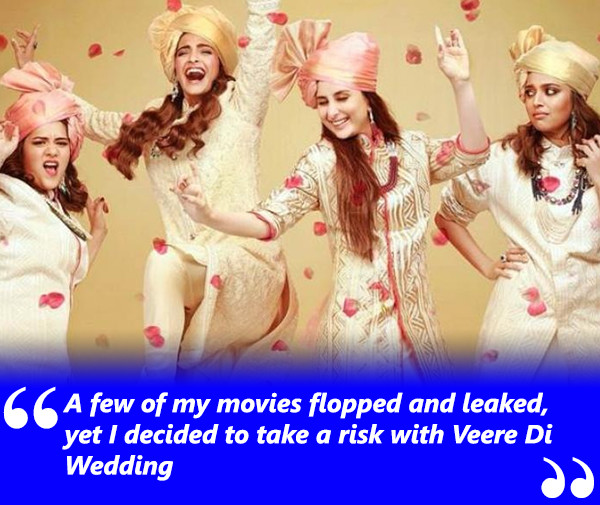 Is it your passion for movies that made you reopen the doors to production?
Well, mine is a public limited company and I had to work on many things to bring it back. Reliance too hadn't entered that time--- but ever since they did, they have been a huge support. To answer your question, yes my passion for a fantastic script which can never go away, was one of the reasons why I decided to produce movies again.

You had, in fact, opted out of Vere Di Wedding...
Yes. And trust me, I felt terrible for that. Rhea (Kapoor, producer) and I had been so much together on this venture since Day 1. But I had to call her one day and say that I cannot do this film.

Go on...
I had to tell her that the budget is not working for me, plus trade pundits are saying that I am making a mistake again because women-oriented films don't run, and blah, blah, blah. There was so much happening, but my mom changed my outlook.

One day, I had gone with my mom (Shobha Kapoor) to buy a new car and she insisted that I buy the best one. I turned around and said I could do without a car, but I wanted this movie. Mom called up Anil sir (Kapoor) who said that he was doing the deal with someone, but would let that pass if I was really coming in. When we told him yes, he assured us that this film would be made only by the girls.

Today, I am so happy that I have sold the film in all respects even before it has released.

Is feminism the main slant of Veere Di Wedding?
Four girls bonding with each other does not mean feminism. These girls are just celebrating life. If life gives you a lemon, you call up your friends and they will get tequila (smiles).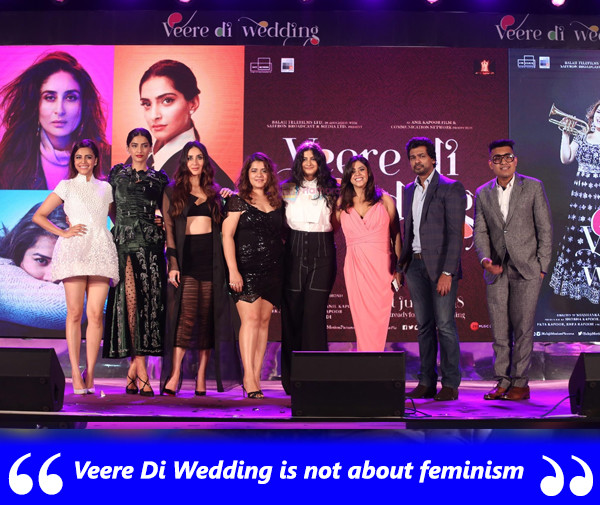 Is the double standards against women the slant?
Nope. You see, if two friends, say you and I were to talk off camera- won't we drop our guard and speak uninhibitedly. Similar thing is happening in Veere Di Wedding. If their heart breaks, they bitch out the boys. They eat, they overeat... it's all a slice of life.

Veere Di Wedding is about me, it is about you. It is about the fact that life doesn't always give you what you want.

Did you identify with the subject because you yourself are a firebrand girl?
I am a firebrand girl, and these four are also firebrand in the film. But they are not flag bearers of any feminism, Kareena is a highly quiet girl, Sonam is out there, and Swara and Shikha always have a point of view. Every 19-20 year old will identify with the subject.

Someone asked me the other day that ladkiyaan kyun gaali de rahi hain film mein, kya zaroorat thi? I asked that person that how come there wasno problem when the boys were abusing or seeing females in a certain manner in Pyar Ka Punchnama.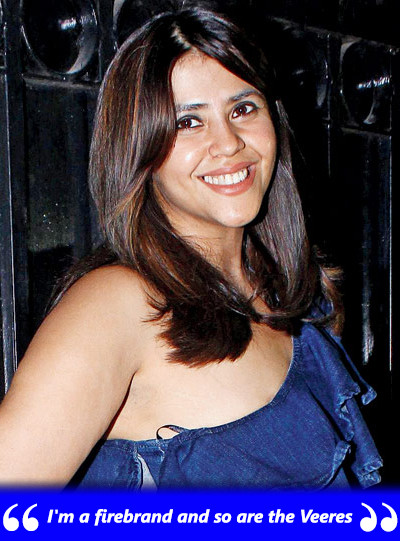 Gaali dena shobha nahin deta, he meant?
Haan, lekin ab Shobha (Read: Shobha Kapoor) ne de diya na? Look, kuch toh log kahenge, logon ka naam hai kehna.

Why did you quit Kedarnath?
Gattu was in a problem, he wanted one producer. I was a minor producer and I think it was just fitting for me to let him go to one producer who could fully own the film.

How are you travelling ahead?
I have Laila Majnu with newcomers, Mental Hai Kya with Kangana. l will pick up something that I like. I will not pick up where people will say 'these are great proposals'. I picked up a few 'great' proposals and they failed.

How different will Veere... be from Lipstick Under My Burkha?
Lipstick... was about all ages of women, this is far more out there. In Pyar Ka Punchnama if you understood the gaze of men, here you will understand the gaze of women.

Which of these four girls is more like you?
I am going to make a politically incorrect statement. It's Swara Bhasker. She is foul-mouthed, she is brazen.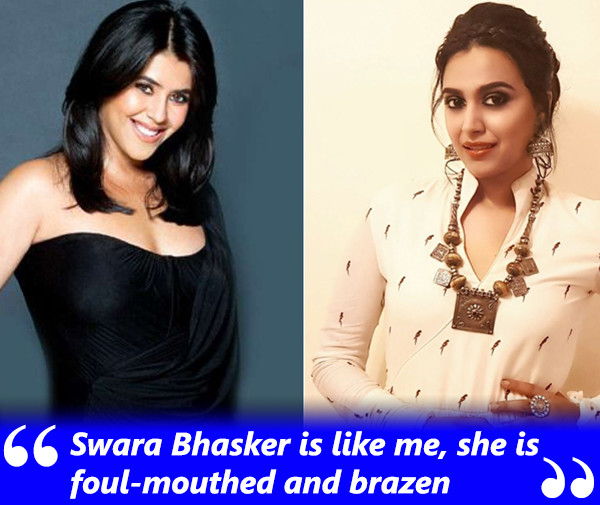 Did you tell Swara?
Yes, I did.

As for Kareena's character Kalindi, I don't identify with her and can't be like her, like quiet and baaton ko andar ki rakhna--- but I have friends like her.

As for Shikha (Talsania), I feel a bit for her as her character is shown to have a weight issue like me. A girl, even if she loses weight, will have that issue in her mind.

How was it at your house as you grew up? Rules were different for Tusshar?
Well frankly no. But yes, I had to be chaperoned by my brother when it came to going for parties.

Have you lost friends/colleagues when you said it as it is?
Nope, but i have worked with friends which become a problem at times when I had to take a professional decision... but if they went away they were never my friends na

Colleagues?
Not much.

So, people have understood you...
Sort of (smiles).