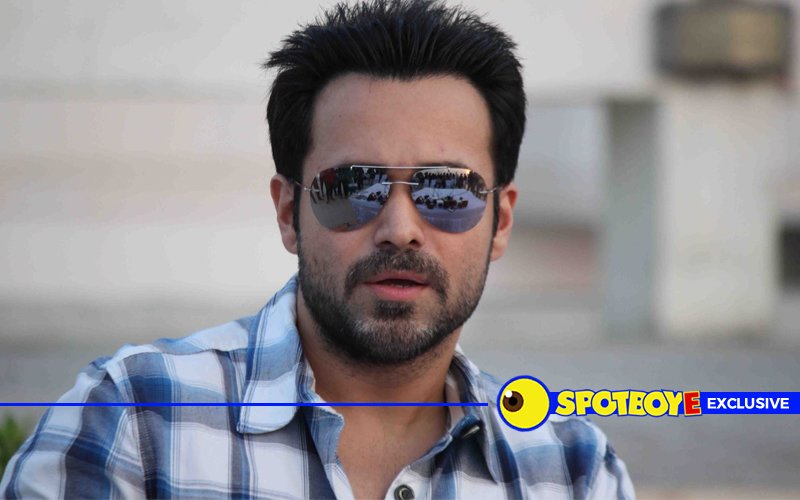 Your browser does not support the video tag.
Emraan Hashmi is all set for his big release, Azhar, which hits the screens this week. Considering that his last few films--- Raja Natwarlal, Ungli, Hamari Adhuri Kahani, Mr X--- failed to set the cash registers ringing, a lot is at stake with Azhar. But Emraan is sure that he will bounce back and his inspiration is his 4-year-old son Ayan, defeated cancer. In a heart-to-heart, the actor opens up about movies and more. Excerpts:

What was your first impression of Azhar as a cricketer?
I always used to watch cricket. Those were the days! There were not too many avenues of entertainment. The entire family used to come together and watch the game. And yes, Azhar was in his prime. What I remember is his non-textbook style of playing cricket and unconventional swagger on the field.

What was your first reaction when you were offered the role of Azhar?
Ekta (Kapoor, the producer) called me up 2 years back and said, 'We are making this film and I want you to play Azhar in it.' I was so happy I could have almost done a cartwheel. Azhar's life has everything that makes for a great Hindi film – being the most successful captain, match fixing scandal, so many ups and downs.




Did Azhar help you in preparing for the character?
When the team approached him, Azhar was clear that he didn't want a film to be made on him. But he changed his mind when we took the final draft to him. I started doing my research well before that. I saw his tapes, watched his matches on Youtube and read his articles and newspaper cuttings. I could even call him and discuss things with him. He used to come down to Mumbai and we would meet over dinner.




What were his reservations?
He was worried about how it is going to be pitched eventually – how much will be factual and how much will we dramatize.

Azhar was famous for his wrist shots. How did you get them right?
It took me 4 months to twist my wrist the way he does because I used to do weight training. And Azhar is completely against weight training. He used to advise many young cricketers against it because it reduces mobility. So I had to start doing a lot of yoga and then, I got those shots.




As you mentioned, Azhar's life saw many ups and downs. What is your take on them?
I don't jump the gun and adjudge someone guilty. Whenever a sportsperson or a celebrity has an ongoing court case, the audience loves to tear them to shreds. They don't form their opinion based on any data or evidence – instead, they go by their own observations. The fact is that Azhar won the court case in 2012.




During the shoot of the film, you were going through a personal turmoil – your son was diagnosed with cancer. That must have affected your mental make-up…
It was when my son was diagnosed that I had my first meeting of Azhar. Ekta was just forming the first ideas. By the time we began shooting, my son had already come back to Mumbai. We had passed the dark phase.

During the traumatic phase, did you ever think 'Why me?'
That was the first thought that came to my mind as a parent. But the very next minute, I thought, 'Why any child for that matter?' Then I started accepting that this has happened and I cannot undo it. I had to fight for my son's life. There is a manic kind of will and energy that comes out of it that makes any parent feel courageous. When I look back now, I wonder how I mustered so much energy and courage.




How did you deal with situation?
It's just the inner strength that we have, which is suddenly activated when something like this takes place.

How were the days when you had to rally around your wife -- and vice versa?
It was very important for us not to shed tears in front of our son because that would break his spirit. There were times when my wife and I used to chat about how we will get through this. But eventually, it was just about crossing every hurdle every day.




Did you start believing in God then?
I used to believe in God, but somehow, I had stopped praying. After this episode, I started praying every night.

Why had you stopped praying?
I don't know. I had lost touch with the spiritual side. I think I got too busy.

The industry too stood by you – be it Shah Rukh Khan or Salman Khan. Amitabh Bachchan even wrote you a letter…
It was very heartening to have their support. Mr. Bachchan actually sent a handwritten note. I had sent him the book I penned (The Kiss of Life). He actually read the book and mentioned about it in the letter. So it was heartening that people had taken the trouble to read it.




Your films were not doing well at that point either. How did you cope with that?
If my son can bounce back from cancer, my bad phase in films seems so trivial. My son taught me to be more resilient. He taught me that every time life bogs you down, you have to get up.

You've been saying that you want to reinvent yourself…
It started way back during Awarapan, Once Upon A Time In Mumbaai, Shanghai, The Dirty Picture and now Azhar. All these were reinventions. I know it gets fashionable when people call me 'serial kisser' because people always try to box things up. They are still stuck in that rut.




But you do have a kiss in this film as well, with Nargis Fakhri…
(Interrupts) I have kissing scenes in Azhar with both--- Prachi Desai and Nargis.

Who was easier to kiss– Fakhri or Desai?
Most actresses are easy to kiss. The environment was very easy. Tony (D'Souza, the director) made it easy. And Fakhri and Desai made it easy too.

Did your son understand what he was going through?
Yes, he did. We didn't tell him initially, but later on, I had to.




Why?
In India, we don't have a psychological aspect to cancer. But in Canada, they do have a psychologist for it. The psychologists insisted that we had to tell him. You don't have to tell them about death because they don't understand it. But you can tell them that there is something in your body that you have to take medication for and overcome it.

How is the Master Champ (Ayan) now?
Fantastic. He is a bundle of energy and is driving us crazy. He is in school now and is into a lot of activities like kick-boxing and dancing.




How did you think of penning The Kiss Of Life?
Hussain Zaidi pushed me to write it. He came on set one day and said, 'You should document your struggle in a book because it would give hope to many parents.

What do you have after Azhar?
I'm doing Raaz 4 which will release in September 2016. Plus, I have two movies with Vishesh Films.


Thumbnail Image Source: hdwallpapers