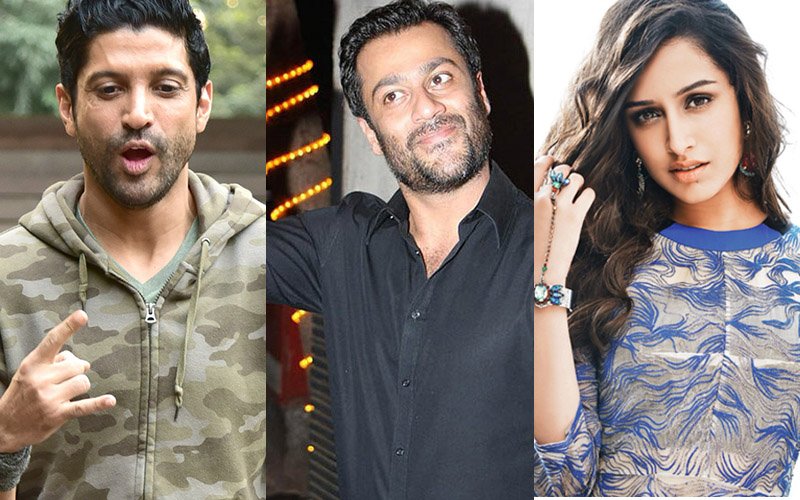 Your browser does not support the video tag.
Farhan Akhtar had already established himself as a director by 2008, when he decided to step in front of the camera with Abhishek Kapoor's directorial debut, Rock On !!. The film became a blockbuster, catapulting Farhan to stardom.

Now, after a gap of 8 years, the film's sequel is finally going to release this Friday. The original cast including Farhan, Purab Kohli and Arjun Rampal has been maintained, with the addition of Shraddha Kapoor as the female lead.
But an important name is missing from the line-up of Rock On 2, that of Abhishek Kapoor. The actor-director duo had famously fallen out and in a freewheeling interview, SpotboyE.com catches up with Farhan Akhtar and Shraddha Kapoor where they discuss all that and more (See the video above). Excerpts:

Rock On 2 has been in the making for a really long time. Why the delay?
Not really. It was around 2013 end when we decided that we should go ahead and do it. Then we had to write the script, we had to be happy with the script, we had to find the perfect locations to shoot, and finally the right cast. All these things take time, and we also took pretty much the standard amount of time, that it takes to put a film together.

Farhan, when and how did Shujaat Saudagar come into the picture?
During the development of the project we had come to a point where we were asking ourselves, who would direct the film. I had previously worked thrice with Shujaat in some ad films. In his capacity, he has directed more than 150 TV commercials. We also worked very closely on Don 2. He was the 2nd unit director and we grew very fond of him. To add to all of this, rock is his favourite genre of music. So all these factors came together, and we decided that Shujaat was the perfect person to helm this film.

Why didn't you stick to the director of the first part, Abhishek Kapoor (Gattu)?
Our lives have gone in two completely different directions right now. So it just didn't seem feasible.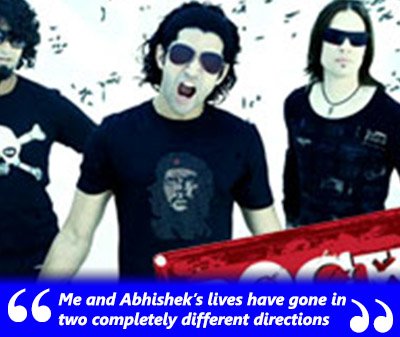 Image Source: hotgurgaon

Would you still show this film to Abhishek Kapoor?
Yes of course. He is credited with writing the story. He was involved with the film at that time. So he is a part of the crew. Therefore 100 percent, I will show him the film.

Shraddha, did you watch Rock On!! when it first hit theatres?
I have seen the first film many times. I can't remember exactly how many times though. Obviously I liked it. It had a huge impact on me. It was the first time I saw Farhan singing, and I said to myself, 'If I want to do it, I can as well. It is possible.' It was very inspiring to see Farhan because he does so many things together - he acts, he sings, he writes, he directs, he produces, etc.

Farhan, was Shraddha the obvious choice for Rock On 2?
(Laughs) She came into office with a gun, and asked, 'Who's there in Rock On 2'. And we just said 'You You' (Laughs).



Image Source: newsdog

Shraddha, do you think you had an upper hand over your peers because you sing?
Maybe yes. They really liked the way I sang. Even when Ritesh (producer Ritesh Sidhwani) met me, he mentioned how important it was for the characters to sing. So yes, an actor who could sing was what they were looking for.

Farhan, the music of Rock On!! was a massive hit. But Rock On 2's music has got mixed reviews...
I love the fact how people have completely forgotten what happened with the first film. There is a memory void in terms of what happened with the movie. When the music of that film came out, the music was panned, very badly. Everyone was like 'What is this music and this is not film music' and so on. The reviews of the music were not at all good. The music really, really took on once the movie came out. People appreciated the film and the music has now taken on an identity of its own. So that's really what happened with the first film. Now everyone remembers that music so fondly, and come up with things like 'This music is not like that one' and so on. But I guess such things are bound to happen. There will be comparisons with the first one which you have to accept. After all you are making a sequel of a film which people loved. So talking of the music of this film, there are songs that people like, there are songs that people find okay. And hopefully again when they see the film, and find out how the songs fit into the narrative of the film, then the music will do the same thing like the first part.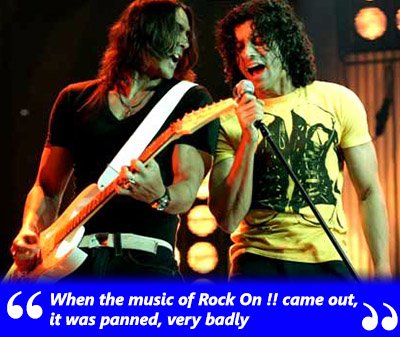 Image Source: nazarmagazine

Shraddha, how was it working opposite Farhan?
Actually I am not opposite him in the film. It's an ensemble cast of a band. Working with Farhan has been unbelievably amazing. There is so much that I have learnt from him by just being around. He is so inspiring as he is so passionate on set, which made me feel that I too need to bring in more passion into what I do. He really loves what he does, and that's really nice to see.

Farhan, as an actor when a film like Wazir doesn't do well, and as a producer when a film like Baar Baar Dekho doesn't do well, how does it affect you?
To a certain extent, you do feel bad. Because you have worked hard on it. Even if the film's aren't successful, it doesn't mean that you haven't worked hard on it. So that's how it actually is. You do feel bad for all the people who are involved in the project. You do feel sad, but that's the business you are in. There will be great Fridays and some not-so-great Fridays. You have move on, hoping that you can deliver something that people will be entertained by.


Thumbnail Image Source: Manav Manglani, daily and hdpicswale