Here's Mishika Chourasia- Divya Bharti & Neelam's Mentor's Hot New Muse
Mishika Chourasia is going to rub shoulders with Govinda in his comeback vehicle titled Rangeela Raja, a film by Pahlaj Nihalani. The film is in dubbing stages and this 24-year old is extremely excited about her debut...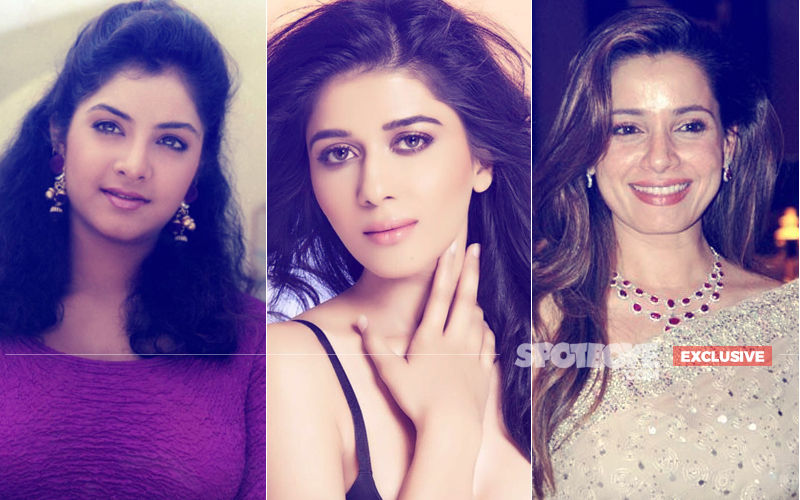 Pahlaj Nihalani who was instrumental in rocketing Divya Bharti and Neelam's careers is now introducing a Nagpur-born Mishika Chourasia opposite Govinda (in a double role)

We caught up with Mishika at Spectral Harmony (Andheri) where she was dubbing some very dramatic and crucial scenes from Rangeela Raja. Excerpts from the conversation that followed:

What makes you take to acting?
Acting was not on my radar. In fact, I had happily graduated in Travel & Tourism. One day, a friend of mine asked me if I could just help one of her friends who was starting a photo studio. She said that it would be great if I could shoot a few pictures for the same. I don't know how, but those pictures soon started circulating a lot in the industry and I started getting calls, offering me ads and films. I was pleasantly surprised and told my parents 'Ab toh yahi karna hai'.

Did they throw a fit?
(Laughs) No.

And?
I flew off to do an acting course in New York. When I returned, I had developed a slight accent. I immediately enrolled with Barry John to cleanse that.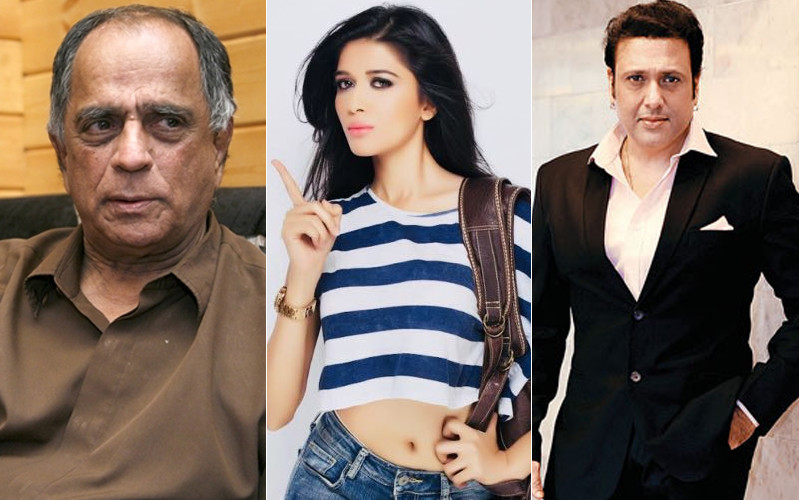 Pahlaj Nihalani, Mishika Chourasia And Govinda

How did you land up in Pahlaj Nihalani's Rangeela Raja?
Just by chance. I come from a business family. My brother (who is now in New Zealand) are film buffs, we used to watch films at home from childhood, awaaz mute kar dete aur dekhte. One day, it so happened that a family friend whom I know from childhood took me to his office when he had to meet him for some work. I didn't even know that he was taking me to the man who had made films like Ilzaam and Shola Aur Shabnam.

When was this?
Mr Pahlaj was the CBFC Chairman then. But he asked me to send my pictures. Back home, I enrolled myself

This March, I got a call from him saying that he wants me in Rangeela Raja. All that he added was: Drop by for the measurements of your clothes, we need to talk on the script as well. I could not believe what was happening. He didn't even bother to audition me. He has an eagle's eye to detect talent. We started shooting at ND Studios (Karjat) 5 days after I got selected.

Who accompanied you to the shoot?
Nobody. I have lived in a hostel in Bangalore when I was studying. I am quite an independent person.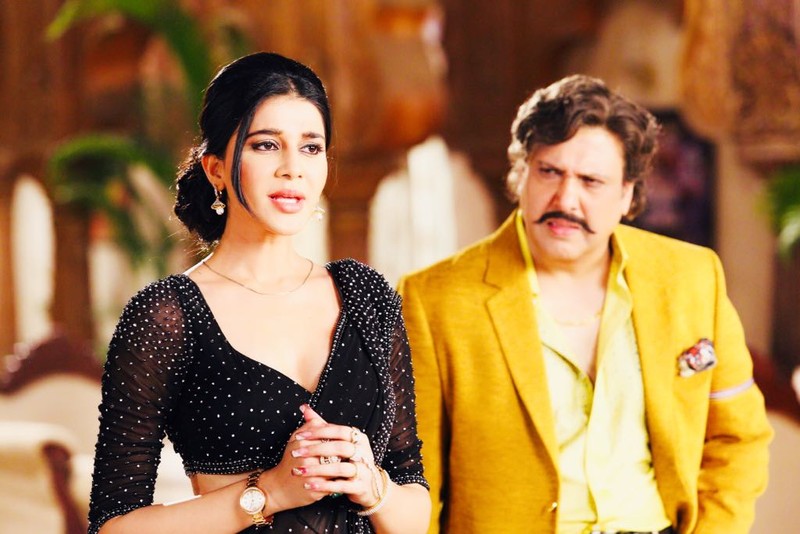 Mishika Chourasia And Govinda

Did you know you were being cast opposite Govinda?
Not before, but when I was told I screamed in Pahlaj's office so loudly that his office-boy came running.

Have you seen Govinda's films?
Bade Miya Chhote Miyan and Shola Aur Shabnam.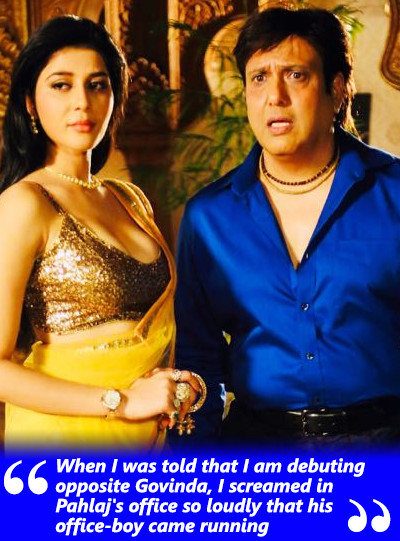 Your first day at the shoot of Rangeela Raja...
I was a trifle nervous, but when the cameras rolled- I complete a 3-minute shot in my first take. The entire unit was surprised, they clapped.

Was Govinda punctual? He has had a reputation of coming late on the sets...
No, he was very much in time. Also, he was very supportive and co-operative. He is one of the finest we have.

Do you have lovey-dovey scenes with him?
I don't have romantic scenes with him per se, but from the moment I enter the film- the scenes revolve around me. I play a strong headed woman, a no-nonsense type.

No-nonsense types. Interesting. Did you have any bad experience of someone annoying you in college a bit too much by chasing you?
Not really, but yes koi pechche padh jaata toh main left right de deti thi.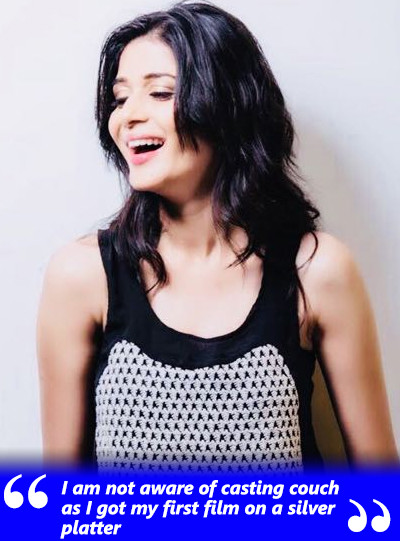 You must have heard horrid stories about Casting Couch...
I am not aware of it as I got my first film on a silver platter. I believe in myself and my talent.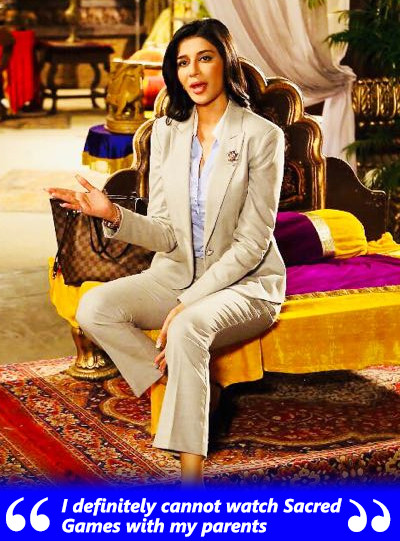 Many people believe that we are still living in 1952 and need to get bolder in films...
We are changing, but I don't think we need to change so much. Our culture is different. We don't need to go beyond a certain point. Haan, aajkal web series etc aa gaye hain and inhibitions are being set aside quite a bit. Like, Sacred Games for one, is another level altogether.

Can you watch Sacred Games with your parents?
Of course not.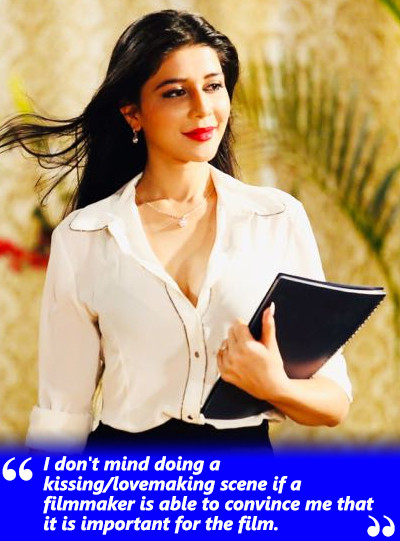 Kissing and lovemaking scenes have become common. Are you ready to do them?
I don't mind doing a kissing/lovemaking scene if a filmmaker is able to convince me that it is important for the film. I won't do it if it has been included for just the heck of it.

Besides Govinda, who else are your favourites?
Hrithik Roshan, Akshay Kumar, Kareena Kapoor, Deepika Padukone and Alia Bhatt. I would love to do a film with Ranbir Kapoor.

What kind of roles are you largely looking at?
The role needs to have content for my character and the script should be strong.