Hrithik Roshan's Sister Sunaina Opens Up On Her Cancer, Kidney Damage & Obesity
Hrithik Roshan's sister Sunaina talks on how she rose like a phoenix from the ashes after cancer, bariatric surgery and renal ailment. Sunaina adds that her brother played a pivotal role in bringing her back on her feet. Check out the video below...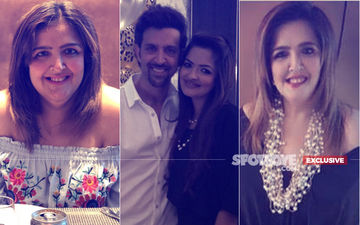 You have spoken about your fight against cancer in Mumbai Mirror and then about your bariatric surgery in SpotboyE.com, both at length--- so what makes you write a blog covering those aspects of your life?
I don't know but I think it was the illness this year in January.

Again? Which illness?
Early this year, I had a severe kidney infection. My kidneys were damaged to quite an extent. Doctors felt that I would go into a depression if they admit me into a hospital. So, we converted one of rooms in my house into an ICU.

One of my friends said that if I write I shall pour out a lot and start feeling great. It is anyway always good to give a vent to your thoughts, isn't it? So, I started writing--- and began loving every moment of it. I write usually at night. I write almost every day. I don't carry a book but whatever thoughts cross my mind through the day, stay in my head (pauses).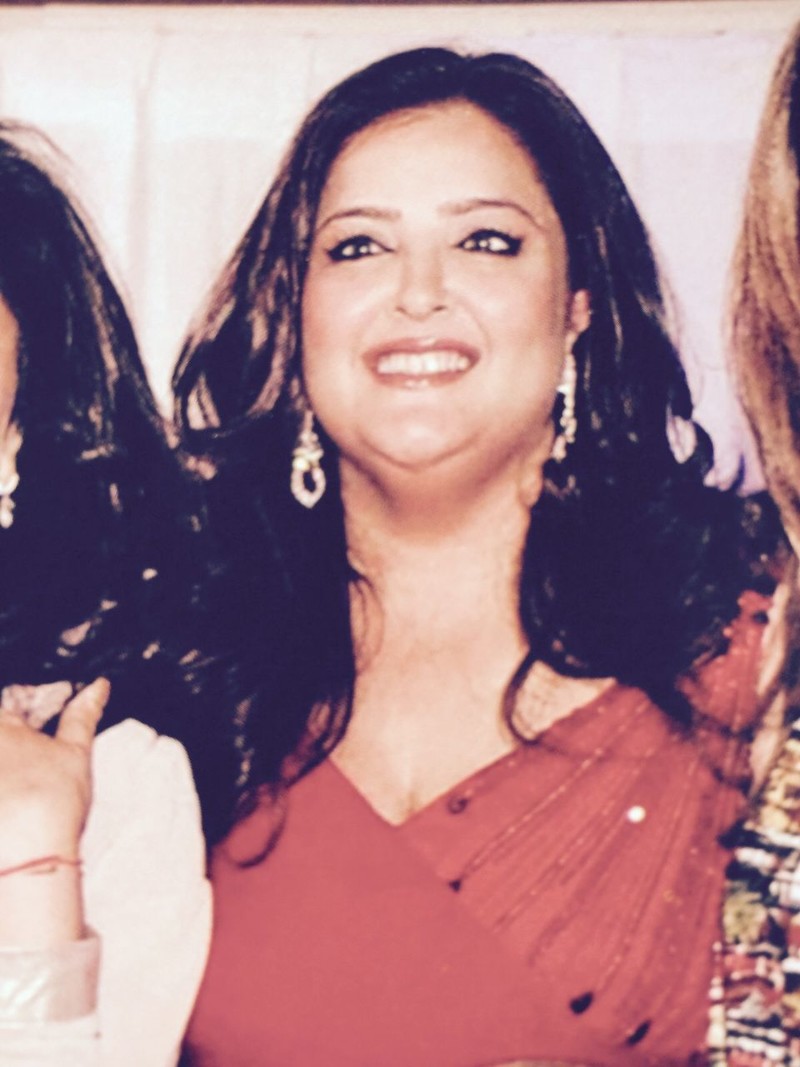 Sunaina Roshan

Go on...
Without my brother (Hrithik), this wouldn't have been possible. He gave me people from his team to help me. He encouraged me. He stood behind me like a rock until I had accomplished what I wanted.

Frankly, I don't think I'll ever stop writing. My life has been so topsy-turvy always. There will always be something to write about, I guess.

You are the chosen one...
(Laughs) I don't know.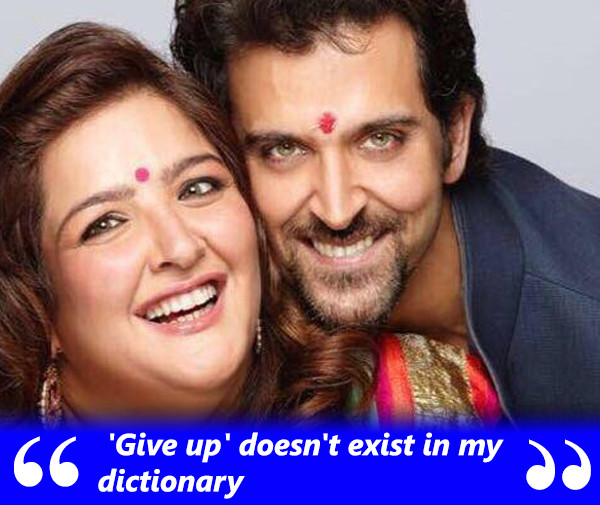 But tell me, how did you win the battle thrice? It just can't be your brother or father's moral support...
I just love my life. I think life is beautiful. And, 'give up' doesn't exist in my dictionary.

Did you lose faith in God, at any point?
I lost faith in Him initially when I had contracted TB and meningitis. I did ask him, 'Why me?'. Then I decided that I will fight out whatever he gives me. I sort of understood that God gives tough battles only to his strong soldiers. I decided that I will fight all.

Rewind. How did your health problems begin?
With cancer.

I was clotting a lot in my periods. Mom asked me to consult a doctor. One test led to another.

My Dad was informed first, but I sensed before that itself that something was seriously wrong. After sonography, I upfront asked the doctor that has he detected ted cancer? He nodded.

Dad used to cry every night. My mom was my Rock Of Gibraltar.

And then... (pauses)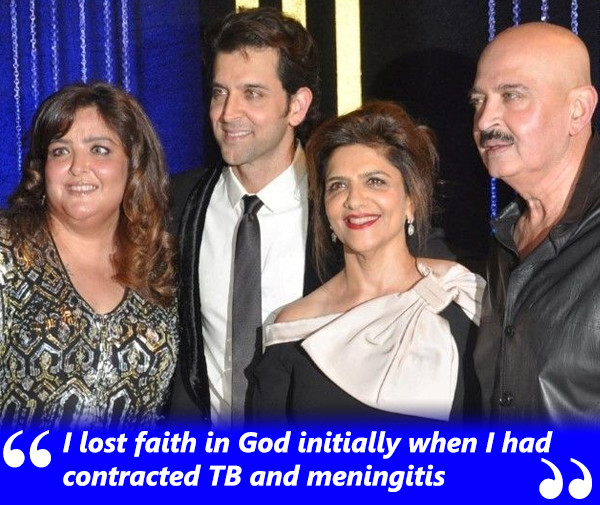 Then?
Came the worst day of my life, when I had to shave off my head. I was devastated. Hrithik too felt terrible.

Why had you to go bald?
I had started losing hair soon after my treatment began, and I was losing them in patches. The depression of going bald was lesser than the depression of losing them in patches.

I underwent 6-7 chemotherapy sessions and the treatment lasted for 8-9 months.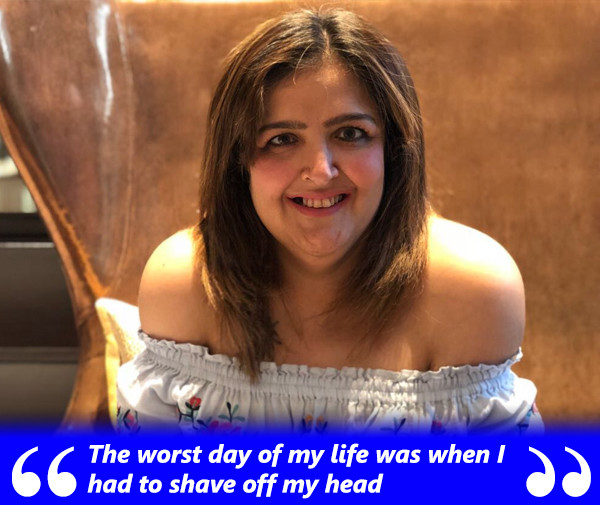 And then suddenly, one day, I was cancer free. It was nothing short of a miracle.

Did you used to smoke or drink?
Nope.

Nowadays, cancer hits more to those who don't smoke and drink...
Yeah. I think I should just start doing that (laughs).

After that, came another problem in my life.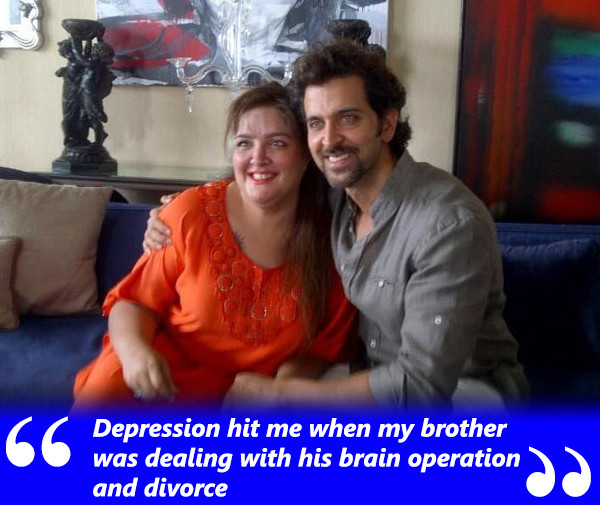 Which is?
Depression hit me when my brother was dealing with his brain operation and divorce. I am very close to him, he is a very nice human being. I started putting on weight.

Did Hrithik sulk or breakdown during his days of brain operation and divorce?
No, but it was a not an easy time for him from any angle. We felt so helpless. I could not handle it. I started eating a lot. I reached 130 kg. Weight gain was accompanied by diabetes, insomnia, hypertension... Dr Muffi Lakdawala (bariatric surgery) felt I was sitting on a time bomb.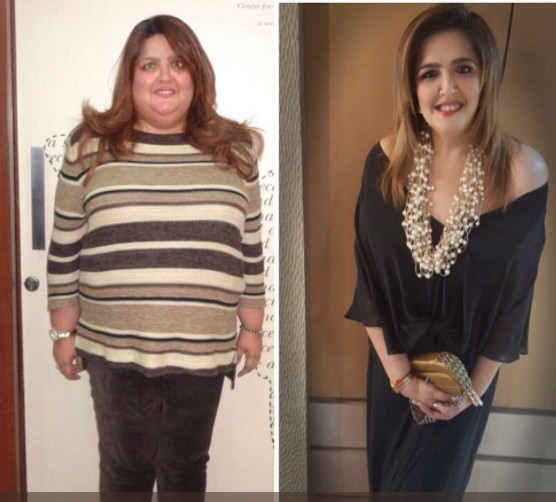 You lost weight quickly after the baiatric surgery?
No, I was on anti-depressants, which often don't let you lose a good amount of weight. Dr. Muffi told me, 'time lagega' but finally the results started showing. I had to be very patient but I was extremely determined.

Dr. Muffi told me before operating that I was a high-risk patient and a cardiologist was constantly on standby. Luckily, things went off well and I was back home in 2 days.

I didn't even take bedpan. I remember I asked for it but Dr. Muffi said that 'Nothing doing. Go to the washroom'.

But more recently, I again had a tough time.

What happened?
Developed an acute kidney infection. And I have again put on a bit of weight. I am gymming well now, and should reduce anytime soon.

Did your rocky marriages have an adverse effect on your personal relationships?
No, I haven't let my personal relationships affect my health.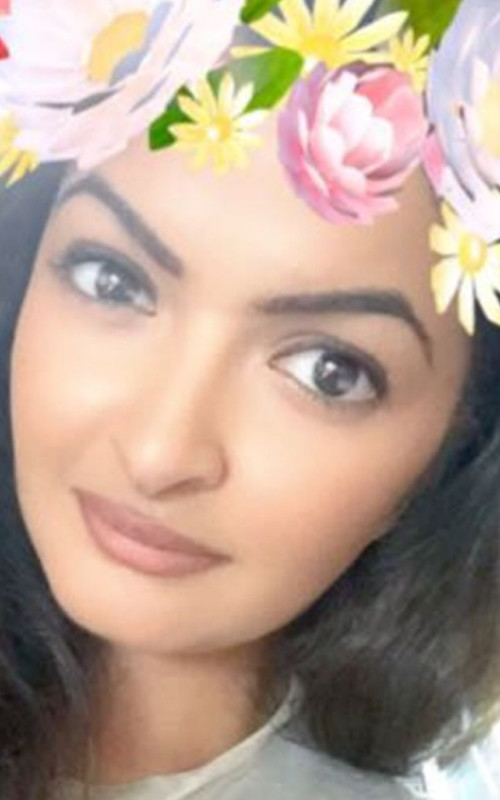 Sunaina Roshan's daughter, Suranika

Where's your daughter, Suranika?
She is running a healthy food kitchen. It's called Suranika Healthy Kitchen. She makes a lot of fat-free healthy food. She is studying as well as earning. I tend to eat from her kitchen.

Are you getting sleep now?
Yeah, much better.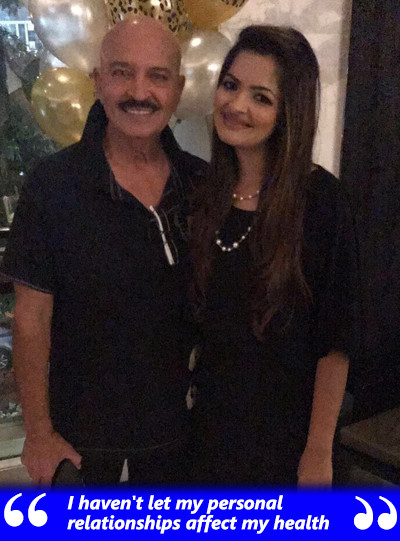 Last heard, you were dating a certain Bharat Kapoor...
That was 4 years ago. Currently, I am single.

Do you yearn for male company?
Too personal a question.

Does single status come with an advantage?
You ought to compromise in every relationship--- be it with father or brother. It cannot be hunky-dory, anywhere. Why single out man-woman relationships? If you can accept your siblings for their imperfectness, why can't you accept your partner for his/her imperfectness?
They say the best things in life are free! India's favourite music channels 9XM, 9X Jalwa, 9X Jhakaas & 9X Tashan are available Free-To-Air. Make a request for these channels from your Cable, DTH or HITS operator.