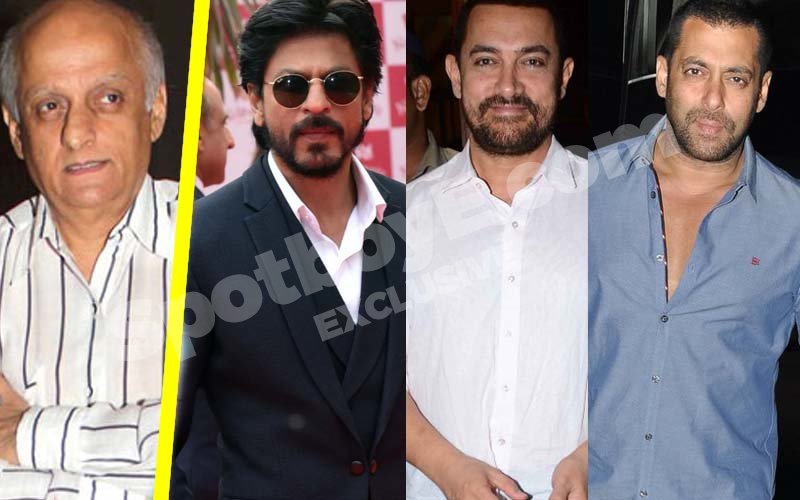 Has the studio system collapsed?

I cannot say that the Studio System has collapsed. That's not the right way to look at it. What has collapsed is the way the Studios function. They know nothing about film-making. They know only trading. They are only interested in one upmanship, one trying to grab more shares than the other. They shelled out cheques to producers, which were 3 times the value that the producer deserved or required. As a result, the Bombay industry got corrupt and stopped making films. Producers were only interested in making set-ups. Not too long ago, we wanted to make movies and not set-ups. We were passionate about telling good stories, lekin aaj... (shakes his head).
Did you see it coming?
I knew it won't last. Anything that is on an artificial high will definitely fall down sooner or later. Our job is to manufacture glamour and not to become a victim of it. With corporates coming in, everybody started lying- fudged budgets and fudged collections started ruling the roost. There was no reality check. But I remember when our film Mr X flopped, my brother (Mahesh) and I were the first to admit it.
The best of people make the worst of mistakes. I am not ashamed of my flops. My flops teach me more than my hits. Today, I am successful because I have always embraced my flops. On the other hand, the industry has now started projecting flops as hits. In fact, some of the guys even started actually believing that their flops were hits. Imagine! It was such a schizophrenic way of functioning. In the bargain, actors, technicians and even the lower rung got corrupt. It was a free-for-all.
The time has come for some serious correction. Corporates should stop paying actors insane amounts of money. A cameraman who charged only Rs 10-15 lakh per film is now charging Rs 1 crore. The greed has become the need. Valuation has been lost. If you start valuing your Rs 10K mobile as a Rs 70K mobile, then there's something definitely wrong with you. The staff of the actors earn more than Chartered Accountants. This is the diktat coming from the agencies of the stars who want to pander to the ego of the so-called star. If this is not extortion, what is it? The stars are paid crores by us, the least they can do is to pay their staff isn't it?
Heroes do no makeup but their makeup man has to be paid RS 25,000 per shift! I see no reason why I should pay so much to a makeup man unless he is doing the makeup what a Mickey Contractor did, or say the makeup which was needed to get different get-ups of Sanjeev Kumar in the plethora of the variety he essayed, or when I paid a bomb to Ken Dias to turn Rahul Roy into a tiger. Then there's their boy, driver, trainer and stylist. I fail to understand why a stylist turns up at all for all heroes when most of them do no makeup whatsoever. All said and done, the producer turns into a glorified servant.
You too have worked with corporates...
But I don't make set-ups. I make films on real budgets. I made 7 films for Fox Star Studios and 6 of them were in the plus. Vishesh Films is to Fox what Pixar was to Disney. Fox has earned money through our films and I take pride in that. I know what to not do more than I know what to do. I have no aversion to investment but I have an aversion to expenditure.
And how do you deal with any actor's entourage?
I don't succumb. I don't want them to work free from me. I give them exactly what they deserve. I will certainly pay them their real value. Let me explain a bit more candidly. A producer doesn't pays wages, a product does. I cannot pay anybody more than what the project is paying me. I know what a project will recover. I am 72 films young, not old.
Its' said that MBAs are sitting at top positions in Studios who...
(Interrupts) Oh, we are making lovely cinema, we are making poetry (gets animated). Hawa mein baat karte hain, so vague they talk. I look at them and smile.The tragedy is that you have to listen to them because they're giving you money. Such madness. Why is the South industry doing well? Because the South has protected itself from corporates.
Is it that Studios want stars essentially?
Because they don't know filmmaking. With stars on board, they know that they'll get the initial numbers na? Get the Khans and release it on holidays, catch the audience over a festival weekend. Often the films open well, not essentially because they are all good films but because of the good period. In fact, the stars must say that 'we are crowd-pullers and we'll release it on normal weekends. I appeal to the 3 Khans to take a call that they won't release their films on holidays. Let the new crop prosper. As seniors, let us be providers. Films of new actors and makers come during periods of Ramzan, Examinations and IPL, and fail at the ticket windows. Woh dab ke mar jaate hain.

Do you think that...?
(Interrupts) The industry needs 12 Salmans not 1, 12 Deepikas not 1, 12 Raju Hiranis not 1. Seniors in the industry have to think about this. The industry needs to get healthy.
Will the corporates listen to the 3 Khans if they tell them to not release their ventures on big holidays?
Kaunse corporate ki majaal hai ki Khan ko na bole? How can they overrule any of the 3 Khans? What is any corporate's personal credibility? They are a case of baith ja baith gayi, khadi ho ja khadi ho gayi, ghoom jaa ghoom gayi.
Its' said that actors should now indulge only in profit sharing if they want to survive in the movie business.
Definitely. A film is a hit when everybody in the value chain makes money, right now it's just one party who flourishes (Read: Producers). Actors should ideally work free and take only back-end profits.
Do you think that actors who don't reduce their prices won't survive?
I don't think that the market will allow them to survive. How long will people invest in anybody and continue to bleed? You are supposed to be the cow that gives abundant milk. Nobody should have a false illusion about himself that people wants him even though he is non-productive.
How do you foresee the next 2 years in Bollywood?
I foresee the next 2 years as a very challenging and interesting period for Indian cinema. The river is changing its course. A lot of people will be washed away. You have to look up and not down to the audience.The new audience is not dumb. Tougher but better days lie in store.
Coming back to your point that the Khans should give away the holidays to other stars...
I am not saying 'other stars'. I am saying 'newcomers'. I am not saying 'Khans should give it to Varun Dhawan'. Else you are making Varun Dhawan into a monster. Let me explain: Salman should allow Sooraj Pancholi's film to release on Eid. Karan Johar should be allowed to release his Student of the Year 2 on a Diwali and no big star should clash with him; let's not forget that SOTY Part 1 gave us 3 talented people. We have to create a wealth of talent and the seniors- actors, producers, directors- must lead from the front.
Are you saying that it is wrong to protect one's own interests?
It's obnoxious and ugly. I am not saying 'Don't be self-protective;' I would definitely like to protect myself but not to the point of wanting it all. Bade ho toh badappan dikhao apna, learn to share.
Last night, a director who makes medium-sized films asked me: Where do I go from here after the collapse in the Studio System? Who will fund my film now?
Why? Vishesh Films is always around. We are not in the business of making films. We make destinies. We made Anurag Basu, Mohit Suri, Vikram Bhatt and Kunal Deshmukh. If you are talented, you will find your place.


Then the same should apply to Sooraj. If he is talented, he will find his place...
But why should he wait for 5 years and swim against the tide? We are depriving him of all sunshine, water and manure. He might grow into a tree, but will he blossom? It is our duty to make it blossom. We owe it to that plant.


Tell me one thing. Wasn't the industry doing well before the corporates came in? Was any corporate involved in Sairat which did business of Rs 85 crore? Did it have a Mukesh Bhatt/Karan Johar/Raju Hirani? Did it have an Aamir or a Salman?
Does it worry you that the Studio Culture has collapsed; you also have worked with corporates...
I get worried only when I don't get a good story. I am a cockroach and I will survive even a nuclear holocaust. Let corporates come and go, I will always be around. I have my head and heart in the right place. I know what to not do more than what to do. I am like China- self reliant. I am not insecure, who depends on star system and big sets. I don't hold on to talent. I love the process of starting again. The process of starting again is beautiful. The illiterates of the 21st century are not those who cannot read and write but those who don't unlearn and relearn. We resist change and believe that we are God's gift to mankind when we are successful- and then suddenly somebody emerges from the blue and shakes us up- like the makers of Sairat did. I always tell all my contemporaries that success is nothing but delayed failure.
Does it sadden you that your contemporaries in the producers category have almost disappeared?
That's okay. They had their innings. Sunil Gavaskar and Sachin Tendulkar too had their innings. Even Virat will have to go one day. Unfortunately, some of my contemporaries couldn't reinvent the wheel. They were not adaptable to change. As I said earlier, the river is changing its course and a lot of people will be washed away.


Image Source: Manav Mamglani, alchetron & imagearcade