All's not well between John Abraham and you...
Partnership is about coming together. Tension was happening between us since 2-3 months no doubt, but the sad part was that actors who have worked with John, my well-wishers and many other people from the industry had started calling me saying that he had been calling them to say that he hasn't got his money from me.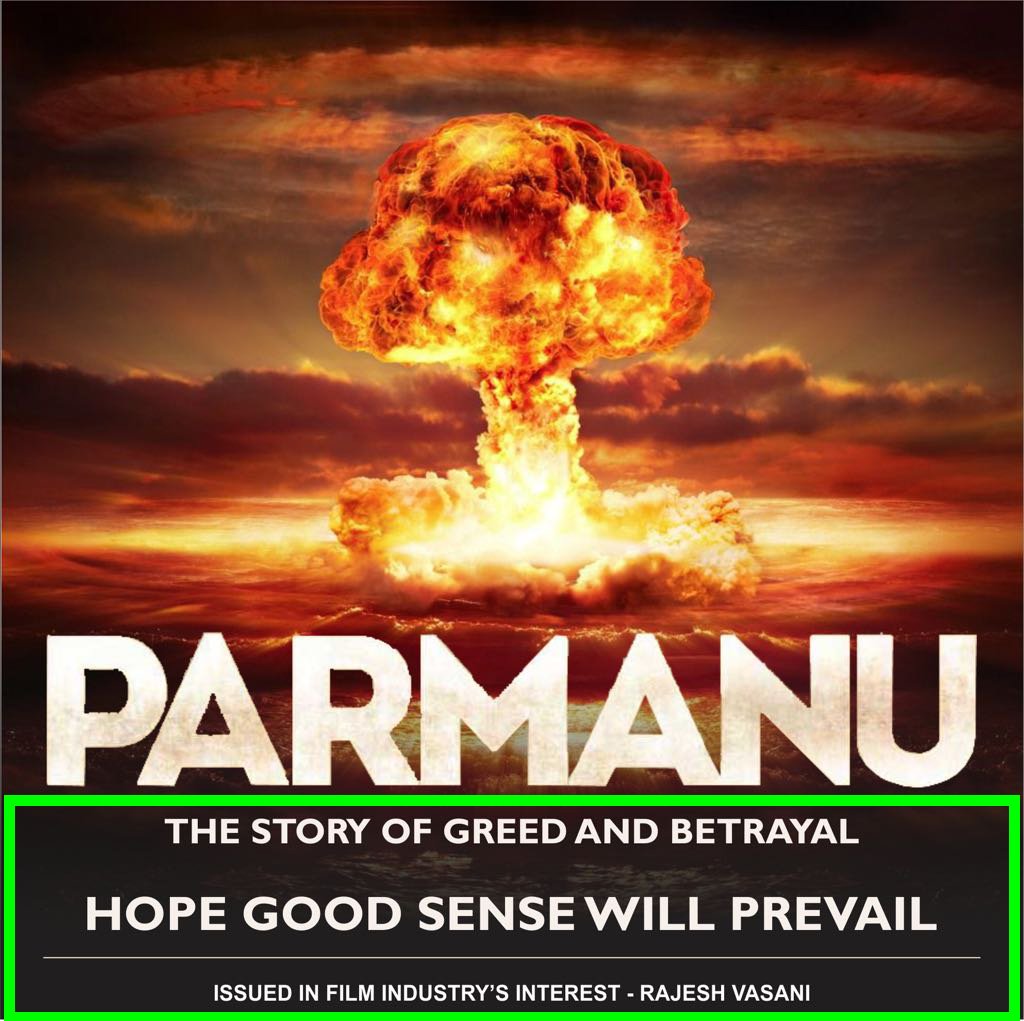 Bollywood's Raju Vasani Has Done His Bit To Send Out A Message That Hope The Parmanu Fight Is Resolved

Basically, he was badmouthing you?
Ya, he was badmouthing me.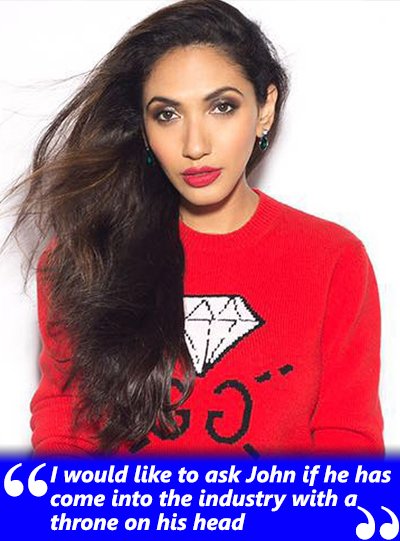 And?
And, my answer to all those people would be to ask him that what hasn't he got.

Slowly but surely, people started telling me to be careful of John. And then I confronted him. I asked him that why is he doing this. I told him that the more he does, he would only make me more aggressive.

And I am not playing the woman's card here. I am a man in man' world. I would like to tell you the state of a man who had befriended him and thought that John is a very nice man. I am talking about my Dad.

What about your Dad?
Today, he is deeply hurt. He had spent some very good time with John ever since we started working on Parmanu. Today he is extremely worried about his daughter. He has called to ask: Are you making films without understanding? What is going on? He said: Let me come in the front.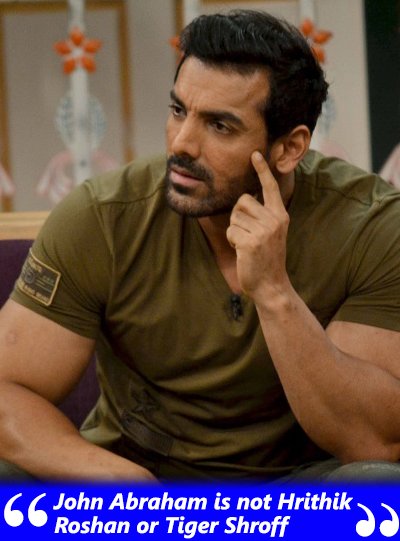 I would like to tell John: Look at your own lifestyle. Who is he? Is he a King? Is he a Prince? Did he come into this industry with a throne on his head? He is only a model who has gone through several ups and downs. Directors are not dying to work with him. He is not Hrithik Roshan or Tiger Shroff.

When did the friction actually begin?
It began with a rude shock. John dissociated Abhishek Sharma from me. I had sent Sharma to him but after that Sharma cut off communication with me. I was in Jaipur and mind you, Sharma was a friend. I got a call from John telling me that he wanted to start on the creatives immediately despite me telling him to wait. Trust me, Sharma and I have till date, after that, not spoken to each other. Sharma was all along sitting in his office and doing exactly and only what John was telling him. Are films made this way?

Phir bhi bharosa tha ki John hai aur sab theek ho jayega. At times, you have to give people their space. I am also a newcomer and it's not that I know everything. Plus I still trusted Sharma, as I told you he had been a friend

After a while, John got in touch to say that he wants to be the line-producer. Our bond was still not bad, and if you recall, we had met you for an exclusive interview at Yash Raj. I still said: 'Chalo theek hai, John sahi kar lega. we all are different, so is John'.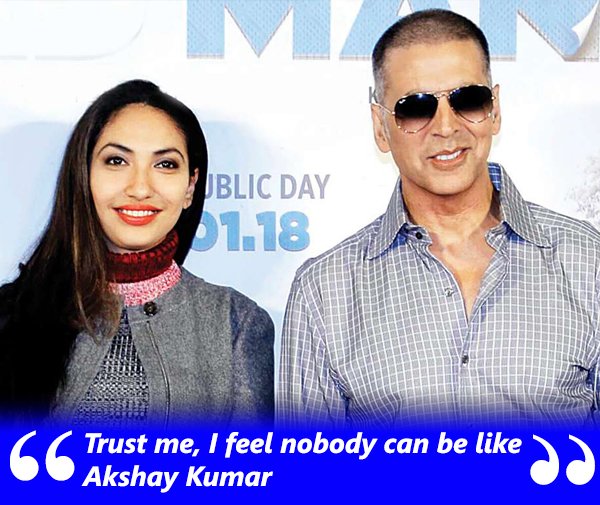 But trust me today I feel that there is only one Akshay Kumar and nobody can be like him. I have produced 3 films (Rustom, Toilet, Pad Man) with him and it has been a wonderful experience on all the occasions (pauses).

Go on...
He has said in an interview that he has made 15 films

Ad films are different than feature films. I would like to know who has given hm the magnitude and canvas of so much money. If he shows me even one acquisition of the Parmanu magnitude, I shall quit.

His number for Parmanu was Rs. 35 crore.

Were you okay with Parmanu being mounted at Rs 35 cr? Did you think it was high?
I think it was high. In fact, of course, it was high. I wanted someone stronger than me alongside. We met up with 2-3 studios but they were all finding Rs 35 crore on Parmanu a non-viable proposition.

I had full faith in the subject, but I could see a jhalak of what was coming. I ha the fear of his misbehaviour that he will tie up with some producer and was looking for an opportunity to dissociate me out. I was told by a senior member of our team that it's a battle of Rs 5 crore.and we should just leave the film.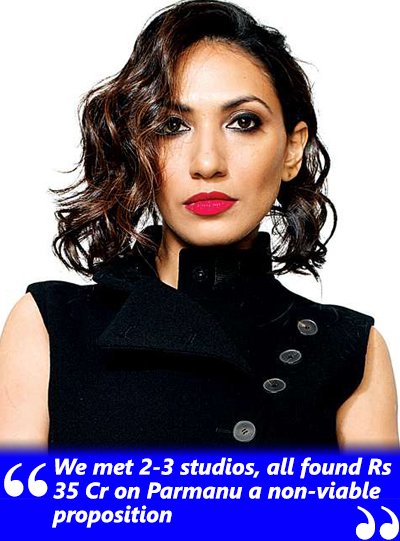 How much were you getting maximum on Parmanu?
Max Rs 27-28 crore, I was told that John should not take an acting fee of 6-7 crore. But he was adamant onRs 13-14 crore. We all are answerable to God and so are John and I. Now that the matter has gone legal, I have nothing to fear as I have everything in black and white.

I had a good equation with Zee Studios. I had done Rustom with them, and at some point I was also supposed to produce a film call Badla with them, the one dirercted by Siddharth Anand which would have marked Sanjay Dutt's comeback. I got them on board by selling them my rights- satellite, music, digital and overseas. They are now the presenters, I am the producer and John is the co-producer on Parmanu.

None of my studio partners has lost money till date. They have all made money in all my films. I believe in fruitful partnerships.

John said his number is Rs 35 cr but he will bring it down by Rs 3 crore. And then something happened that betrayed my trust completely.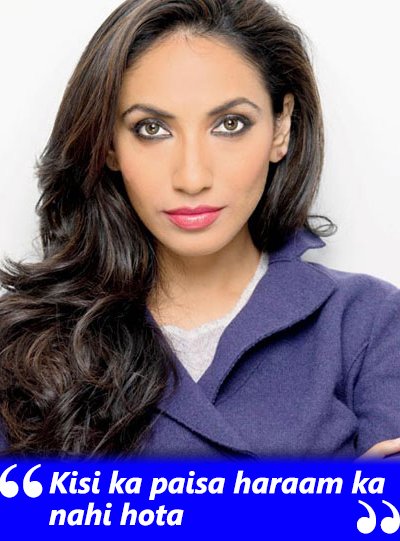 What happened?
Suddenly before the shoot, John demanded a 50 per cent of the IP. We literally begged him to keep it to 25 per cent, but he would not listen. He would go incommunicado. Humko jhukna padha. Suppression, suppression... and then now explosion. Phew! I had decided to attend the shoots once in a way but I dropped the idea. Man hi nahin kiya. Yet, I respected him as he is senior to me. But I would tell him that I am not liking this whole thing. And then, he delayed the delivery of the film. I explained the logistics to him that we would end up going over-budget. Kisika paisa haram ka nahin hota. He was just not understanding. Trust me, the man who was heading his line-production was convinced that Rs 35 cr was a very high number for this film.

We were not satisfied with the music. He was even supposed to give us an item number which he did not.

We rejected the trailer he made 6 times.

Worst of all, he misbehaved with Girish Johar, a KriArj employee. John called him and abused him. Badtameezi se baat karne laga. He was very rude, I had started gettung scared. Kuch bhi hota toh bplta mere office jao.

He was very upset with me thinking that I had spoken in the media that we were not going to clash with Padmaavat.

And then, he wanted to clash with Pari, which was my own production. Imagine!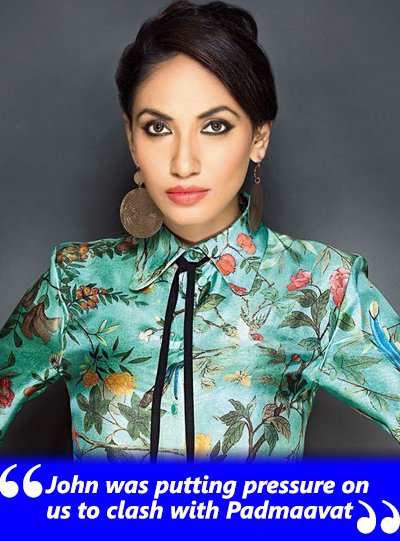 How could he even think of clashing with Padmaavat?
Ask him, he was putting pressure on us.

Did he ask you to push Pari and release Parmanu on that day?
Yes, he did.

He has not even made one poster of Parmanu, no creativity. Everything even on the poster front has been made by KriArj.

We asked for a discount of Rs 2 crore, requesting him to end the film at Rs 33.5 cr. Uske jaisa toh koi star bada hua hi nahin hai ab tak na? John was a partner and we were telling him that it was ot working out at Rs 35 cr. Even actors are ready to listen, here a partner is not ready to.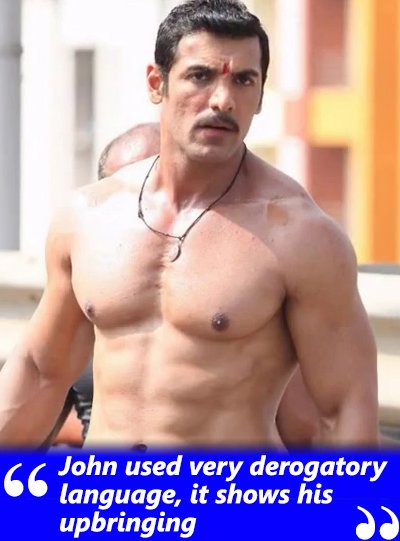 He called you a trader...
I am glad. I call him a wolf in sheep's clothing. He has used very derogatory language, it shows his upbringing. I have a father who can answer him but he is a dignified man who won't stoop low.

And think of it, what is he making in Parmanu? Is it for the army? Is it for the country? Is he making a patriotic film? Or is it for those Rs 2 crore? His marketing campaign is a sham. If I am a trader, John is a traitor for sure.

Honestly, his class has shown up. I really don't care what he has spoken about me.

The best way to solve this was to call up a few industry people and sit across the table.

What marketing will I do for this man and the film now after so much negativity? Saying that he is the best, he is wow? After so much negativity?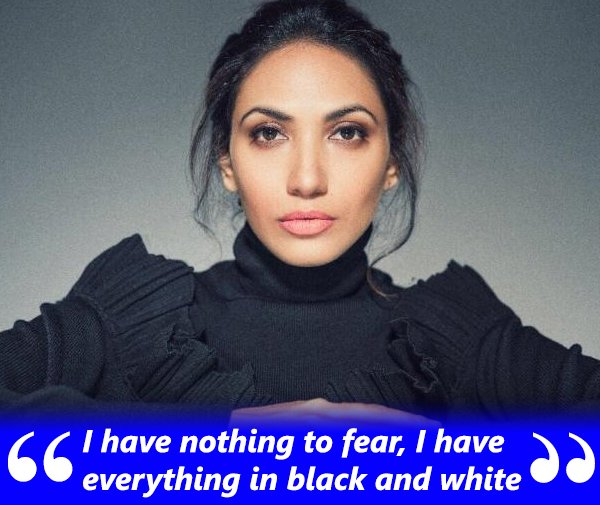 Has he shown the film to you guys?
He will show it to his trainer and every other man who visits his office but not us.. Producers who are powerful, may not have suffered this ignominy. Maybe it happens to those who are starting off
They say the best things in life are free! India's favourite music channels 9XM, 9X Jalwa, 9X Jhakaas & 9X Tashan are available Free-To-Air. Make a request for these channels from your Cable, DTH or HITS operator.