Ileana Dcruz: I'm Not SRKs Heroine
Here's the latest update from the world of Bollywood. We bet you wouldn't want to miss this. Read on for details... Ileana Dcruz: I'm Not SRKs Heroine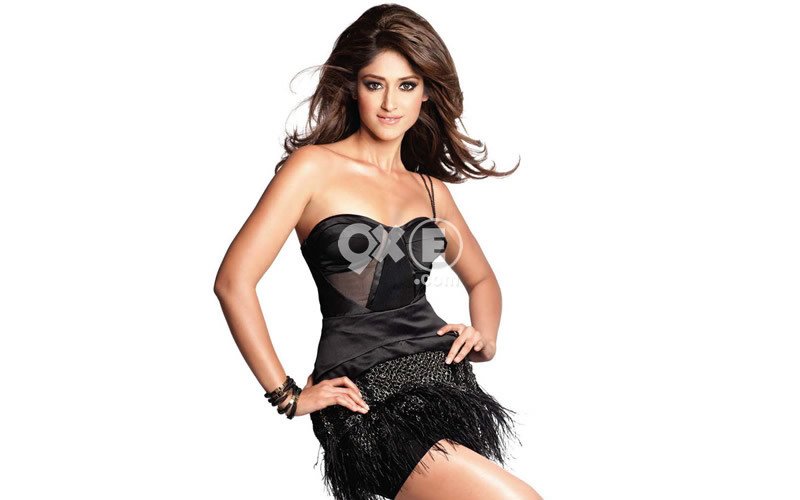 Ileana D'cruz is taking small, but daring steps in showbiz. Her first few films in Hindi have been brave choices and she plans to keep at it. The actress gets candid about kissing Saif Ali Khan and being intimidated by his wife, Kareena Kapoor:

That's a stunning diamond ring. Is that an engagement ring?
I don't talk about my personal life (blushing).

Happy Ending seems different from the usual comedies...
Yes, it is a different one! When I saw the trailer, I thought we had given away too much in it. Its Yudis story. Hes a writer with a bestseller to his credit. He is broke and not written anything for five years. When he's approached to write a script for an ageing superstar (Govinda), he sees it as his last chance to make some bucks and make a name yet again. He wants to write a Bollywood story, Hollywood style. He lacks inspiration and his only inspiration comes from me, his competition.

But why is it called Happy Ending?
Its about whether there's such a thing as a 'happy ending'. There is a happy ending when you decide to have one. We've said what we had to, with eccentric cool, cute characters. My character doesn't believe in happily ever after. She writes books she doesn't believe in. Shes like Yudi. In the middle of a make-out session, she'll ask, 'You wont fall in love with me na?

It's again an unconventional choice for a Hindi film heroine. What spurs you to do that?
The fact that I have done so much work down South, made me want to take a little break and do something different and exciting. Barfi! was a big risk. People warned me that I wouldn't get to do much with Priyanka Chopra and Ranbir Kapoor in the film. I took on the film, hoping that I'd do my best in whatever little I'll get. And I did just that. The role in Happy Ending is opposite of what I did in Barfi! Aanchal can take her top off and ask for a lift. I wasn't uncomfortable because I knew it's be shot well. Look when you get comfortable with a guy, its cool to take your top off in front of him and I had to portray that. If I was even slightly unsure of it, it would show.

Why aren't you on a movie-signing spree despite being in demand?
I have heard a couple of stories, but am not in a hurry to sign them. It's a risk that I hope, pays off.

Is Fan one of the stories?
No! I haven't met anyone and I don't know anything about Fan. I think they have now dropped Vaani Kapoors name in it. Even my manager didn't know where that news came from.

You've shared some sort of physical proximity with Saif Ali Khan in Happy Ending. Does it make things awkward between you and your boyfriend?
I have never spoken about my personal life, but yes, I have a relationship with a photographer. Funny thing about movies is that when you're doing an intimate scene, there's actually a lot of it shown without us getting intimate. There's no kissing and intimate scene in the movie. Even when such scenes are shot, there are 15 people in the room. There's no chance of anything happening beyond what is required. Its a job for me and it gets over once my director calls 'cut'. We have to make it believable. I am so fond of Kareena (Kapoor). I wont ever cross my limits. Besides, I am also well brought up and in great control of my emotions. I restrain myself from having off-screen urges with anyone.

Saif says you remind him of his sister, Soha...
Imagine! He also tells me that I remind him of Soha, every time I go to his place for dinner. I have to remind him I am his heroine, and we have to keep that in mind.

Do you insist on a no-kissing-no-intimacy clause?
I do have clauses that allow me to drop something from the script I am not comfortable with, which includes clothes and scenes. Like I knew there was a hitch-hiking scene in the script which I was ready for, but RJ and DK wanted a strip-poker scene to be shot which was not there in the original plans. I had take my top off. So, they sat me down, asked my permission and then shot it, which is decent and respectable. The scene was to show the comfort zone between Yudi and Aanchal. Its a bold scene, but it doesn't look obscene as we kept a top on.

You look really petite in Happy Ending.
I lost a lot of weight, I was about 49 kilos. Then I rose to 52 kilos and that was just right. I was told to lose weight because the clothes I had to wear were such. And my problem is that I am smaller on the top and bigger below the belt. So, when I lose weight, it doesn't show.

Have you worked in the South in recent times?
No, nothing since Barfi! I dont miss it because after working for eight years and making good friends there, I wanted to take it easy and do something different.

Is it intimidating to have the producers wife, Kareena on the Happy Ending set?
No! Kareena barely came on our sets. When you have an actors wife or actress boyfriend on sets, its kind of cool if they are around and they don't let you feel their presence. I don't even know when she came and left. She as an actor who knows how to give Saif that space. Shes a sensible, intelligent girl with no insecurities.

Are you friends with her now?
It takes long to make friends, at least for me. I enjoy spending time with Kareena, but I wouldn't consider her a friend because there's still a long way to go to know each other better. Nargis Fakhri is dear to me. Look I wear my heart on my sleeves, but I am emotionally guarded.

Its been a while since you've been with Andrew. Is there marriage on the cards?
No, nothing. No pressures for marriage. My family is so cool about it. I think you can marry at 60 also, as long as you have a good life and that makes you happy! I am happy the way my life is!