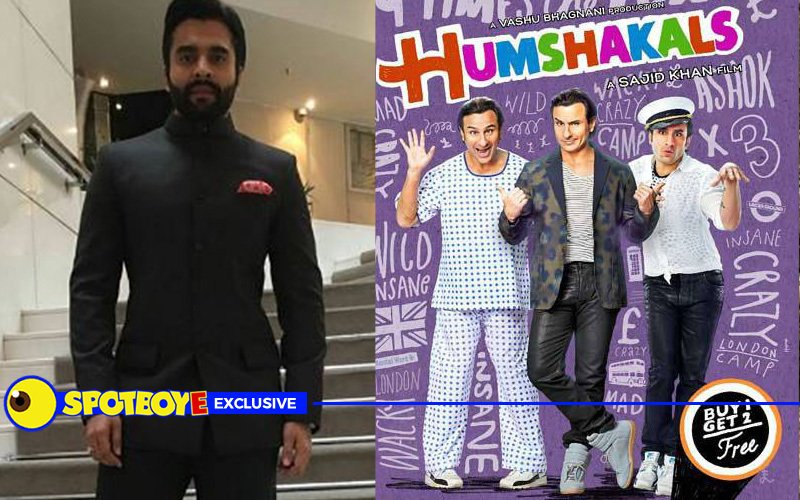 Jackky Bhagnani is easily one of the best examples of a man working his way up from the ashes of his acting career. A top producer's son, he was seldom praised for his choice of roles and his acting abilities. And then, he withdrew from the scene two years ago, only to resurface as a producer with Sarbjit. SpotboyE met the actor-producer for a heart-to-heart. Excerpts:

What have been the reactions to your decision to turn producer?
My colleagues and friends as well as my father's (Vashu Bhagnani) friends are happy that I am part of a film like Sarbjit. And my father is rather pleased that his kids suggested something right.

Was it difficult to convince your father Vashu Bhagnani to produce a film like Sarbjit, which is so different from the masala entertainers the company has done so far?
It was! He's made an empire by selling saris on the road. So his sense of business is far more evolved than any of ours. You have to work hard to convince him. Once convinced, he will stand by the decision till his last breath. What also worked is that films like Neerja worked commercially and critically, which convinced him further to back Sarbjit.



Image Source: instagram/jackkybhagnani

Was it also tough finding actors for the film? Kangana Ranaut had walked out of the part...
The good thing is that we backed Omung Kumar. I know him for a decade now. He was supposed to direct my first film as an actor. When we spoke after Mary Kom, the idea of this biopic sounded a little off for my company. But I was sure it was time we changed. And when we came on board as the first producers, he already had a deadly combination of actors.
His presentation was so impactful, no one could say no to him. I was clear that even if my father doesn't come on board, I will.

Are you worried about how the film will be received in Pakistan?
We didn't make it as an anti-Pak film. It's an innocent man's story who was languishing in jail for no fault. There are so many Sarbjits in the world and this film will find resonance everywhere for just that. I don't know how Pakistan will react to the film but if they only see it as a story and not a finger-pointing exercise, they'll realise we only mean to entertain.



Image Source: instagram/jackkybhagnani

Looking back, people thought you'd have it easy as an actor with your father backing you. What went wrong?
I used to get really affected when people said, 'Yeh toh producer ka ladka hai. Isko kya struggle?' I had my share of struggle; it was just that my struggle was different. I didn't knock on doors with my portfolio. I didn't have to indulge in shady activities to get work but I struggled to get good work.



Image Source: lyricsmasti

Go on…
As an actor, I believe nothing is bigger than content. I stuck to that though several people tried convincing me about the opposite. I picked a few films on sheer instinct that they made for great content, and a few because I was told they were hit machines on paper. It was a slow start. And eventually, it almost came across as if I was the de facto second-in-command when my father was not around. I thought why not try it full time?



Image Source: eurotube & Manav Manglani

Was Humshakals a lesson for you since you were just preparing to get into production officially at that point?
I, as an actor and as a producer, back a film till I've gone to the grave. Why Saif (Ali Khan) didn't stand by it is something only he can explain. I can say for a fact that if I am working on a film, I know exactly what is going on. I don't know what was going on in Saif's head while shooting for Humshakals. Everyone knew we are making a nonsensical laugh riot. Most films in this genre had done well but we got a lot of media bashing. If anyone in the film's cast thought that we are making an Oscar-winning film, then I don't know what to say.

Was it a learning for you?
It taught us to reinvent. Earlier, we'd see a revision in the way a genre is approached once every decade. It's once every five years now. Nonsensical comedies work even now but they can't be in the same space as the Govinda movies of the 1990s. Every genre has gone through a change in terms of content. So, now, that is what I plan to do as a producer and actor. I want to be a part of films which have something to offer and not five comedy gags passed off as a script.



Image Source: tellmeboss

With you around, do we see Vashu Bhagnani retiring?
I don't think he can take it easy in life. Like every production house, even we are in the process of turning into a studio. So he will be around but my sister and I will be at work with him too.

So does acting take a backseat for you?
As an actor, I don't want to do work in a movie for the sake of it. As shameless as it may sound, I am cagey about the roles that are coming my way. I don't want to be a part of a film that I don't feel right about. From now on, I will only act in films if I support their content completely.



Image Source: instagram/jackkybhagnani

Do you think failure has made you wiser?
Failure and success help you gauge a situation better. When you only see successes, you tend to feel that it's not the film but you who is weaving magic. And when you live with that disbelief, failure becomes tough to tackle. The only way for me is upwards from here.


Thumbnail Image Source: instagram/jackkybhagnani