Kangana Ranaut On Deepika's JNU Visit And #BoycottChhapaak: She Very Well Knows What She Is Doing- EXCLUSIVE
Kangana Ranaut in an exclusive chat has opened up about Deepika Padukone's controversial JNU visit. She says the actor knows what she is doing but 'I will never go and stand with the 'Tukde Tukde' gang'. She also spoke about #BoycottChhapaak and if the negative propaganda affected the film at the box-office or not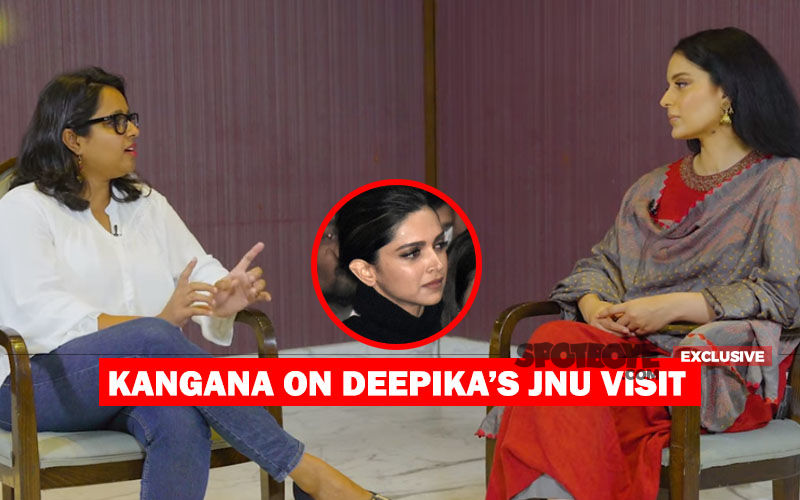 That Kangana Ranaut is an outspoken actress is not a hidden fact and Ms Ranaut has been vocal on topics pertaining to the Indian film industry, climate change or even national issues on several occasions. The recent one being the burning topic of CAA-NRC and the JNU violence that took place in Delhi on January 5th. When we met up with the actress during Panga promotions, we ended up asking her about the controversial visit to JNU made by Deepika Padukone. Controversial because, apart from Kangana, Deepika Padukone was the first A-lister actress to take a stand and chose a side (whether everyone agreed with her or not is immaterial) and hence it became a nationwide debate.
So asking Kangana about the same was given and the actress as always spoke her heart out. Kangana expressed that an actress like Deepika Padukone surely knows what she is doing and what is she standing for. She also added that Deepika is exercising her democratic right and it isn't right of Kangana to have an opinion on Deepika's stand. But just as we thought that her answer will end there, Kangana went on to explain her position in this on-going national issues. The actress clearly stated that she does not stand behind the 'tukde tukde' gang. She also elaborated that she doesn't want to support any gang that divides the nation. Watch the entire video below to know more.

Kangana not only spoke about Deepika's JNU visit but also shared her views on the much-hyped social media trend #BoycottChhapaak that dominated the internet just before the release of Chhapaak. She insisted that celebrities not speaking out because of the fear of their film being boycotted is not true. She also emphasised that a film will work if it is good no matter what.

Chhapaak has gone on to mint Rs 22 Crores at the box office in 5 days. Deepika Padukone's maiden venture as a producer has earned praises across the board. Well, looks like what Kangana says is true, Chhapaak scored big on numbers despite resistance.


Image Source:- spotboyeteam