Mallika Sherawat: I Was Thrown Out Of Films Just Because I Was Not The Hero's Girlfriend
Mallika Sherawat is geared up for her digital debut with ALTBalaji's BOOO...Sabki Phategi and before the show takes off, SpotboyE.com got talking to the actress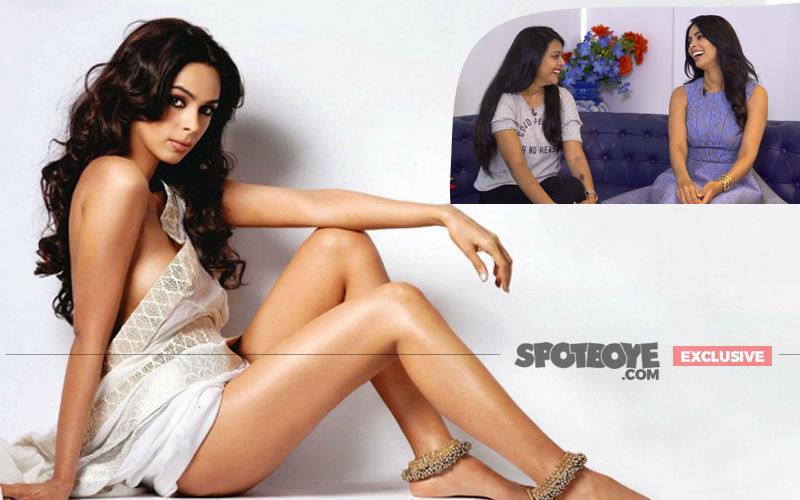 Mallika Sherawat is all set for her digital debut with ALTBalaji's Booo…Sabki Phategi. And before her debut, she sat for a candid chat with SpotboyE.com, where she spoke about web series, films, TV shows, #MeToo Movement and much more. Read the space and watch the exclusive interview below:
What was your reaction when they approached you for this role?
I have worked with Farhad before in films. Also, I have worked with Tusshar Kapoor in my first film. So when Farhad Samji came to me with the script and said 'I want you to play a bhootni', it was very exciting for me because I am playing a comic bhootni which I haven't played before. Hisss was a thriller film which was an intense role. But playing a comic lovable bhoot who is making people confused and other characters wonder whether we should love her or get scared of her? That was fun to play.
So how spooky will this bhootni be in the film?
Explaining this would be like, you must have heard of the Bollywood song Haseena Maan Jaayegi. So here it will be like 'Haseena maan jaayegi par agar aapne haseena ki baat nahi maani to aapki jaan jaayegi'.

You're debuting on the digital platform with this show, so what attracted you to the OTT space?
Honestly, more than films I am attracted to the digital space. You see artistes need to be fearless and they need to express themselves fearlessly. In films, we have censor board, there are lots of restrictions whereas in the digital space, you can express yourself, you can say anything, do anything and in today's day, it is doing justice to the concept. If you have seen the web series called Delhi Crime based on Nirbhaya rape case, you will come to know how this sensitive matter has been showed in a classy manner. And Shefali Shah has done a brilliant job in it. But only on a digital space, an actress can perform with such perfection. Because films I feel are very traditional, they are very formulaic, fearful because producers don't want to take any kind of risks. There is a set formula and they just want to stick to that. For actors, I think this digital resolution is much more.
What else do you have in your kitty, apart from BOOO…Sabki Phategi?
I am reading a lot of scripts for films and web series. I have just completed a film with Rajat Kapoor, it's called RK RK which will be my next release where I'm playing the role of an actress from the era of 1950s. The film is about how everything goes wrong on a film set. The movie is currently under post-production so I have kept my look and everything a secret. I have also shot for one more movie in Haridwar recently. Right now I have two films in hand.
Your item numbers are still chartbusters. Don't you feel like doing more of them?
See, it is very important for an actor to re-invent and grow. And that is the reason I in fact took a break from the industry because it becomes very important to come out of your comfort zone. I went abroad, did amateur theatre. I took acting classes then I acted with actors there, just to polish myself more. So to continue to rehash those item numbers and all is nothing new for the fans. Lot of younger actresses are there and they are taking that space very nicely so I am really very happy with the space I am in right now.
So who do you like the most in this young lot?
I like Alia Bhatt very much. She is Bhatt Sahab's daughter and she is absolutely phenomenal. I also like Jacqueline Fernandes; she is such a brilliant dancer.
After a comic bhootni, if Ekta approaches you to play a naagin or a daayan on TV, will you say a yes to it?
Absolutely! I will say yes. I think TV is the only medium which is reaching everywhere even at the places where we don't have internet connection. If good roles come to me, I will be very open and happy to play them.
So can we see you as a daily soap bahu someday?
If I get something nice, then why not! Imagine me sitting like a sati savitri bahu with pallu on my head (laughs).
We also heard that you were excited to shoot with Sanjay Mishra?
I am a big fan of him. I think he is one of the finest actors in India right now. And I always wanted to work with him. We both were trying hard to do something together but nothing worked out. We were also in talks for the same film years ago but dates didn't work out and it didn't happen. So the day I came to know from my director Farhad Samji that I am playing Haseena and my bhoot is none other than Sanjay Mishra, I said done. Along with him, Tusshar Kapoor, Krushna Abhishek, Kiku Sharda were there too, and I was surrounded by so many comedians. What else one would have asked for? And I also got to learn so many things from them.
You and Tusshar have come together after 17 years with this project…
No one remembers that. Tusshar only said this in an interview and people got to know about it. So it was my first film Jeena Sirf Mere Liye, and I had just come down from Haryana. My producer Vashu Bhagnani told me 'I am giving you a role where you will share frame with Kareena Kapoor Khan and Tusshar Kapoor.' Hearing that, I was in the sky that my debut is happening with such known actors. I remember, it was just a supporting role of mine and I was absolutely nervous. But Tusshar was so nice to me. He is a real gentleman.
Has he changed after 17 years or he's still the same?
I think he is more fitter now. I get inspired by him. I myself am a lot into fitness and nutrition, but seeing Tusshar how dedicated he is to his fitness, inspires me.
What is your take on the #MeToo movement?
See, lot of times I have lost roles because I wasn't dating the hero. There have been instances when I was thrown out of films because the actor, director or producer preferred their girlfriend to be the heroine. But yes, I have never been asked for a sexual favour. I am such a bold personality, who will dare to ask me? But on a serious note, I think that it is a very positive step in a very positive direction because at least now there is an open window for discussion. And I think a safe working environment is the right of every man and woman. But along with #MeToo also comes a huge responsibility and everybody has to be very responsible.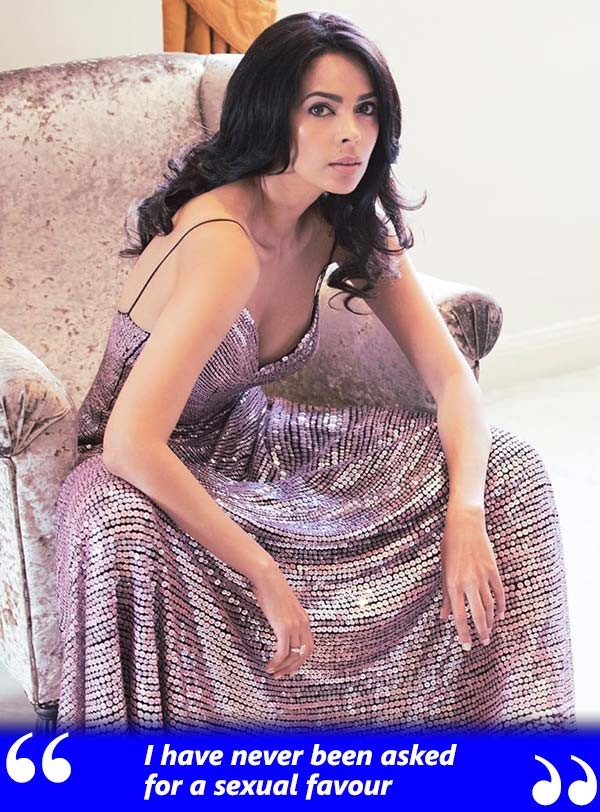 Would you share the details of the incidents when you were asked to leave?
I would not like to. It's past.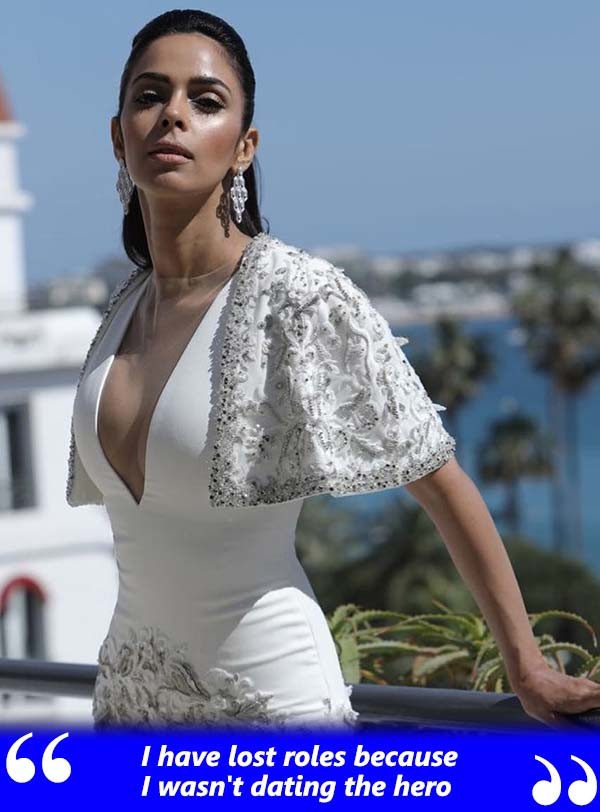 You think it will change the mindset and such things will stop in the glamour world?
With the Me Too movement, solidarity has been made. Everyone has come together. Before too such incidents used to happen, but they used to be very fragmented. Nobody was writing about it, nobody was talking about it. Now with the solidarity there is much more seriousness to it.
What changes have you observed in the industry after your comeback?
I think there are a lot of changes with the new young directors who are coming in and getting a lot of change. A film like Badhaai Ho is being made and Neena Gupta Ji who is a 60 year old actress has got a great role in the film. The film audiences are liking all these shows and that's the beginning of the change for sure.
Being a celebrity we often come across news which are mere rumours at times and you yourself get surprised. Have you come across any such news?
So many news, which were written about me were fake. Like, I can recall once a publication wrote that Rolls Royce is not ready to sell me a car and it was hilarious; it was later covered everywhere and I was like what the hell is going on? But any way, now I don't read about myself because I know it's so much of bullshit. Itni fake news ka zamaana hai aaj kal. So no point in reading.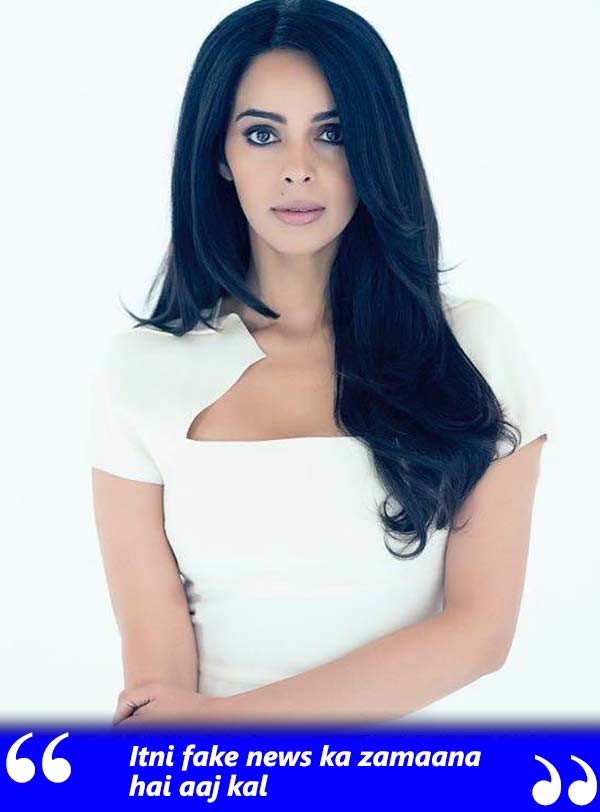 Any plans to get married?
I am single and I am very happy like this. I am travelling the world, meeting who's who, from writers to directors. I went to Cannes Film Festival. I have come from a place like Haryana and now I am living my life on my own terms. So that itself is a big achievement for me.
Image Source:- Instagram/stardom22ent/
mallikasherawat/celebxp