Anil Kapoor: Many People Felt I Won't Make It--- Moochen, Chhoti Aankhen, Lambe Baal, Patla
The ageless talented Anil Kapoor in a MARATHON & EXCLUSIVE Interview with SpotboyE.com talks about his 35-year long career. Man, isn't he still going great guns and would give any youngster a run for his money!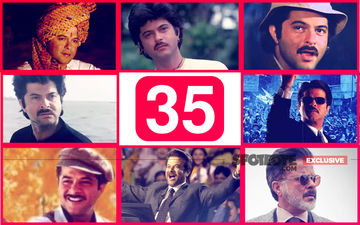 Anil Kapoor has been around for 35 years and he is still relevant, he is still loved by the masses and critics both, his entry scene still draws whistles across the auditorium, he doesn't err, he doesn't stop. Meet this superstar going down memory lane and giving us several anecdotes of how he has beaten all odds to always triumph in the end

I caught up with Anil Kapoor in two sessions on Tuesday--- the first at 2 pm at Film City where he was shooting for Total Dhamaal, the second at 9 pm at his Juhu bungalow.

This is what transpired: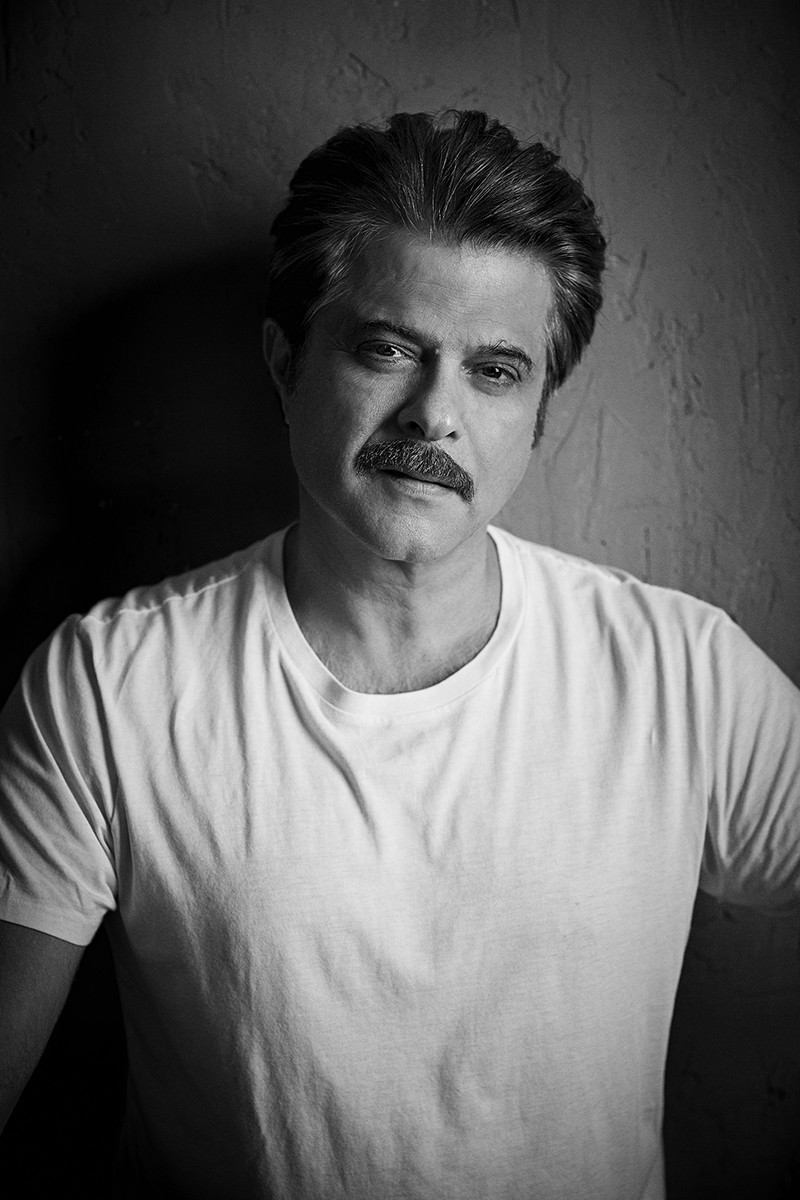 Aap rukte nahin kya?
Tu ruka hai?

Phir bhi?
Tu Ruka hai? Bol na.

You are in an interesting mood, it's going to be an interesting interview.
(Smiles) But you still haven't answered my question.

How old were you when you made up your mind to become an actor?
Ever since I was in senses.

Trust me, I went for an audition, passed it and told my dad only later....

I feel bad when I see confused individuals, those who can't decide what they want to be in life.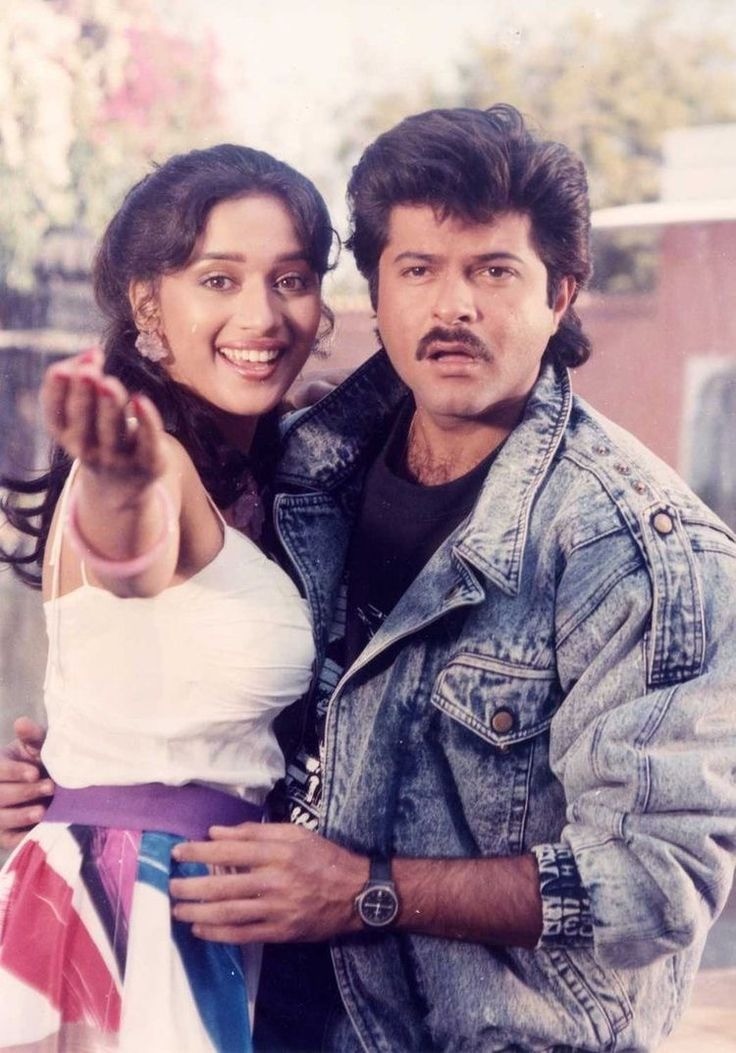 Madhuri Dixit And Anil Kapoor

Were you interested in academics?
I wanted to pass, I didn't want to upset anybody- parents or teachers, Why should I upset anybody to realise my dream? Lekin haan, I was clear that I wanted to be only an actor. I went to Aparna Sen, Shyam Benegal, Mani Ratnam, Mrinal Sen and got work.

Not an easy time, until you were noticed in Shakti. Am I right?
Absolutely.

But do you know how I did Shakti? Woh 7 Din was ready, but I went and shot for a small role in Shakti. I saw Dilip saab and Amitabh Bachchan together, when will I get another chance like this?

Woh 7 Din did good to you. You were fantastic in it. You had arrived...
We (brothers Boney and Anil) weren't selling Anil Kapoor in that. We were selling the subject. The story was strong to the core. People recommended us to cast Sanjeev Kumar in that role, but I said main kar lunga.

You had unconventional looks in contrast to Sanjay Dutt, Jackie Shroff and Sunny Deol who were also taking giant strides around that time...
(Nods in agreement) For me, I just concentrated on hard work. i was confident no doubt. Andar se I had never had any doubts about myself. Today, there are people who come and admit to me that they felt that I won't make it as a hero. They thought kaise hoga-- moochen, chhoti aankhen, lambe baal, patla.

Did that demotivate you?
Arre, sunta kaun tha? I never took them seriously.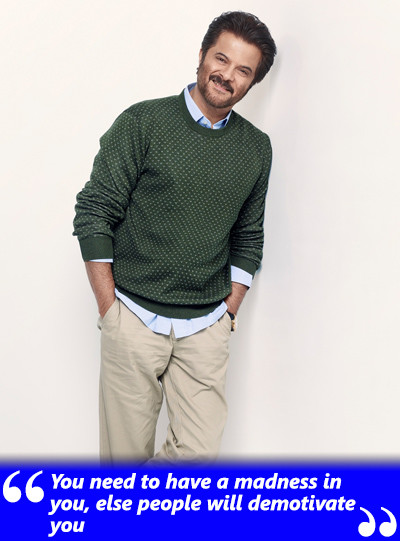 You were self-obsessed...
(Laughs)

I see self-obsession as a quality...
You have to have that madness, you have to have that self belief--- because there will always be people around to demotivate you.

Your dance steps took the nation by storm...
Well, I didn't really invent them. Those are Bhagwan Dada steps, that style is inherent in most people born in Maharashtra--- like how we dance at Ganesh Festival, Holi etc. So thoda mere mein tha, thoda nahin tha, dheere dheere apne ko polish karta gaya.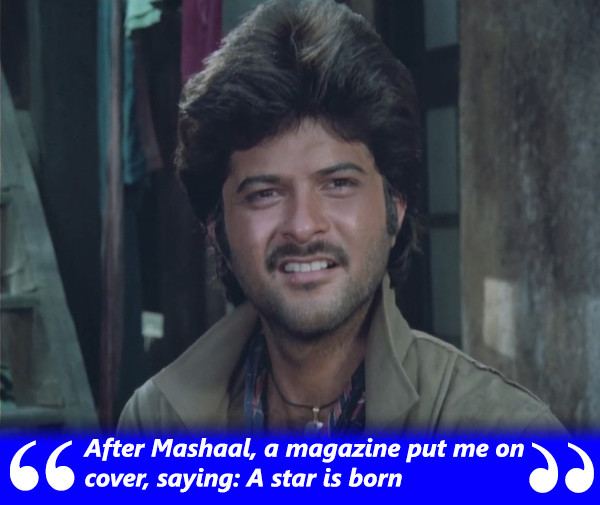 And then came YRF's Mashaal. Did it give you what you had hoped for?
Yes. Magazines had me on covers. A glossy wrote: A Star Is Born. The film did not do well, though.

By the way, Feroz Khan and Subhash Ghai signed me up for Jaanbaaz and Ram Lakhan at the premiere of Mashaal. In those days, filmmakers took risks.

Those were the days. That reminds me, yesteryear's actors had no qualms in doing multi-starrers but today's actors just run away from such situations...
I think they would be the best people to answer this question. I wouldn't know how they think. But yes, there are fab scripts which one should be a part of. Kabhi role chhota hoga, kabhi bada hoga, you get your money, your role is good--- why should you bother? One should go by the script, not by the number of heroes that a film has. I, for one, had no issues working in films which had any other hero with me.

Was Jackie Shroff your real friend, or was he a rival?
Agar 100 fans aate set par, toh 95 went to him and only 5 came to me.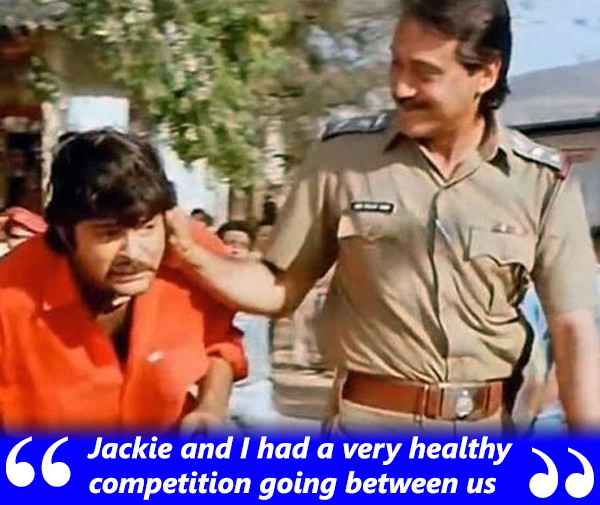 Why?
He was a bigger star. Andar Bahar, Yudh... they were sold on his name and I added value to the film.. But inspite of him being what he was, our relationship was at a very equal level. There was a connect I had with him--- I was from Chembur, he was from Teen Batti. I would say the competition between us was very healthy, else would we have done 12 films together?

How did you deal with the lull phases in your career?
Itna kabhi lull nahin hua because I was working with good directors, and if a film or two failed, there was always a good number of new films to look forward to.

People wanted to work with me. Like, otherwise I may not have worked with him, but after Roop Ki Rani Choron Ka Raja tanked, I signed up two films with Pahlaj Nihalani.

Why wouldn't you work with Nihalani?
I felt I shouldn't be doing the type of films he was making. Nothing against him per se, he is a great friend, he is one of the most helpful people in the industry, nice man.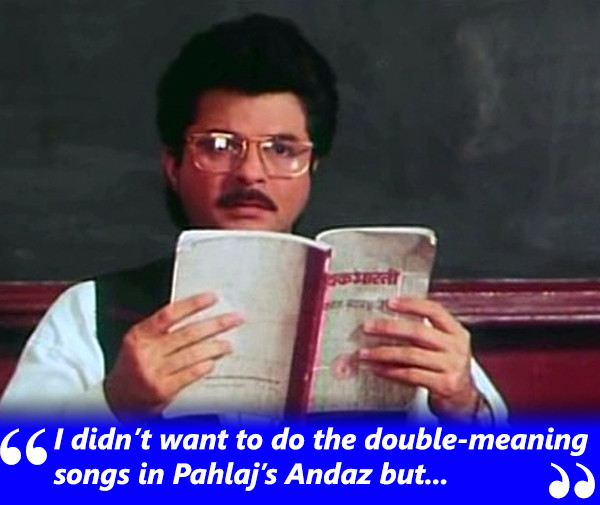 I would have forgotten this question but since you took Nihalani's name, here I ask: Should you have done his Andaz which had those two highly double-meaning songs?
We were not aware of those songs when we signed on the dotted line- neither Juhi Chawla nor Karisma Kapoor nor myself.. Jhagda kiya, shooting ruk gayi. Humne kaha hum nahin karenge. But Pahlaj was adamant--- chhod do film, bandh kar do. Kya karte? It was a commitment.

Who have been your friends? If the lull phase was a bit long...
Nobody rallies around you. You have to help yourself in such a situation.

But you have many friends. Sonam's wedding was a classic point. You have such goodwill that every single person from Bollywood turned up...
Maine kisika bura nahin chaha hai. I have loved people. I have invested in them. I think I am just reaping the harvest.

So much of not just goodwill but adulation too in heaps...
I have always thought from other's point of view. main Kisika dil nahin dukhana chahta. apne swarth ke liye main kisiko dukhi nahi karta. kisika kaam achcha laga, be it Aamir, SRK, Salman... I have even called them and said 'Zabardast'. I told Amitji that he was like a classical singer in Agneepath--- no note wrong. God, he was so good in Piku and Paa.!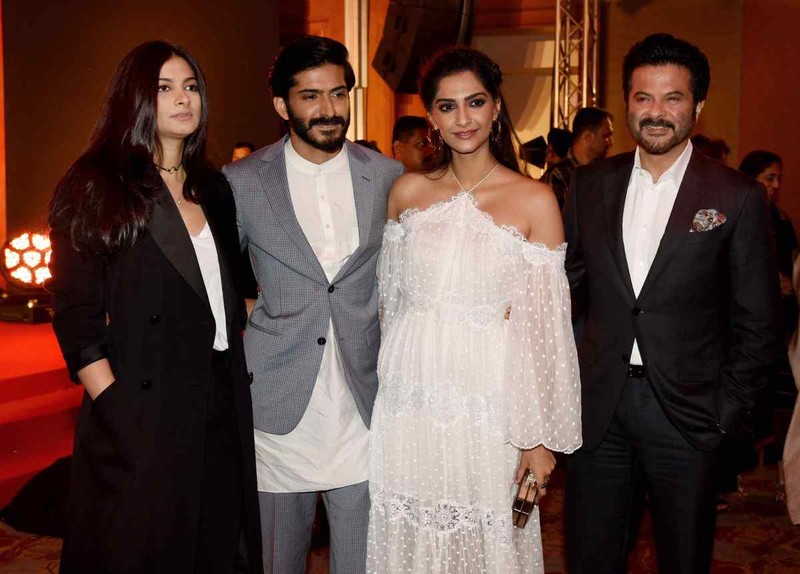 Rhea, Harshvardhan, Sonam And Anil

Where is this coming from, investing in people I mean?
My father, he did just that. Even Yashji; he used to personally call people and invite. Tell me, who can't make 50 or even 100 calls and extend personal invitations? Personal touch is very important in life.

Plus, I never see my own films--- bas aage badho, kaam karte jao. I can't have strings attached to the past. Else, I'll keep repeating myself.

Go on...
People say if you are downcast, call up Anil Kapoor. I am good at cheering up people.(smiles)

You live life King Size, right?
More than King Size.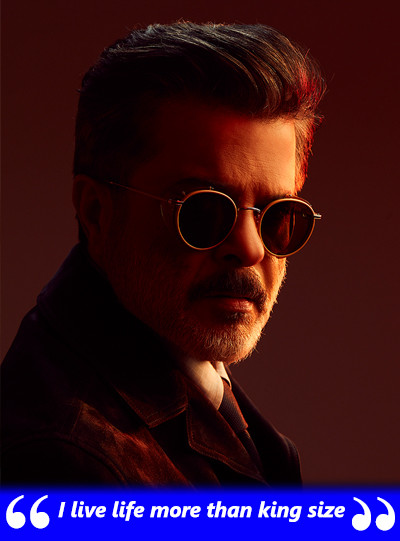 You have a staff of 40-45 people in your house..

I invest in people, I told you na? Why should I fire them? My hairstylist and driver have been with me even before Sonam was born.I don't believe in hire and fire.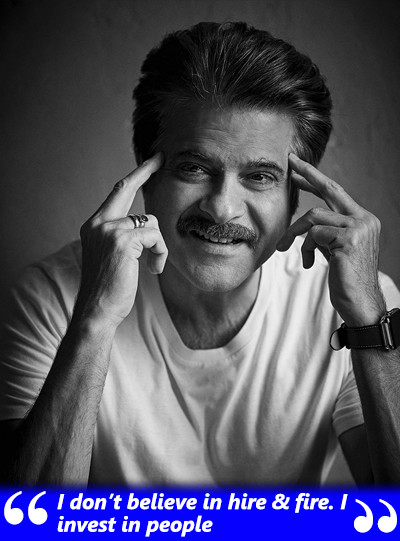 Important question coming up. How have you managed to stay relevant till date? Many aging actors refused to dye their hair, they still want to look young. And you sportingly adorned the white beard look in Race 3...
(Laughs) Didn't it look sexy? Many people have told me it looked sexy, it looked very cool.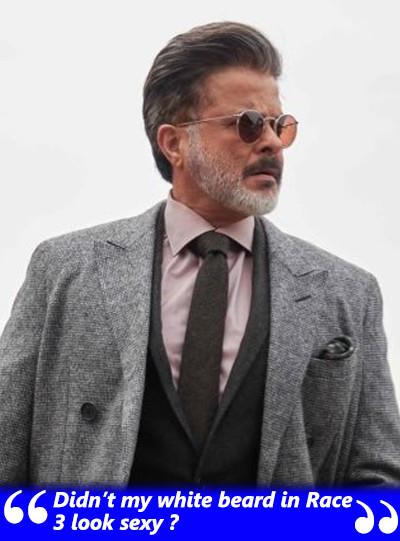 Why don't you keep it in real life too?
I get into roles which require me to dye my beard. I have no issues having a white one.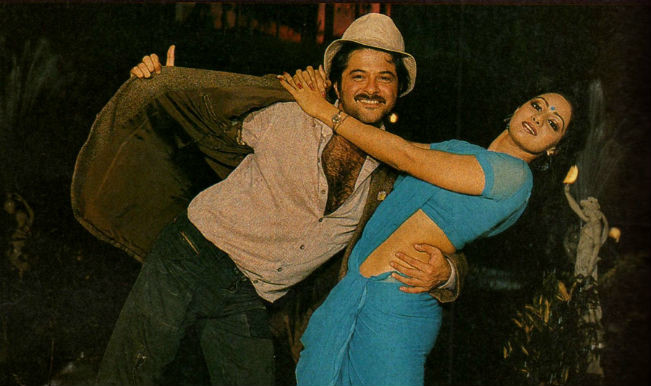 Anil Kapoor And Sridevi Still From Mr India

Are you fashion conscious?
I love to dress up. Mere Mr India, Fanney Khan, Woh 7 Din ke kuch kapde Chor Bazar se bhi aaye hain.

Never heard or read that you blamed a film's director if it failed...
Never. If I have signed a film, shouldn't I hold myself responsible if it isn't doing well? I walked into the film with eyes open, na?. So what's the point in passing the buck.

Done films for emotional reasons?
Many.

For money?
Yes. Roop Ki Rani Choron Ka Raja and Prem failed and we were badly shaken up. Dedication pulled me through.
They say the best things in life are free! India's favourite music channels 9XM, 9X Jalwa, 9X Jhakaas & 9X Tashan are available Free-To-Air. Make a request for these channels from your Cable, DTH or HITS operator.