Mayday Actress Aakanksha Singh On Taking A Break From TV And Moving To Bollywood: 'I Was Badly Typecast After Playing A Mother'- EXCLUSIVE VIDEO
Aakanksha Singh speaks to SpotboyE.com about shifting her focus to Bollywood from Television after being typecast on the small screen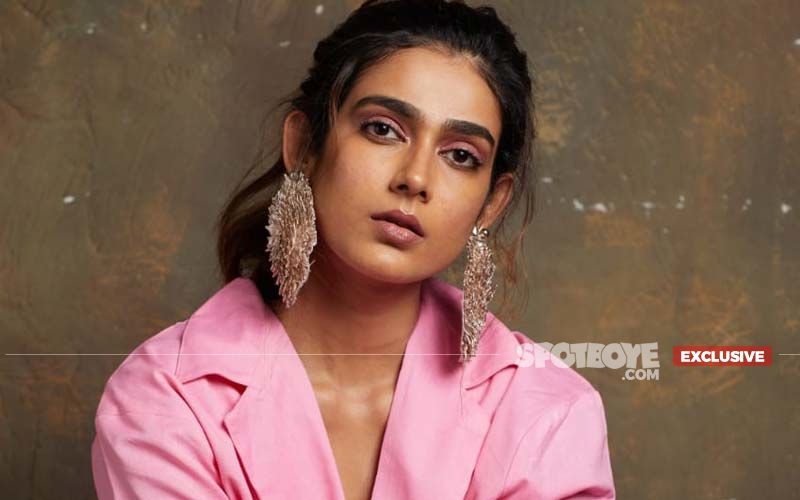 Akanksha Singh, who started her career with television show Na Bole Tum Na Maine Kuch Kaha moved to doing films in Bollywood and South even after her show was successful. And now, the actress who is gearing up for the release of her upcoming film Mayday starring Ajay Devgn and Amitabh Bachchan told us the reason behind her shift from television to films. Read on;
How did Mayday happen to you?
Last year, on Diwali I went to Jaipur with my family and when I landed there I got to know that my whole family was COVID-19 affected. I had no other choice but to stay in a hotel. So, while I was alone in the hotel, I got a call from Vaibhav, who is the casting director and he told me about this film and also asked me to send a small test. So, I said okay as I was anyway free and had nothing to do at that time. I recorded my audition and sent it to him and I think he showed that and a small reel of my short film to Ajay Sir. And he really liked it also. That's how it happened.
It's been almost 5 years since you did Badrinath Ki Dulhania. What made you wait for this long for the next Bollywood project?
After Badrinath Ki Dulhania, I did get offered some work in Bollywood but that did not excite me. I was being asked to play smaller parts, or friend zone or sister zone part but I didn' want to do that until and unless it was very important for the film.
Why did you choose to play a friend's character in your Bollywood debut?
I did Badrinath Ki Dulhania to get the exposure. I didn't know anything about films till then.
To get the feel of the film set and to know the people in that space. It was Dharma which was producing the film, so, it was totally done for experience.
How did your journey start in the South industry?
After I did that film, people kind of started approaching me for the similar kind of roles or roles which were not very prominent in the film. Meanwhile, I got an opportunity to play the lead in the South film.
What are you aiming for now?
I am aiming to do main leads now. And if not the main leads then my character has to have that importance in the film which any of the primary characters have.
You are playing Ajay Devgn's wife in the film, other than that anything that you can reveal to us?
Right now I am not allowed to say anything about the film. But yes, I am playing his wife and it is a really important role.
Amitabh Bachchan is also in the film. Were you nervous to act in front of him?
I always wanted to work with him. Whenever I used to watch his film or him hosting Kaun Banega Crorepati, I always told my family that I really want to work with him. And I am just waiting for that one day and now, it is happening. So, I am really very excited for that. I wasn't nervous but there were butterflies in my stomach when I was going on the set for the very first time and facing him. I was starstruck watching him in real life.
How did you thank him for sending you his hand-written letter of appreciation?
I will always cherish that. I wrote a poem for him and he really liked it. We were shooting in Mumbai only I guess it was his and my last day of shoot together. I handed over the poem to him and asked him to read it. But I was not expecting that before coming on the sets, he would read it and when I reached the set and he was standing on the steps of Asiatic Library. I was climbing slowly as I had just recovered from my leg injury. He was looking at me and when I reached near him he said 'accha likh leti hain aap'. And I was like what just happened, somebody pinch me. He also asked 'Kabse likh rahi hain?' and I said, 'Sir bachpan se aadat hai kuch kuch likhne ki' so he just smiled and went. I didn't know the next day this handwritten letter from him would be here for me. It's a very big thing for me, just like a dream coming true.
A lot of TV actors claim that they don't get an easy acceptance in Bollywood. What does your experience say?
My journey has been so good so far. But I will say that it is true. Now the boundaries are blurring and people have started accepting television actors. We have so many television actors who are coming in and doing good films. So, earlier yes it was a thing but now I think the scenario has changed. I always said and I will always be at the point that there should not be any demarcation of actors. Everybody should get a chance even if it is an audition or a test at least give them a chance.
Did you ever have to lose out on any project just because you came from the TV background?
I don't know about it honestly ki vo kabhi reason hua hoga but rejections are something which everybody faces. So, it happened to me also. Till now also I have to prove myself with every audition and test. Even after working in the industry for so long. So it's a part and parcel of the game. It's just that if I am good, people will take me if I am not they will not take. Also, it depends on the thought process of the writer, producer and director on how close you are to that character they have written for you.
Your very first TV show Naa Bole Tum Na Maine Kuch Kahan was a hit and it also came up with a sequel also. So what made you shift from TV to Bollywood?
I treat myself as an actor and coming from a theatre background, I always wish to portray different characters on screen. I am not somebody who will work only for money. I would definitely want to work for my craft and for the satisfaction as an actor. So that was somewhere missing when I was doing television. Because you have to play a character though Na Bole Tum Na Maine Kuch Kaha has given me a lot of fans who are there for me right now also. And I am glad that the show did well. It is very close to my heart. But before the show my thinking was different. I used to feel that an actor is an actor. However, people used to always tell me that in television people will typecast you. You will get similar kinds of roles but I never thought it will happen with me. But after the show, I got typecast badly and people used to call me for the same kind of roles.
Go on...
And I used to tell them I don't want to repeat what I just did. Give me some other character and let me prove something as an actor. But it never used to happen on television. Like they used to call me to play a mother and I was not okay to do that. And I thought it is better to take a break and I was fine doing television commercials. I was happy that at least I am not forcing myself to do something which I don't enjoy. So, I took the break and then Badrinath happened and things changed.
Do you still get television offers?
I do.
Have you changed your mind now for TV?
No. I am thoroughly enjoying my journey doing web series, films and work in the South. I am not saying no to anything as you should never say never but right now I am enjoying my work so I would rather continue with it.
They say the best things in life are free! India's favourite music channels 9XM, 9X Jalwa, 9X Jhakaas & 9X Tashan are available Free-To-Air. Make a request for these channels from your Cable, DTH or HITS operator.