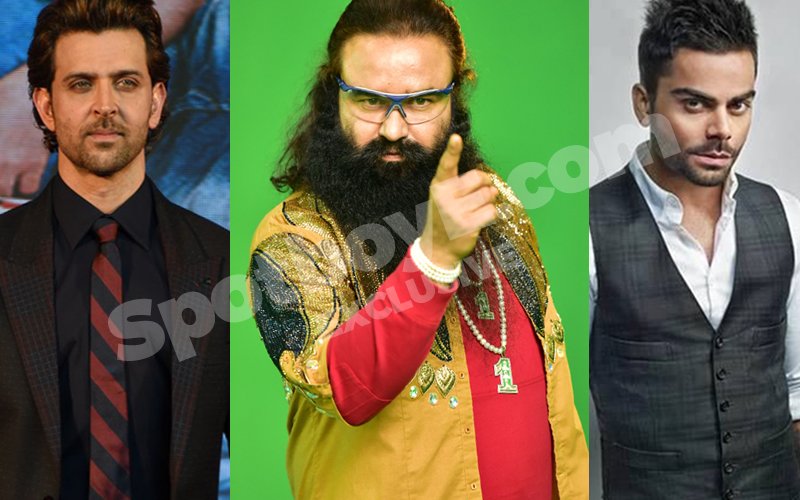 Your browser does not support the video tag.
MSG The Warrior: Lion Heart hits theaters on Friday. MSG's fans and followers are naturally excited. In a candid conversation with SpotboyE.com this afternoon at Hotel J W Marriott, he spoke about his films, the stand-off between India and Pakistan, and lots more. Read on...


What is Lion Heart about? How is it different from your previous two films- MSG 1 and MSG 2?
In my last two films, I played myself (Guruji), whereas in Lion Heart I play a warrior.
We want to send a message to the youth- Agar aap asli mard hain toh mata aur behno ki izzat karein. Unki respect karein.



Image Source: fb/MSGTheFilm, Pvlr

We heard that you wanted to cast Hrithik Roshan in the film?
Yes, Hrithik has met me and agreed to work with me in any film. However we didn't feel that there is any suitable role for him in Lion Heart (pauses). But he might star in one of my future projects.

Will you sign any other big actor for your future films?
Yes, I am ready to work with anyone.

How do you handle criticism?
Humara tareeka hai shaant rehna. I am cool! Sab humara mazaak udaate hain, but humein bura nahi lagta. I am glad that people relieve their stress by laughing at our expense. So I just do my work and move on.

We did our past few films, with a motive. Prior to MSG 1 and 2, humare ashram mein 5 se 10 hazaar log aate the nasha chhodne. Ab 25,000-30,000 aate hain. And trust me, we don't charge anything.



Image Source: cricketmauj

We hear, you gave batting advice to Virat Kohli. Can you elaborate on that?
Yes, I did. In fact, Virat Kohli and Shikhar Dhawan both had come to me, seeking help to strengthen their muscles. Shikhar bola main kahin budha na ho jaun, help me gain some strength. I told Virat that you play very well but after scoring 30-40 runs, you want to pull off a new shot--- and that's where you go wrong. Virat was amazed and shocked that I knew this. I advised him that he should practice those shots before getting on the field and continue with his usual attacking game pattern. He was very happy with my advice. He called back to thank me as he moved ahead in his career.

Besides him, a lot of players like Yusuf Pathan, Ashish Nehra, Zaheer Khan, Amit Mishra have also visited me for guidance.

Are you professionally trained to take credit for all the 30 departments listed at the end of the trailer of Lion Heart?
Yes, I am. Hum set pe aate the, camera person ko bataate the ki blocks kahan set karne hai, light men ko bhi batate the ki lights kahan lagani hai. All the fight scenes in the film are designed by me. Bhakti mein shakti hai, isliye hum sab kar lete hai.

What have you to say about the on-going tension between India and Pakistan ?
Maine yeh sab hone se pehle hi TV channels pe bola tha, ki humare according humare border area ko itna tightly secure kar diya jaae ki koi pakshi bhi parr na maar paaye.

Doosra us desh ko atankwaadi desh ghoshit karne ke liye zor lagaya jaae. Kyunki agar waisa hota hai toh ration paani khatam hoga, toh naturally woh apne naagrikon ko samjhaenge.

Teesra, humne ek channel pe yeh bhi bola tha ki Mumbai ho, pathankot ho, Uri ho, woh chupke se aate hain aur nirdosh logon ko khatam kar jaate hain. Hamare Bharat ke Maratha rahein ya Rajput rahein, hum log bhi chapa maariyat mein mashoor hain, toh kyun na kuch aisa bhi kar diya jaye?

To wahi Bharat ne kiya aur hum un jawaano ko aur Pradhan Mantri ko bahut bahut aashirwaad kehte hain jinhone nirdosh logon ki jaan bacha di hai. Kyunki unhe pata chal gaya tha attack ke bare mein, aur is se pehle ki attack ho, unhi pe attack ho gaya. Bahut nirdosh logon ki jaan bachi hai, isliye humaare hisaab se yeh sahi hua.



Image Source: facebook/MSGTheFilm

Should Pakistani artistes be allowed to work in India?
If the government is saying that they shouldn't be allowed, it must be having a reason (Seems, MSG does to know that it is NOT the government but IMPPA who has called for the ban). If the actor comes in the capacity of an actor, then it's alright, but who can guarantee that he has come just as an actor? Because more often than not, terrorists and not actors come from Pakistan. So I feel if the government is asking them to work in their own country, why should there be a problem?

Your look in this film is different from MSG 2...
Everybody, especially my daughters, wanted me to have a new look in Lion Heart especially because I have a triple role in the film. In fact, I even have 3 different voices in the film.

Any future projects?
I shot for a film titled Online Gurukool before Lion Heart. The shoot is complete, but the VFX is yet to be completed. The film is based on the sacred texts of all religions. It's a high-tech film, bigger than James Cameron's Avatar. The person who is handling the VFX has done Lord Of The Rings and Spiderman 2 in the past. So, Online Gurukool will be one such film which will surpass the aforementioned films.



Image Source: facebook/MSGTheFilm

Reportedly, MSG 2 failed at the box-office...
It's possible that certain theatres didn't register a good occupancy, but MSG 2 is still running. Mind well, it's been over a year now.

According to my production house, Hakikat Entertainment Pvt Ltd, MSG 1 collected over Rs 100 crore, while MSG 2 collected over 500 crore. So if people didn't come to the cinema halls, where did this money come from?

Let me tell you that theatres in Mumbai were packed for MSG 2. In fact, we were mobbed by people here during the Ganpati festivities. So it's not that MSG 2 didn't work; it's just that the collections in certain regions weren't up to the mark.

How seriously do you take the critics' review? Kamaal R Khan (KRK) said that he would review your film, only if you gave him Rs 25 lakh...
He didn't say anything of that sort to us.

It was on Twitter...
Oh! We must have not read it. We don't give a single paisa, forget Rs 25 lakh. If they (critics) want to give us reviews, it will be good for us--- but if not, it's their choice.

You still haven't answered my question. Do you take critics' reviews seriously? Yes or No?
No--- because it's their personal opinion. Audiences may have a different thought process. My last two films have proved that.



Image Source: junglekey

Sportsmen have come to you for advice. Are politicians close to you as well?
All politicians come to me, but no one in particular is close to me. Sportsmen come to me because I play at the national level till today, and I am an international coach as well. I have never been interested in politics, but yes I do guide people when they ask me about who they should vote for. For me, people should vote for candidates who live in their own area, stop drugs and female infanticide and prioritise the well-being of their constituency. However, I do not support any particular political party.

You do not support any political party?
No, we only support those who work for the people. We support the Modi government. Maa ke charnon mein jannat hoti hai and ye unhone sabse pehle karke dikhaya. Woh apne maata ke charnon mein jaa bethe jab woh Pradhan Mantri bane.

Not only that, I started the Beti Bachao campaign in 1990 and we have about 30 girls jinko hum kutton ke saamne se uthake laaye the and he accepted them.

We began the cleanliness drive in 2011, he accepted that as well.

So we were happy thinking ki koi to aisa hai jisne achche kaam karne shuru kar diye hain.



Image Source: fb/MSGTheFilm

You are known for grand promotions. What's in the pipeline for Lion Heart? Lionhearted promotions?
A premiere show is happening in Delhi on October 5. We are expecting around 5000-7000 people to turn up. During the premiere, we will show only half the film so that nobody can make copies.

Also I want to share that the VFX of the film has been done by college students who have been trained by us. In a way, we have given them employment opportunities. You might not find it up to the mark in certain portions, but you wouldn't believe that it has been done by students.

Why should people watch MSG- Lion Heart?
This is the first time where I appear as a character and not guruji, it's a family film with a very strong message for the youth. It's a 2-hour film and time will just fly when you watch it.

Image Source: fb/virat.kohli/MSGTheFilm, geetmaza, junglekey, cricketmauj