My Son Harshvardhan Is Not Trying To Be Shah Rukh, Aamir, Salman Or Me: Anil Kapoor
He is raring to start his 5th decade in Bollywood and Anil Kapoor has plenty of words of wisdom for Sonam and Harshvardhan. In a candid interview, he reveals the family's guiding principles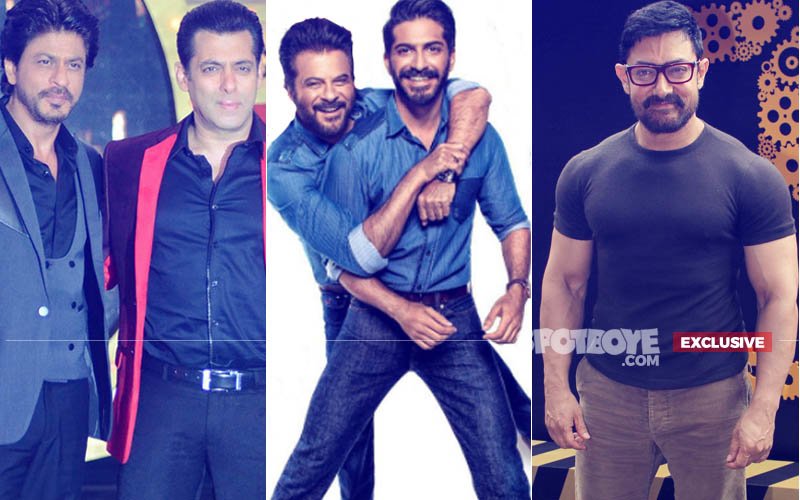 Anil Kapoor
looks decades younger than his 60 years as he sits down for the interview. He is here to promote Mubarakan, the comic caper where he is working with nephew Arjun Kapoor for the first time. In a candid interview, he talks about his 38-year-long career, and the future of children,
Sonam
, Rhea and
Harshvardhan
. Excerpts:
We will start with Mubarakan. How did it all begin?
The story came to me, I heard the script and I liked it. That's how the journey started. Then Anees saab came into it, Arjun came, then Athiya, Ileana and then the rest of the team, Pawan and Ratnaji. Then we all went to London to shoot the film and came back in quick time. I think this is the fastest film Anees has ever made. Within six months, we have shot the film and we are even releasing it. Garma garam!
I heard that it was you who called up Arjun for the film...
No, I didn't. Calling up does not work now. Ultimately, you have to love your role, love the script. Of course, Arjun knew that there was a comfort level because Anees and Anil are there. He has seen us work in No Entry, Arjun was an assistant then.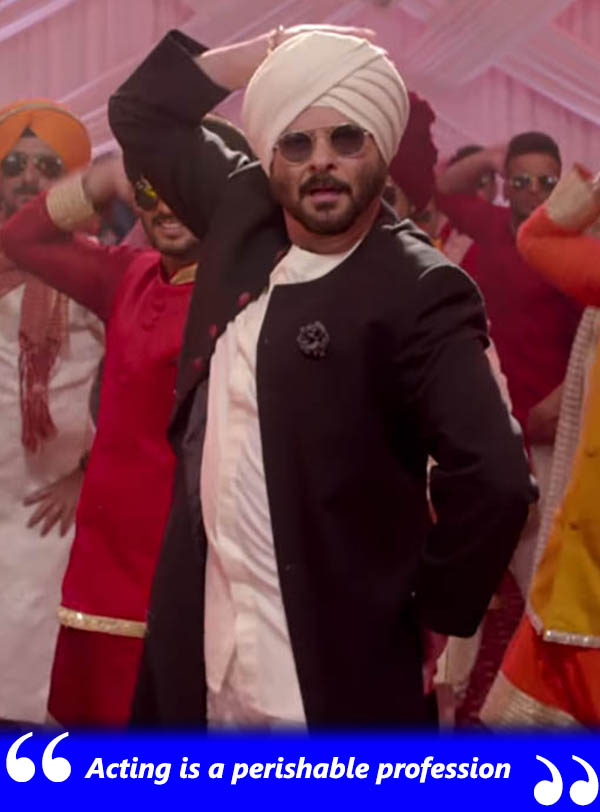 How would you describe your role in Mubarakan?
I play a bachelor, a man with a heart of gold, he is the most lovable chacha-mama of the family. Every parivar has this person, who is loved by young and old alike. That's the character I play. It's a well-written, well conceived and a very nice character. I have played a Sikh in a few songs, like in Biwi No. 1 and No Problem. But this one is a full-fledged role. When the film started, I said yaar, all these actors have done this (played Sikhs onscreen)- Dharmendra, Amitabh Bachchan, Akshay Kumar and Sunny Deol of course in the massive hit Gadar. And now I have got this opportunity, so why not just go for it? As it is, I had loved the script. But I am lucky that I am playing a British Asian Sardaar; that has not been done before. So, I had to work a little harder on the characterisation no doubt, the nuances and the dialect. It took some research; I worked with some of my friends, who were very helpful. Then I asked Anees saab, 'Kya main is tarah se baat kar sakta hoon?' He said, 'Why not!'. That's the way the character was made. What was written and what you see on the screen are a lot different and a lot of people have worked towards creating that character. Thanks to Youtube and the digital formats, you can learn so much these days and it is all at the tip of your fingers.
How was it working with Arjun? You have seen him on sets now. How would you describe his career curve?
I am not the right person for it; because of our close association, I will give you a biased opinion. I would like everything that he does, right or wrong. But what I have come to know as an industry insider, is that in a short span of time he has done well for himself and is also improving with each film. You will see a different Arjun Kapoor in Mubarakan. He plays Charan and Karan- Charan is from Punjab and Karan is from London. So, he gets the opportunity to do two roles, that is fantastic for an actor who is still so young. Yes he has done a double role in Aurangzeb before. All said and done, Arjun is rocking.
You turned 60...
60 ko toh kaafi time ho gaya...60 se bhi aage badh chuka hoon (smiles).
So, looking back at this beautiful journey you have had, what do you think of your 38 long years in the industry?
It has been a beautiful journey and I could not have asked for anything better. I never imagined it. Pehle bas ye that ki kaam mil jaye, kaam milne laga toh laga bas ek-aadh film achchi chal jaaye... filmein chalne lagi to phir achchi filmein milne lagi. Kisne socha tha ki mujhe international kaam milega, film ko 8 Oscars bhi mil jayenge and I was there on stage with the entire Slumdog Millionaire team. I have done so many films, had the best of directors, worked with the best of actors and I am overwhelmingly happy. I even had the opportunity to work with the best of actresses- Sridevi, Madhuri, Aishwarya Rai, Kajol, Padmini Kolhapure, all were fantastic. I got the opportunity to do so many films with Jackie Shroff, a wonderful actor and a wonderful person. Then there are all the great filmmakers- Subhash Ghai, Yash Chopra, Bapu, K Vishwanath, Shekhar Kapur and some amazing producers like Boney Kapoor, my brother. This is my fourth film with Anees Bazmee. I like that I get to collaborate with such talent again and again because then there are no ego issues. And now I am currently working with many new writers and directors and looking forward to my 5th decade in the film industry.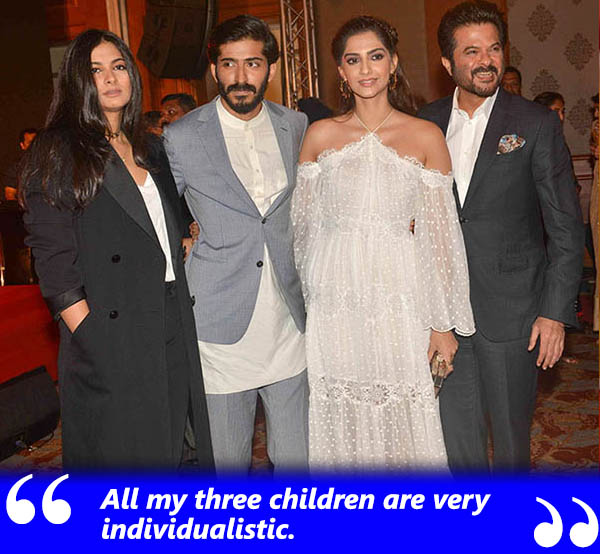 What is it that drives you? Is it success? You work so tirelessly...
I love my work. There are lots of people who are successful but they do not love their job. I love my job, I love acting. I love meeting people, creating characters. Character pehle paper pe hota hai, you have to give it life, soul, body, look, hair style. Kya pehnega, kaise pehnega, kaise bolega, kaise react karega, what are his layers? Ye sab kaam karne mein mujhe bahut mazaa aata hai.
You have so much experience and you are now working with younger directors, so do you get into the details of filmmaking with them?
This profession is different. It's not a like being a homeopathy doctor, where you become a better doctor with more experience. It's not like being a lawyer that your experience is decided by the number of cases you have handled. This is a perishable profession. So you have to work with a 360 degree approach-physically, mentally, emotionally, spiritually, internally, externally. A lawyer or a doctor just has to be there. Acting is a much more demanding profession. You need a lot of energy to have a marathon career with longevity. Mehnat bahut zyada hai!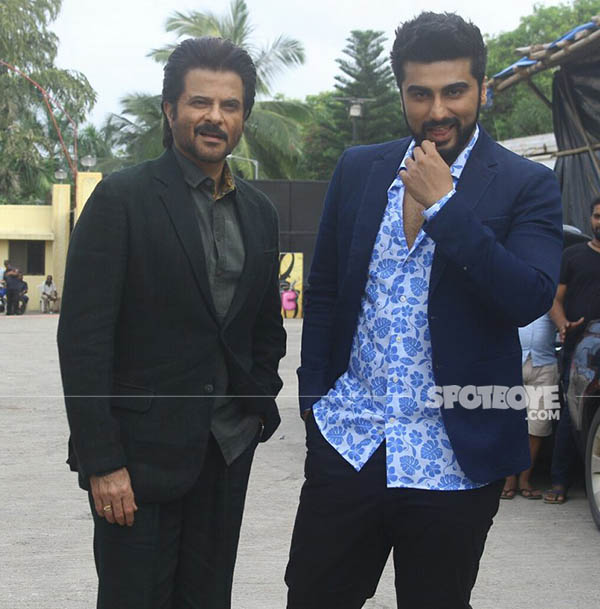 Anil Kapoor And Arjun Kapoor Promoting Mubarakan
You said that acting is a perishable profession. Was there a moment in your career where you felt that things are not going your way?
By the grace of God. I have had a very steady career. But yeah, there was a moment when I was working with Amitabh Bachchan and I thought: 'Yaar, ek break lete hain, jaise Amitji ne liya that 5 saalon ka! So I asked him about his 'break experience.' He turned around to say: 'Yahi mat karna, kabhi break mat lena.' (laughs). So I didn't take a break, I have been working relentlessly and by God's grace, I have always had a role I am looking forward to. Ab tak to aise hi hai, aage pata nahin kya hoga.
You have three lovely, grown-up children. What has been your advice to them? Let's start with Sonam. She had an amazing year but before that it felt like her talent was not being tapped...
With every film, Sonam's fan following has kept increasing but the trade and the media took time to realise that she was really talented. I knew that people liked her in Saawariya, which is why she got her second film. Then she did Delhi-6, followed by I Hate Luv Storys, which was a success. She has kept on doing films- from Raanjhanaa to Aisha to Khoobsurat. All these films did pretty well, Sonam actually has a pretty good track record. Main Sonam ko hamesha kehta hoon, 'Water finds its own level and your career is not for 2 years, it's for 30 years, 40 years, 50 years. And your career is not just about how many successful films and good performances you have given. It is how you have conducted your life, your family, your children, your social commitments, your commitments to your country. I was watching some Oscar clips yesterday and I saw Jeff Bridges, who won the Best Actor trophy for Crazy Heart. Someone introduced him as, 'Great actor and great family man who has lived a complete life'. I loved that! That has always been my advice to Sonam. She is a very successful actress who has achieved a lot in a short time- be it in terms of acting or in terms of the films she has done or in terms of the filmmakers she has worked with. People think she is the one who started the trend of dressing up for events. Hum toh kuch bhi pehen ke chale jaate the. Pehle logon ne mazaak udaya, ladkiyon ne mazaak udaya, aur aaj sab wahin kar rahen hai! Everybody is dressing up for the red carpet, wearing gowns, they all have stylists. It all started with Sonam, didn't it?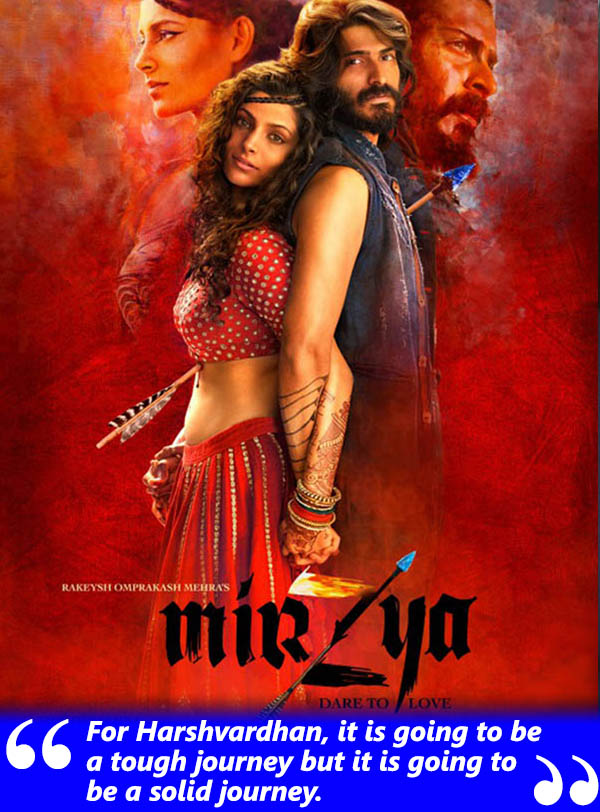 Has Sonam's passion for fashion rubbed off on you?
That's what our family is, we all take from each other and stand with each other. All of us are gaining from each other almost every day. That's what a nice family should be about, isn't it?
And what is your advice to Harsh?
Harsh is quite similar to me. When I started out, my choices were as radical as his. And when you make these radical choices, your journey becomes tougher. My first film was with Sathyu, and then I did a film with Mani Ratnam. I started with smaller roles and slowly, I understood how mainstream cinema works. I came with a different kind of mindset and so has Harsh. It's a good thing, because he is not trying to be me, or Aamir Khan. He is trying to be himself, not Shah Rukh Khan or Salman Khan. He is Harshvardhan Kapoor. It is going to be a tough journey but it is going to be a solid journey. More the pain, more the gain.
What did you tell him when his first film, Mirzya, didn't do well?
When I heard the script of Mirzya, I told Harsh that it's not a plot-oriented film, it's going to be a filn which will need a different treatment... but your role is fantastic and you don't have to worry. I told the same to Rakyesh (Omprakash Mehra, director ) too.
And then?
They were all ready to do it. And mind you, they are all really proud of the film; they made a film which they believed in. Every article or interview you do is not successful. There are a lot of people who would say, 'Maine dekha, mujhe toh achcha laga'. The film got great international reviews, Harsh got unbelievable reviews and he keeps getting positive feedback on it till date. That's success by itself.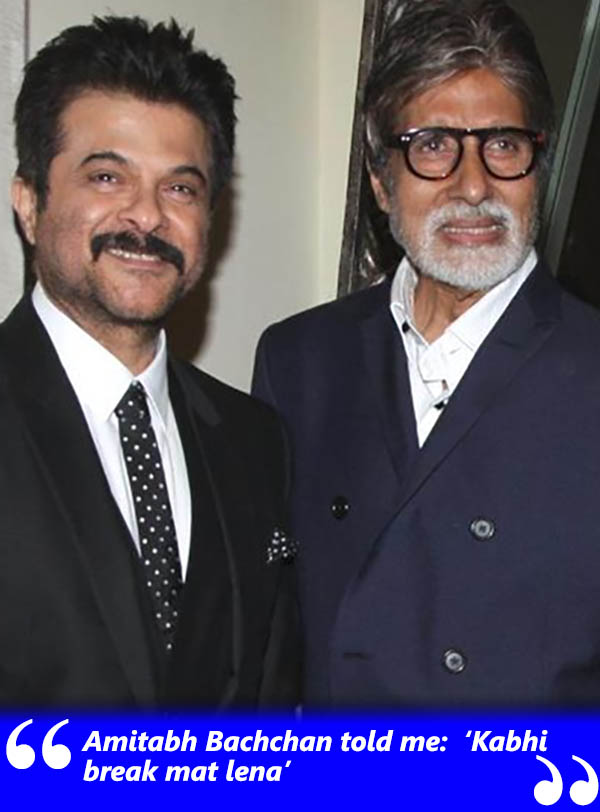 What about Rhea? How much money have you put into her films and who calls the shots?
All my three children are very individualistic. They have a mind and style of their own. Nobody is trying to be Anil Kapoor, which is why they are successful in their respective spheres. Sonam is successful as an actress, Rhea is successful as a producer and hopefully Harsh, in a few years, will be successful. For me, he is successful already because he has been accepted by the audience, in a smaller way. There is no rejection and that is important. As for Rhea- she made Aisha, followed it up with Khoobsurat and now she is doing Veere Di Wedding. They are all girl-oriented films, and you can't call them women-oriented because they are subjects for young girls. And no one else is making these kind of films. A lot of people were inspired by her first film in particular- the dresses, the music, it was the first mainstream film for Amit Trivedi. With Khoobsurat, Rhea launched Fawad Khan, the film was successful and the music was super-duper hit. Now, she is doing Veere Di Wedding, there is Kareena, Sonam, Swara and Tiku Talsania's daughter Shikha. All four of them have equal roles which is very radical. She could have made a solo film with Sonam, but this is the script she believes in, which is why she is making the film. And it's very generous of Sonam to support the film. Think of it, the three of them are supporting each other and that's so nice.
You are staying relevant and stepping into the digital realm now...
That's why I am doing this interview (Laughs). Ultimately, this will have the biggest reach. Digital content will be consumed all over the world. That is why I decided, let me be the first one to do it. So I got this show for Amazon recently and I have even done its pilot. Hopefully, it will be greenlit, I should know about that by October. If it happens, good. If it doesn't happen, very good.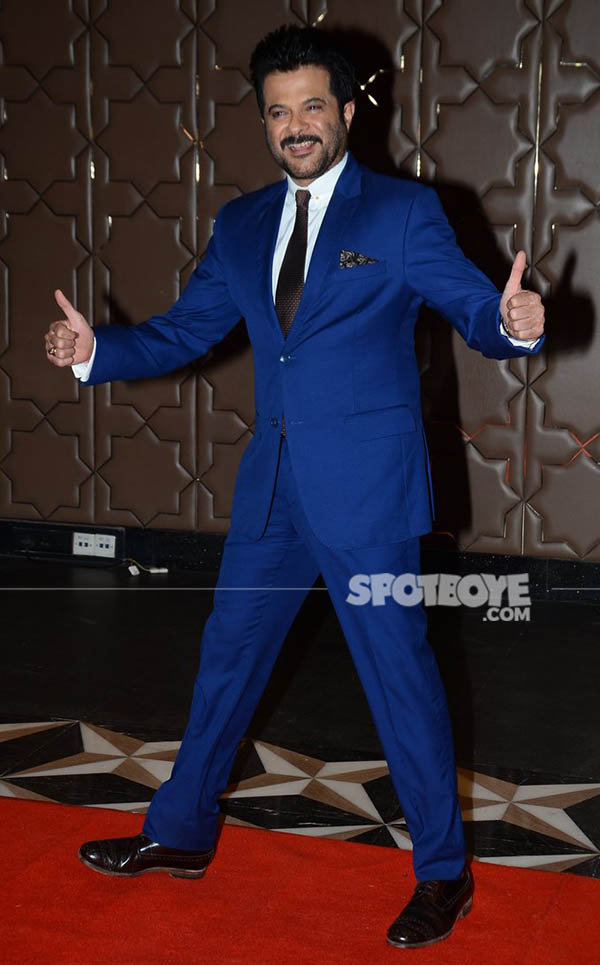 Anil Kapoor Completed 38 Years In Bollywood
The interview will be incomplete without talking about your contribution to TV. There is 24, Prison Break, Modern Family. Where did so much inclination come from?
I did 24 in America, that is how I came to know about it. I enjoyed the whole journey- the process, the work culture. So, I thought why not being it to India? Jack Bauer Jay Singh Rathore is a great character. And I think filmon mein James Bond hai, toh TV par Jack Bauer hai. Is se better character kya mil sakta hai? I am happy that I did it. Now wherever I go, I swear to God, I am not exaggerating, everyone asks me 24 ka third season kab shuru hoga? And I tell them: Jab jaan mein jaan hai, dum mein dum hai, third season banega, zaroor banega!
You must tell us before we wind up, how long is Anil Kapoor going to continue working?
I am no one to say that. I will try my best to work as long as I can, to the best of my abilities. The rest is up to the audiences and God.
Image Source: Manav Manglani, ontohindbd, carpotaro & mekudot
They say the best things in life are free! India's favourite music channels 9XM, 9X Jalwa, 9X Jhakaas & 9X Tashan are available Free-To-Air. Make a request for these channels from your Cable, DTH or HITS operator.