Natalie Di Luccio: Eijaz Khan Will Always Be A Dear Friend
The singer speaks her heart out at the release of her latest single Nella Fantasia; insists she is single now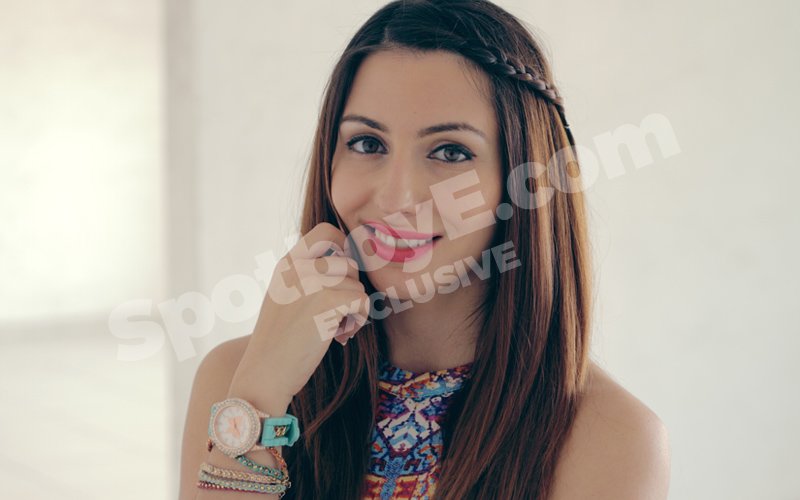 When Canada- born Natalie Di Luccio sang Tu Jaane Na from Ranbir Kapoor-Katrina Kaif's Ajab Prem Ki Ghazab Kahani, and posted it on YouTube, she became an overnight sensation. Soon after, her cover songs from popular Bollywood films were well-received as well. The singer also made headlines for her relationship with TV actor Eijaz Khan – the couple dated for over 3 years. (
Eijaz Khan in a period of "adjustment" with girlfriend Natalie Di Luccio, Mar 4
)
And now that the two have broken up, she has begun a venture of her own -- she is recording singles with folk singers from different states in India. SpotboyE.com caught up with her a few days ago where she opened up about her new release Nella Fantasia, which features her and Rajasthani folk singer Sawan Khan Manganiyar. Excerpts:

When and how did the idea evolve?
Every time I travel I get people asking me lots of questions about India. There is still a lot of mystery surrounding this beautiful country. Many people believe in the stereotypes and only know India as what they've seen on news or from films like Slumdog Millionaire. More than an idea, it's a goal whereby I want to showcase the unbelievable beauty and diversity of India to the world. The concept came to mind four years ago when I met Sawan Khan Manganiyar in Mumbai. He was performing on Coke Studio at the time and his performance gave me goosebumps. I spent hours on the Internet watching video clips of Manganiyars of Rajasthan and was extremely fascinated by their style of music. I knew that together we could create something magical and showcase the beauty of Rajasthan at the same time.

Tell us your journey behind the making of Nella Fantasia.
This video was a 3-year journey. We first recorded my vocals in LA and then I brought Sawan Khan to Mumbai for recording his bit. Sawan was the real deal and not someone touched by modernisation, which I absolutely loved. Although Sawan and I couldn't communicate directly -- he only spoke in Sindhi and I, in broken Hindi, which his son then translated, to Sindhi -- we formed a special bond instantly. Shooting the video was a memorable experience. We landed in Jodhpur and spent about a week trying to get permissions for the Mehrangarh Fort and flying the crew from different areas in India. We shot the video
in 8 hours
as the Fort couldn't be held up for long. Needless to say, it was one of the most special days of my life.

You began your career on YouTube, which has become a big platform these days. Do you think the youth's focus has shifted from music singles and albums to content on YouTube?
The music industry has changed and is constantly evolving on a daily basis. Of course, the times of "albums" are dead now. In my opinion, single releases on YouTube are the current path for success but even then, things keep changing and who really knows what the new trend is going to be even in a few years from now.

Being of foreign origin, how did you learn to speak Hindi so fluently?
I didn't know a word of Hindi before coming to India. I actually remember my first day when I sat in a local family's living room and thought, "I'll never know this language in my lifetime". But having said that, I feel that my "absolutely" no connect with Hindi is what helped me. I heard people talk, went to plays, movies, learnt songs, got a Hindi tutor, got a diction coach, practiced with my staff and did whatever I could to grasp the language. Now it has been 5 years and I'm quite proud of myself that I understand about 75% and can speak enough to deal with any situation. I no longer need to call my friends to deal with the delivery guy or taxi driver.

What got you so attached to India?
You know, India is a place that values friendship a lot. When you make a friend, you become a part of their family. People here have taken me in like I am their daughter. I realise that you can live in the most beautiful cities across the world but it doesn't mean anything if you don't have great people to share it with. I also feel that the buzz of this city is magical. There is always some festival or parade happening and one sees lots of smiles on the streets. There is never a dull moment.

You have worked with Bollywood musicians as well as foreign music producers. Tell us about the difference in work culture between the two industries.
To be honest, it is very different. Bollywood is very fast-paced and music gets written and recorded within days. Abroad, I feel they take much more time because there are no film deadlines. A producer may take several weeks or months to write something, record it and produce it for an artist. The singer also knows her parts before he/she records it. In India, the singer is often called in the studio and she is learning the song and recording it at the same time. I am not such a fan of that as I feel for a singer to really sing the song well she should know it comfortably, but that is how the industry works here.

The interview will be incomplete without asking you about your relationship with Eijaz Khan. What's the current status?
Eijaz will always be a dear friend. Whatever happens I will always wish him the very best.

You have carved a niche for yourself in the Bollywood circuit. Why not get a big star to feature in your music video? That way it will get more visibility.
I think it really boils down to the kind of music I am doing. No doubt, having a big star in a video helps but casting somebody is not just about getting their fans to watch it. It should make sense for the song and the video. And if that happens, I would definitely love to do it.


What after Nella Fantasia?
Nella Fantasia means "In my dreams" and just like the song I will continue to follow my dreams. You can look forward to a lot more music coming from me this year.
Image Source: SpotboyE Team & Indiablog