Nawazuddin Siddiqui: Chitrangda Singh Had Shot The Intimate Scenes Before Walking Out Of Babumoshai Bandookbaaz
In a candid interview, Nawazuddin Siddiqui speaks about Chitrangda Singh's petticoat controversy, the tussle with the Censors and his womanising character in Babumoshai Bandookbaaz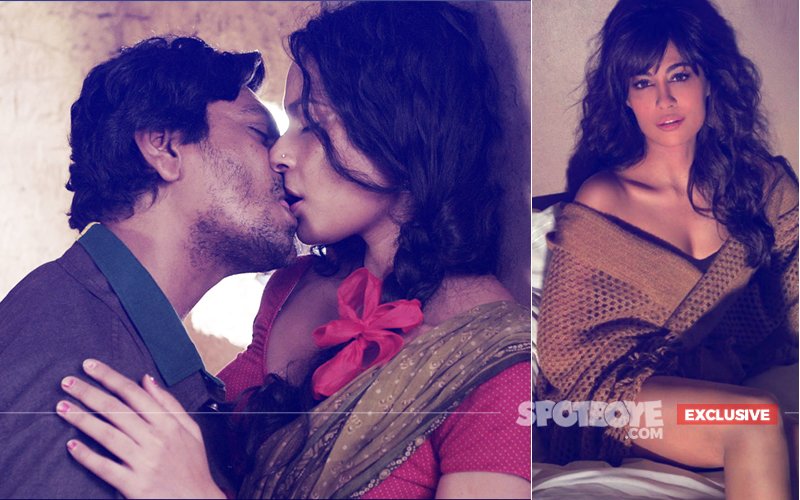 Nawazuddin Siddiqui's next, Babumoshai Bandookbaaz, was dogged by controversies from the very beginning. First there was the exit of Chitrangda Singh over explicit sex scenes.




In an interview to SpotboyE.com Chitrangda had angrily described her predicament: Kushan (director Kushan Nandy) wanted me to lie on top of Nawaz. Now let me tell you that I was wearing a petticoat for that scene. I turned around to tell Kushan about my predicament. I told him: 'Ho toh gaya. Kyun kar raha hai aise? Please try to understand that I am wearing a petticoat. But, he was in no mood to listen and we ended up having a big, loud argument."

And then there was the tussle with the Censors, which demanded 48 cuts in the film.

After all that, the film is finally ready for release and we spoke to its leading star about Chitrangda Singh, Pahlaj Nihalani, shooting sex scenes and a lot more. Excerpts:

Firstly, congratulations. Babumoshai Bandookbaaz has been passed with just 8 minor cuts in contrast to the 48 cuts suggested by the CBFC earlier. What was your reaction when you came to know this?
The cuts which have been suggested are very minor and nominal too. Plus, they are voluntary cuts. So, I am very happy, and Thank God, now people can see the film as it is. A few words have been shifted here and there, however, everything else is going to be intact.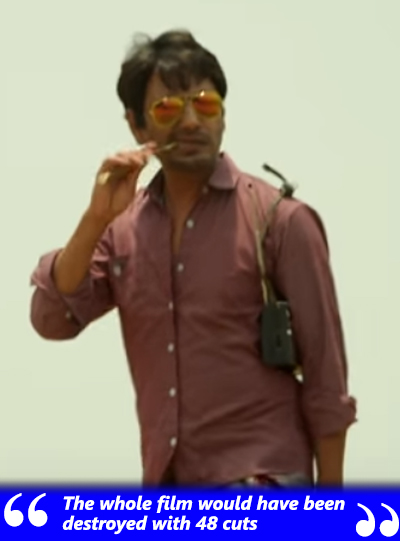 What was the team's reaction when Babumoshai Bandookbaaz was given 48 cuts by CBFC?
It was shocking to say the least. It was as if we were constructing a building and we were asked to chop off two of the prime pillars. The film would have been destroyed. The nuances in the character, the local flavour, would have been lost. Thank God, all's well that ends well.

What's your personal take on censorship?
I feel a film should be given ratings - whatever that may be. There shouldn't be any censoring.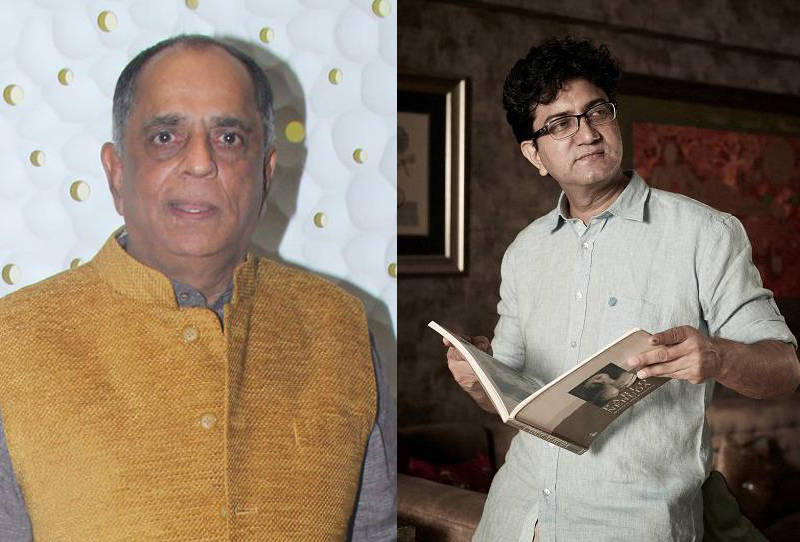 Ex CBFC Chief Pahlaj Nihalani And New CBFC Cheif Prasoon Joshi

Censor Board maintains that they give cuts because films influence people. What do you think?
There is a deluge of uncensored content on the Internet. If the audience was to get influenced by just seeing things, they would get influenced by that. It's available on your phones, which is with you 24X7. So, if you had to get affected, you would get affected by that. Why censor films for that reason

Talking of the Censor Board, when Pahlaj Nihalani was sacked and Prasoon Joshi stepped in, the film industry celebrated. What was your personal reaction?
Of course, I was also jubilant. After all, Prasoon Joshi is a capable person and is very knowledgeable about cinema and the various types and genres of movies. Most importantly, he knows that every movie and every character has its own flavour, nuances, dignity and puns. We are hopeful now.

Do you personally know Prasoon Joshi?
Yes.

And what about Pahlaj Nihalani?
No. I did not know him personally. Had always heard his name (laughs out loud), but had never known him personally.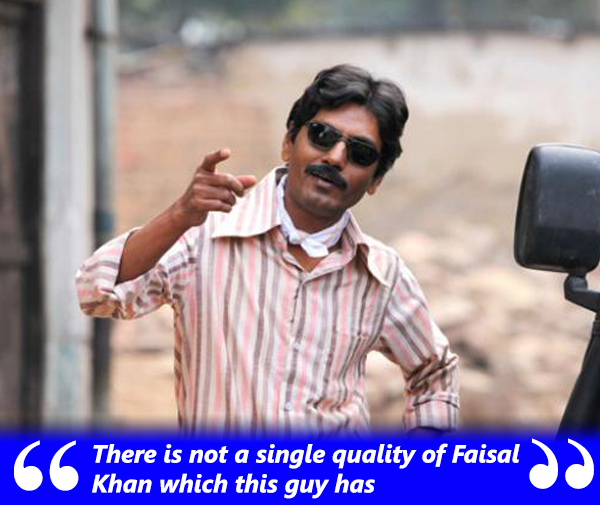 Coming to the film, what is Babumoshai Bandookbaaz about? Tell us a bit about your character.
There is a world of contract killing and the protagonist is the superstar of that world. He has a huge fan following and people want to grow up to become like him. He doesn't give a damn about the values of society and has no morals. But at the same time, he also possesses a weird sense of humour. The best thing about this character is that it breaks all the societal norms that a typical Bollywood hero should follow. He is totally shameless, not the perfect man, and filled with flaws. Despite all these facts, this character is the hero of the film.

You play a gangster in Babumoshai Bandookbaaz, you played one in Gangs Of Wasseypur. How different are the two characters?
They are completely different from one another. There is not a single quality of Faisal Khan (Nawaz's character in Gangs Of Wasseypur) which this guy has. Faisal was very emotional, he valued people, he loved and respected his wife, he would never ogle other girls. This guy in Babumoshai Bandookbaaz is looking to score at every given opportunity (laughs). His character is just written like that. Faisal Khan was emotional, this guy isn't. He is ruthless. Faisal Khan had only one motive in his life, to get revenge. This guy thinks about killing one person today to get paid, tomorrow he might kill someone else for more money.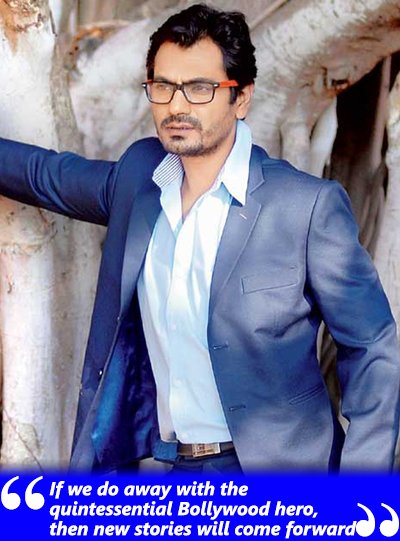 Do you think you excel in playing negative characters...
(Cuts in) How many negative characters have you seen me in? Till date, I have played just one negative character and that was in Kick (2014). Rest aren't negative, but have shades of grey (Badlapur, Raman Raghav). These grey characters are closer to real-life. We feel that the positive character is the hero, but those characters are fake. For the past many years we have been watching these fake characters and have believed them to be true.

Go on...
It's high time that we start bringing in heroes with shades of grey, otherwise we will keep running around trees and romancing throughout our lives. If we do away with the quintessential Bollywood hero, new stories and concepts will come forward.

But do you think the audience is ready for change?
The audience started changing a long time ago. It's just that we have started acknowledging it now. They started changing as soon as they got access to the Internet.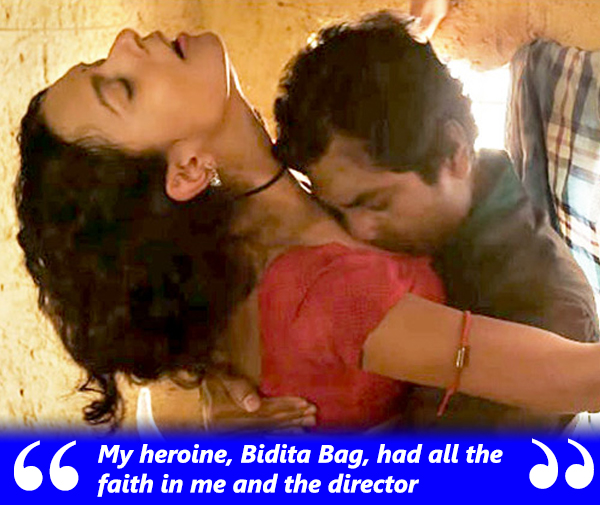 Talking about change, more and more filmmakers are basing their stories in rural and small town India...
People like those films because they can connect to them. The time of fantasy films is over. Those stories, characters and locales were not a part of our lives. Those were fake films. Ultimately, you will start longing for your roots. It so happens that the more you make a story local, the more it will connect, and the more it connects, the more it becomes global.

Coming back to Babumoshai Bandookbaaz, you have shot a lot of intimate scenes in the film. How far away from your real life are these scenes?
Of course it's far away from my life. The way this character performs the steamy scenes, I've never done it in my life (laughs out loud).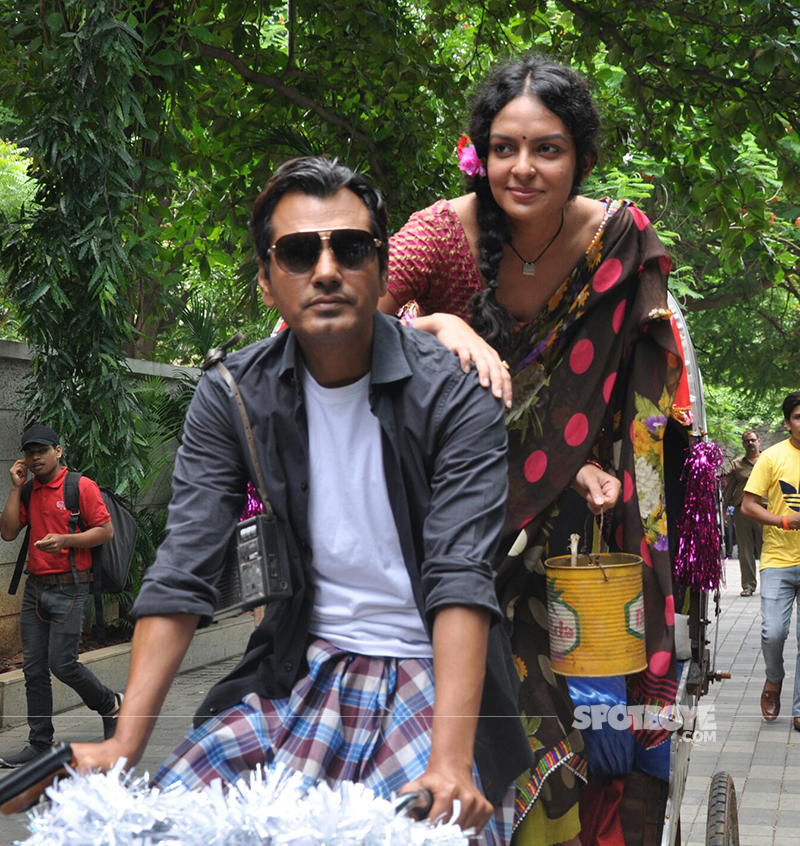 Nawazuddin Siddiqui & Bidita Bag At The Trailer Launch Of Babumoshai Bandookbaaz

How conscious were you while doing these scenes?
When you are performing such a scene, which is far removed from your real life, you are obviously very conscious. I was also very uncomfortable. But my heroine, Bidita Bag, had all the faith in me and the director, and that's why the scene came out this beautifully on-screen.

How did you make Bidita comfortable before shooting the intimate scenes?
I didn't do anything as such. She is already a very professional actress. She knew what to do.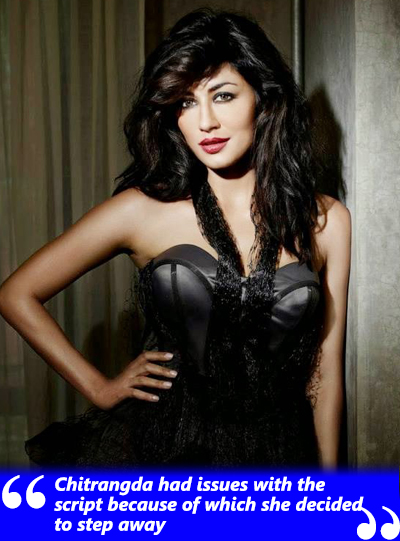 Chitrangda Singh had walked out of the film because of these scenes. What had happened?
The intimate scenes had already been shot with Chitrangda Singh before she decided to walk out. She had other issues with the script because of which she decided to step away from the film.

You had recently said that it's very important to learn acting. Do you think the star kids follow this rule?
There are star kids nowadays who do a lot of hard work before they get into films. Many of them undergo training beforehand. For example, Tiger Shroff puts so much effort in to his dancing and it is evident on-screen. When you train, you get knowledge, and there is no harm in gaining knowledge. Especially, when you decide to make it your career.

What do you prefer- romance or guns?
I would like both. When I need it, I need all of it at the same time (laughs).


Image Source: Manav Manglani, youtube/saregamamusic, beautagonal, webenty, scoopit & catchnews