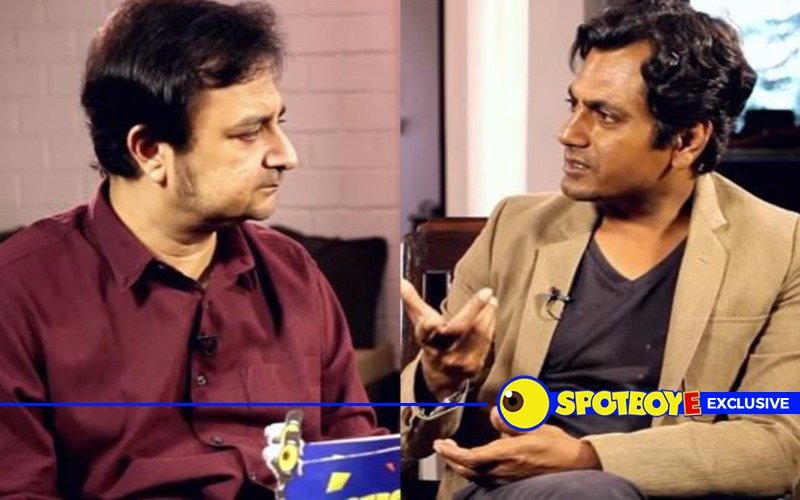 Your browser does not support the video tag.
Nawazuddin Siddiqui is among those lucky actors who are loved equally by the masses and the critics. He has 2 big releases lined up for next month -- Anurag Kashyap's Raman Raghav 2.0 and Ribhu Dasgupta's TE3N. In an exclusive interview with SpotboyE, Nawaz opens up about films and the highs and lows of being a part of B-Town. Excerpts...


What was your first reaction when Anurag offered you Raman Raghav 2.0?
I am quite used to Anurag's offers, he throws characters at me. He gave me a dancer's role in Dev D (2009), and when I told him that I won't be able to do it, he said, 'You have to, because I am sure that you can'. Anurag told me about Raman Raghav 2.0 during the time of Gangs of Wasseypur (2012).
Image Source: newzology
Aren't you worried that playing a serial killer might go against your image?
I want to break the stereotypes. While I play a psychopath in Raman Raghav, I will be seen as a romantic hero in Sohail Khan's next. As an actor, I should utilise this time and take advantage of it.
How did you get Raman Raghav's look? What about the make-up?
Raman is Anurag's imagination, my contribution is zero. As far as make-up is concerned, we didn't have to do much. In fact, mental preparation took more time because Raman doesn't think like normal people.
How did Raman's character affect you?
I was in pain and had to be hospitalised. Seems, even in my unconscious state, I was repeating dialogues from the film. Finally, my wife called up Anurag and said, 'What have you done to my husband?'.
Image Source: hdwallpapers
Let's talk about Anurag. He was not very happy with Bombay Velvet (2015)...
I would say it was an experiment. Anurag doesn't play a safe game. He experimented in Bombay Velvet and failed. It's not a big deal.
Image Source: lockerdome
What did you think of the film?
I felt it was an experiment and it is good to experiment in your career.
You said you are playing a romantic hero in Sohail's film. Are you comfortable with it?
Absolutely, it is just another character.
Do you have any intimate scenes in it?
I have done such scenes in Gangs of Wasseypur and Badlapur; and I wasn't uncomfortable at all. It's all part of the job. In fact, it is more fun doing such scenes, they happen very easily.
Image Source: loadtop
But, are you okay with romance? A few years ago, you said something about romantic heroes and Rishi Kapoor didn't like it… (Nawaz's comments about romantic heroes doing nothing but running around trees had irked Rishi)...
I don't know what happened, or who told him what. He is my senior and I will never disrespect him.
Image Source: Manav Manglani
Have you met Rishi after the incident?
I have not met him, but I have spoken to him on phone once or twice. There is no misunderstanding between us and everything is fine.
Image Source: Manav Manglani

So did you call him up and clear the air?
Yes, I did call Rishi to clear the air
At one point, you rejected 175 roles. Why?
I will do a film only if I like the script. It doesn't matter if it's a low-budget or big-budget project.
But if it's a small film, you might not get your market price...
Absolutely. I don't have a fixed market price, it changes according to the film's budget.
Image Source: Manav Manglani

With such non-conventional looks and physique, did you ever think you will come so far?
If and when I am offered the role of a sportsperson or bodybuilder, I will work on my body and looks. Being fit is important, but I will not make 6-pack abs unnecessarily.
Do you go to the gym?
Maybe once in a year.
Why so?
I don't have time. Also, I didn't know one has to lift weights to become an actor. I would not have joined the industry had I known that. On a serious note, if you have a normal physique, you can do a variety of characters. I feel sitting at home and working on the script and role is much better. I can look stronger through my eyes than my abs.
Image source: kannadaprabha
How satisfied are you with your career?
I am satisfied, but as human beings, our desire to do something more never ends.