Neeraj Pandey: Why should I be nervous about Mohenjo Daro releasing on the same day as Rustom?
Shoots off from the hip, emphasising that unnecessary drama is created when two big films hit theatres on the same day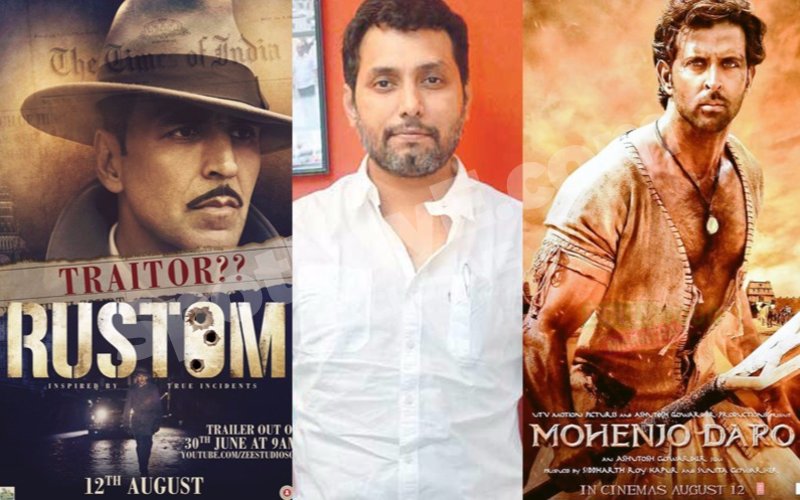 Anil Ambani-owned Reliance Entertainment and filmmaker duo Neeraj Pandey and Shital Bhatia's Friday Filmworks formed a strategic alliance to launch Plan C Studios to produce movies jointly. Plan C Studios kick-starts with the Akshay Kumar-starrer Rustom, directed by Tinu Suresh Desai who earlier directed 1920 London.
The time was right to meet Pandey, who has produced Akshay's upcoming film which makes it to the big screen on August 12. SpotboyE.com caught up with the filmmaker in his Andheri office on Saturday evening.
Excerpts from the conversation that followed:
Rustom will be the first film from your stable which you haven't directed but just produced...
I can't run a company whose every film I'll direct. Plus, there are many exciting stories for which I may not be the right guy to direct. I love to see films of all genres, but I don't think I can explore them all.
Rustom is exactly that. It's a very nice story but I would've been the wrong person to helm it. It required a different kind of mindset, passion, excitement and affinity.
Tinu brought the script written by Vipul Rawal. Shital and I liked it and decided to put our support behind it. We are always looking for good stories to be put on celluloid, but let me add here that we are definitely not in a factory mode.
What was the element in Rawal's story which made you feel that you should not hold its directorial reins?
The drama. It's not something that I would like to create. I would like to watch it for sure. Above all, I was already working on M S Dhoni: The Untold Story, it had started when we were doing Baby (2015).
Image Source: 123wallpapershd
Did you go on the sets and/or ask Tinu at regular/frequent intervals to show you how Rustom was shaping up?
I cannot "allow" freedom. Shital and I had only to understand Tinu's vision. We had a creative discussion where we differed with him on certain aspects, we put our points across--- but that's a part and parcel of every project when you set up the stage. Filmmaking is not about interference. Our job was only to mentor Tinu. You cannot sit on somebody's head when you ask him to execute a film for you. What's the point in making someone uncomfortable? Why not do it yourself then?
How did Akshay come on board?
Rustom is Tinu's second film and he was skeptical if Akshay would say yes to him. We decided to give it a shot and Akshay loved the script. Besides, Akshay and Tinu had worked together on Special 26, and in fact, Akshay knew him even before that.
Image Source: Youtube/Zee Studios
Ileana D'Cruz said 'No' to you for Special 26 but you still approached her for Rustom...
It doesn't work that way. It may not have worked out for her on a certain film of mine, but that doesn't mean that I don't offer her another if and when she suits the part.
Are you nervous about the Rustom vs Mohenjo Daro clash at the box-office?
What clash? Is it for the first time in movie history that two movies are releasing on the same day? And frankly, why should I be nervous?
How has Rustom shaped up?
Rustom has turned out to be a very well-made film. We are looking forward to the public's response.
Reportedly, there were talks between Rustom and Mohenjo Daro teams to avoid the clash...
I have not been a party to any such talk. Those reports were totally baseless.
Your next directorial -- the Dhoni biopic -- is a big responsibility...
Yes, but I consider it is as big a responsibility as my first film or any other which I have been associated with.
Image source: espncricinfo
We have had a film on the Nanavati case --- Yeh Rastey Hain Pyar Ke (1963). Did you feel that one more was necessary when Tinu brought you the script?
Most people today are even unaware of when Yeh Rastey... was made. Even Gulzar saab did a take on it -- Achanak (1973). Rustom is definitely inspired by the Nanavati case, but the story is far different from Yeh Rastey... and Achanak. It has a lot of other things and it's a new take on that incident.
You're planning to make another film with Akshay, Toilet -- Ek Prem Katha...
It's in nascent stages. I won't be directing that, though.
A Wednesday/Special 26/Baby: Which film of yours till date has thrilled you the most?
They are all equally dear to me. Besides, they're all done and I don't like to go in the flashback mode. I am always looking ahead.
Would you produce and/or direct a multi-starrer with a thin story line? Or, does the content always need to be rich before you put your hands in it?
As I said earlier, I like watching all kinds of films (pauses). As a maker, I have to get excited by a story and there should be something that I can say in it. There's no crystal ball though and I am not gazing.
Many B-Town people are active on social media, but we don't find you in that list...
I don't have an opinion on daily and/or hourly basis, and even if I have one, I don't feel the need to share it. Plus, I don't have time. I am not running down the people who are actively engaged on social media, it's their life, it's their priority -- but it doesn't excite me. I don't have the space for it in my life and I don't miss it.
Thumbnail Image Source: movieposter/