How many directors can boast of a National Award with their very first film? Omung Kumar achieved the feat with Mary Kom. But he is in no mood to rest on his laurels. The director has already moved on to his next film - and might we say, a more difficult subject. As he gears up to shoot Sarbjit, Omung talks to SpotboyE about the film, why he cast Aishwarya Rai and more. Excerpts:
After Mary Kom, you're working on another biopic - Sarbjit with Aishwarya Rai and Randeep Hooda. How did the idea take shape?
After winning the National Award for Mary Kom, I was thinking about making something else. I had made up my mind that I'll not make another biopic. Suddenly, Sandeep Singh (the co-producer) came and said, "Read Sarbjit Singh's story, it's fantastic. You have to do this." I refused but the moment I saw the footage of Dalbir Kaur (Sarbjit's sister) talking on YouTube, it shook me up. It's a heart-wrenching story. If I don't do it, somebody else will. I was in Malaysia then, I immediately called them up and said that I am doing it.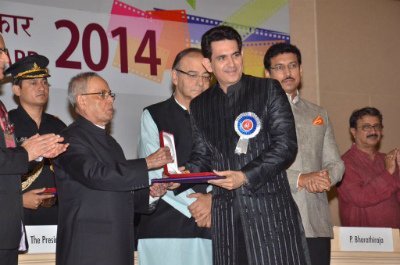 Image Source: twitter/OmungKumar
Didn't you worry that it was a controversial subject?
It's a sensitive subject; there are two nations involved. So we have to tread very carefully. But the fact is, Dalbir has said everything. Everyone knows about it. Now, I want to say what is unsaid. What all happened? Why did Sarbjit go? How did he go? What happened in those 23 years? All that is quite touching.
How did you approach Dalbir Kaur?
We got Dalbir down over here and made her narrate her whole life story. Obviously, when she is narrating, she is reliving her 23 years of struggle. We had to be very sensitive. After her narration, we did our research. Punjab gaye, sab jagah jaake dekha ki hua kya tha actually... what happened the first day she went to meet him? How many times did she visit him? It's like a political thriller, an espionage story unveiling.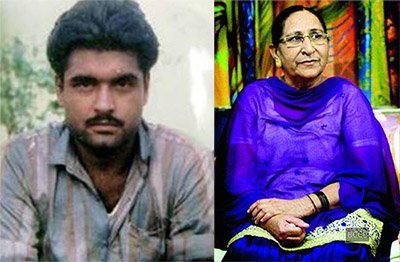 Image Source: indiablog

Buzz was, she took a long time to say yes. She had many reservations...
No, this movie changed quite a few hands earlier. It was supposed to be done four years back, when Sarbjit was alive. Now that he is no more, people ask, "Why are you making this film?" The truth has to be told, that is why. She didn't take a long time to say yes, that's just rumours. We called her and the next day, she was here, narrating the story to us. She didn't know who I was, so she also did her research and found out "Mary Kom kiya hai, sensitively karega."
How did you zero in on Aishwarya and Randeep?
After I heard the story, I started thinking about who will do justice to the roles. Because they will be shown aging on screen - from 55 to 60. So, we wanted somebody who is experienced enough and will take the story forward. That's why we thought of Aishwarya.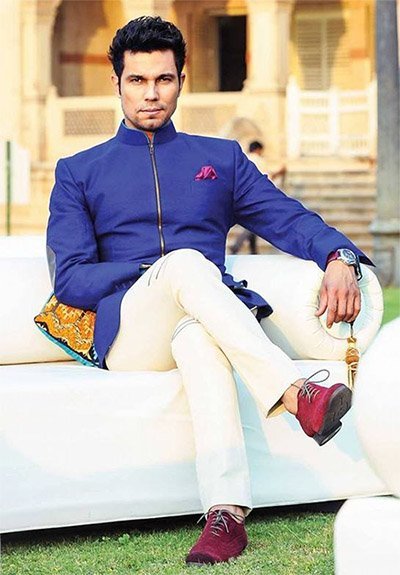 Image Source: facebook/Randeephooda
What was Dalbir's reaction when you told her that you have chosen Randeep Hooda?
When Poonam (Sarbjit's daughter) was here, I asked her, "Who do you think should play your father's role?" Lots of names came up and Randeep was one of them. So, I realised that we were not off the mark. He is 6 feet tall, naujawan, hatta katta... Randeep fit very well. Before announcing, we informed them and they were very happy.
How did you manage to get Aishwarya's nod?
It was easy for me because I know her. I had directed the second ad she had featured in. I have made the sets for many of her shows as well. After 15 minutes of narration, she said yes to me. It was not difficult at all, I didn't even have the full script with me.
You had Priyanka Chopra in mind earlier?
No, they were just rumours because I had done Mary Kom with her. People would ask, "Who are you casting?" Every name came up, but we hadn't decided at all. I didn't respond to the rumours. I decided to announce when the decision was made.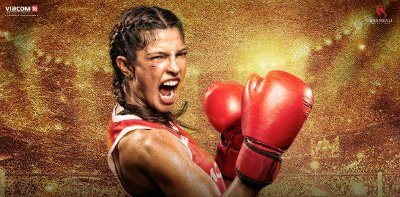 Image Source: twitter/marykommovie
What about Sonakshi Sinha? When Subhash Ghai was making this film earlier, he had her in mind...
Yes I know, but I don't know if she had said yes at that time. In fact, I threw a party just before we announced the actors and everybody thought because Sonakshi had attended the party, she'll be doing the film. But it was not so, because we required someone more experienced. I didn't take Aishwarya because she had decided to make a comeback. People ask, "Why Aishwarya? Does she look like Dalbir?" But we're not making a film on Nehru or Gandhiji for the character to look similar. This is just a true story that we are telling. I will portray Aishwarya in such a manner that people will be convinced.
But Dalbir's character is a loud and emotional one, and Aishwarya has never done anything like it...
That is exactly why we chose her. She is a director's actor who can be moulded any way you want. Why didn't she question even once during the 15 minutes of narration? That's because she knows she can deliver. She saw here's something I have not done before and here's my chance to do it.
Plus, she is beautiful. That is another thing playing on people's minds. Dalbir comes from a small town, Bhikhiwind. So, I am going to change her look and make her look like a strong-headed Punjabi female.
Do you think people appreciate her more for her looks than her acting skills?
I will change people's thinking. People had similar doubts about Priyanka becoming Mary Kom as well. But now, nobody is questioning. "Who else will play Mary Kom?" is what people are asking now.
You have worked with Sanjay Leela Bhansali, who is known to be a taskmaster. And now, you are working with Sandeep Singh, who also comes from Bhansali's camp. How do you compare the two?
I've worked with Bhansali more than Sandeep has. I have worked with him on Black and Saawariyaa. Bhansali is a taskmaster and he has moulded us in the same fashion. Sandeep and I have come together as partners. We are trying to make good cinema. It's a new beginning and the first stamp is Sarbjit.
You have won a lot of awards for Mary Kom. Is there pressure to deliver more in this film? Also, you have Aishwarya...
Every film comes with a certain amount of pressure; it doesn't matter whether you win an award or not. Of course, it felt good when Mary Kom won an award, it didn't die out for a year. I am looking at this film as a new slate.
What is the update on the legal notice which one of his sisters sent? One Baljinder Singh came up and said, "I am Sarbjit's real sister and I am going to send a legal notice..."
Nothing has come to me, these are all in the papers. It happens with every biopic. Also, Dalbirji has said she will handle everything. She has assured me that nothing will come to me, Aishwarya or anyone else.
Thumbnail Image Source: facebook/OmungKumarBhandula & twitter/AishwaryaRaiWeb
They say the best things in life are free! India's favourite music channels 9XM, 9X Jalwa, 9X Jhakaas, 9X Tashan, 9XO are available Free-To-Air. Make a request for these channels from your Cable, DTH or HITS operator.