Pad Man & Padmavati Should NOT Have Clashed: Balki Also Talks On Menses, Akshay, Sonam, Radhika
KriArj Entertainment's 3rd outing with Akshay Kumar, Pad Man, is few days away from release. We caught up with R Balki, the captain of the ship, on Thursday afternoon. Read on for his EXCLUSIVE INTERVIEW...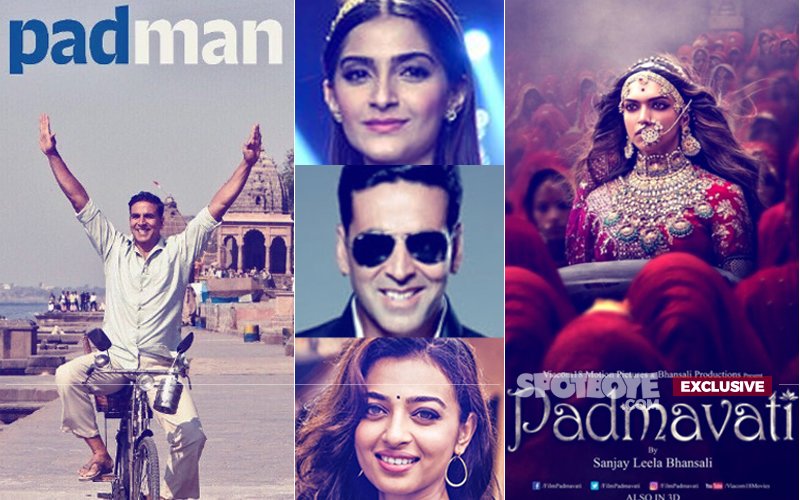 It's R Balki's fifth, which is perhaps why he is not a bundle of nerves. He settles down opposite us, and over hot cups of tea--- we talk about his upcoming film Pad Man and lots more. SEE THE VIDEO BELOW AS WELL



Excerpts:

Let's take it from your last film Ki & Ka. Were you happy with the outcome? Did it live up to expectations?
(Shrugs) I think it did pretty well commercially. As far as I am concerned, touch wood, till date, so far only one film of mine has failed- Shamitabh.

I pretty much make sure as much as I can, to have a budget which is in tandem with the subject I choose. I always have it in mind when I mount a film, that the producer should not lose money.

Yeah, but you tend to dive into virgin territories (Paa, Cheeni Kum, Shamitabh, Ki & Ka). Is it easy to envisage and fix the budget in such scenarios?
I don't think I have dived into virgin territories. I think I have dived into stories which are interesting. So far, the economics of any of my films hasn't warranted a humongous amount.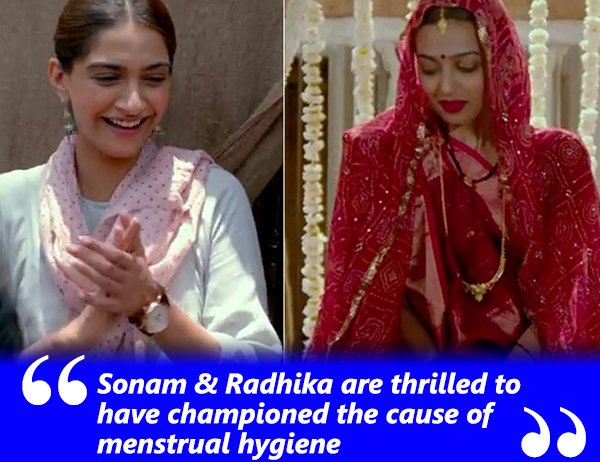 And the same applies for Pad Man...
Of course. We completed shooting the film in 49 days. We haven't overloaded the film (smiles). Besides, Akshay is far more clear in such things.

On the business aspect...
Yeah (smiles).

How did Pad Man come to you?
It came to me from Akshay Kumar. He called me through Rahul Nanda.

Twinkle had met Muruganantham in London. She wanted to write a book and even make a film on him. I was, however, hesitant if I would be able to give justice to a great man's life. But then, I got excited. This subject has not been touched and is very important as well, and so I said 'Why not?'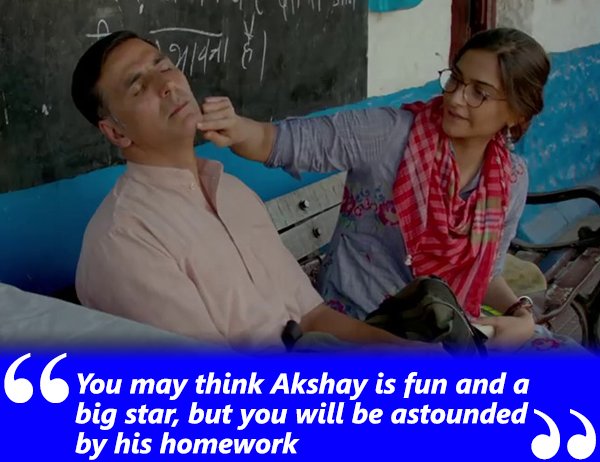 That's what I said, you love to dive into virgin territories...
(Laughs loudly). You caught me there!

Kitna modifications kiya hai?
Abhi kitna kiya, woh I can't say (pauses).

Go on...
But obviously, it's all done with Muruganantham's full consent. In fact, he was the first one to say--- it's not about replicating my life. It's about driving home the cause. The purpose of the film should win, and so we should definitely tell my story but not as a documentary.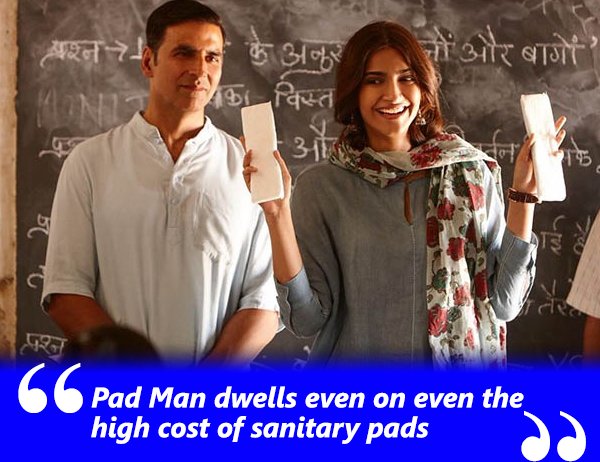 Talking about the modifications you did, was Sonam's character true in Muruganantham's life?
No, there was nobody like Sonam in Muruganantham's life. So yeah, to answer your question, Sonam's character is not real in Pad Man. That's what you want to know, isn't it?

Yes...
It's purely fictional. It's a creation which weaves the story with more layers, thus making it more entertaining- and yet it doesn't take away anything from Muruganantham's life.

Did Radhika and Sonam have any reservations before saying yes to Pad Man?
Not at all. They are the champions of such a cause. Sonam is a very vocal girl anyway, Radhika, unlike her character in the film as a ultra-conservative wife, is so progressive in real life. They were simply thrilled going about it.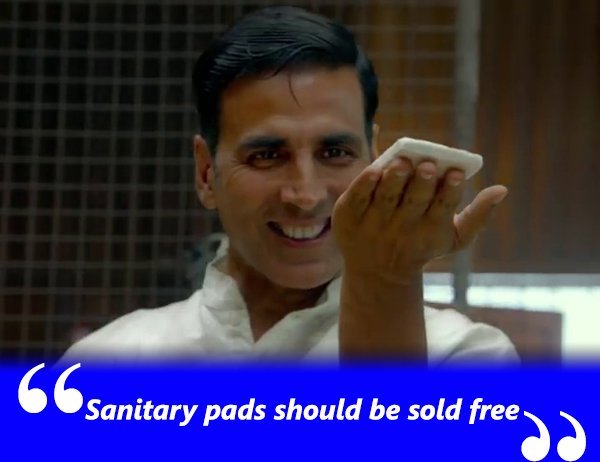 Radhika is progressive, so did she feel slightly difficult to enact her part which is in striking contrast?
Pad Man is not about a role, it's about a man who is standing up for a woman's cause, this in turn champions the cause to the hilt, and Akshay has done it so with phenomenal simplicity and humility.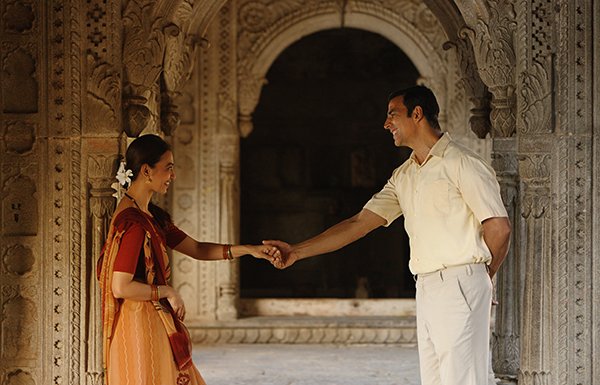 Radhika Apte And Akshay Kumar In Pad Man

I don't like him in those Hera Pheri type of comedies he does and I have told him that, but he is amazing in films like Khakee, Rustam, Airlift, Special 26, Toilet: Ek Prem Katha and many more which are serious...
I love both sides of Akshay, but this one is with ultimate subtlety, which is so rare in commercial cinema 'coz then you might lose the throw.

Did you have to pull him back in a scene or two?
No, he has absorbed Muruganantham's character and interpreted in his own way and he was perfect.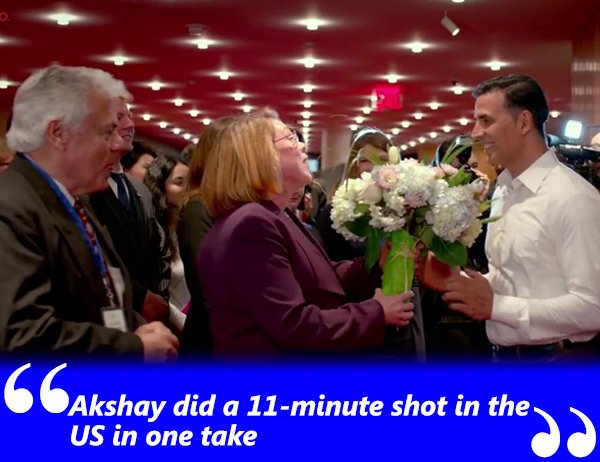 So, you still have Akshay Kumar the star?
Why would I do a film with Akshay and lose him as a star? And here, he didn't have do anything heroic; there was so much heroism in what he is doing in his character.

Let's talk about the scene where Akshay wears a sanitary napkin...
Everybody on the set was silent. A man was wearing an underwear and putting a pad on. It was done in one take.

Whose idea was that scene?
Muruganantham's idea, that was a part of his life, he had done that.

I can do a film on his entire life but it would need a run-time of 7 hours. What a beautiful life Muruganantham has led.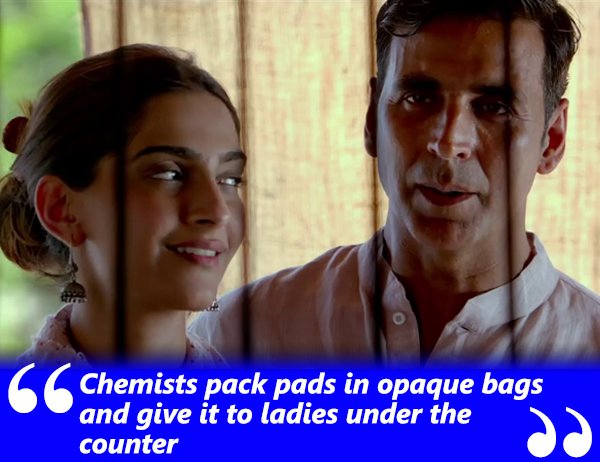 Was it difficult to edit Pad Man then, since you had a lot on Muruganantham?
No, I shot it exactly as it was written. Editing mein problem nahin aaya.

Involvement of Twinkle?
Tremendous, she originally came to write with us and wanted to see how it is done. Even Akshay's contribution was phenomenal in writing this script.

We tend to underestimate an actor's contribution. Let me tell you what happened when I went with the script of Paa to Amitji.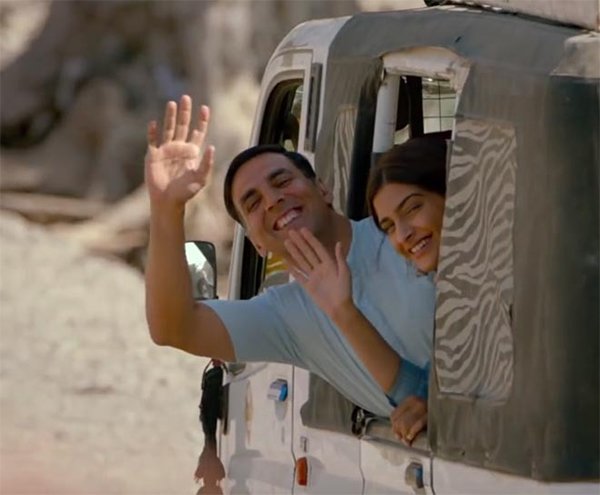 A Still From Pad Man

What happened?
He read through and said: Are you sure you want to make this? Okay, let's do it- but it can be far more dramatic if you wish.

I was very angry for 7-8 days and said 'Aaa, actors are like this..." but after 8 days when I revisited the script, I immediately felt that I had written garbage. I went back to him, one look at the script and he smiled.

Actors are in the best position to judge a film, and they are not out to destroy it.

No film on earth can be written as: By so-and-so. I value that collaboration. I am hungry for contributions.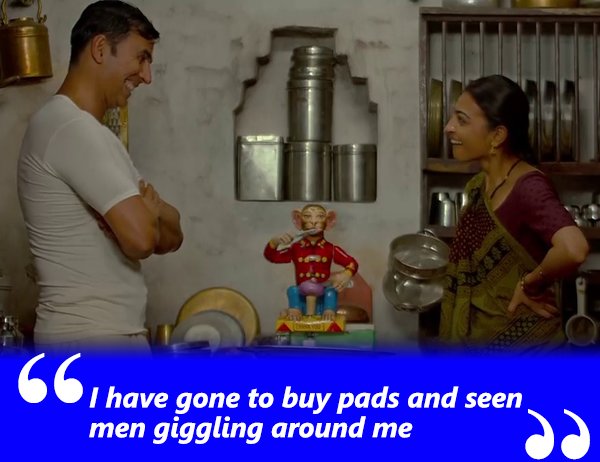 Does the same happen in the case of other heroes as well?
At least with me, it has been a great experience so far. Amitji and Akshay have been superb. Srideviji was a dream on my wife's (Gauri Shinde) film English Vinglish.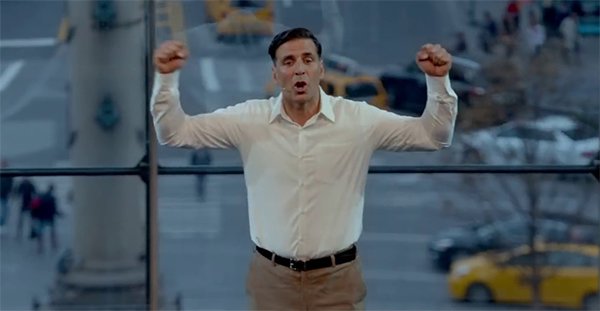 Akshay Kumar In Pad Man

Tell me some of Akshay's contributions in Pad Man...
He would suggest and I would say: Okay, let me think. And if it matched my vision, we went with it. And he was absolutely fine, if and when I differed. I love interactions.

Okay, here is one. Like he had to come down the steps with the cycle alongside him. But he asked if he could come driving the cycle down the steps. And when he did it, it was awesome.

In the US, he did a 11-minute shot- an interaction with audience in one take- the original plan was to break it up into 3 to 4 shots. You may think Akshay is fun, a big star etc, but you will be astounded by the amount of homework he puts in.

The actor in this star is so bright, he is so clued in, he is such a rare fellow-creative mind. Amitji and I would interact quite like that.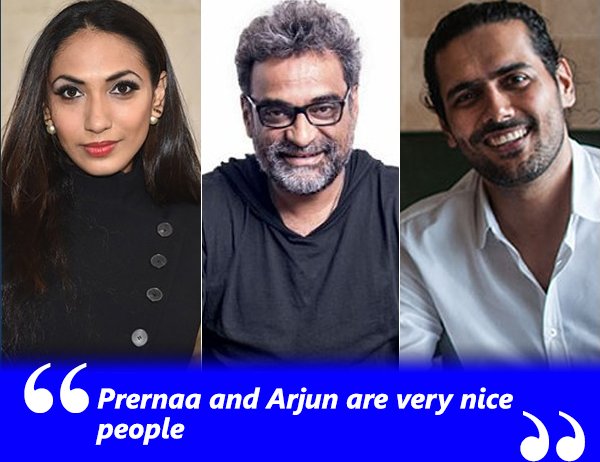 How was it working with Pad Man's producer KriArj?
NIce, they are very good people. Prernaa Arora and Arjun N Kapoor did come on the sets once or twice, but it was mainly Akshay who dealt with them. I was quite a liberated soul on Pad Man. I was just a writer and director on Pad Man. My co-producer Naidu's team and Akshay's team co-ordinated very well, and Pad Man turned out to be a very pleasing experience.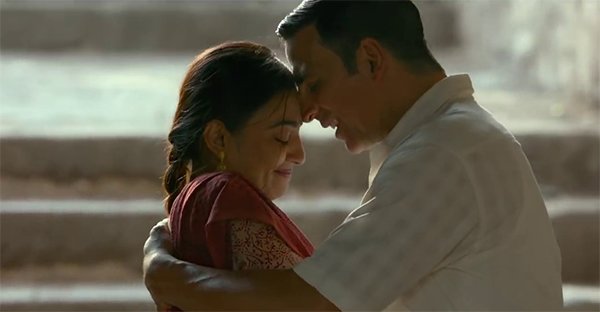 A Still From Pad Man

Your views on menstruation beliefs in our society. When will the irrational beliefs go? Menstruating women are asked not to go to kitchen, temples...
One film will not change much, but it will trigger off a conversation which we are interested in. A father should be able to buy sanitary pads for his daughter. Are men questioned when they get stubble/beard? No, na? Then why are women questioned when they have periods? Women need care and hygiene, they go through pain. Do you know that 82 per cent women in India do not use sanitary pads?

I heard Akshay telling us that at the Zee Cine awards. But can I tell you something?
Sure.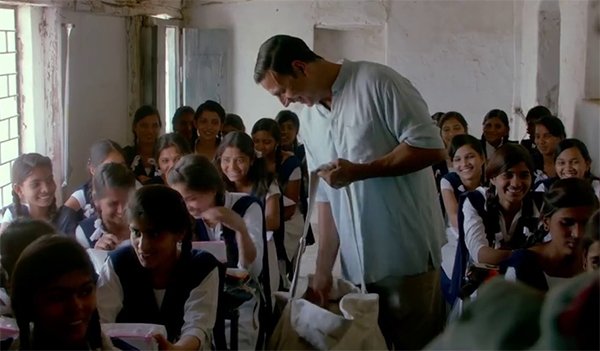 Akshay Kumar In Pad Man

The government should decrease the cost of sanitary pads. Just removing the taboo around it might not help...
Exactly. And we have said that in the film. Not exactly as you are saying it. We have said: How dare does a sanitary pad costs so much?

I personally believe that sanitary pads should be sold free. There is a crying need for menstrual hygiene.

Ladies use leaves, ash, and all kinds of things as absorbents. What kind of world are we living in? UK has a problem wahan bhi cost shayyad jyaada hai sanitary pads ka, US is far better.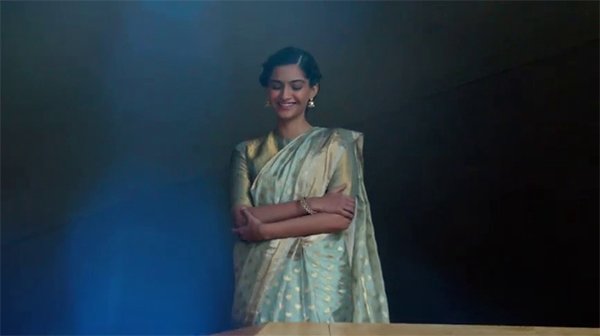 Sonam Kapoor In Pad Man

Ladies feel shy to buy sanitary pads at a medical store...
Yeah, and that's crazy. It sometimes becomes crazier when the chemist rolls the pad packet in an opaque bag and gives it under the counter.

I have gone to buy pads and seen men beside me giggling around me.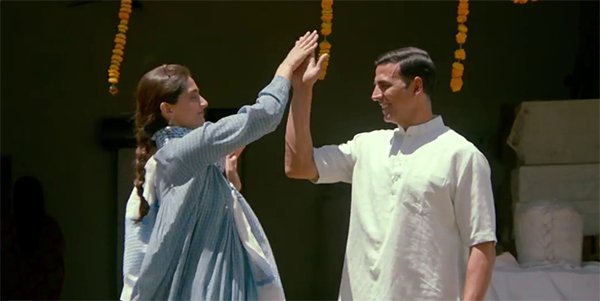 Sonam Kapoor And Akshay Kumar In Pad Man

Did you tell them to shut up?
I turned around and asked them: Kya hua bhai? Kya baat hai?

And?
They don't reply. The only close up and stop the giggling act.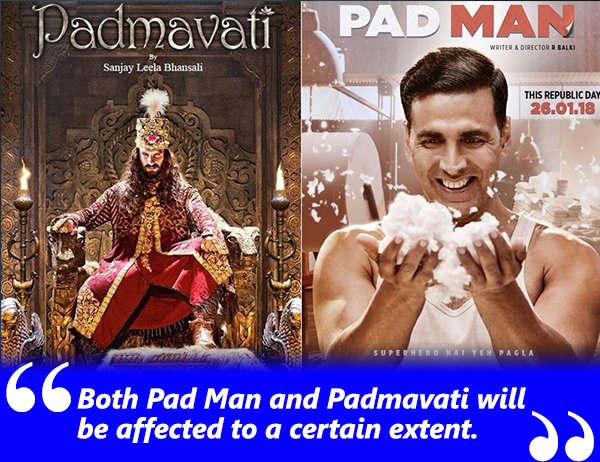 Padmavati? The interview will be incomplete if we don't discuss that movie...
It's coming, and it's coming on the same date as Pad Man. I can't do anything about it. It's silly to clash but I guess they have their compulsions. We can't backtrack either. We had locked the January 25 date three months ago, when we moved our date to avoid clashing with Robot 2.0

Both films will be affected to a certain extent. But I guess it's a holiday weekend and there will be enough audience to see both.

Pray, what was your first reaction when you learnt that Padmavati will clash with Pad Man?
I was upset. Why are you clashing? For what? Why are you dividing the audience? Why are you asking the public to make up their mind? But again as I said, that film has its compulsions as it has gone through a lot.

But I wish that circumstances had been different and we had not clashed.




Image Source: Youtube/ Zeemusic/ Instagram/ padman/ padmavati