Parineeti Chopra: If Sona Mohapatra Thinks Justin Bieber Stage Was For 'Actors' Of Singing, I Am Ready To Sing Maana...
In a freewheeling chat with SpotboyE.com, Parineeti Chopra addresses the hot topic of actors turning singers, her playback debut and, of course, Meri Pyaari Bindu. Her co-star Ayushmann Khurrana joins in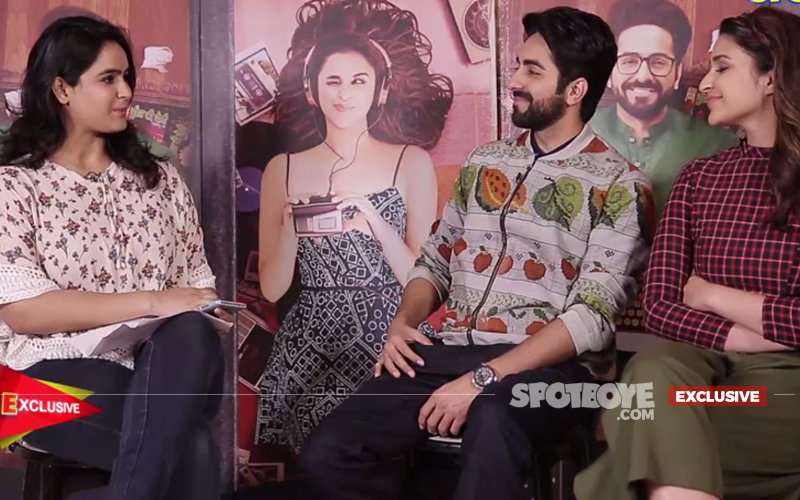 Ayushmann Khurrana and Parineeti Chopra- starrer Meri Pyaari Bindu hit theatres today and the audience is all praise for the lead pair's crackling chemistry. In the project, Parineeti plays Bindu -- a singer -- while Ayushmann Khurrana plays the character of Abhimanyu Roy, a novelist.

Meri Pyaari Bindu also marks Parineeti's return to the silver screen as the main lead after a hiatus of 3 years. Also, the film features the actress's debut playback song, Maana Ke Hum Yaar Nahin, which already has the nation swooning.

SpotboyE.com sat down for a chat with Parineeti and Ayushmann a day before the release of the film.
Excerpts from a conversation that followed:

To begin with, Parineeti, you have sung Maana Ke Hum Yaar Nahin beautifully; I am in love with your voice. To hell with those who think it is auto-tuned! We know the story before the song, but what happened after?
It's any artiste's dream. Whatever we do, we put so much of emotion in it that the audience's reaction means a lot to me. I wanted Maana... to be a hit, but people have connected to the lyrics of the song more than enjoying it.