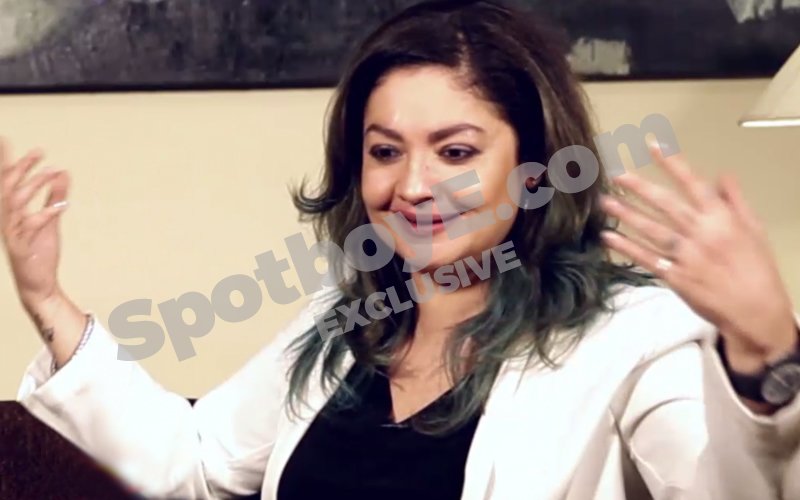 Your browser does not support the video tag.
Pooja Bhatt's Cabaret hits theatres tomorrow. The time is right to talk to her. She is fitter than before. Excerpts from the conversation that followed:

Tell us about Cabaret…
I had someone very unique in my life called Kaustav Niyogi who is a friend of mine since 17-18 years. I have been pushing him for a long time that 'You have stories inside and you are a story teller, just take it out and get into the ocean of life'. He was reluctant for some reasons and there was a phase in his life where he had given up on himself. He had a script and he spoke about it to me and my father ( Mahesh Bhatt). But later, he developed cold feet. However, I told him that I was going ahead with the film

But it was his script, how could you continue?
I could continue because it was our dream which we had seen together. And one thing would still have never changed- Kosty will remain my friend forever. We have seen each other through storms, heartbreaks and many other lows

It must have hurt him when you said that this film will be made with/without him...
I don't know if it hurt him but it certainly propelled him back. I remember I took a long time to tell my father if I want to act in Daddy and he almost cast Twinkle Khanna in the film. People realise the worth of something only when it is about to go away from them.



Image Source: Manav Manglani

How did Richa Chadha come on board?
Some girls were fitting into the phase A of the film, some were right for the phase B --- but nobody was right for me overall. I had signed Lauren Gottlieb for the film because she is an amazing dancer. But as the script developed, we knew that we needed a more Indian heroine. We needed someone who would look very convincing that her roots were placed in Jharkhand. And I think that's what swung it for Richa.
I remember that she had auditioned for the film in the beginning and we told her that we were looking for a particular body type and she didn't fit into the role (smiles).

Were you looking for someone bigger?
Obviously. But Richa is a very fiery and ballsy woman in life. She is not a wimp who pretends to be someone else in front of the camera. She has a perspective, she has a point of view, she has an opinion and she takes a stand--- whether is political or personal. So I wanted to go on this journey with someone who wants it more than the other, someone who has fire in her belly to prove it to the world.

I keep telling Richa that no matter if Cabaret works or not, she would be a fool if she doesn't use it to her advantage because she has done what people thought she could not.



Image Source: twitter/richachadda

Were you not tempted to direct this movie?
Kaustav and I had a very clear equation and understanding. If he wanted me to explain something to Richa, he didn't hesitate. If I felt the DOP could explain the scene better, I felt no hesitation. I even had no qualms in calling my father to explain the scenes to Richa and Gulshan if required. We decided to use our sources which were available to us. It would be foolish not to use them. We will dance on the streets if Cabaret is a hit. But even if it just recovers its money, we still would be dancing on the streets because we had a blast making this movie.

After producing Cabaret, you direct Jism 3...
Jism 2 lacked a certain amount of crookedness which was so stark in JIsm 1. In Jism 2, people fall in love. You don't want it to go from lust to love do you?
After Bipasha Basu and Sunny Leone, I need another sex symbol who is beautiful, confident and sensuous.

Do you have any names in mind?
Give me someone who can sit there and cross her legs in the scene but you can still see that intellect sticking through. You are not dealing with a bimbo whose destiny is in someone else's hands. Are there any women with the combination of beauty, soul and brains, then, please come my way.

How did you cast Gulshan Devaiah in Cabaret?
I cast him because I really liked his work in Shaitan, Girl in Yellow Boots and Hate Story. He was so distinctively different in all these roles.

You have a web series coming up. Tell us about that.
I have a very exciting web series coming up which is about celebrating life, celebrating womanhood. It's a way of doing away with taboos.

My web series is on multiple orgasms, that's exactly what it is. We still live in times where, sex is a taboo, female pleasure is supposed to be sacrilege; women are not masters of their own destinies when it comes to their sexual preferences. A very few can choose whom to get married to or whom to have sex with. Even fewer can choose if they can use birth control methods or terminate a pregnancy. Believe me, we live in a country where 80% of the women haven't had an orgasm.

So I want to tell the stories of women in India, someone from Kashmir, Kerala, Assam and Maharashtra. I want to show the story of a widow, a prostitute, a 15 year old, a sister and a mother. In my web series, I have a story about a widow who at the age of 50 discovers what an orgasm is, one is about a Bhojpuri girl who turns on people, and one is about a Bori muslim woman who is circumcised because they don't believe that a woman can have pleasure.

Have you actually met any women with such experiences?
Yes, I have met plenty of women with incredible stories but the best part of this show is that not only common people but even actresses have called me up to share their experiences. It has all become so inclusive.

What stories have the actresses told you?
They have told me how they discovered their first orgasm! It is very funny and interesting. My inspiration for this is the novel by Mahasweta Devi called Breast Stories which is about three women, and each of their stories centred around breasts.



Image Source: urbanasian

Let's talk about Alia Bhatt...
Life is smiling on her, she is 21 and beginning her life. She has the privilege of working with people she wants to. She speaks her mind.

I don't see her speaking her mind much...
Alia has chosen not to speak about her personal life and it's a choice that she has made. And mind you, she didn't make this choice only after she became successful. That's how she plays her life--- however, she is not cautious about answering any question. She is a sensitive young woman. And I won't get too fooled by the image that she feeds the world because there is a lot more happening there.

How would you describe Alia?
I think Alia is somebody who is far more sensitive than any average kid out there because I remember when she was small and watched Zakhm, she messaged me saying that I had put in a great performance. I think if you can relate to a film like Zakhm when you're barely out of your nappies--- then you are definitely not an average kid. She is someone who has the audacity to go out on her own terms and drive her career the way she wants. She hasn't leaned on my father or the Bhatts. So that itself should be applauded. She is a very bright and hardworking girl. When I see her, my heart goes out to her because she works so hard and there is so much pressure on her. In our times, we had the audacity to say that this is what we are. We never had to be size zero or anything but today when I see Alia and even other young women, they first have to slog hard to remain where they are. Trust me, it has become very tough out there.



Image Source: aliaa08

Do you advise her sometimes? She was in a very bad mood after Shaandar flopped...
We don't need to advise each other because I feel we both are bright enough. And there is no question of having each other's back. When we need to seek each other out, we are there. And I think the best thing that happened to her was Shaandar because it is important for all of us to have a little bit of a roadblock to be able to keep up the compassion. The failure of Shaandar was of course heartbreaking for her because she worked very hard on that film and got along really well with the director (Vikas Bahl) and Shahid. Anyway, that's life.

What exactly did you tell her after Shaandar?
I told her: 'Darling, you have given a hat-trick of hits, and one mistake is fine.' Look, we all fall and lose at times, it's impossible to win constantly. I feel it is necessary to taste failure earlier in your career to know what it is. I distrust good times. My flops taught me far more. I value the success of Jism 2 the most because I had so many flops in between.

You are coming back as an actress Right?
I never went anywhere to begin with. My father has gifted me a great script. It is very motivating and moving. It is just like my father gifted me Tamanna and Zakhm.

What is it about?
It is about an alcoholic who at one point of her life gives up a love child because she thinks it might interfere with her career. But when she ends up in a gutter, she knows that going back and reclaiming the child is the only way out (pauses).

Go on...
The film is very important because one thing that we don't talk in this country is female alcoholism. We brush it under the table because it is a taboo. It is always men who go for help and never women. It is about a woman who can also give up on her child to climb the ladder of fame and then feel remorse and come back. Apart from that, I have two young directors who have come up to me to act in movies- but I can't name them. So suddenly people are looking at me with new eyes. Frankly, I have also given up on alcohol.

So now we know why Pooja Bhatt is losing weight?
I love my champagne and I love to eat. But I have not been drinking of late. I feel that life without alcohol is also quite exciting. Watch me in a few months, I will be getting leaner and meaner.