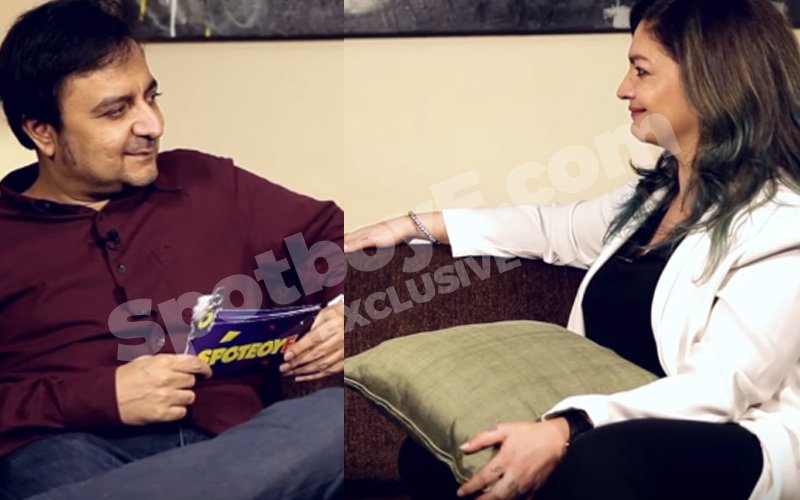 Your browser does not support the video tag.
What went wrong between you and Munish Makhija?

Nobody asks you why you fell in love, so they shouldn't ask you why you fell out of love. The truth is that Munna and I had a glorious marriage. People were mortified when we tied the knot. We had dated for just two months and decided to take the plunge (smiles). It lasted 11 glorious years (pauses).




Go on...
By the end of 12th year, we decided to call it quits. The obvious thing to ask is: Was it because of somebody else? No, it wasn't. It was simply because of us. If there is a void between you and your partner, you should be able to sit down with him/her to acknowledge that there has been a certain degree of growth in both of you but unfortunately in different directions. Not many people have the audacity and capacity to do that. Munna is somebody who knew when to lead and when to step back. Not all men have that quality. My father has that rare quality. He knows when to let his daughters, sisters and wives shine. I had that terrific equation with Munna and I am very grateful to him for that... but I guess that some things have to end one day. I reached a point in my marriage when I felt that I shouldn't live a lie.

You didn't want to fake it anymore?
Yes, I didn't want to fake it anymore because we had never faked it during our 11 years of togetherness. The day we realized that we would have to fake it hereafter, we decided to end it.

Was it as simple as you say it? Who initiated that conversation?
I initiated it; I was the one who felt listless, I was the one who had forgotten the woman in me, and I was the one who had started ignoring the woman in me. I was tired of being responsible as a producer, director, wife--- being a person who is in charge of everything. I wanted to reclaim the girl in me. I think we women feel that if marriage happens--- children happen, career happens, and slowly but surely we tend to forget who we really are.




You mean that your responsibilities were bogging you down?
The responsibility of being so serious in life was bogging me down. Ditto for the the responsibility of being responsible for everything. I had the privilege of being in union with the man I call my friend; I could sit down with him and talk to him. And so I did. Yes, it was not as simple as it sounds. And mind you, it was not easy for both of us. But we took that brave step of having a honest conversation. Today,we are in a space where there is genuine respect for each other.

You decided not to file for a legal separation…
We had to spend a year separately before that, which we just finished. But frankly speaking, one piece of paper doesn't matter to us. Relationships don't end if you sign a piece of paper, do they?. My father left home when I was 21 but he is still my father. So I think we don't let go of people in that sense.

So, you won't divorce Munna?
I will take that step if and only if required. As of now, I don't feel the need. In my head and heart, Munna and I are not married to each other anymore and so we are not a couple. In my head and heart, Munna is always going to be a very important part of my life. If I am in trouble, he would be the first person I would call, even before I call up my father.




You don't feel the need of a man in your life?
What makes you think that I don't have a man in my life? What makes you think I don't have men in my life (laughs)?

So you are not living in celibacy...
Whether I am living in celibacy or not is something the whole world can ponder about--- and that's nobody's business. But the point is that I am somebody who loves life, loves men and loves love.

So you are celebrating life at the moment...
I am single now. I am 44 and I am in control of my destiny, future and life. And I think I am somebody who is open to love. However, I am not waiting for my phone to ring; I am not waiting for a call from a man or a film producer to cast me. I am grateful to life for being in a situation today where my sense of worth is not dependent upon whether I am cast in a film or my husband decides to send roses to me. I would rather send roses to myself.




You said that marriage was bogging you down, was it also bogging Munna down?
No, I don't think so. However, you can ask him that. I am not somebody who can answer for him. We never answered for each other when we were together and I don't want to start it now. Munna is a very independent man and I am privileged that I spent 11 years of my life with him. I think he knows who he is. He is someone who stands against the crowd and I admire that. He is in an exciting phase of his life and so am I.

Are you telling me that there were no fights, no quarrels?
Who doesn't fight? Who doesn't quarrel? Something is abnormal in your relationship if you don't fight. I fight with everybody I love. I don't fight with people I don't like. you only fight with people you care about. It was music that drew us together. We fell in love while he was composing tunes for Paap. Munna has even given music in my upcoming film Cabaret. Doesn't that say it all about our rapport on date?


Image Source: Manav Manglani, Indiaforum & worldblaze