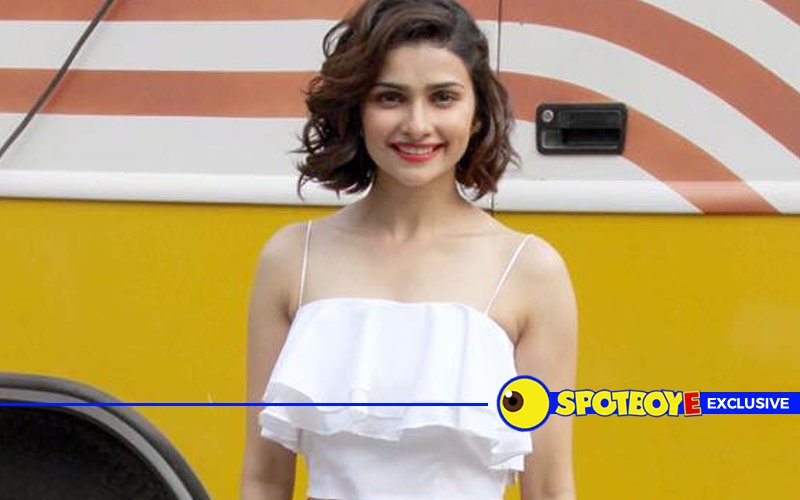 Prachi Desai is probably the only TV actress who has enjoyed a decent innings in Bollywood. The actress, who was last seen in Policegiri (2013), is all set to return to the big screen with Tony D'Souza's Azhar. In an exclusive interview with SpotboyE, she opens up about movies, her long absence, television and more. Excerpts:




You will be seen on screen after a long gap with Azhar...
The fact is that it takes quite long for a film to get rolling and now, finally I am here – a week away from the film's release. I was basically busy for preparing for these two movies – Azhar and Rock On!!2. But for the audience, it's a long gap as they haven't seen me on the big screen for a while. But I'm definitely going to make up for the lost time.

You're playing Azhar's first wife Naureen. Is it more difficult to portray a real-life character rather than a fictional one?
I know we make it look very simple on screen, but no one really knows what goes into a role like this. For me, Naureen per se was the most difficult role ever because nobody knows anything about her. The world knows so much about Azhar but Naureen is a mystery. For instance, if you're narrating the story of an actress or a sportsperson, you have a lot of information to base your character on. But not much is known about Naureen, so I had to rely on Tony D'Souza (director) for my character.




How was the experience of meeting Naureen in person?
When I met Naureen, all the presumptions and notions that I had about her were clarified. She was so sublime and beautiful, and she had already sunk into my psyche thanks to the script. Trust me, it's freaky when you meet the person, you are playing on screen, for the first time. I observed her thoroughly and it gave me an insight into the person that she is.

Mohammad Azharuddin and his first wife parted ways due to his relationship with Sangeeta Bijlani. Personally, is infidelity a deal-breaker for you?
I think infidelity is very unfair. I understand that at the end of the day, you're human and you may slip but as far I'm concerned, it's simply unacceptable.




It has been almost 3 years since your last release. Don't you think such a long gap between films affects your popularity?
In this industry, acting doesn't really matter – it's everything else that you are in the news for which counts. I used to think that your performance and your roles take you ahead in your career, but I was proved wrong at one point of life. So this gap surely affects me adversely – out of sight is out of mind. Besides I'm not even the kind of person who will stay in news for the sake of it as I'm a very private person. I will not do things to just on hog limelight.

So you think you are lagging behind by not being in the news all the time?
I think controversies are generated because they help actors to be in the news. It's really sad that these things are more important than how you perform on screen. But I feel blessed that I don't have to resort to such activities. I'm a normal person who has all the fun; it's just that people don't get to know of it (smiles).




In most of your films, you've been seen as the girl-next-door. Why haven't you attempted glamorous roles considering you're so glamorous in your real life?
It's not that I choose such characters. It has a lot to do with these lazy filmmakers who keep offering me the same kind of roles again and again. So I've got stereotyped and am stuck in a rut. Plus, whenever they want a good actor to play the girl-next-door role, they call me. But I think they need to see the real me (pauses)




Go on...
When Nargis (Fakhri) met me for the first time, I was dressed as per my character. After the shoot, when she saw me, she was thrown off-balance. She was like, "OMG! You are so young and glamorous, why do they make you look like that on screen?" and we had a good laugh about that. It's high time filmmakers understood that I can pull off a glam role.

You started your career with TV but went completely off the medium after films came your way. Don't you think you could have managed a healthy balance?
Unfortunately, in India, you can't enjoy both the mediums at the same time. In the West, you have the biggest Hollywood stars also doing television. But in India, television is a bit regressive. TV has that connect with people where they feel you are a part of their household. But as film stars, you have to be absolutely unapproachable and unattainable. So there can be no match between these two.


Image Source: facebook/AzharTheFilm/PracchiNDesai & Hdwallpapers