Pranutan Bahl On Why 'Sabka Bhai' Salman Khan, Could Be Her Chachu-EXCLUSIVE VIDEO
Salman Khan's Notebook debutante Pranutan Bahl, who is Mohnish Bahl's daughter, talks about her career, upcoming film Helmet and if she ever thought of calling Salman Khan Chachu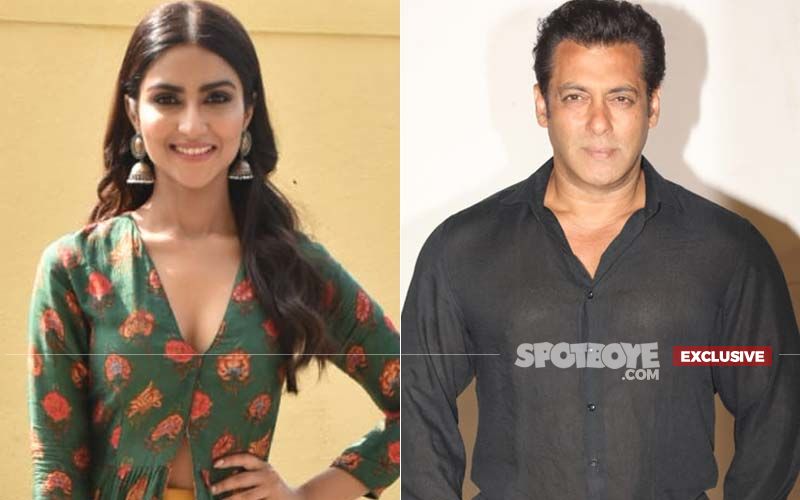 Pranutan Bahl entered the film industry as the granddaughter of yesteryear superstar Nutan and the daughter of actor Mohnish Bahl, in 2019. But just with her first film, Salman Khan's Notebook opposite another debutante Zaheer Iqbal, she impressed the industry with her performance. With her next, Helmet with Aparshakti Khurana, Pranutan is all set to dabble into the social comedy genre, and in an exclusive conversation with Spotboye.com, she gets candid about the film and more. Read excerpts from the interview:
How was the reception of the industry towards you after the release of Notebook?
The industry is a very welcoming place. They generally tend to cheer for the newcomers as there is a feeling of 'been there, done that'. They know what we are going through, so there is a lot of warmth. But when you hear veterans in the industry compliment you on your acting skills in your debut film, it is huge. It's what I always wanted to do. Of course, I come from a family of legendary actors, but I want to be good at my skill and I want to deserve to be in front of the camera. So, the acceptance and appreciation that I found from the industry was truly lovely.
Your next film is Helmet with Aparshakti. We know it's a film that aims to talk about normalisation of using and talking about condoms. But what else can you tell us about the film and your character?
Helmet is a very fun and quirky film that will actually make you laugh throughout. It does have a social message in a very non-preachy way that will make you feel pleasantly surprised. I love that you can watch it with the entire family, although due to the subject we might feel a little bit hesitant as in India we have a certain boundary with our elders. But then that is what the film is also about. When there are subjects related to some uncomfortable topics, let's laugh it out and discuss as there's no shame about it.
The thing that is beautiful about my character in Helmet is that it is extremely different from Notebook. She is a desi phataka, who is madly in love with her boyfriend, played by Aparshakti. She can go all the way for love but is very expressive, demanding and loud as well. It was fun to do it.
Subjects like condom education were once considered taboo in Bollywood. Now, a lot of films are made on uncomfortable pr taboo subjects. What do you think has influenced this change within the industry?
I think we have been dealing with taboo subjects for a while now in the industry. I know there was a phase when it wasn't happening and a lot of similar genre films were coming up. The '90s were dominated by a similar genre but if you go back to 1963, the film Sujata in which my grandmother played a Harijan, it was a taboo subject in those days. Then many years later, Ayushmann Khurrana sir and Shoojit Sircar Da came with Vicky Donor. I feel it is the way you bring such stories forward. If you keep it entertaining and watchable for the audience, that's what matters.
Along with Helmet, two more films—Nushrratt Bharuccha's Janhit Mein Jaari and Rakul Preet Singh's next—are also being made around the same topic. Are you a bit concerned about the comparisons that will be made?
Comparisons don't scare me. I am Nutan ji's granddaughter, so that's the first comparison I had to deal with. Comparisons don't deter me from doing what I want to do. If I believe in something, I'll go the entire haul, and that's the same thing for a film. Also, Helmet as a script is very new, so any comparison never came in my mind.
How is Aparshakti as a co-star?
He is lovely. It was one of the most enriching experiences to know him as a person. We got along very well as we are both Punjabis. We bonded on music and food, and we did workouts on Punjabi songs. We used to eat a lot of food together. Aparshakti is a brilliant actor and I don't need to say that, but he is also an amazing human being who encouraged me every single day.
We are currently in a time when star kids have a negative perception around them. So, making a debut in such a time, has the label of being Mohnish Bahl's daughter helped you more or held you back?
I wouldn't know because I haven't taken any help or have gotten deterred by it. So, I can't say if it has helped me or held me back. I haven't taken any of that seriously or tapped the help that comes with being from a film family. I haven't gotten demotivated by the nonsense that is said on social media. I just bury my head in my work and I do it diligently. I know there will be thousands of naysayers and people who would want to pull you down, but the only one who knows what's going on in your life is you.
As a public figure specially, you cannot sit and back answer every single person who thinks you are in the industry because of your father. If someone thinks so, it's up to them, it's their opinion. I know that I have been auditioning since 2016 constantly without giving my father's name or asking him to drop a message in my favour to the makers till date.
Having said that, I don't understand who are these people to judge even if I have chosen this path. It's very easy to turn around and say nonsense about people. I think all of us are gracious and kind enough that we choose not to fall into the mud like a lot of the trolls. And unfortunately, that is taken for granted. But it's okay, at least I sleep well at night.
So, when you joined showbiz. Did your father give you any advice beforehand?
Yes, he asked me if I was ready to not have a job all the time. He told me that it's a very insecure business and just because you are a good actor, it doesn't mean you are going to get work. He repeatedly asked me if I was sure as I had just completed Law and was doing well there, and, I was sure.
But I completely agree with the insecure bit. It is very insecure. Every day you are not at work, you want to be at work. But that's not how it goes. Our choices our very crucial, especially in this stage of my career and this category that just narrows it down. But it's all worth the happiness of being in front of the camera.
Having witnessed your father's whole career in front of your eyes, what did you learn from your observations?
Just keep getting good at your craft because nobody in the world can take that away from you. Not even networking, contacts, bad publicity nonsense or yellow journalism. Nothing can take that away from you when you are good at your craft and are a good human being. So, continue to do that.
In this era of remakes, if any film of your father is remade today, which one would you want to be a part of?
Firstly, I just want to say that classics shouldn't be remade because however much we try, we can never reach them. Having said that, if given a choice, I would definitely choose to be a part of Astitva.
So, do you want to do his part or some other one?
I am too selfish, so I want to do Tabu ma'am's part (Laughs). I am a very selfish actor who just wants to be there all the time. But I would say it again that she is untouchable, so this is all hypothetical.
Your whole family, including the extended one is a part of films, so does your younger sister Krishaa also plan to do the same?
I have no idea. Krishaa is very inclined towards singing and she learns music and vocals. She is also very good at dancing, but she is too young right now. Let her figure out what she wants to do and maybe in a couple of years we will know. It will be nice though to have her here.
You can maybe give her some tips and tricks of the field then…
I think she will be terrorised as I am extremely dominating with her, telling her what to wear and how to style herself.
You come from a family of legends and talented actors, so apart from your parents of course, who do you look up to the most in regards to how they carried themselves and their careers?
I can't answer that because as a viewer of a public figure, we know very little about them. So, I know very little of those people and I don't know how they genuinely are or how they pan out their lives. So, for me the person to look up to will always be my parents as I know them so well and I know they have lived a full life of integrity and grace. I'll always look up to them as I have that first-hand experience with them.
How was the experience of having the guidance of Salman Khan in your first film?
It was fantastic to have a person, actor and superstar like Salman Khan to guide you in your first film. He is somebody who has witnessed cinema go through a revolution. It was great to have him listen to every little doubt I had and it's amazing that even after being the global superstar that he is, he is still so grounded.
Your father has played his elder brother so many times, that I always wondered if you ever called him Chachu…
He would like that.
So, are you doing any other film with Salman Khan Films?
You would have to ask him that, because I have no idea. But I would love to. I have some other stuff coming up that I am very excited about. I am dying to talk about it but right now I can't. I will though, the moment I can.




Image source: SpotboyE archives