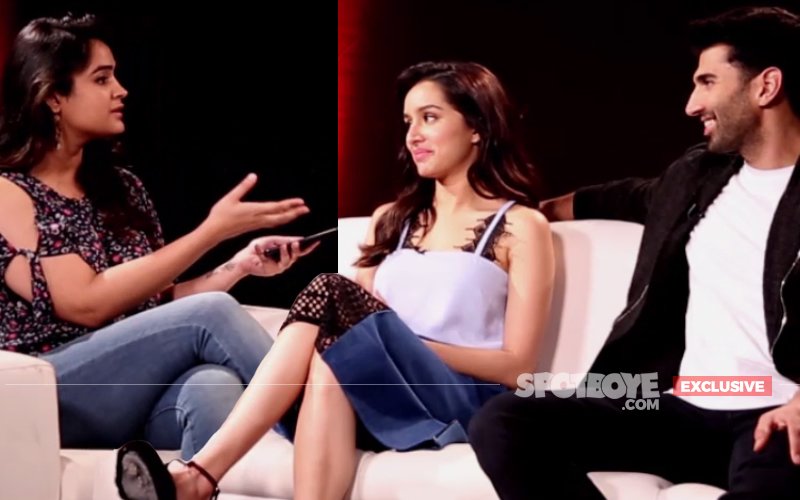 Your browser does not support the video tag.
Shraddha Kapoor and Aditya Roy Kapur are back together, smiling for the cameras as they promote their upcoming film OK Jaanu. This film comes some four years after Aashiqui 2 where the two stars met and reportedly fell in love. That equation may have fizzled out but their chemistry in OK Jaanu has got everyone talking.

OK Jaanu, directed by Shaad Ali, is the official remake of Mani Ratnam's critically acclaimed blockbuster OK Kanmani. And the Hindi version is hoping to recreate the magic with its take on modern love, thanks to two protagonists who do not believe in marriage.
When SpotboyE.com met Shraddha and Aditya, they were in the mood to talk and a candid conversation followed. Excerpts:

When did you watch the original, OK Kanmani – before signing OK Jaanu or after?
Shraddha: It was offered to us by Shaad, separately of course. He told us to watch it first and decide if we want to be a part of the film. Normally what happens is that you get a narration of the script and then decide. So we both watched it before we came on board.

And what is your take on the original movie?
Shraddha: I loved the movie
Aditya: We signed this film because we loved the original so much. We loved the performances and the way the story was told and we felt like it was an entertaining film. It had a lot of heart as well. It is like a Mumbai love story – we both are from Bombay and the way Mani Ratnam has shown Bombay as a central character of the film which is used beautifully. The only thing was we wanted to step up and do as well as the original cast.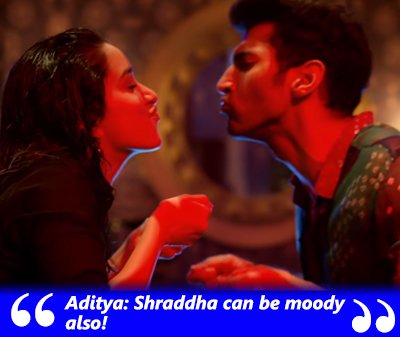 Image Source: youtube/sonymusicindia

Comparisons are unfair but inevitable. Do you think OK Jaanu has what it takes to outshine the original?
Shraddha: I don't think that anybody should outshine anyone. When I watched the original, I enjoyed it a lot. It has a strong connection with the audience and I hope our film has the same.
Aditya: We are not trying to outshine anyone. We are just trying to make a good film that can stand alone on its two feet. We believe in the film and it has the potential to be liked by the people.

You two are doing a film together after 3 years. How was it shooting all the intimate scenes?
Aditya: You are talking about conjecture about what has happened in the last 3 years. You are basing it on the rumours and stating it as a fact which is not the case.
Shraddha: Our friendship never went awry.
Aditya: We were looking forward to working together. We never found the right script and this was the right kind of film for both of us to do, it is different from Aashiqui 2. We didn't want to repeat the same thing. It was lovely to step back on the set with each other, it reminded us of the fun that we had the first time.

OK Jaanu's director Shaad Ali is a reclusive guy. How is he as a director on the set?
Aditya: He is not really in the public eye. He has not given many interviews.
Shraddha: I feel that compared to actors, directors don't come out as much.
Aditya: When I bumped into him during Kill Dill, he was planning his getaway just before the release of the film because he doesn't like promotions. He has not done any interviews with us –directors usually do a few, he hasn't come at all!
Shraddha: He is full masti, he is a great mixture of fun and serious about his work. He gave both of us the freedom to try new things. He was like a sweet parent to both of us.

Who do you two address as Jaanu?
Shraddha: Shylo my dog. I also call him Babu, Ghughu!
Aditya: Again a dog on the set – Baba, Bubu to him I said!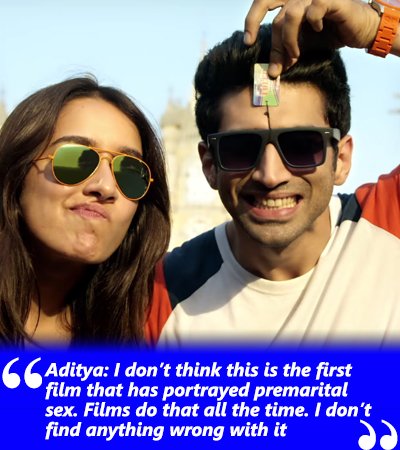 Image Source: youtube/sonymusicindia

How is OK Jaanu different from Befikre or a Salaam Namaste which too revolved around live-in relationships?
Shraddha: I watched Salaam Namaste but I can't remember it. I haven't seen Befikre
Aditya: I saw Befikre. It was about different themes and it would be belittling this film if we just call it a live-in relationship love story. It is more than that. OK Jaanu is not trying to make a big deal about it.

OK Jaanu portrays premarital sex candidly. So what is your take on premarital sex?
Shraddha: It is fine!
Aditya: I don't think this is the first film that has portrayed premarital sex. Films do that all the time. I don't find anything wrong with it.

And what is your take on live-in relationships?
Shraddha: Whatever makes the couple happy!

Many films today revolve around youngsters who are confused about love and commitment...
Shraddha: Films are showing it because it is prevalent – seeing it around me – that confusion does exist. People do take a while longer to make that commitment.

Everyone knows you as a bubbly girl. Is there another side to your personality?
Shraddha: The word bubbly should be banned.
Aditya: Pari (Parineeti Chopra) is called bubbly. People used to say that about Preity Zinta.
Shraddha: I am indecisive.
Aditya: She can be moody also!
Shraddha: Yes, he is right. I am moody.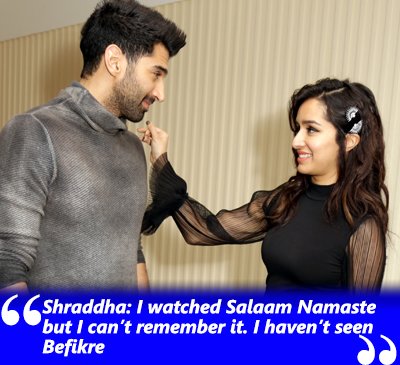 Image Source: APH Images

Take your pick – bad movie with great box-office collection or great reviews with average box-office collection?
Shraddha: Good film and good box-office collections. I am greedy (laughs).
Aditya: (Looking at Shraddha) You mean like Dangal?

Does success lead to bitterness among industry peers? For instance, Aditya, you are close to Ranbir but Shraddha, it is said that you and Alia share cold vibes...
Shraddha: There is absolutely no truth to this and I have no idea where this comes from. We live in fortunate times where everybody gets films to be part of. In fact, we are all very happy for each other. The fact that I am getting to be part of films is such a big thing for me.
Aditya: If you called someone your friend, then you should be happy when they succeed.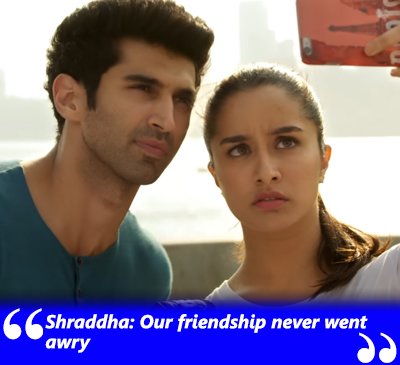 Image Source: youtube/sonymusicindia

And how do you deal with failures?
Shraddha: The starting of my career was with two films which didn't do well, I didn't handle it very well. Considering my last film didn't do well...
(Aditya's phone rings with Ranbir Kapoor's face flashing on the screen)

Aditya: This has never happened before!
Shraddha: What a long life!
Aditya: (Coming back to the question) I party and celebrate, just kidding! It's not a good thing if the film doesn't do well. Sometimes, I question a few things, try and dissect things, end up questioning myself – that kind of a phase. You have to move on and keep that attitude and not let it affect you too much! And you have to do your best the next day.

3 reasons why people should go and watch OK Jaanu
Shraddha: For Naseer Sir (Naseeruddin Shah) and Leela Ma'am (Leela Samson). They are beautiful in the film!
Aditya: Because it's the first film of the year – nice fun, sweet and romantic!
Shraddha and Aditya together: And we both are coming back!