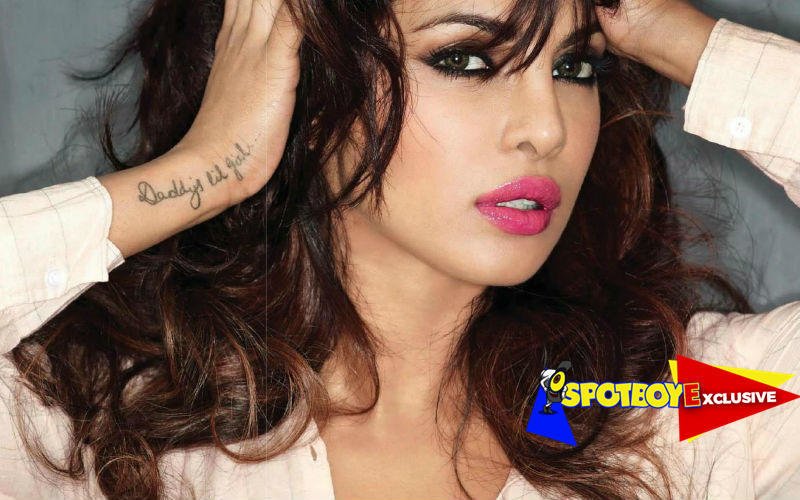 Tomorrow is a big day for Priyanka Chopra, who is a presenter at the Oscars. The lady is in LA getting all ready for it. SpotboyE caught up with her during her rehearsals for the gala event. Excerpts from the conversation that followed:

Describe the moment when you learnt that you were going to be a presenter at the 88th Academy Awards...
As always, I informed my mom and the Twitter first (laughs). I knew that there were talks with my management about my availability for
March 1
and it was a great feeling when everything fell into place.
I am very happy that I am being included at such a big scale in another country, where I have been just for six months. It is heartwarming to have got such a kind of acceptance. I am excited and looking forward to a fun-filed evening. I am proud to be representing the Hindi film industry and my show Quantico.

So, what are you wearing tomorrow?
I have a few designers from around the world who have sent me their stuff which I am trying out, but I am someone who decides only at the last minute on what I am going to wear for a particular occasion.

Have you made up your mind on whether it's going to be Indian or Western?
It's going to be Western.

Image Source:
A few words about the People's Choice Award, which you won. You are the first South Asian actress to have received this honour...
I don't know if I am the first. All I know is that I won it and I am very happy about it. And, I want the People's Choice in India.

You have wiped out not only the doubts about 'acceptance' but also the doubts that Indians get itsy-bitsy roles in Hollywood...
I didn't come to America to prove a point. America came to me. So, it was simply a chance for me to expand my repertoire as an actor. Frankly, I never thought about the details of the roles I got here, neither in terms of content nor length. I knew the kind of stuff I wanted to do and I was very clear with ABC (makers of Quantico) that I am a leading lady in Hindi films who wants to lead in whatever I do and I want to be cast because I am really good at my job.
How's the prep for your debut Hollywood film Baywatch going?
Time hi nahin mila hai prep ka. Straight after the Oscars, I take a flight to Miami to be just in time for the Baywatch shoot. Hollywood ko maine Hindi filmon ke taur tarikeh sikha diye (laughs).

Image Source: 4shared/13e63777020
I guess, we'll see you in a bikini in Baywatch...
You'll have to wait and watch (laughs). But yeah, I am very excited that I am going to play a villain after a very long time (Aitraaz was the last). The entire Baywatch gang has to fight me.
Have you seen the Baywatch TV series?
It was hugely popular in India. Bachchpan mein dekha tha. I have always been a fan of the series.

Image Source:
Pup Quiz and LIp sync. Ready to play these games in the Jimmy Fallon show where you'll be going soon...

Lip sync to hum sikhenge na duniya ko, yeh to hamara kaam hai (laughs).

Image Source: Youtube/PJP-Play
Your big Bollywood film Jai Gangaajal is round the corner...
I am extremely proud of Jai Gangaajal. It's such a relevant and well-made film. There's no comparison about Ajay Devgn and me. Nobody can be Ajay. I am playing a character (cop) which has the soul of the earlier part Gangaajal, but it's a totally different story.
Are you missing the promotions of Jai Gangaajal out here?
Unfortunately the producers of Jai Gangaajal decided on a release date when I am required to shoot Quantico. So, I won't be able to do as much promotions in India as I would have wanted to. You know, I love marketing. So, we decided that I will handle the international promotions, while the rest of the team would handle the promotions in India.

Image Source:
Your supersonic flight to global stardom continues, but is there a flip side to it that you'll slow down in Bollywood?
Not at all. I love Hindi cinema. Hindi films are my heart and soul. As long as people want me, I shall continue working. I don't think that art and creativity should have any barrier.
Who do you attribute your supersonic flight to global stardom to?
I give credit to the Hindi film industry for making me ready to go on any platform. Today, I am very good at my job because I have worked with the best of filmmakers at home. No matter where in the world I go, I am confident to face the cameras, I have the ammunition to face anyone.
Image Source:
Definitely looks like it, especially if we consider the fact that you accepted the Best Supporting Actress Award for Bajirao Mastani. There was a feeling out here that you might turn it down...
Why would I turn it down? It's my job to be an actor. There are never small roles, there are only small actors. And I am not a small actor.
Thumbnail Image Source: