Raabta Hottie Kriti Sanon On Her Tearful Photo Shoot, Stage Fright & Relationship With Sushant Singh Rajput
Her hot chemistry with co-star Sushant Singh Rajput has raised eyebrows and ticked off the censors. But those passionate kissing scenes in Raabta (which hits theatres today) were no fun to shoot, reveals Kriti Sanon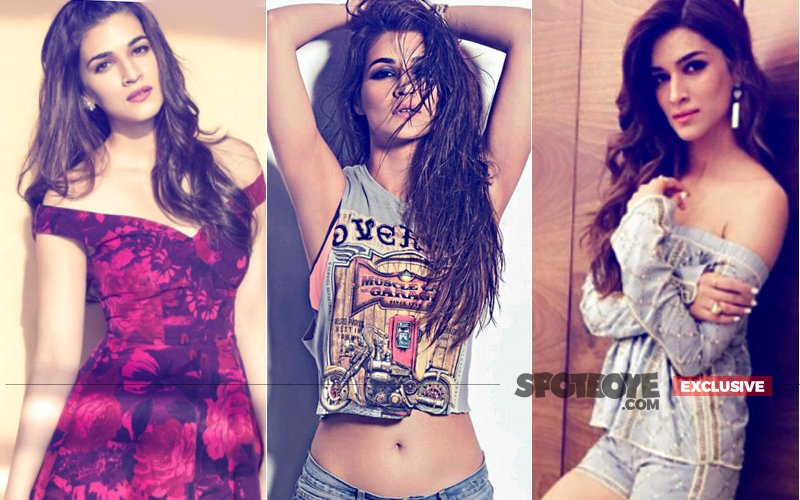 Kriti Sanon
is just three films old but has already established herself as a face to watch out for. Her latest film Raabta hits theatres today. In an exclusive interview with SpotboyE.com, the leggy lass talks about her childhood in Delhi, her early days in Bollywood and lots more...
Excerpts:
You were a rank holder in school and college. How did the transformation to showbiz happen?

I was very shy as a kid. Even when I used to attend birthday parties, I used to take my mother along. If and when a relative or guest visited our house, I hesitated in greeting them and used to hide behind my mother's chunni.
I was very studious in both school and college. Dance was probably the only other thing I was interested in. I used to dance to
Madhuri Dixit
's songs like Ankhiyan Milaun Kabhi Ankhiyan Churaun (Raja). I learned Bollywood dance at home, while my mom took me to Kathak classes. I was also in the college dance troupe. But I was not among the kids who are really out there.
Elaborate...

I had stage fright; I still do, at times. It is very surprising for my mom now to see me doing things which require me to shed all inhibitions and be very confident. I remember when I told her initially about my wish to start modelling, she was supportive but had a bit of doubt if I would be okay doing it.
My first photo shoot didn't go well, I was very conscious as I was facing the camera for the first time. I came back home crying.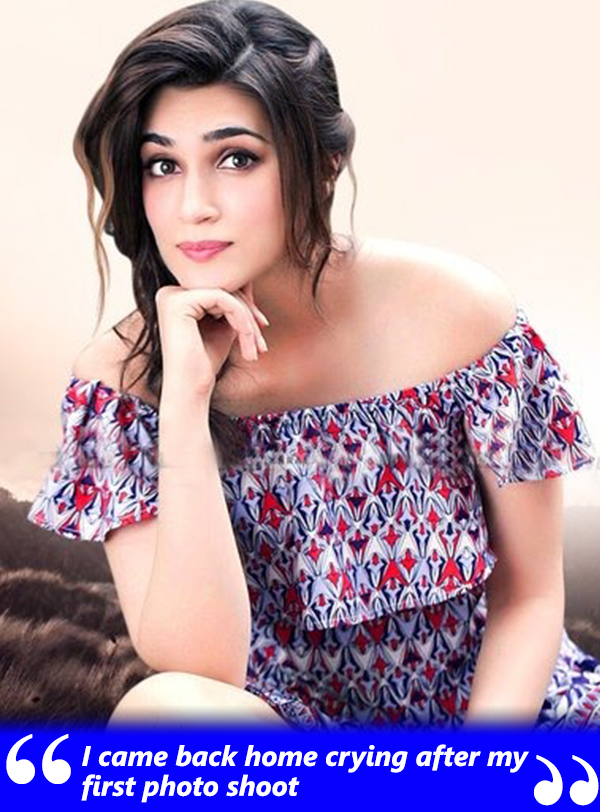 Kriti Sanon


And then?

When you fail and stand up against these defeats and face them again, I think that's what matters. I had no clue if I could act until TV commercials happened. I started enjoying them and felt confident in front of the moving camera. I could deliver whatever little acting those TV ads demanded. My directors said that I had it in me and I should polish my skills and take this to the next level. My mom saw my first Telugu film and said, 'I never imagined you could act.'
How was the atmosphere at home when you were growing up? Were your parents strict?

They were quite liberal but since I used to stay in Delhi, there were a few restrictions about coming back home late and being out alone. Of course, I could sneak out to my friend's place once in a while. Also, partying in college was absolutely fine. My parents used to balance it out well- when I used to go overboard, they said, 'You've had enough of fun, get back to studies now'. My mother is a professor and dad is a CA, so there was always an unsaid pressure to do well in academics.
Also, my mom had grown up in a conservative environment, which is why she wanted me to follow my heart and do what I want to do.
Did you have to lie to your parents as a teenager at times to turn the wheel towards you?

I think we all lie as kids to turn the wheel towards us. I used to bunk classes in college, but of course I didn't tell my mom and dad about it. Parents freak out even when they just hear the word 'bunk' don't they?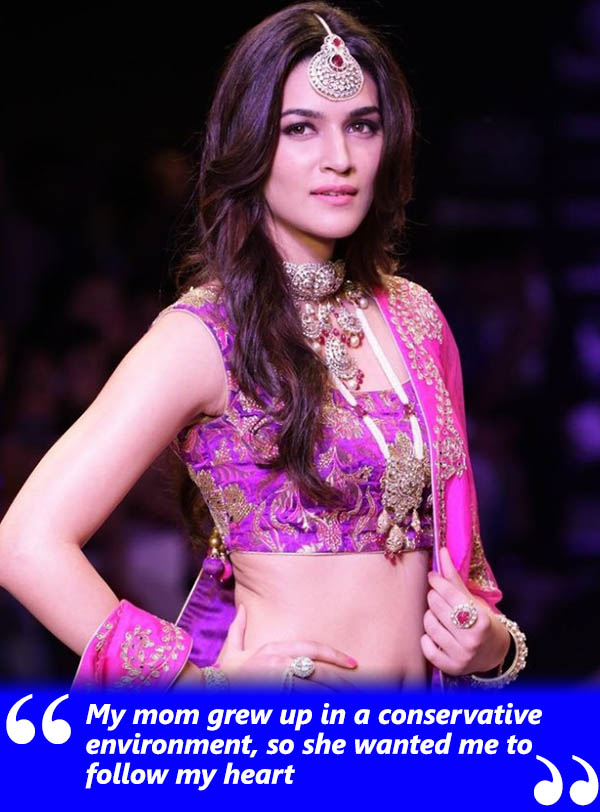 Kriti Sanon


You started modelling after that. When did the movie bug bite you?

A lot of my model friends said that they get a high on the ramp. It was great exposure for me but I never enjoyed it. However, when I did TV commercials, I used to get excited. I enjoyed being in front of the camera and that's when I realised that Mummy was right that I could act. I moved to Mumbai, started giving auditions and took workshops...
Your parents had no problems with your decision of moving to Mumbai?

They were supportive but knew that acting is not a secure job. There are many question marks related to this profession and they all came out, like- 'What if you don't get a film? What if that film doesn't work? What if you don't get the next film after that?'
My dad, in particular, is very protective of me. So, I had a deal with all that. I told them that I will try for films but simultaneously I'll prepare for GMAT. If at all nothing works out, I will do my MBA.
In my head, however, I always knew that I will never leave something I want to do for something I didn't want to do. Thankfully, things worked out...
And you bagged Dilwale starring Shah Rukh Khan and started dancing with joy...

Yeah, obviously. It was a big deal for me. Diwale was a special film and I had lots of fun on the sets.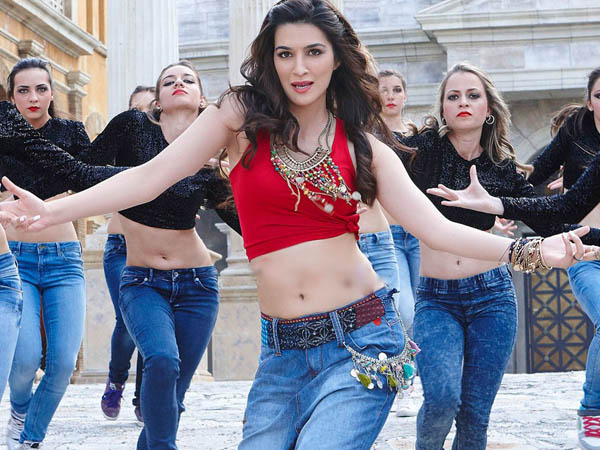 Kriti Sanon In A Still From The Movie Dilwale


Do you think Dilwale lived up to expectations?

Money wise, Dilwale did well. However, I don't know on what basis are expectations placed. It was supposed to be a commercial film, a typical Rohit Shetty project with oodles of comedy and madness. That's what it was. I don't know that the film has not done well. For me, it has done well. People know me because of Dilwale. The reach the film had for me was huge.
Another film (Read: Bajirao Mastani) released on the same date but was a completely different kind of film. However, there were comparisons between the two and people feel that Dilwale didn't do well.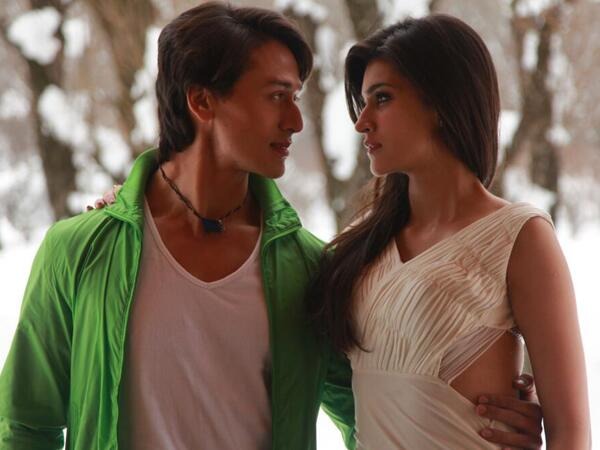 Tiger Shroff And Kriti Sanon In A Still Form Heropanti


What about Heropanti, how did that help you?

I was very pleasantly surprised. And I think everyone was pleasantly surprised. The film had 23 newcomers, not just us, even the character actors. Only
Prakash Raj
, who played my father and 2 or 3 other actors were known faces. We had expected the film to do well because when you watch the film, towards the end of the journey, you get to know whether it is good or bad. Plus, the trailer had released, the songs had released- and there was a good buzz about it. When the opening numbers came, I got a message from UTV saying that Heropanti had opened at Rs 6.5 crore and that it was HUGE. The word huge was in capital letters. That is when I realised that it has really done well. The kind of acceptance I received from the audience and the industry, in fact both me and Tiger, was overwhelming. That is such a dream, for your first project to do well and for you to be appreciated for your performance and not just your looks. It was a relief.
These days, we judge a film based on box-office collections without bothering whether it's really good or bad. Earlier it was not like that...

I think it changed after we started counting Rs 100 crore and then Rs 200 crore. Before that the crores didn't matter. Now that I am a part of this industry, I hear these things a lot.
But I don't think the normal audience even gets to know about these numbers. It's more about the buzz, the word-of-mouth and whether you have liked the film or not. I don't know the numbers of a film like Queen, I don't think it got huge numbers--- but it was an amazing film.
Is that healthy?

I don't know if it's healthy or unhealthy. But I think we should also talk about beautiful films, regardless of the numbers they have done. For example I am now working with Ashwini Iyer Tiwari, whose last film was Nil Battey Sannata. It was a small film and it did not do huge numbers but it was a beautiful film. When I heard of her, I saw the film and I loved it so much that I instantly knew I wanted to work with her. So, I don't go by numbers. There are many films which have done huge numbers but I haven't liked them.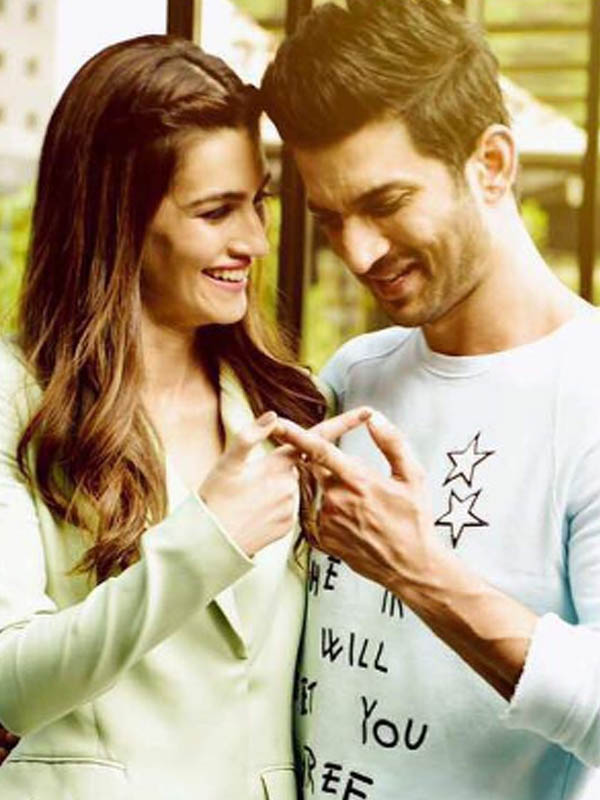 Kriti Sanon And Sushant Singh Rajput In A Still From The Movie Raabta


Coming back to Raabta. After Dilwale, there was a period where you were without a film...

I had actually signed Raabta while I was shooting for Dilwale- but nobody knew.
Raabta talks about reincarnation. Do you believe in reincarnation?

There are no proofs in front of me to believe in reincarnation completely. But in the film, my character does start believing in it.
Dinesh Vijan (director of Raabta) had given me the book Many Lives, Many Masters to read and it talks about the strong connections that you have in this life which come from your past.
Sometimes you meet people for the first time and you feel a strong connection--- and end up spending hours with that person. You don't feel like you have met him/her for the first time. Such connections happen because we were related those people in another life. After reading that book and shooting Raabta, I started believing that you do feel an inexplicable connect with some people who are probably those who were related to you in your last birth.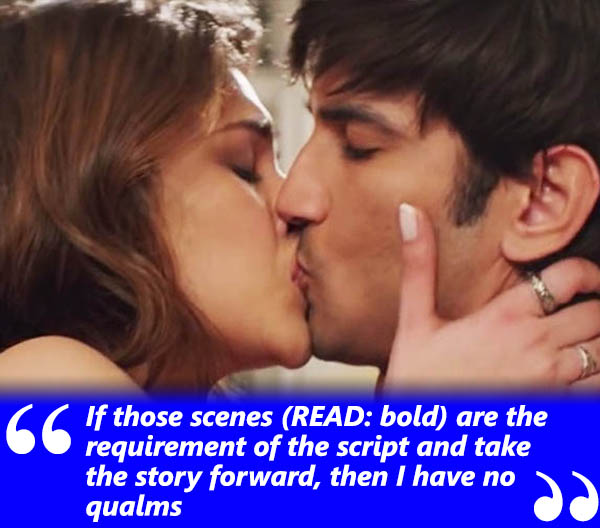 Kriti Sanon Kissing Sushant Singh Rajput In Raabta


Raabta has some bold scenes between you and Sushant Singh Rajput, for example the passionate kissing scene. Are you comfortable with such stuff?

I don't know how you categorise a bold scene. If these scenes are the requirement of the script and take the story forward, then I have no qualms. You are an actor, you are telling a story and if the scene is important for the story, then it's important that you do it. To be honest, when you are shooting these kind of scenes, it's all so mechanical.
Its' said that you are dating Sushant Singh Rajput...

I would just like to say that our onscreen chemistry is so good that people want to believe other things.
So, are you single?

Yes, I am single.
Sushant
and I are just good friends. Of course, we bonded on many things- like we were both in engineering, we both love food... But yeah, Sushant is a great guy.
Are you dating him?

No, we are not dating.
What's next after Raabta?

There is Bareilly Ki Barfi, which is almost done. I have just to complete a song in it. The film releases in July.
Finally, do you feel vindicated after all your parents' apprehensions about your career choice?

Yeah, my GMAT score is not relevant anymore (laughs).


Image Source: Instagram/KritiSanon, ottmag & idiva