Ram Gopal Varma: 'D Company Is Like The Mahabharata Of Crime In A Way' - EXCLUSIVE VIDEO
Filmmaker Ram Gopal Varma talks about his latest film D Company, that opened yesterday on Spark OTT, his inspiration and fascination with the gangster genre, and more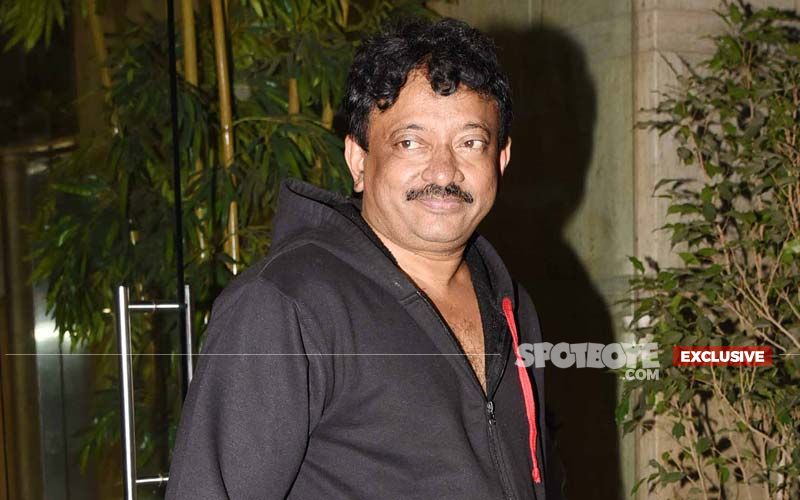 Ram Gopal Varma is known for his path breaking films like Rangeela and Satya, and his bold and honest opinions on social media and in real life that make him controversy's favourite child. Now he is all set to bring in his favourite genre to life again with his latest film D Company, which was released yesterday on a new OTT platform, Spark OTT. In an exclusive conversation with SpotboyE.com, RGV talks about the film, his inspiration and fascination with the genre, and more. Read excerpts from the interview:
Tell us something about the film, D Company, that you think the audience should know about before they stream it?
When I made my past gangster films Satya and Company, Satya was more like a fictional story set in the real underworld. The characters and instances there were fictional. While Company took a small part of a feud between Chota Rajan and Dawood Ibrahim, and I tried to make a relationship film. D Company is technically not only the biopic of Dawood Ibrahim but also the biopic of the D company. The difference is that Dawood's predominance was not for more than a few years in the so-called D company, other took over after him. He was just like a brand they were using. For most part he was not interacting there. So, D company overall is like a story of Mumbai underworld, like the Mahabharata of crime, in a way.
In 1980 Dawood started D Company in Dongri and it ended with Chota Rajan being arrested in Bali in 2015. It was technically the end of the underworld. With D Company, we are putting forward the first two years of Dawood Ibrahim's life, when his brother was killed. The first time Mumbai people came to know about the existence of Dawood Ibrahim. It's like his origin story in a way.
I think this film is important because of Dawood being the most popular gangster. Even today we listen to the use of the word D Company and hear stories about how the officials weren't able to catch him. I think for a man like that to make a street gang into an international crime syndicate, it's important to understand how it is possible for something like that to happen on the other side of the law. It also kind of exposes the weakness in the establishment, the police and the system.
You say that D Company is about the first two years of Dawood's life. Does that mean that you plan to turn it into a franchise?
I do. I mean it as a series with multiple seasons to be made from 1980 to 2015. This film deals with the first two years of Dawood's life.
Reports say that you have worked on this story for about 20 years. So, how long have you actually been working on this film?
It is not like I was always conscious I wanted to make this film. But in Mumbai, you keep on listening to stories and anecdotes about Dawood and slowly it starts forming in your mind. So, that's what happened to me. I might have known the story for a long time, but the idea of it as a film and how I wanted to make it only formed in my mind a few years ago. The pandemic kind of proved a hurdle, but we are ready with it now.
You could have gone to an established OTT platform like Netflix for the film's release. Why did you choose a new platform like Spark OTT?
In today's time of technology, I think I want to have the maximum amount of freedom without any loss in translation. Every other platform has their own policies, which I don't have the patience to go through. Although, it's not like I don't want to. But especially with regard to D Company, I wanted tremendous freedom on how I wanted to tell the story and I had this technology at my disposal.
While making these gangster films, you have to recreate a dark world and revisit some dark time. Does that ever take a toll on you?
I am a storyteller and any idea, be it based in real life or fictional, when it fascinates me and I get to use any medium at its best to capture it cinematically, is what gives me a high and is my passion. So, it never takes a toll on me.
What is your fascination with this gangster/action genre?
I won't call it a gangster genre. I like to study people who, in extreme situations, made decisions that made them extreme people. There is something odd and rebellious in their nature. I like to believe they are as much victims as the people they harm or kill sometimes. Labelling them as gangsters is too simplistic, so I call it a study of people.
Films from this genre have a theatre appeal like the arrival of a hero or a villain gathers applause and whistles in that environment. So, did you ever think of taking the theatrical route for D Company?
I don't believe in any difference between theatre and OTT. People have watched drama on smaller screen, from video libraries around 30 years back and over the last few years, from about 2015, watching shows like Narcos on Netflix. And I don't think anyone thinks that Narcos should have come in theatres. Theatres are more for spectacles like Bahubali or Fast and Furious where there is tremendous VFX work or huge spectacularly mounted action sequences. Otherwise, content based, drama based or something that is dialogue-oriented, for them I believe OTT is a better platform.
For a while now, you have been working with a fresh cast on your projects. Why is it so?
I have always worked with new people starting from my first film Shiva. I believe fresh cast, especially in genre films, work better as standard faces come with a baggage when you see them perform but new faces, you take them as the actual, real characters.

You seem to be on a professional roll at the moment as aside from D Company, you also announced two more projects, Dangerous and Tablet.
All these films have been nurtured not much before the pandemic. I wanted to do a lot of production and take new upcoming directors. Many of these films haven't been directed by me.
Recently, Chota Rajan was in the news due to his hospitalisation. Do you think that would kind of increase curiosity around your film?
I honestly don't know if people are aware of the underworld as much in this time, as they were once. The underworld was pretty much finished by the 1950s. So, I think people will see D Company more as a story, not really as the reality of the point. It's a gangster story and it's the drama that people will get attracted to and not who it is based upon. It can be a starting reference for the filmmaker, but I don't think the audience cares about it.
Last year, a three-part film was announced on your life. What is the progress on it and have you been in touch with the makers?
I am not in touch with them because I am not involved in the creative process in any way. Also, the pandemic has put everything on hold and no one can plan anything right now as everything is uncertain in these times. So, I think that project is pretty much delayed but I am not aware of it.
Is there any phase of your life that you are excited for the world to see?
I don't think so as I am too busy doing films and don't have time to think on these lines.
Image source: SpotboyE archive