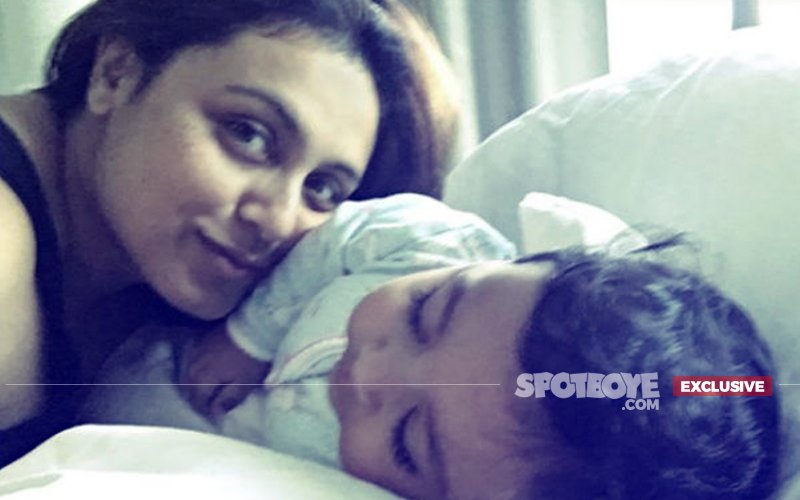 Hichki has garnered lots of acclaim. The time was right to speak to Rani Mukerji, the film's protagonist. We caught up with her at Yash Raj Studios, over the weekend.

Excerpts from the conversation that transpired:



Aren't we sitting with you in a wrong place, the rehearsal hall in YRF? Do you really need rehearsals?
(Laughs)

You walked through your role in Hichki, and you had told me last time that it was a very tough role...
Well, it was a very challenging part. there was no accessible connect or reference point for me for Tourette Syndrome, at least in India. Plus, I was always tense that the audience may find the tics very strange, it had to come out very real and relatable.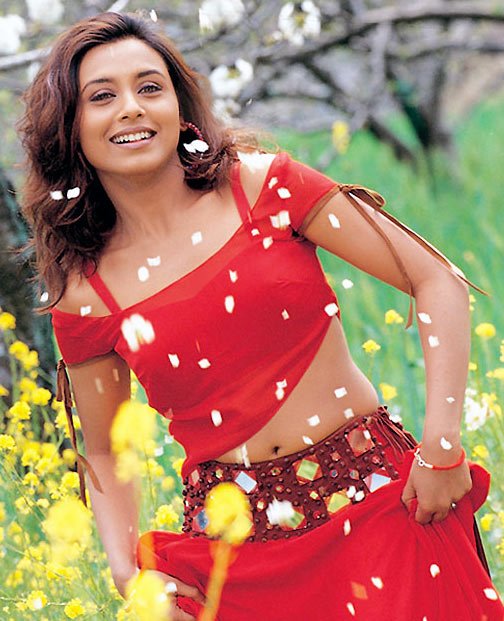 Rani Mukerji In Saathiya

You had Brad for a reference point, but you didn't copy his tics. Why?
I felt that if I copy Brad, it wouldn't come/appear organically. I felt it would be better to go inside myself and think that how my system would react if I was to tic.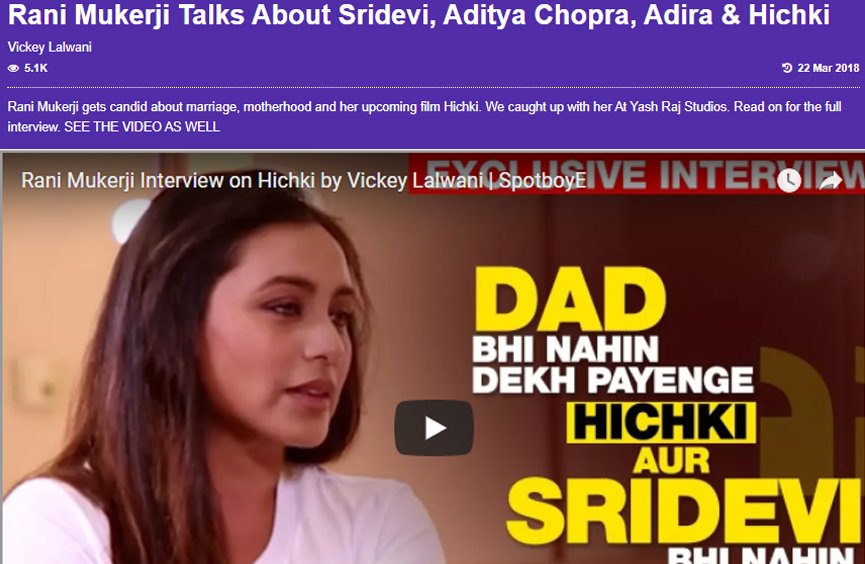 Day 1 collections were a tad slow, about Rs 3 Cr. What went on in your mind then?
I had decided to spend Friday, March 23, with Adira only. So I was keeping myself in a different zone altogether.

But yeah coming to your question, I don't think that we were worried. Team Hichki had a very realistic approach of how big the film is, we were quite happy with whatever we got on Friday.



Adira, your lucky charm...
It is happy time. It takes me into a different world. It takes me me away from all my worries (smiles).

Day 2 and 3, the collections zoomed...
The hichki in audiences, that married actresses can't comeback and an actress who is a mother is a dead commodity, was all gone. I had been validated.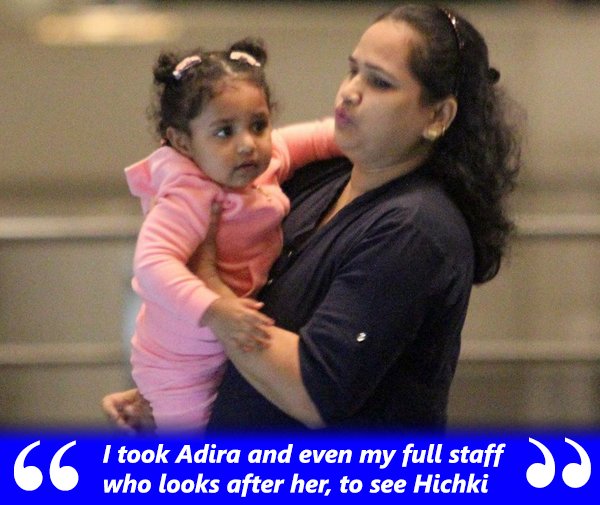 You mean we have these notions?
I guess so, because it definitely stems from somewhere na? Whenever I met people, including the media, the first few questions are based on those lines only.

But thank god, India is shining now. People are not bothered who I am.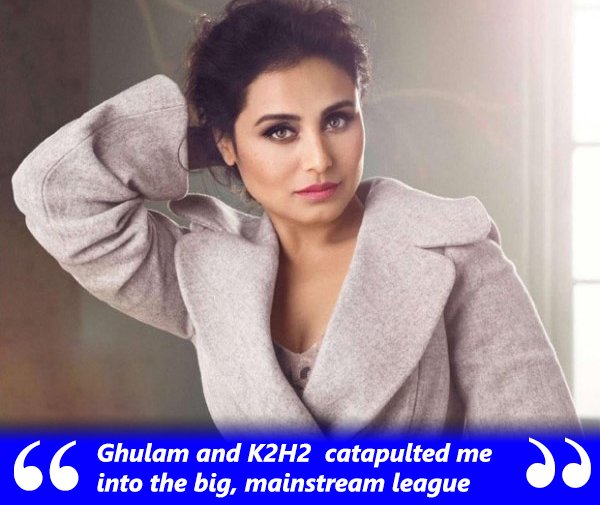 Your most favourite scene in Hichki?
When I walk into the school St Notkers School with a walking stick in my hand. I wanted my Dad to be a part of Hichki in some capacity, now this scene has a massive emotional bearing on me.

Your most difficult scene?
Every scene was difficult; I had to balance a lot on how many tics II am doing.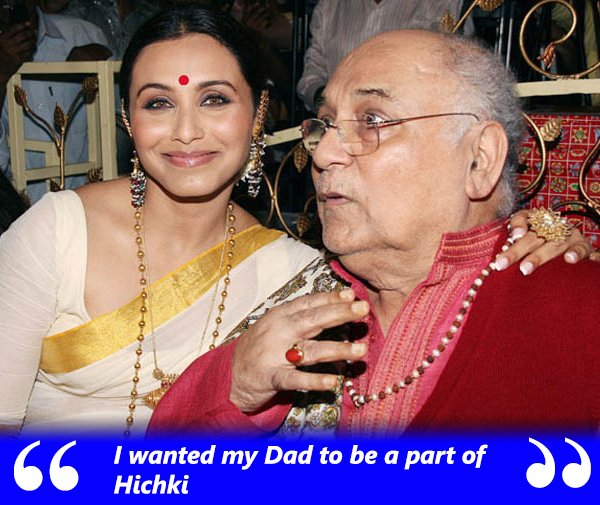 I think you did the exult scene very well, where you go ga-ga when you land up with a job...
Thank you (smiles).

Now, headlong into movies again?
Absolutely. I shall deep-dive. i was waiting to see the response I get from Hichki. I am glad that I have been given a thumbs-up.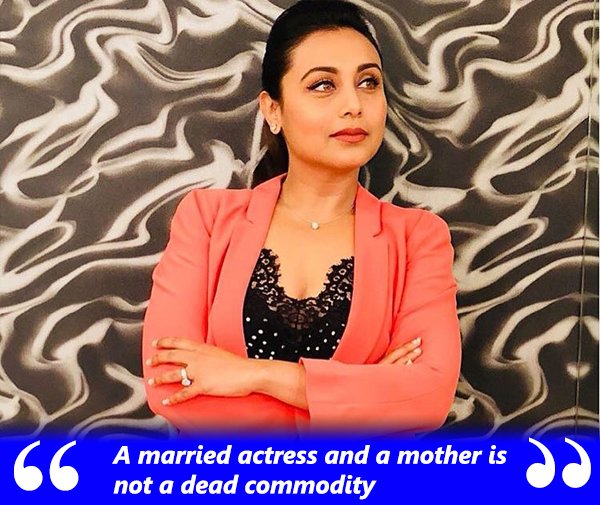 Adira will be at home...
I will have to strike the right balance. I want to be a mother who continues to be successful after marriage.

How does she react when she sees you on big screen, TV and newspapers?
She says, "My mama'. I took her for Hichki on Day 3. I even took my entire staff who looks after her, so that they know what I was dong while they looked after her (smiles).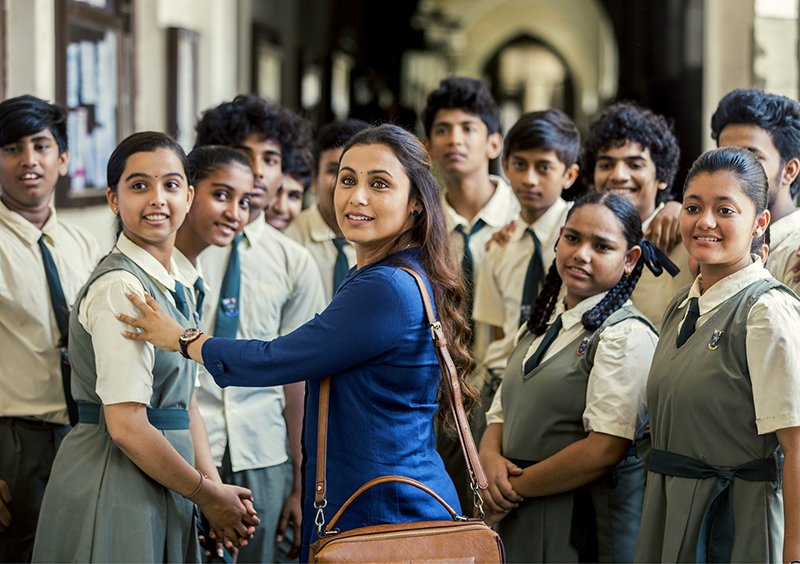 Rani Mukerji In Hichki

List down your milestones...
Raja Ki Aayegi Baraat, Ghulam, Kuch Kuch Hota Hai, Black, No One Killed Jessica and Hichki. Ghulam and K2H2 made me climb into mainstream league. Black was a terrific role where I thought I might make a fool of myself- but Sanjay (leela Bhansali) backed me no end.

The Hichkis in your career?
Every time, they surfaced. It has been a very long journey, and which journey is devoid of hichkis?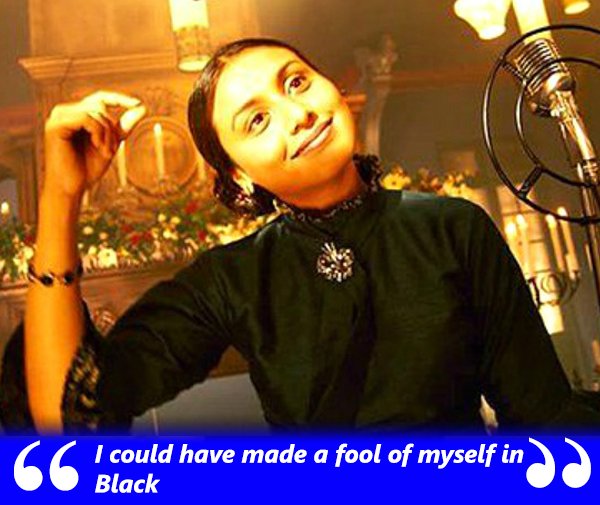 Image Source: Manav Manglani, instagram/ranimukerjifans, wallpapersden, youtube/yrf, medium, beingbhai, lovelimes, rtiwala