Richa Chadha: I like acting, but not networking, partying and becoming a fashionista
Richa Chadha's personality reflects in her performances -- they are honest, uninhibited. Beneath that striking simplicity lies a steely resolve to live life on her terms. Before her latest film Cabaret hits the screens tomorrow, SpotboyE gets the actress to open up about everything from career to love. Here are excerpts from an exclusive interview...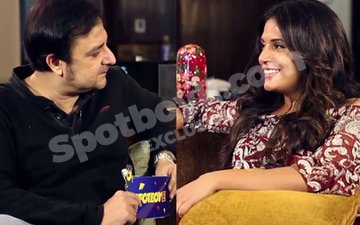 Richa Chadha's personality reflects in her performances -- they are honest, uninhibited. Beneath that striking simplicity lies a steely resolve to live life on her terms. Before her latest film Cabaret hits the screens tomorrow, SpotboyE gets the actress to open up about everything from career to love. Here are excerpts from an exclusive interview...




With Cabaret, you are venturing into commercial cinema for the first time. Were you hesitant initially?
I am quite nervous, but never hesitant. I wanted to try something new. I did it for the love of songs and dance. I thought 'why not'?

You have a lot of dance sequences in Cabaret. Was it tough?
My choreographers, especially Shabina Khan, gave me a lot of time. One of my friends, Ratika Kumar, is an incredible dancer and she also helped me a lot. Pooja (Bhatt, producer) would also constantly ask me to point my toes and lengthen my neck.

Pooja is known to lose her temper quite often...
She didn't lose her temper with me, but she is a hard task master. She would really twist me to get the best out of me, she was constantly driving me to do better.




Are you ready for the public to see you in a different light?
How does it matter? No one can do anything about public opinion. I will be very happy if people like it and very respectful if they don't.

You were working for Sarbjit and Cabaret at the same time. They are entirely different films, how did you manage?
Towards the end, I was shooting for each movie on alternate days. It wasn't easy, but I could do Sukhpreet's role (Sarabjit's wife) effortlessly, because it had that Punjabi touch. I could understand the character well.

Which has been your toughest film?
Gangs of Wasseypur (2012). I was very young and had to work with senior actors -- I had to fit in and perform with equal power. I had grown up with a different kind of people, so the switch was tough. But I have a career because of that film.




Are you in touch with Anurag Kashyap (Gangs of Wasseypur director)?
I meet him often, he is my mentor. No matter what people say, he is one of the most impactful people around. We have so much talent in the industry today, because of the faith he showed in people.

Anurag is better at what -- writing or directing?
I would comment on that if I knew either. I just know acting.

Have you seen Bombay Velvet?
I liked it and even tweeted about it. Tell me, if someone else had made this film, somebody who was responsible for making commercial films with a regressive logic and a story that didn't have to be necessarily good, would you say the same thing? You base what you expect of the film on the basis of what you know of the director. I was on Twitter that day and I saw how people just pounced on it.




Most didn't like it…
Haan, toh kya ho gaya? People went after him and Ranbir like they are Gods who are not allowed to fail. Everybody fails; it's just that in showbiz, failure is public.

Moving on to Sanjay Leela Bhansali, are you in touch with your Ram-Leela director?
Yes, he is a true visionary. He has always been.

Does it pinch you that Anurag didn't cast you in Bombay Velvet and Bhansali in Bajirao Mastani?
Of course not. Have I not been working with other people? If I can work with others, why can't they? I am sure when they have a role that only I can do, they will call me. It would be very selfish of me to say that "Unki agli picture toh main hi karungi".




Do you think you got slotted in unconventional roles?
I want to be a real person and choose roles accordingly. You have to ask yourself, 'What are you looking for?', 'Are you looking for good content?' Everyone is thirsty for performance-oriented roles and I am lucky to get them. I like acting, but not the machinery around it like networking, going to parties and becoming a fashionista. When I am clear about what I want, why will I bother about other things? Most of the people chase those other things, and that's why they get confused.

But you get paid less for such films...
Yes, but I will tell you how to deal with it. You can make 10 rupees for 5 days (50 rupees) or 5 rupees for 100 days (500 rupees). I prefer the latter.

Your sex scene in Masaan was very bold…
It was not bold, it was very realistic. There was no zooming in on anybody's body. That scene was crucial, it was not romanticised or glamourised.

What are your views on censorship?
If you are above 18 and can vote, get married which involves another person and drive, how come you cannot hear the word 'saala' in a movie? Are you saying that contributing to the nation is less important than watching a movie?




What are your views on Shyam Benegal's proposal about not censoring the movies?
I was leaning towards not having censorship, but I am a bit muddled in my thoughts about how some things can be politically insensitive or spread stereotypes -- especially about gender, making fun of lesbians and gays and targeting certain communities. That is what needs to be dealt with sensitivity.

Are you single?
Yes.

There is no French boyfriend?
There was, but what is so abnormal about it?

How do you feel when a relationship doesn't work out?
I feel like I feel about everything. I feel normal, I don't let too many circumstances get to me.




Are you saying you believe in casual relationships?
No, I am just saying that I don't like to fret about things. I just accept whatever happens. There is a saying in Stoicism that says 'Love your fate'. So, I live like that.

What are your views on Salman Khan endorsing Rio Olympics?
I feel there is a lot more to cry about -- for example, drought. Somebody has appointed him as the brand ambassador, because millions of people know him and aspire to be like him. If his endorsement helps grab more eyeballs and encourages people to make a career in sports, why not? Like I said, there are so many things to worry about. I was listening to radio the other day and there was an ad about saving water. Barely after 5 seconds, there was another ad -- this time, of a water park. We need to get our priorities straight.




Deepika Padukone and Anushka Sharma have spoken about actresses being paid less. What do you think?
They are huge stars. I can comment on this only when I sell tickets on my name. But in my opinion, pay should have nothing to do with gender in any field. In business, pay should purely depend on who makes how much money. When people reach that stage, they demand what they deserve. And they are right in doing that.

Tell us about your international project..
The film's title is Love Sonia and it is about human trafficking. It has a great cast and team. The producer is David Womark and the director, Tabrez Noorani.. I will start shooting for it in May.

What's next?
I have Fukrey 2, which will start a little later in the year. But I am surely taking a break in June or July.


Image Source: Manav Manglani, facebook/therichachadha, Xoomclips & Vidamanejo
They say the best things in life are free! India's favourite music channels 9XM, 9X Jalwa, 9X Jhakaas & 9X Tashan are available Free-To-Air. Make a request for these channels from your Cable, DTH or HITS operator.