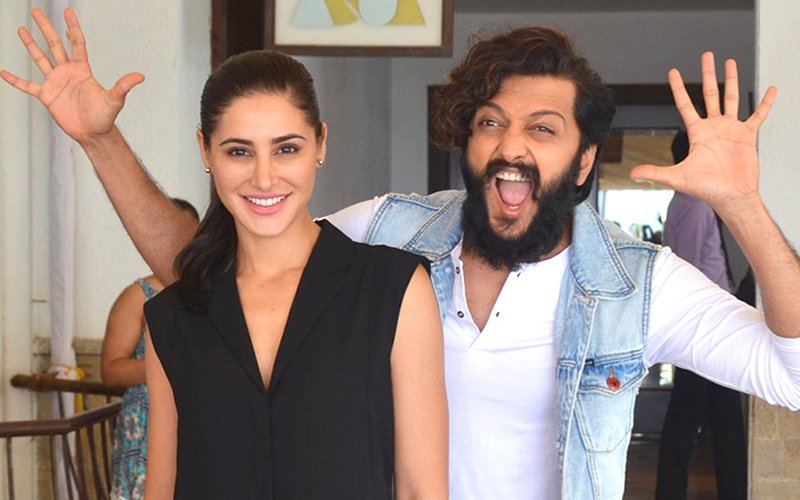 Your browser does not support the video tag.
While most of Riteish fans might be enjoying his latest film Banjo in theatres today, those who haven't booked their tickets yet, here's a bit of Riteish for you. SpotboyE.com met up with the witty actor and had a great conversation about Banjo, his life post his second kid and more. Read on..

Banjo is a special project for you. Your fans are eagerly waiting for it. Tell us about it.
Banjo is a special film. Ravi Jadhav, who is a dear friend and a very big name in the Marathi industry, is directing the film. I am very happy to collaborate with him. Another reason why Banjo is special is because my favourite production company, Eros International, is producing it. This film is about 4 guys who play fantastic banjo but they play to earn a living. Their day jobs are different-one is into Hafta vasooli, another is in paper distribution, third one plays Shehnai in marriages, and the fourth one works in a garage. It's a story of their hopes and ambition. Along the way, a girl comes to Mumbai from New York, played by Nargis Fakhri who finds depth in their tunes. Following their passion for music, she collaborates with them and shows them the path to success.



Image Source: funmoy

You've worked with Ravi Jadhav before in his Marathi film Balak Palak, How's the friendship coming along?
It's great. I've had an incredible time with him. His visual sense is very strong. He is a national award winning director, one of the most successful directors in Marathi cinema. We are working again in a Marathi film after Banjo.

We also heard you've been taking professional photography lessons on the sets of the film?
I like photography. I have been in an architecture school, so we were given assignments to sketch buildings and designs and that fascinated me a lot. Today everyone clicks pictures from their phones but I am not very fond of using phones for photography. I like the actual camera. So, on one of my birthday Genelia gifted me a camera and said you have wanted to do this for the longest time, here's the camera, go and do it.



Image Source: Manav Manglani

So the camera gifted by Genelia was the inspiration...
In life there are too many things you get involved with, like films and family, and your passion takes a back seat. But when your passion is right in front of you, you can't escape it. That's what Genelia did. She handed my passion in my hands. So while we were shooting for Banjo, I got a well trained photographer on the sets. He used to visit me every day for a month and whenever I got time between the shots, I learnt the technical terms from him. Post which, I flew to Dubai to attend a workshop specifically designed for the camera Genelia gifted me. I attended that and returned with more knowledge.

Coming to your personal life, how has life changed after your second baby?
One goes through different stages in life. There is a stage when you're single, when you're dating, then you get married and have children. Your responsibility increases with every stage you cross. First you work for yourself, then for the person you love, and ultimately you work only for your children. Your kids become your priority.



Image Source: twitter/eros

You're working with Nargis for the first time, tell us something about her as a co-star..
I think Nargis is by far the craziest person I've ever met. She is an extremely happy and positive person and brings immense energy on the sets. In fact, Nargis has helped correct the character in the film. As she is originally from New York, and her character in Banjo is also of a girl who is a New York return, she had lot of inputs to give to better the character. She corrected us a lot of times saying, in real life she would have reacted differently to a situation as opposed to the way it is put in the script. And that's how she made the character more relatable with her inputs.

What next?
I am hosting two TV shows. One of them is a quiz show for a Marathi channel and the other one is a chat show with Sajid Khan. As far as films are concerned, I am working in two Marathi films- one is with Nishikant Kamat in Mauli and with Ravi Jadhav in Chhatrapati Shivaji.


Thumbnail Image Source: voompla