Rocket Gang Actress Nikita Dutta On Working With Aditya Seal, Bosco Martis As A Director And Recovering From COVID-19- EXCLUSIVE VIDEO
The Big Bull actress Nikita Dutta, who would be next seen in her first leading role in Bosco Martis' Rocket Gang opposite Aditya Seal, talks about switching between TV and films, working with big stars, experience of working on Rocket Gang, her new found love for dance and more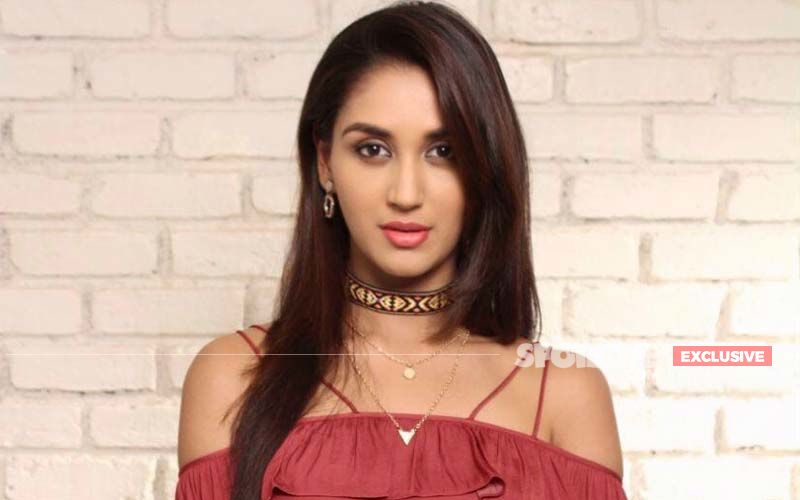 Nikita Dutta is known for films like Kabir Singh, Gold and The Big Bull, and she is one of the few TV actors who have made a successful switch to films. Now, the actress is all set to enter a new league with her first leading role in choreographer Bosco Martis's directorial debut, the dance horror comedy Rocket Gang.
In an exclusive conversation with Spotboye.com, Nikita gets candid about switching between TV and films, working with big stars, experience of working on Rocket Gang, her new found love for dance and more. Read excerpts from the interview:
Nikita, you have had a very unique journey in showbiz. You started in pageants, then went to do a film. You switched to TV after that and a few years ago, you returned to films. How has that whole journey been for you?
The journey has been quite eventful. I just feel lucky to have got to experience a lot of sides, not all yet, of being in front of the camera. Being an actor, anchor, doing ads or walking on the ramp, I have got to do them all in the short span of time I have been here. It just adds to your experience and skills and makes you more comfortable and better at what you do. It worked in my favour and helped me realise that I love acting and working in films the most out of all of them.


Since you returned to films, you have worked with some big stars like Akshay Kumar in Gold, Shahid Kapoor in Kabir Singh, Abhishek Bachchan in The Big Bull and now you are also working with Emraan Hashmi in Ezra. How does that experience help you?
I always feel that your co-actors are your biggest teachers as you end up learning the most from the kind of people that are around you. It's very nice to sit with experienced actors and talk to them, listening to their stories and experiences. The maximum you can gain and absorb on set is when you interact with actors who have spent years of their experience here. I see working with them as a blessing in disguise and I have learnt a lot from them.
What are the lessons you learned from each of them?
Unfortunately, I didn't share any screen time with Akshay sir in Gold, but I really look forward to working with him more. As for Shahid, it's a very beautiful process to see him approach his scenes, when he is in character. The way he is before it and how he plays it along when he is in front of the camera was quite an experience to watch.
One very admirable quality about Abhishek is that he stays very cool and calm on set, and keeps the entire atmosphere light-hearted. Even if the scene or the situation around is hectic, he is the one who'll neutralize its effect and make everybody smile. And despite all of that, he manages to do a fabulous job in front of the camera.
Emraan is very focused. He minds his own business, does his job and talks only about the work that has to be done while on the set. As individuals, all of them have some very good qualities that they have built over time after working in the field, so while working with them, when you watch it, you just want to grab as much as you can.
You will be seen in your first leading role in Rocket Gang, opposite Aditya Seal. Before this, you have done almost all supporting roles. Did it ever concern you during that time, that doing such roles in an industry that is used to stereotyping, would reduce you to certain kinds of roles?
I have been stereotyped at every point in my life since I started working. I had just got into Miss India straight from college. I was in the middle of studying and had no knowledge about this industry. There were some people around me who were already modelling and had a certain experience on their side. A lot of them told me that I was too young and raw for this and I wasn't meant for it. So, I was stereotyped right there.


Right after Miss India, people said that models can't act. They are just good for walking on the ramp, so I was stereotyped right there. When I did Television, I was stereotyped that TV actors can't get into films, so I have faced stereotyping at every single point in some or the other way.


I just take it into one ear and take it out from the other as I know I'll do what I want to do. I know that this will keep coming and keep happening to me, so yeah, I have developed a thick skin.


Was the experience of working on the set as a leading actor in Rocket Gang different in any way from your previous experiences on a film set?
Funnily, the experience was not any different. Those days are gone when you were discriminated against by the lead characters. So, the process and treatment were not at all different, but there is a lot more responsibility when you are driving the film, and I don't complain about it at all as I love it.




What can you tell us about Rocket Gang?
I can't say much but it's a dance-horror children comedy. You will see some very talented kids doing a fabulous job in it. We have watched a lot of dance and competitive good films in English as well as in Bollywood, but this is very different and it will not be one of those dance films where you can expect what's going to happen next. It's full of adventure, suspense and drama. It's got pretty much every genre that you want to be tick marked.


Now your director Bosco is a choreographer, while Aditya is an amazing dancer. He has held his own in the same frame as Tiger Shroff. But what about your dance past?
Aditya has had his share of dancing but I have never taken formal dance training. I am one of those people who like to dance when there is a festival or a celebration. I am someone who would come on the dance floor and dance on simple Bollywood songs. This is technically going to be my first time where I have gone through the process of learning dance. Bosco was very clear that he wouldn't teach me anything specific as he just wanted me to fall in love with dance. The idea was just to let me free with dance.
No one has seen me dance in front of a camera yet and with Rocket Gang, it will be the first time the audience will see me do that. So, that is one of the most exciting things about this film.


How is Aditya as a co-star and did he help you during the dance sequences?
Aditya is like this naughty kid to have around on set when you are shooting or rehearsing. He has this lovely energy that keeps everyone driving. He is himself a very talented dancer so it just adds on to his skills. As a co-star he is very supportive and it's very fun to have him around.


You were shooting your last schedule in March that had to be cut short. Now, with things opening up and the vaccination process underway, has there been any update on the resuming of shoot?
We were ready to wrap up the film in March. It was our third and final schedule but we weren't able to complete it as unfortunately that was the time most of us tested Covid positive and then the lockdown started. Now that we have all gone through our entire two months of recovery and are vaccinated, we are hoping to resume work as soon as everything is in order. We have some patchwork left and I am really excited to get back to it. The day we get back on set will be a celebration in itself. The schedule will take place in Mumbai only.


You are doing Rocket Gang, a horror comedy and then Ezra, a horror thriller, with Emraan Hashmi. You seem to have developed a bond with the horror genre…
The good part is both are different kinds of horrors and will have a different audience. I always wish that I keep on giving a variety of work and have different things on my platter. Horror is a new genre for me. I have never been a fan of horror films. I was always the first one to get scared and run away, so doing Ezra was a big challenge in itself.


With your film career doing so well, do you think about returning to TV or exploring the OTT space in future?
OTT, yes as a lot of films now are releasing on OTT only, and I am also interested in being a part of web shows. But I am not very sure about TV at the moment as I feel TV still needs to evolve with its content. We are still lagging behind in that, and if that happens, then I would love to go back to TV. The wisest thing is to be in front of the audience and do as much work as possible.
During these testing times of Covid, you have yourself gone through the whole ordeal of suffering through this virus. How did it change your perspective towards things?
During this pandemic, somewhere I always used to have this confidence that nothing major would happen to me as I am very fit, but Covid has given me a reality check in many ways. The recovery is not easy for a young person like me, so I cannot even imagine how difficult it would be for a person slightly on the older side going through other ailments.


Secondly, the whole thing of being trapped at home and not being able to get out is worrying. There are certain things we take for granted and we don't realise its importance till their absence hits you.


It was during Covid when my film The Big Bull was released. It was supposed to have a theatrical release, but was turning out to be an OTT release and here I was sitting and watching it for the first time all by myself. I didn't have any friends or family to share that moment with. There were a couple of very difficult moments I went through during that difficult phase but it also made me mentally stronger. But I keep telling people not to take Covid lightly.
After your experience on Rocket Gang, do you feel you would like to learn to dance some more even after the film?
I would, there's no doubt about that. I kept telling Bosco how running and Yoga are my favourite things in fitness, and he kept on telling me to wait till I start dancing. In the beginning, I used to take it as a job and a workout, but now I keep on messaging Bosco when we are resuming shoot as I want to dance? So, for a fact, I have told myself that I am not going to stop dancing as it genuinely makes me happy.


How is Bosco, the director, different from Bosco, the choreographer?
Bosco, the choreographer, is a lot of fun but Bosco, the director, can get stressed out very often.




Image Source: Instagram/nikifying, Studio Unees