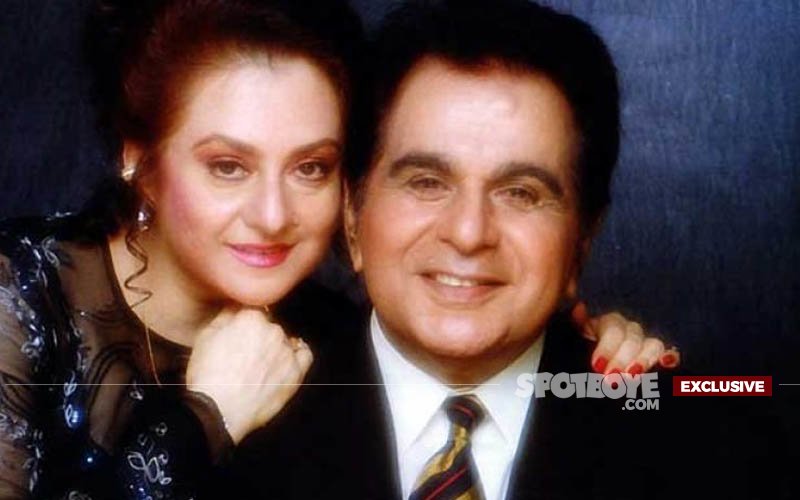 There's no party at Dilip Kumar's house tonight on his 50th Wedding Anniversary (his brother-in-law Sultan passed away a few months ago) but Saira Banu is sure that there'll be quite a few friends and well-wishers who will come to see them as the day rolls by.

The time was right to extend our chat with her which began with SpotboyE.com this afternoon by extending wishes to the star couple.

Surprisingly, Saira opened up on not just the ups but also the downs in her marriage.

Excerpts from the chat:

Reminiscing about her early interactions with Dilip Kumar, Saira Banu said, "I first saw him when I was living in London. I was in school. I used to dream that I was shopping at Oxford Street and he will come in his car and stop by my side."

"He used to often come to my place in Santacruz as he knew my parents (Mohammed Ehsan, Naseem Banu) very well. He was so striking to look at, immensely handsome, and humility personified in his white apparel," she gushed.

So did she propose to him rather quickly? Saira Banu laughed, "No, I was too young. I just couldn't- but I had lost my heart to him."

Added Saira Banu, "He refused to work with me in my early days as he thought that I was a kid.

Mind you, he was not happy when I took to films. In fact, he even told my mother that since I am a bright student, I should take up something other than acting as a career.Most families in those days didn't like their girls to enter movies. I remember my mother too stopped working in movies after her marriage because my dad didn't like it. In fact, she had shifted not only me but also my brother to London because she didn't want us to grow up in a filmi atmosphere. Ek nazariya hota hai na that girls should have an academic career and settle down. I think Dilip saab wanted the same for me. Do you know I was chosen to work opposite him in Ram aur Shyam but he said: 'How can I work with her? Yeh toh bachchi hai'. Mumtaz went on to do that role.

The funny thing is that six moths later he walked into a party at my house and was stunned. Looking at me, he said: 'God! You have grown up. You are so beautiful'. I was wearing a saree. He called me up the next day, and our courtship period began."



Image Source: youthensnews

Saira Banu further said that she had to change herself a lot after entering into matrimony. "I was a very vivacious and effervescent girl. I had to become very responsible. Dilip saab had his own aura and ways."

Why didn't we see her much in films after her nikkah? Did Dilip saab impose that diktat? "Not at all," she defended, "It was a mutual decision. It was an understanding between a husband and wife. I wanted to look after my husband."

Purab aur Paschim and Padosan, however, had Saira Banu facing the camera after she became Mrs Dilip Kumar. "Manoj Kumar came home with his wife Shashi and told Dilip saab that he would shelve the film if I don't essay the role of Preeti which he had written keeping only me in mind. Manoj and Dilip saab have been very close ever since they worked together in Aadmi, Manoj calls him 'Raja saab'. As for Padosan, I had to honour it because of Mehmood and the fact that I had signed it before marriage."



Image Source: blugaa

And then of course, she made exceptions to the 'understanding' when she worked with her husband in Gopi (1970), Choti Bahu (1971), Sagina (1974), Bairaag (1976) and Duniya (1984). "I wanted to be with him as much as possible," she reasons. Continuing to maintain that it was a mutual decision, Saira added, "When Dilip saab saw the rushes of Shagird after our marriage, he said that it would be criminal to stop me from working."

So who made up first if and when they quarelled? "It was always me. He would go absolutely quiet, and that would be terrifying for me."

"It's been wonderful to have spent 50 years with the man I love more than anything else in the world," she added.

And before she signed off, Saira chose to speak about the turbulent year in their marriage-1980.

Dilip saab was then rumoured to have married a lady Asma Rehman, whom he met at a cricket match in Andhra Pradesh, a marriage which however ended soon.



Image Source: kannadigaworld

Wrote Dilip Kumar in his autobiography The Substance and The Shadow : Well, the one episode in my life that I would like to forget and which we, Saira and I, have indeed pushed into eternal oblivion is a grave mistake I made under pressure of getting involved with a lady named Asma Rehman whom I had met at a cricket match in Hyderabad (Andhra Pradesh) where she then lived with her husband. She was a mother of three when she was introduced to me as a fan and she seemed like umpteen other admirers, who were introduced to me by my sisters, Fauzia and Saeeda, at public places. She was a friend of my sisters.

"Dilip saab admitted that he had committed a gross mistake. We went through a rough time. He told me to bear patience and be by his side since he would rectify it as soon as he could. My family too explained to me to play it calm, they rallied around us. And rectify he did," Saira Banu says matter-of-factly.

That must have been a difficult time for Saira, right? Pat came the reply: "Absolutely, I would say it was 'terrible'. But the end result was that we became closer than before."

Did she ever feel that she should end it all? Saira Banu says that she categorically told Dilip saab during that period that she wouldn't share him with any other woman. "I told him that I wouldn't be just another wife. I have to be the one and only wife which I was promised to be. I wouldn't take it. At the the outset of our marriage even though we both are Muslims, we had clearly promised each other that there would be no other person in our lives- neither for him, nor for me."

No marriage is a bed of roses, marriage is a bed of compromises and sacrifices. Love, understanding and resilience has seen this marriage enter its 51st year today.


Thumbnail Image Source: beingtempted