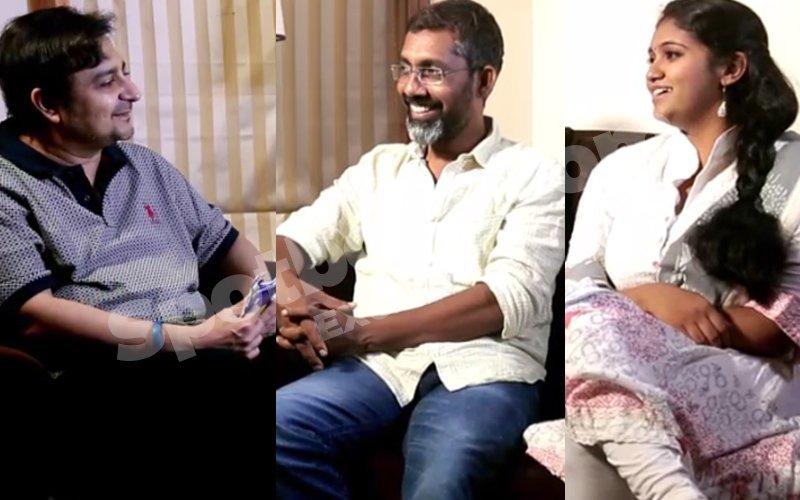 Your browser does not support the video tag.
Sairat has taken the box-office by storm. A small-budget Marathi film that tackles the subject of caste discrimination and honour killing, the film continues to capture the nation's attention even in its 6th week. The Nagraj Manjule-directed film has put the spotlight on Marathi cinema once again. SpotboyE caught up with the director and his debutante actress Rinku Rajguru for a freewheeling chat. Excerpts:

You made Sairat on a budget of Rs 5 crore. Now that it has made over Rs 84 crore, how does it feel?
Nagraj: I had never thought that the film would become such a blockbuster, but I had a feeling that it will fare well. It exceeded my expectations. Despite being a Marathi film, it broke the language barrier and made so much of money. It was liked by so many people.




Rinku, you won the Special Jury Award at this year's National Awards. Had you ever expected it?
Rinku: I had never ever imagined it, but Nagraj kept telling me from Day One that you will win a National Award for this. I used to always think that Nagraj is kidding. But when I got it, it felt really good that my hard work had paid off.

Nagraj had even told you that you'll become such a big star that you will find it difficult to step out of your house. Has that happened?
Rinku: Whatever he has said, has happened (laughs). No matter where I go, people recognise me and come to me for autographs. They even chase my car to get a glimpse of me.

Going back to the start of the film, how did you select Rinku?
Nagraj: We had gone for auditions to her village Akluj. Her mother, who belongs to the same village as mine, had come to meet me. Rinku had accompanied her. When I saw her, I was like, "She could be Archie." It was a very spontaneous decision. She hadn't auditioned but I chose her.




When you selected Rinku, she was only in the 7th grade. Didn't you think she was too young?
Nagraj: Everyone, except me, thought she was too young – my friends, my assistant directors, they all kept telling me that. At that time, Fandry was releasing. So I knew it would take another year before I begin shooting for Sairat and Rinku would grow up a little more. On one hand, we kept the auditions going. But somehow I felt that nobody came as close to Archie as Rinku.

Was Akash Thosar's casting as the male lead also as spontaneous?
Nagraj: My brother saw him at my village's railway station. He took Akash's picture and sent it to me over Whatsapp. I thought he had an interesting face, so I asked him to meet me. When I met him, he was slightly overweight. I told him to shed weight and in a space of a few months, he lost almost 12 kgs. Then I thought he could fit the role.




Rinku, how was your first day of shoot?
Rinku: I was petrified on the first day because I had no idea how a shooting is commenced, how many people are there on the set, how big is the unit...I was expecting a unit of 15-20 people. So when I landed on the set, I was horrified to see 100 people. I had to give 7 retakes that day. But next day onwards, it was okay.

You are in 10th grade now. So after Sairat, are you paying attention to your studies?
Rinku: My mind is not off studies at all. I have to study. But I don't know how much I will score. (laughs)

How did you juggle your studies and shooting?
Rinku: Honestly, I couldn't study at all when the shoot was going on. After I would go back home, I would study for a bit. Even when the National Awards were declared, my exams were going on. And people would just keep coming home to meet me. So everyday, I used to not get more than 1 or 2 hours to study.




Do you want to study further? Or do you want to pursue acting?
Rinku: I want to become a doctor. If I get acting offers, I will take them up. But predominantly, I'm interested in studying medicine.

What about acting in Hindi films?
Rinku: I haven't given it a thought as of now.

Who are your favourites in Bollywood?
Rinku: I like Kangana Ranaut a lot. In Marathi cinema, I like Nana Patekar. I used to not watch films and have started watching them only now.

Coming back to you Nagraj, having seen such a massive hit, would you like to move to Bollywood?
Nagraj: Making a Hindi film is not a big deal. I don't think it is an upgrade from Marathi cinema. If I get a story and I feel that it should be made in Hindi, then I will definitely do it. I can make it in any language.

The likes of Aamir Khan and Irrfan Khan appreciated your film. Won't it be easier for you to sign big heroes at this point in time?
Nagraj: If you do good work, people will want to work with you. I feel thrilled that such big names have appreciated my film. But based on this film, I will only get a chance. Then it is up to me to do good work again. People can't work with me just because my last film did well. They should work with me because they like the film that I have offered them. They should need to believe in that film.




Won't you make an adaptation of Sairat in Hindi?
Nagraj: All kinds of ideas are being tossed around now. Make it in Hindi, Telugu, Kannada, Tamil...We are still in talks about all that. It's too early to talk about it.

What do you think it is about Sairat that it has worked on such a big scale? After that, Bhansali's Laal Ishq also released but it didn't meet the same fate...
Nagraj: A film becomes a good film when all the elements – from acting to scripting to camera work – come together. That's what has happened with Sairat. And most importantly, the story of the film has left everyone gripped. The audience has found it fresh in every aspect.

The film is based on caste difference. Have you drawn it from any personal experience?
Nagraj: I have seen many such episodes. Why only me, so many people across the country have been witness to this. You hear such news on TV regularly. It's quite common in India.




Much like your last release Fandry, Sairat also deals with a serious subject. However, in one of your interviews, you had stated that the medium of cinema should not be taken seriously. So there is a contradiction there...
Nagraj: No, my actual quote was that don't take cinema as seriously as you take life. I heard that 2 boys went to watch Sairat. When one of them didn't get tickets, he stabbed the other. You can't stab someone in order to watch a film. You might as well watch the pirated version. If you take other things as seriously as you take this film, the world will become an entirely different place.

What's next?
Nagraj: I have been consumed with Sairat over the last 2 years. So now I am quite exhausted. Once I get out of this mode, I will think what to do next.


Image Source: facebook/RinkuRajguruSairat