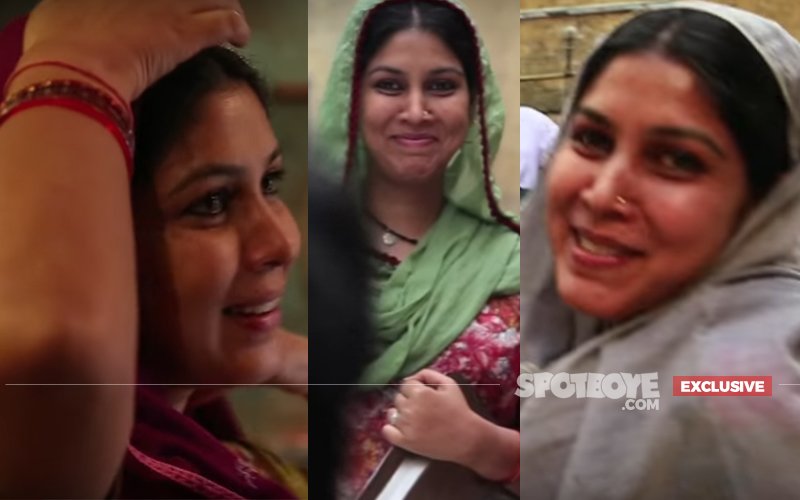 Your browser does not support the video tag.
After winning hearts in shows like Balika Vadhu, Bade Achhe Lagte Hai and Code Red – TV's most popular bahu is all set for her big splash in Bollywood as Mr. Perfectionist Aamir Khan's wife – Daya Kaur in Dangal.

The film, which is a biographical sports drama, has Aamir in the role Mahavir Singh Phogat, former wrestling champion. SpotboyE.com caught up with the Dangal lady – Sakshi at Aamir Khan's Carter Road office for a candid chat. She spoke with all enthusiasm about Dangal, her camaraderie with Aamir and much more:

Dangal director Nitesh Tiwari says that he didn't have you in mind for the role...
I got a call from Mukesh Chhabra's casting agency and they told me, 'We are casting for Dangal and you are considered for Aamir Sir's wife's role.' I didn't react and thought koi mazak chal raha hai. Then they convinced me and called me for an audition. I remember Mukesh telling me, 'Aankh bandh kar ke kar lo, don't think much'. There was a small test. And next I was called in this place for a small scene with Aamir Sir.

Nitesh Sir wasn't there that day. I did it without any expectations. I thought nothing will happen after this scene. But then they asked me about my availability for the next 6-8 months. I wasn't doing anything that time and had just planned a Bhutan trip in September. I didn't tell them about my travel plans thinking what if they chuck me out. Then I met the associate producer and thought I will have a few scenes as Dangal is about father-daughter relationship. So he gave me chunks of my shoot dates – Ganpati, Navratri, Diwali. And I was like – 'sare festivals gaye mere'.

But I told them I am free. Then I got a message from Aamir Sir saying – We need to talk. I called him and he said – 'Welcome to Dangal. You are on board'. I didn't know how to react as it happened too fast. I was reading about Dangal in papers and never thought I could be a part of it.

Aamir Khan's mother suggested your name...
Oh yes! I got to know about this much later. In fact, I got to know about this through an interview of his. The entire shoot happened and I had no clue about it. I am glad that his mother watches television. When I met her during the screening of the film, she told me that she has watched my work. And I am more than happy.

What was the conversation you had with Aamir when you met him for the first time?
When I reached here (his office), we were supposed to work on a scene. When we sat down with the script, I told him that I had already rehearsed earlier. So then he narrated the set up and we started rehearsing the scene again.

But were you intimidated while shooting with Aamir?
No, not at all! He doesn't have those vibes. I was very comfortable. We started off with a scene and that made it easy for us. He wasn't intimidating at all.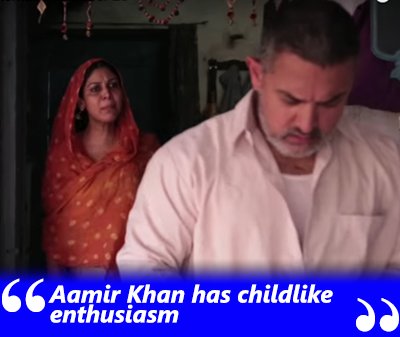 Image Source: youtube/UTVMotionPictures

However, people must have been in awe of Aamir during the shoot. How is he to work with?
I used to think that he will be a very serious kind of an actor, sitting in a corner and reading a book. I had this image in my mind. But on-the-sets, to my surprise, he was interacting with everyone. He was involved in every aspect of the film. Be it the looks of the characters or the set-up or rehearsals...he would take keen interest in everything. He has a childlike enthusiasm. He would involve every one. He is so passionate about his work that it is infectious.

Which was your first shot in Dangal?
In the trailer, two boys are shown being beaten by girls. After that there is a scene where Aamir has fourth daughter in his lap where he says, "main hamesha socha karta tha ki chhora hoga to gold lavega". That was the first shot.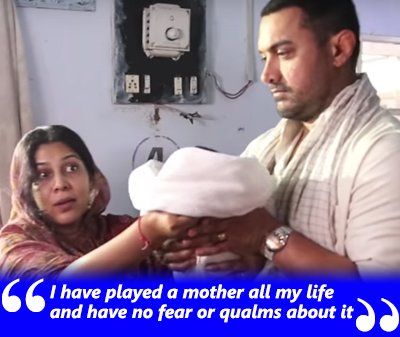 Image Source: youtube/UTVMotionPictures

You are playing a role of a mother in Dangal. Scared that you might get typecast?
I have played a mother all my life. I started with Kahaani Ghar Ghar Ki where I was playing a mother. I have absolutely no fear or qualms about it. It is a great role and that's what matters.

Coming back to Dangal, how did you prep up for the role of Daya Kaur?
I had to take language lessons. Thankfully I didn't have to go through the physical training part. Maa ko kushti nahi karni thi. Sunita Ji, our language teacher, came over to our house for five days and we read the whole script. I was short on time and hence I recorded her dialogues on my phone. I would keep listening to that to get the tone and nuances of the language correct.

Everybody was so perfect...even the girls! It didn't seem like you are working with first timers – they are so good. They made my job much easier.

You share a fun camaraderie with the Dangal daughters. How was it working with them?
We would just joke about the scenes. There was one version which was shot and one version which we used to enact off-screen. We could spend more time with each other because we weren't allowed to use our phones. We used to submit our phones and get them back only after pack-up. We were all a part of the process together and that helped us in building the chemistry. It was very organic and nothing was planned.

Aamir underwent a drastic change in weight for Dangal. What about you?
Main toh healthy thi! When my casting happened, I was required to be healthy because we had to shoot the older part first. For the younger part, when I saw Aamir Sir working so hard, I wanted to look the part. Nobody forced me but seeing him I was inspired, but mujhse ho nahi raha tha. Then I met Aamir Sir and I was shocked to see the transformation. Then he gave me some tips and I followed it. I maintained a diary for 100 days and I got the required look.

Being a Khan film, people will talk about numbers. How much are you expecting?
I barely passed in Maths. I am very bad with numbers. It is a wrong question to ask me.

What do you want? Critical acclaim or box-office?
I am enjoying the process. I am not expecting anything. I am happy that I am a part of this film. It is a beautiful story and it is a lovely character. I am only thinking that once the film releases, it will be over. We have been living this for over one and half year.

You have been a very popular bahu on TV. What changes have you seen in terms of content on the small screen?
There have been phases and as per audience's response to the content. Content on television has always been guided by the ratings. Though there have been shows which are different – like Bade Achhe Lagte Hai came at a time when saas-bahu shows were ruling television – and yet it could strike a chord with the audience.

Every phase has its flavour. Now television has gone to the interiors and catering to that audience. But there are shows like 24 also. Shows like 24 and P.O.W-Bandi Yuddh Ke are different and finite and it gives an actor like me to experiment much more as opposed to doing one show which will keep on running and not give you that kind of freedom or time to experiment.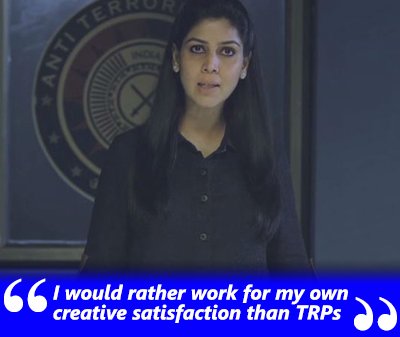 Image Source: amazonweb

Talking about 24, the second season didn't do that well. What do you have to say about its low TRPs?
As an actor I would rather work for my own creative satisfaction and my own professional growth. I can't be thinking about TRPs all the time.

Can't wrap-up the interview without asking about the ring on your engagement finger that has created a lot of buzz...
Oh ho! I have been wearing this ring for six years. This ring has always been on my hand. This is funny because meri shaadi karwa dete ho aap log aur mujhe bulate nahi ho. This is a personal ring.


Thumbnail Image Source: youtube/UTVMotionPictures