Salman: I have left every vice except women
In a freewheeling chat, the Sultan star opens up about movies, Olympics controversy and his fear of losing his stardom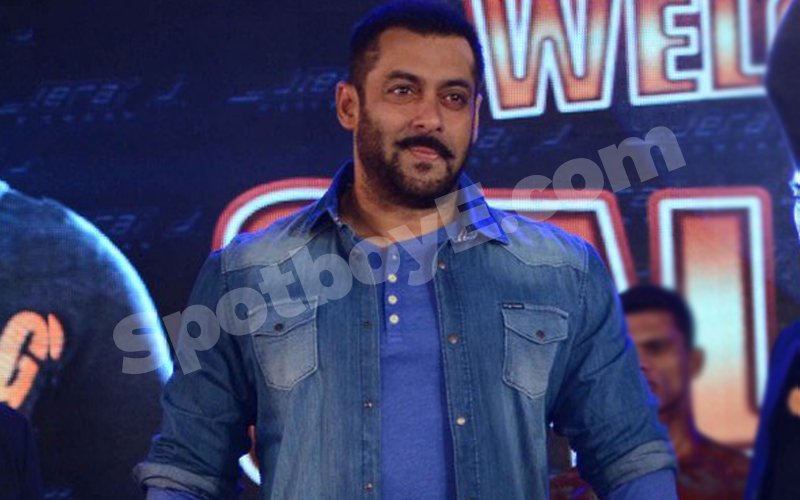 Moody is thy middle name. Salman Khan, when in the right frame of mind, makes his interview a delight for the interviewer. And all hell breaks loose when he's not quite pleased with the idea of meeting you for an interaction. What hasn't changed in the years about the man is his ability to connect with everyone alike. With Sultan around the corner, it was time SpotboyE had its appointment with the Khan of all seasons and box-office fortunes. Over to our conversation:




What kind of effort did you put in to get Sultan's character physically right?
It's a tough process. You need ample training like the wrestlers. The training Aamir Khan and I have been through is similar or probably a little more than what the wrestlers go through. If we didn't do it, we wouldn't be able to fight convincingly in the ring.

So, what all did you have to learn?
I underwent weight training. Then I perfected the moves. I spent 2-3 hours in the day practising those because in the film, I go from the village level akhada to the mat-based ring and then the MMA arena. So I had to do a lot of punching and kicking. I had to be convincing or else I'd look like a fraud.

The shoot must have been gruelling...
While shooting, during those six hours, there'd be so much of lifting and thrusting on the ground involved. That was tough for me because if I was lifting, I'd have to lift the same 120-kilo guy 10 times for 10 different angles. And likewise, get thrown that many times on the ground. This act is not repeated that many times in the real fights in the ring. When I used to walk out of the ring, after the shoot, I used to feel like a raped woman. I couldn't walk straight. I would eat and then, head right back to training. That couldn't stop.




Why?
Since my director knows nothing! (Pauses) About weight training. So, every 20 days, he'd need me to look different and have a different body type depending on his set. So, I'd be bloating and then losing the excess weight, only to pile it on again. I don't think Ali Abbas Zafar has ever been to a gym in his life. He wanted a different body type every few days. Kahan se laoon body? Halwa hai kya? Aamir Khan had it relatively easier – he bulked up, shot and then relaxed for six months. I used to shoot, diet, eat, shoot, diet...and go on.

Do you think physically straining the body to such extremes is of any help?
Physical mehnat has no value today. Most people do it as a hobby or because they want to do it. Technology can correct the way your body looks if it's out of shape. The script is important. Ali worked very hard on that and cracked it well. It's a beautiful underdog story.




Did you have to learn Haryanvi also?
I would repeat after a guy who was reading my lines on the set. I had no time to learn the language. Aamir had the time and he has learnt it so well. My mother is Maharashtrian but I can't speak Marathi well. Mere Hindi, English ke vaande hain. I just have enough vocabulary to communicate correctly.

Is there anything you want to learn?
I want to learn to sing but I have already started singing. It was the same with acting. Gaadi reverse mein hai (laughs). I learnt to swim after jumping in the water. I was 8 years old. My cousins in Indore asked me if I knew how to swim. I said no. They said jaa seekh le. They tied a rope around me and pushed me into a dark well, 30 ft deep. There was a turtle, a snake and two fish for company. My cousins tied me and left me hanging there with some theory lessons on swimming.

Do you think Sultan and Dangal can change the perception towards wrestling in India today?
I hope it does. The idea of scrapping wrestling from Olympics is fortunately called off. The pehelwans deserve much more respect. The prize money should be bigger for such a taxing sport. It's an expensive thing to maintain that body and fight. Old age is so difficult on the body. Dara Singh struggled to go up and down the stairs in his ripe age – this, when he used to do 5000 squats in one go when he was young. I have that problem right now.




Why do you think that happens?
Because we exercise in the wrong manner and ill-treat our body. No one knew diet or safety measures back then. Sportspersons should get the respect they deserve. When I was made the brand ambassador for Olympics this year, I clearly spelt out the need for infrastructure, coaching and diet. Daal chawal khaa ke, our sportspersons get medals. If they were provided the right mix of everything, they'd be flying so high. Olympics is for the poor in India. Only the shooters are from rich backgrounds, thanks to the police services or the defence services that push them into the sport. Very few can afford the training needed for Olympics.

Are you headed to the Brazil Olympics this year?
No. My job is done. I wish the controversy went on for a bit longer. Sadly, it didn't. When they complained that I'm not even a sportsman, what did that even mean? Isn't anyone watching the game or even participating at any level a sportsperson enough? I have certificates in swimming. So I am technically a sportsman. Even those who read about sports are sportsmen.




Go on...
I just got to know that many years ago, I had actually been selected for a state qualifier in air rifle shooting. I didn't know this, Gagan Narang told me on a flight. It was held at Chetana College, Bandra. I'd gone there without gear and equipment. I fired 50 shots in 50 minutes and walked out, unaware that I had qualified. The requirement is 60 shots in 1 hour 20 minutes. I thought to myself, "Next year try karenge." Even Nana Patekar and Satish Shah have done all this. But my situation is a little complicated. I have that hunting case going on.

Coming back to your movies. Now that you're at the peak of your career, you seem to be working harder...
You have to work harder when you become successful. I was aghast the other day when I saw a close-up of mine in an old film. How could anyone like it? You know, our ticket prices have shot up. We make films for others to enjoy. So I have to put myself through this torture and pain, so that you get the worth of your ticket. The more we grind ourselves, the better the work.




Doesn't that come at a price?
Leave every second vice in your list – that's the mantra I follow. And I have left everything one by one. When it was between coffee and cigarettes, I quit coffee. Between cigarettes and drinks, I quit the stick. Between the drinks and women, I have chosen women. Ab iske baad duniya chhod do! But I will never quit movies.

You think women are a vice?
I'm leaving everything for women. There's nothing left to quit anymore. Ab to bas haath pakadna baaki hai. Wahi reh gaya hai.




Sultan was supposed to clash with Shah Rukh Khan's Raees at the box-office. However, SRK bowed out...
Shah Rukh's film wasn't ready. Otherwise, in the ego clash of producers, we would have ended up losing business. We would have had no choice but to share the collections and be at a loss – like it happened with Bajirao Mastani and Dilwale. The days of Dil and Ghayal hitting the screens together and yet becoming hits are over. We can't do that today. We'll be stifled.




Are you scared about losing stardom?
Everyone fears that, I'd be lying if I said no. But more than stardom, I fear losing love and respect. That is what we strive for. When one loses his stardom, they wonder where they went wrong. You need to be man enough to be able to take that. My father went through it twice in his life. I have gone through it. Life is more than being a star and hero in the movies.

Are you under pressure to select roles?
No. I'm on if I like the first narration. If I'm not, no amount of convincing can drag me to that project. Earlier, I used to give in to nagging, peer pressure, friends. And then, I'd also get brickbats if the movies didn't work and I'd lose the friendship too. Now, I reject my friends' films if the scripts aren't convincing enough. I think it helps my friends too – they get to make a better movie. I've heard from my own friends many times that they overshot because of me or because I came late to work.

Controversies these days have begun to assure producers good returns. Your comment?
None of my controversies have ever helped my film's business. Go to the cops and the court if you find any of our work objectionable. Why attack theatres if you are enraged with something that a star has done? There's such little security despite paying more than half our ticket sales in taxes. The property, the audience and the staff are all at a heavy risk. And no one should publicise these people who do such things to become heroes. The people don't even get penalised. If even one gets penalised, the others will stop creating ruckus.




We haven't heard a thing about Anushka Sharma so far.
Anushka is a lovely girl. I discovered her only towards the end of the film. It was a physically demanding film. So, we could only see our beds post pack-up. It was unlike other films where we hang around with colleagues and familiarise. My father has seen the film and he thinks she's lovely.

We find all your clothes in the Being Human stores. So will we find the Sultan langot soon?
Yeah, sure...now your imaginations are racing. You want the country's population to be out in langots? (Laughs)


Image Source: Manav Manglani, Priyo, facebook/sultanthemovie & Indiaforum

All our pictures are free to be leaked without our permission. Do note: They are not Censor Certified.