Salman: I Want Prem Ratan To Be The Biggest Hit
Here's the latest update from the world of Bollywood. We bet you wouldn't want to miss this. Read on for details... Bhai of Bollywood and his co-star open up about their upcoming flick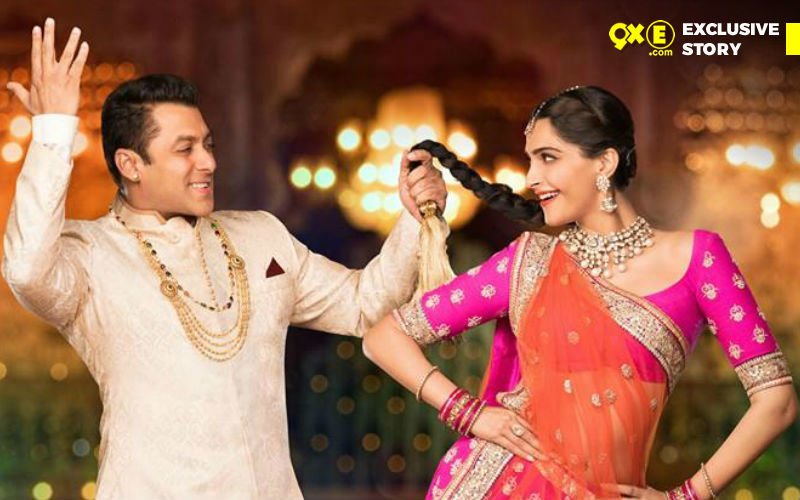 The moment we spotted Salman Khan and Sonam Kapoor at Film City yesterday, we knew that we were in for a real treat. And we were not off the mark. Read on to believe us:
Take us through your journey of Prem Ratan Dhan Payo...Salman
: Of all the films I have done so far, PRDP has had the best sets. It is also my biggest-budget film. The reason is, after so many years when I worked with Sooraj (Barjatya) again, he wanted me to have the best. He said that since he and I have worked in the past before (Maine Pyar Kiya, Hum Aapke Hai Koun, Hum Saath Saath Hain) it would be unfair if he didn't make his biggest film with me (pauses).
15 years is a long gap...Salman:
Yes. Have you seen the sets? We have been to palaces and forts and had all that tham jham. Everyone (other films) has a sheesh mahal. But when you see ours, you will realise that all those sheesh mahals are (shakes his thumb) nothing. It's looking beauuutiful....
A lot of people are going to feel bad about that then...
Salman:
I would walk into the set and say: 'Oh! My God, what is this!' Sooraj has spent a lot of money; he has (rolls his sleeve up) put a lot of heart, innocence, brains and hard work into this film. You'll see a lot of him in it.

Sonam, you play a Queen...Sonam (laughs):
I play a princess. I WANT to be a Queen, I think that's the operative word. I am a wannabe something... But it was an amazing journey, this is the biggest film I have worked in.
Salman interjects:
I think Raanjhanaa was....
Sonam (starts laughing again):
It was shot in Banaras and I was in a black kurta the whole time.
Salman:
There was another one.
Sonam:
Khoobsurat. In that film also, I wanted to be a princess.
Salman:
In this one (PRDP), she is actually!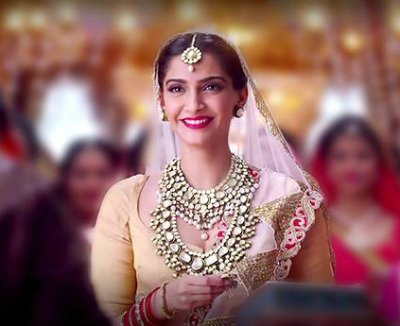 Image Source: facebook/PRDP
Finally, it has happened now...
Sonam:
It was amazing. The most beautiful clothes, jewellery, sets, and the most beautiful man (pointing at Salman)... it was lots of fun.
Salman (interjects):
What if the script was bad? Let's hope they will all come to see the movie not for our beautiful clothes or jewellery, but for the story. They will see the most beautiful script as well.
Sonam: PRDP has a beautiful script.
Salman:
Your royal movie will flop if the script is rubbish.
Sonam:
There's also romance in it.
Salman:
Obviously, there will be romance. Sooraj is best at love stories.
For 15 years, you were not seen as Prem. How was it coming back to him?
Salman:
Very simple. When Sooraj explains the subject to you, when you walk into the set, he'll again narrate the scene to you. Just look into his eyes and you'll say: 'Yes, let's do this film'.
Sonam: I made sure that he was around when I was dubbing. When I dubbed, I constantly looked at him.
Salman (teasingly):
She didn't make sure. Sooraj made sure he was there for her dubbing.
Sonam:
He was sweet to do that. I forced him to come, he had so much work but still... He enacts the scenes for you when you are on the set and the first thing that Salman told me was: 'Just copy him (Sooraj)'.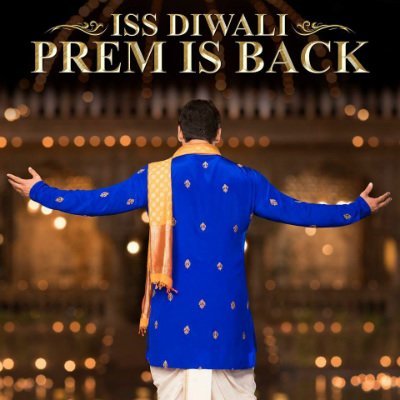 Image Source: facebook/PRDP
Sonam, what was your reaction on Day 1 when you saw Salman walk in?Sonam:
We did the last scene on Day 1.
Salman:
And we did the first scene on the last day. That was the extent of Sooraj's planning and precision.
Sonam, were you little nervous/intimidated when Salman first entered the set?
Sonam
(asks Salman): Was I nervous?
Salman:
No, there was no change in her. For some timepassgiri, she said that she was nervous for the first 15 days.
Sonam:
I was, don't you remember?
But you have known him for long...Sonam:
Obviously I know him.
Salman:
Of him.
Sonam:
I know him and I have watched all his films. Actually, I know his family quite well.
Salman:
I know her father (Anil Kapoor) really well.
Sonam
(Hugs him): What are you saying, yaar? (Breaks into laughter) It was easy and amazing. (To Salman) Stop looking at me like that.
Salman:
Not really (easy and amazing).
Sonam:
It was easy and amazing.
Salman:
(Nodding his head) Theek hai.
How easy or awkward was it to romance Sonam?Sonam:
Not at all awkward. I loved it, I don't know about him.
Salman
(smiles): Next question
Image Source: facebook/PRDP
You don't want to say anything, Salman? I am sure the audience wants to know...Salman
(Looks down and smiles and then starts rolling up his sleeves again): It was...(long pause). See, Sooraj Barjatya's romance (Sonam laughs uncontrollably and hugs Salman) is pure. I just had to get that purity in me (both start laughing again). But yes, it was difficult.
Sonam:
Why was it difficult? Everybody loves to see us...I am asking the questions now.
Salman
(smilingly evades the question): PRDP is a simple and beautiful film. And Sonam fits the role to the T. It's perfect casting. I didn't agree with him initially but he convinced me.

Sonam, with this film, you are going to enter the Rs 100-crore league...Sonam:
It has nothing to do with me.
Salman:
No, but you are a part of the film.
Sonam:
But no...
Salman:
It's Sooraj Barjatya and a combination of factors.
Sonam:
It's the combination of factors. Sooraj ji is amazing, he has only had successful films, Salman has only had successful films. It's obviously them. I have had only two 100 crore-type films.
Salman:
Just two films?
Sonam
(embarrassed, starts whispering to Salman): Bhaag Milkha Bhaag and Raanjhanaa. That's it. You didn't know?
Salman:
How will I know? Anyway, I want PRDP to be the biggest hit. It's like Bajrangi Bhaijaan when I said people should go and watch it in the theatres. I want people to watch PRDP again and again, their family spirit will go up. It talks about unity.
Sonam, who is your favourite director?Sonam:
Your work speaks for itself. Be it Rakeysh Mehra, Aanand L Rai or Sooraj Barjatya, when somebody shows you love and patience, everybody's work will be appreciated.
Salman:
And Sanjay Leela Bhansali.
Sonam:
Yes.
Salman, your experience with...Salman
(mockingly): With Sanjay Leela Bhanasli? I've had a great experience with him.
Sonam:
He (Salman) loves Bhansali.
Salman:
I have done three films with him. I don't know about Sonam, but I have had a great experience working with him.
Salman, your experience with Sooraj this time...Salman:
It's been a pleasure. There are directors who yell on the set and start shouting. They start pressurising us for more takes. Such directors never get work out of any actor. I have seen a lot of directors losing patience, especially on newcomers. I don't know, but I think they are fools.
Sonam:
Actors know the cameras are focused on them and everybody is looking at them. So, they are already conscious.
Salman:
Be it newcomers, junior artistes or senior artistes, you have to be patient with everyone. It just takes five minutes extra. You will also save 45 minutes of retakes and drama on the set.
Sonam:
Sooraj ji will say, 'Yeh bahut achcha tha. But kya hum ek aur take le sakte hain?'
Salman:
He is basically saying you have done s**t, but he'll say it in a very nice way.
Sonam:
He is so sweet.
Salman
(teasing Sonam): He used to say that to her a lot.
Sonam
(mock angry): That's not true.
Salman:
I am just kidding. But if any director has a temper problem, they should just go to Sooraj's set and watch him. They will come out as better people also. My own sister says: 'I need to see Sooraj every 15-20 days. Then I am fine for the next fortnight. I know that I need to have patience and be nice. But after 15-20 days, the Sooraj drug starts wearing off'.
Sonam:
He told me he meditates every morning. He has asked me also to do that.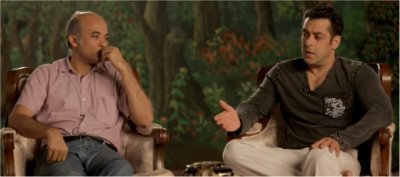 Image Source: youtube/rajshri
Sonam, you are obviously going to be compared to Rajshri Films (Sooraj's production company) heroines like Madhuri Dixit and Bhagyashree. Are you nervous or excited?Sonam:
Maine Pyaar Kiya was Bhagyashree's first film and you can't reproduce that innocence and untouched quality in your other films. At least I can't. And Madhuri is Madhuri. I have seen her work with my dad and I know I am not that talented. I don't think there's any comparison, I have done the best that I can do.
Salman :
Sonali Bendre...
Sonam:
Lot of people say I look like her. She is really tall and beautiful..
Tell us more about Sooraj.Salman:
From start to finish, he knows every scene, dialogue, song and even how they are choreographed. He is completely in sync.
Sonam:
It happens abroad but it's very rare in India. That kind of professionalism. We knew every morning how many scenes are going to be shot that day. We knew exactly what we were going to do. It will now be very difficult to work with another director after this. I got so pampered.
Give me two reasons why people should watch PDRP...Salman:
For me, there are three kinds of cinema. One is, you go in ones and twos. The other is you go in fours and fives. But this is where you go in a group of 40s and 50s... the whole family has to go...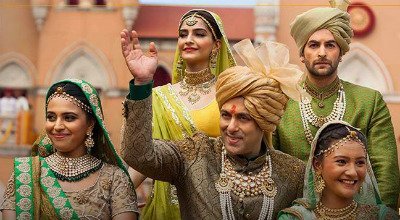 Image Source: facebook/PRDP
What is your expectation from the film? The trade has been predicting a lot of negative things..Salman:
I don't go by all that.
Salman, how different was playing this Prem from others?Salman:
The more you grow, the more you keep losing your innocence. But if you want to show it on screen, it will look false. So, that was my biggest challenge.
Sonam, how did you find this Prem different?Sonam:
I think Salman has put it really beautifully. It's Sooraj's character that he is playing. I have always felt that Salman's eyes have something innocent, hopeful and beautiful about them. So, he is very convincing in every role- be it Bajrangi Bhaijaan ot PRDP. Also, he hasn't changed as a person.
Salman:
We have known each other for the longest time. We belong to the same category of people, but at extreme ends. Both of us had to come midway to make this happen.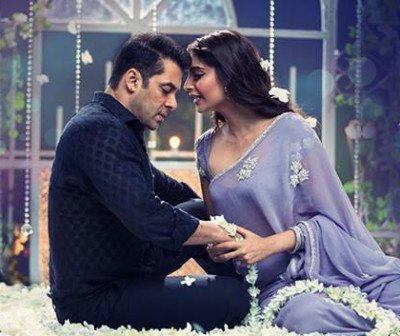 Image Source: facebook/PRDP
It has a different kind of music. Tell us a about it...Salman:
Himesh (Reshammiya) is a very big fan of Sooraj. I've known him for as long as I have known Sooraj. Himesh was the first one to sign me for a film called Yuva, which he was producing at the age of 15 or 16, when I was shooting for Maine Pyaar Kiya. We did two days of work and that song, 'Chaandi Ki Dal Par Sone Ka Mor' was originally a part of that movie (it was later included in Hello Brother, 1999). Himesh has been a huge fan of Sooraj. Their cinema also is very similar. It's just that when Himesh makes his own films, he makes it slightly different (smirks). So, I knew that Himesh and Sooraj would get along fine. Sooraj requires a lot of time, so does Himesh. So, that's why their combination worked. Any other music director would have been impatient.
We have heard this kind of music in the 90s...Sonam:
Yeah, and luckily, there is no electronic stuff which is so annoying. When they make somebody's voice sound weird... (trails off). Another amazing thing about Himesh's songs is that you can actually listen to the lyrics. Whether we like it or not, people love his music, it is hummable, which is also one of the best things about this film.
Salman:
Yeah, like Hookah Bar.
Sonam
(giggles): You are saying it again and again.
Salman:
They have gelled well. They have the same taste in music. I just knew that these two have to spend a lot of time together to make good music.
Can you pick the top three songs?Salman:
'Haalo re'...is a very beautiful song. Then there's 'Gujjiya vujjiya'. 'Prem Ratan Dhan Payo' is an obvious choice, but the romantic number 'Jalte Diye' is really good. Then there's 'Aaj Unse Milna Hai'.
Tell us about the shooting of any one song.Salman:
Jab Tak Tum Chaho. That song is about Sonam's character complaining, 'You didn't do this for me, you didn't do that for me...' So then, my character takes her out and tells her to list every complaint... underwear se leke baniyan tak dajjiyan udaa dena, but don't say 'I don't love you'. So, that is one song...
Sonam:
Where I have pakaoed him a lot.
Salman:
That character is...(he shakes his head in disgust). It is romantic...
Sonam:
Would you ever do that (in real life)?
Salman:
No. Only Sooraj can do so much romance. Then, there's 'Halo Re Halo Re', which has Deepak Dobriyal and me going around a lonely fort when a huge tension scene is happening. 'Aaj Unse Milna Hai' shows me going to meet her.
Sonam, which are your favourite songs from PRDP?Sonam:
My personal favourite choice is 'Jalte Diye' which is a romantic song where I am telling him that I love him. It's beautifully choreographed and sung. It's lovely. Then there's 'Gujjiya Vujjiya' in which Salman looks really cute. He is buying things for my character to woo me. That's very sweet, because, men don't really know what to buy for women. I like 'Prem Leela' also a lot.
Salman:
'Prem Leela' is a great song.
We have seen that new, young talents have sung most songs in this film. Was it on purpose?Salman:
Yes, I think they wanted it that way.
Sonam:
But Palak (Muchchal) has done so much work, she is almost like a prodigy.
Salman:
Yes, she is lovely. She is working with me quite a bit. She has a lovely voice and is very professional. Also, she contributes a large part of her earnings to fund children's heart surgeries. Just last month, she completed 800 surgeries. And to think of it, she is so young.
Thumbnail Image Source: facebook/PRDP