Shah Rukh Did Not Ask Me To Change A Word In My Book, Says Samar Khan
The grapevine has long claimed that Samar Khan and Shah Rukh Khan's friendship had died a sudden death. But as he readies to launch his book on the superstar, SRK: 25 years Of A Life, the author reveals that all is well between him and his star subject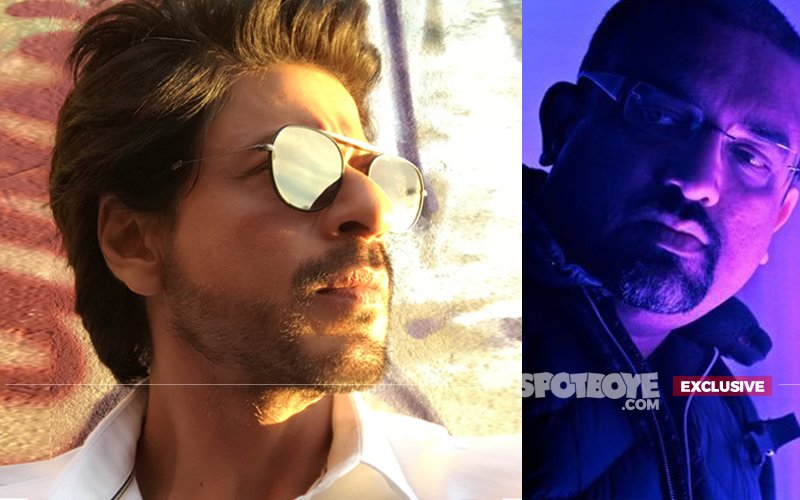 Filmmaker Samar Khan turns author with the anthology, SRK: 25 Years Of A Life and when the book will launch
tomorrow
at Taj Lands End, we may get to see a never-seen-before spectacle. Picture this: Shah Rukh Khan on stage with the thirty filmmakers who made him a superstar, including Rohit Shetty,
Aziz Mirza, Karan Johar and Mani Ratnam
. Aditya Chopra, who is a part of the book, has been sent an invite too. Samar Khan himself was a collaborator of Shah Rukh's through his production house Red Chillies Entertainment. Samar has over a period of a few years, collected personal essays from all the thirty directors for the book which takes a look at the superstar through the filmmakers' eyes. SpotboyE.com spoke to Samar about his star subject. Excerpts:
Why write a book on Shah Rukh Khan?

The idea came to me when I was doing my documentary on SRK, Living With a Superstar. He had said to me that he will leave a small part of himself behind in every character he plays and that he is a culmination of all his characters. That shocked me and gave me the idea to look at the actor's life through the eyes of people who made these characters possible. The idea stayed with me and I mulled over it. One day when I was sitting with SRK, I just bounced off the idea to him that I wanted to do a book on him and take this angle. He was also intrigued and he just looked at me and said yeah sure, let's do it. SRK is known by his Raj, Rahul, Gopal, Mohan, Kabir avatars- he is indeed a culmination of all the characters and that's why people love him.
SRK has worked with a lot of directors in his film career; how did you select the featured filmmakers?

The book has 30 directors and my agenda was to speak to all the directors that SRK has worked with. Unfortunately Raj Kanwar had passed away when I started work on this book and I could not get in touch with Shashilal Nair who had done One Two Ka Four with Shah Rukh. Except these two filmmakers, I have managed to speak to all the directors who cast SRK as the leading man. Factually speaking he has done two films with me too but both were guest appearances and I am not counting such films. I started with Col. Kapoor and then interviewed people like Aziz Mirza, Kundan Shah, Praveen Nischol, Ramesh Sippy, Rajiv Mehra, Mani Ratnam, Farhan Akhtar, Shimit Amin, Amol Palekar, KS Adhiyaman and other directors. The book covers everyone till Rohit Shetty who directed him in Chennai Express. I also wanted to keep some material for the next edition.
Image Source: beebom
Did you go all out to trace Shashilal Nair? I think he resides in UK these days.

I tried a lot that time but unfortunately I was not able to get in touch with him and which is why unfortunately we had to ready the book without him. I think that's my shortcoming. Everybody else is there. They all knew me as I was a journalist earlier and they were used to being asked questions by me.
Are there any surprises that we can look forward to?

I think the biggest surprise and I am saying this in a joking manner is that Aditya Chopra is not a ghost and he exists. I could manage to do an interview with Aditya Chopra so that's a surprise in itself. You and I have been journalists and most of the times we never knew that an actor lives so many lives. What was most surprising and interesting for me was to see how differently every film maker sees him. How differently a Mani Ratnam sees him from a Mahesh Bhatt and how differently Yash Chopra sees him from Aziz Mirza. SRK is the same human being. He is the same person and he has the same kind of mannerisms but everybody sees him differently. It's amazing to see how Shimit Amin sees him as Kabir and Ashutosh sees him as Mohan, Karan sees him as Rahul and Adi sees him as Raj.
Are there any shocking revelations?

Not really and I am being honest with you. More than anecdotes what really surprised me is the way SRK choses his films and how he goes by his gut instinct more than 'oh it's a great story'.One surprising thing was that how Rohit Shetty got to do a film with SRK. Normally you would not expect a Rohit Shetty to do a film that stars SRK. Contrary to all expectations it was SRK who approached Rohit and told him, Let's do a film. This also shows that he was willing to experiment with himself and break the mould. It was the other way round. Rohit had developed a script around SRK but that script did not work out and then Chennai Express worked out.
Image Source:
bestwin
Was Shah Rukh Khan in the know when the book was being written?

You know, he never interfered in the book and that was the best thing. He gave me a go ahead and said that if I want to do it then I should go ahead and do it.. The only time he saw the book was when it was ready. I presented the book to him when it was fully ready. He loved the portraits and the interviews and read all of them. He did not ask me to change a word. He is SRK and he does not interfere in things.
Did the directors keep Shah Rukh in the loop about their interviews?

Once I finished my interviews with all of them I sent it back to the directors after they were converted into essays. I did not want anyone to be misquoted or anything to be sensationalized. Honestly some directors have said things that can be taken out of context, so to avoid any such things I sent the essays back to them. I did get approval from all of them.
Who were the most difficult directors to approach?

That's a very obvious question. I don't know actually but most of them were very easy to crack. Meeting Mr Bhansali was a challenge because he was in the middle of his film shoot. I have been a journalist and I know this is the way it's going to be, you have to pester them and pester them and pester them and then you do a bhookh hadtal sort of a thing. They do it and then they ask you to get out. They also knew somewhere that SRK was involved and had given his go ahead and consent for the book so that made my life a little simpler.
Image Source: twitter/iamsrk
After the TV division of Red Chilies shut down there were reports that you had fallen out with SRK. What actually happened?

It's completely false news. A division of Red Chillies shut down and I moved on. It was not just the TV division that shut down, the advertising division shut down too. He was only making films and so we all moved out. So there is no truth to rumours of an argument. And like I said I am tired of answering this question and I don't know what else to say.
Will Shah Rukh attend the book launch and who else is included in the guest list?

SRK is launching the book and I have invited all the directors hoping that most of them turn up for the book launch but it all depends upon their schedule.
Final question, how did you manage to pin down Aditya Chopra for an interview?

Like I said earlier it was a bhookh hadtal outside YRF. I sent requests upon requests and he finally said OK to the interview. He also realised that a book on Shah Rukh Khan cannot be complete without him .So yeah, I guess it was all perseverance and a hunger strike.
Thumbnail Image Source: twitter/iamsrk &
samarmumbaikhan