Sandeep Aur Pinky Faraar Star Arjun Kapoor Gets Candid About The Film's Delay, Time Spent In Isolation And Much More - EXCLUSIVE
As Sandeep Aur Pinky Faraar hits the screens today, Arjun Kapoor gets candid about the film, time spent in isolation, and much more.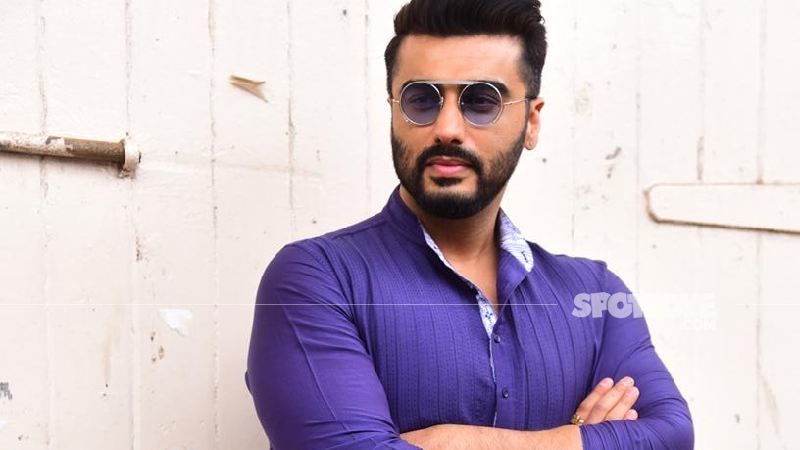 Finally, Arjun Kapoor and Parineeti Chopra's Sandeep Aur Pinky Faraar is making it to the theatres. This Dibakar Banerjee helmed film got delayed on several occasion but finally, it is seeing the light of the day. Now that theatres have reopened post Coronavirus lockdown, Sandeep And Pinky Faraar is among the first few films to hit the screens. As Arjun and Parineeti come to theatres to entertain the audiences, here's the handsome hunk who plays a cop in the film getting candid about several things.
Excerpts from the interview
The year 2021 seems pretty fantastic and busy for you with quite a few films lined up for release. Excited much?
Of course, I'm excited! A - because theatres are reopening. B - because we as an industry have continued holding the fort and entertaining people through different platforms but now we are returning home. We are returning where it all begins, and where it all matters, that is, theatres. So it is exciting to now have a variety of platforms and a variety of ways of showcasing entertainment to the audience. So it is exciting. Whether it is Sardar Ka Grandson on OTT, Sandeep Aur Pinky Faraar in theatres, Bhoot Police is coming in theatres and starting out a new film like Villain which is a big-budget summer blockbuster...yes, excited much!
Sandeep Aur Pinky Faraar got delayed on several occasions. Do you think now is the right time for the film to release?
I always believe, whatever happens, happens for the best. A film has its own destiny and fate. You as an actor are one aspect or one spoke in the wheel that moves it forward. You cannot control its destiny in its entirety. But yes, like I said, whatever happens, happens for the best. I feel today the audience is far more sensitive, mature and understanding of subtlety and nuances and the layers of a character. So perhaps, maybe, it is the right time for Sandeep Aur Pinky Faraar to be seen by the audiences.
The COVID-19 cases are once again on the rise, any message for the fans?
I think it is a city and state wise there are places which are experiencing a rise. At the end of the day, we mustn't forget masks and personal hygiene, social distancing. These are norms that have to be maintained even when we go out socialising or being up and about minding our own business. How safe can one be when the population is so extensive is difficult to access but India as a nation has done a commendable job to get back on its feet. I do see light at the end of the tunnel with the vaccine coming in and with people now understanding the importance of maintaining social distancing. I hope the balance continues.
You are a Coronavirus survivor, can you share about the time spent in isolation?
I was among the few fortunate people who got to isolate at home. I was about to restart work and it happened so the first few days were difficult as you feel guilty that because the work has got called off because of you. Whatever said or done, I was in very good hands with the medical help people, they put me at ease. I did feel the fatigue, I did feel the energy drain, I had symptoms. But the important part was to prepare for a fight back. So while I was in isolation I was psyching myself to stay positive, stay calm and rebuild my energy over a long period of time. Isolation is the easy part because you are worried about infecting others so you will protect the others by staying away from them. But eventually, I knew I needed a month after I got the negative to actually feel normal again and that one month I had to build towards. (Also Read:
Arjun Kapoor To Donate Plasma And Help Save Lives After Recovering From COVID-19)
Sandeep Aur Pinky Faraar is not the typical romantic dramas that you have been a part of earlier. What caught your attention in SAPF?
Exactly that, it is not typical. Dibakar Banerjee is not a typical director, he caught my eye. When Adi Sir signed me for YRF, he had told me to make a wish list and Dibakar Banerjee was right up there on the wish list. I love him as a filmmaker, I have loved every film of his. And I liked the fact that I was doing an unconventional role. To play a cop that is so internally conflicted that he is not roaming around with a gun shooting people and saving people but he actually needs help himself. And the fact the job profile has nothing to do with his mental psyche. He is not a typical cop, he is definitely not a typical person that you see on Hindi film screens.
You are collaborating with Parineeti Chopra once again. What has changed in her as an actor?
Nothing has changed because that's how we are when we interact with each other. Whatever changes people see in her or people feel is something where they can see her evolution. I just see the same Parineeti I saw in 2011 in Yash Raj when we met for the first time and we were told we will be working together. For me, she is that person and will always remain that person. Obviously, a slightly better version because life does teach us. But in her innocence and purity, she is still the same person.
Image Source: SpotboyE Archives